... written for Panbo by Kees Verruijt and posted on Nov 26, 2014
Last week there were two Panbots roaming the annual Marine Equipment Trade Show (METS) floor. Henning Dürr and Kees Verruijt were there trying to find (some) of what was new and interesting. This first entry focuses on vendors that Henning visited.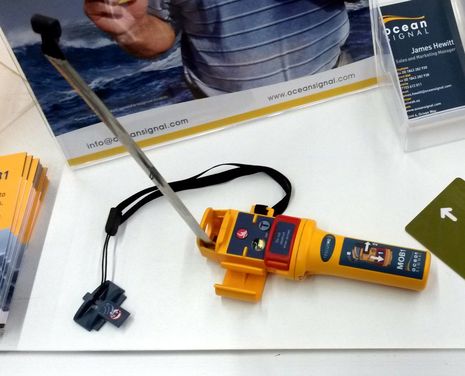 AIS MOB and SART with DSC
AIS MOB devices were once called Personal AIS SARTs and are the baby brothers to commercial lifeboat AIS SARTs, but with lower requirements for range and operating hours. The advantage is that they can be made smaller, small enough to be carried by individuals. Since both device classes are relatively new, older displays capable of AIS targeting don't necessarily handle this type of AIS well (good behaviour illustrated here). Additionally AIS MOB beacons are not yet part of the official GMDSS, so officially the world wide SAR operations do not need to react to them and/or may not have the equipment to use them. Ocean Signal and Weatherdock showed new models with a DSC twist that aims to fix this -- as was discussed here on Panbo in 2012.