AIS target received, goal achieved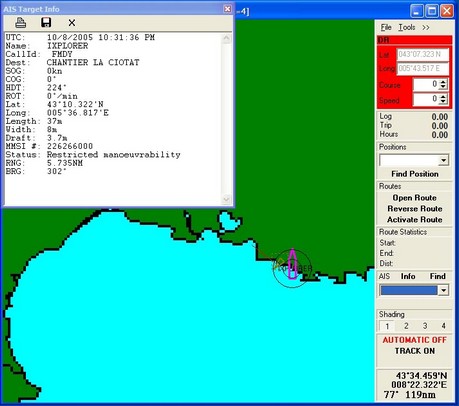 I felt like a spy in an old WWII movie, rigging a VHF antenna and GPS on the patio outside my hotel room late at night, then hunching over my laptop hoping for certain transmissions…but, by golly, it worked. The Si-Tex/Nasa receiver heard an AIS equipped 37m vessel called Ixplorer apparently anchored or docked 3.7 miles away in La Ciotat. There was only that one target (the Radio Shack antenna was missing a set screw, which probably affected range), plus I didn't have a detailed electronic chart of the area, but it worked. That's the target info showing above in SeaClearII, the freeware that comes with the receiver. SeaClear was pretty easy to set up with both USB GPS and AIS serial input. I also tried the gear with Coastal Explorer 1.1, again easy to set up, but also capable of calculating CPA/TCPA (and displaying more target info, and in a couple of different ways). I'll try the rig some more when I'm in Naples tomorrow and later in Ft. Lauderdale, assuming my luggage gets there.
PS. Totally different subject, but was somewhat saddened to learn on Zephyr that Pride of Baltimore II (a remarkable boat I've had the pleasure of twice passaging aboard) lost her entire rig off France last month. The good news, and hard to imagine how, is that no one was hurt. More good news, for those interested, is that two crew members are blogging the mishap and repairs.