NMEA Conference 2015, back-to-back good times with the Big Four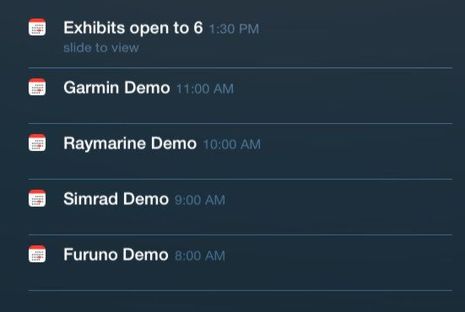 Those early morning Google Calender notifications above indicate my awesome Wednesday schedule during last week's 2015 NMEA Conference. It's tempting to presume that the back-to-back demo trips around Baltimore Harbor with the Big Four manufacturers mark peak intensity for my career as a marine electronics pundit, but actually the whole industry seems to be in good shape with the pace of innovation quickening…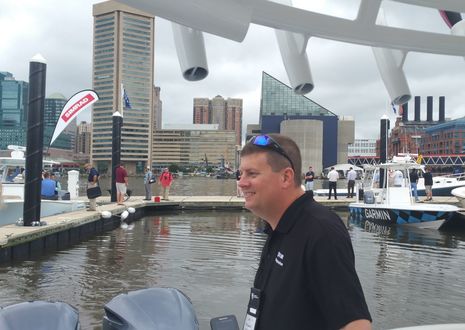 Maybe Jim McGowan of FLIR Raymarine was smiling because this demo morning was relatively calm and dry during a very weathery week. If you click the photo bigger, you'll see that Simrad and Garmin also had center consoles while Furuno, perhaps appropriately, had a larger cabin boat. (Si-Tex also had a demo boat and was in the exhibit hall along with Humminbird, so there are still alternate MFDs available.) Note the small fishfinder temporarily mounted on the stern of the Ray boat, because that's up first.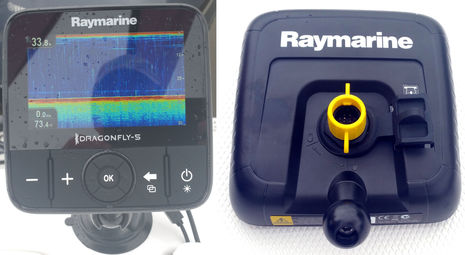 This second generation Dragonfly 5DVS CHIRP sonar with DownVision seems like a great example of how much quality marine engineering and manufacturing $300 can get you these days. Apparently the orginal Dragonfly (which impressed me in early 2013) has done better than expected on small saltwater boats and even kayaks (hence the Ray recommended Nocqua Lithium battery pack), and the designers responded with those big rubber buttons and what may be the easiest and most waterproof backside I've ever seen. Note the elegantly integrated RAM compatible ball mount, the single power/transducer connector with molded-in locking instructions, and the SD card slot with its serious bung and welcome which-way-up sticker. The six different Dragonfly 4 & 5 models — including some with a subset of Lighthouse charting, plus Wi-Fish — also illustrate a willingness to give boaters many choices, and the new design will no doubt work its way up to bigger Dragonflys.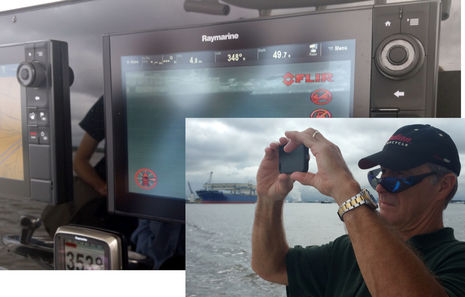 The Raymarine demo boat was my first look at the eS Series MFD design and I was especially taken with the new "Multifunction Rotary Control." It's big and has a somewhat stiff turning action, which add up to precise control as you scroll menus or set control sliders. It also has an 8-way joystick built into that outer ring which again seemed notably precise, even when challenged with controlling the stabilized T400's highly zoomed-in color camera. But the inset of MEJ Editor Jim Fullilove is about another way to control a pan/tilt camera that really got the crowd's attention. The latest version of the iOS RayView app can use a smartphone's motion sensors to do the steering, so Jim is seeing a thermal view of whatever he's pointing his phone at. He could be sitting in a yacht's head snooping around the harbor!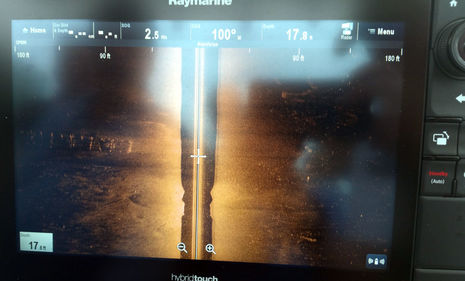 Inner Baltimore Harbor is a target rich environment for high resolution structure sonar, and I once again noted how detailed and far ranging Raymarine CHIRP SideVision is. That old pier at left doesn't show at all above the surface and hence is charted as a danger, but here you can see its piles almost 180 feet away in 18 feet of depth, which is useful whether you're trying to avoid it or find lurking fish. As you'll see further down the entry, I saw similar performance with Garmin SideVü, which can be had with a through-hull transducer Raymarine hasn't offered yet. Both side looking technologies seem to perform somewhat better than the Simrad StructureScan HD I use a lot on Gizmo, but then again, the coming-soon StructureScan 3D system is said to have improved range and resolution besides for the 3D part. In short, the sonar wars rage on to the benefit of us civilians.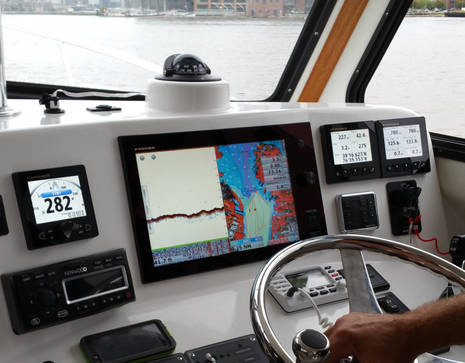 Actually, Furuno has so far avoided the high-frequency side, down, or forward looking sonar competition, and some of its personnel are a bit chagrined about it. But this is the company that trail blazed the now ubiquitous black glass multi-touch MFD concept, seen here as the original NavNet TZT and its recent NavPilot 711C and FI70 instrument cousins. The demo boat, incidentally, was a handsome Judge Chesapeake 36 built near Furuno's Denton MD facility, which I was also unaware of, and the owner of this fine helm is Bill Judge himself.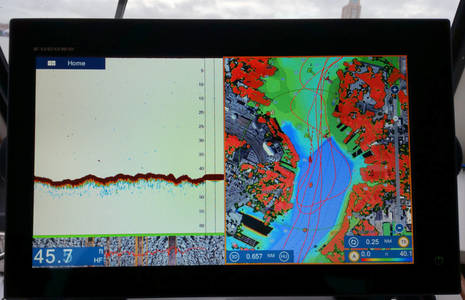 But what we were really onboard to see were the several TZTouch2 MFDs temporarily installed on the Judge 36 and networked with its TZT system. So the clean RezBoost sonar seen in both images above, including Furuno-unique bottom discrimination, is built right into the TZT2, uses a less expensive non-CHIRP transducer, and you could choose from multiple sonar sources on any of the demo boat's displays. In fact, as I argued after the TZTouch2 intro, this MFD series is quite competitive with what we were seeing on the center consoles. Note, though, the many onscreen controls above, like the instant radar TX on/off button; the Android-based TZT2 interface may be a new benchmark in the battle to make oh-so-many-function MFDs easy to use.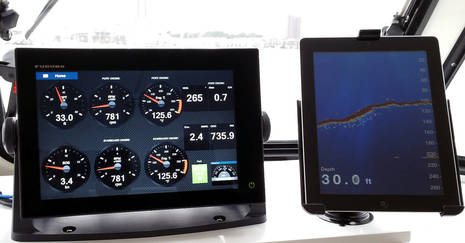 During the previous day's CEO Panel, Navico's Marc Jourlait, FLIR/Raymarine's Andy Teich, and Actisense's Phil Whitehurst all hailed ease-of-use and connectivity as the important trends in marine electronics. And while I failed to get any good photos of the many useful swipes you can do from any TZTouch 2 main screen, I did experience the ease of not having to dig down through multiple menus to find a desired setting, a welcome "flatness" that early TZT2 adopter Fred Khedouri documented on Panbo. And while TZT2 doesn't yet have a remote control app, it does work with the independent Viewer app and it can download GRIB weather data, both useful early TZT features that still aren't widely supported by the competition.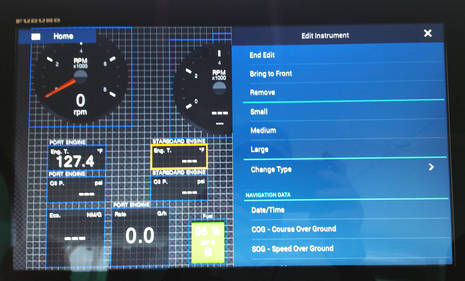 TZTouch2 also has the most customizable gauge screens I've yet seen, and it's almost fun to finger drag dials and data boxes around to build the display you want. The data alarming, though, is still the limited set offered by TZT and needs work like all the others in my opinion. Incidentally, we heard that some TZT features missing in TZT2, and vice versa, will be in future updates, but patience may be especially necessary due to the change in operating systems. But for the same reason, an Android version of the excellent Nobeltec TZ app is a "definite possibility" (spoken with a sly grin).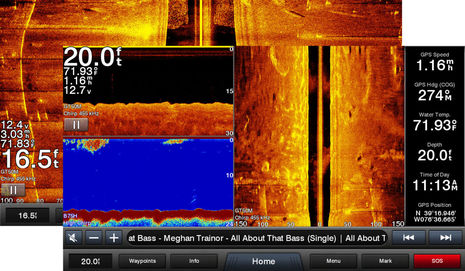 Now we're on the Garmin demo boat with three kinds of sonar imaging on screen. Again, note the SideVu range and detail; those horizontal lines are shadows of the marina slip pilings and you can see Baltimore bottom "stuff" all over the place. I regularly run a Simrad NSS screen like this — except that there's a fourth ForwardScan window — and really appreciate how all that sonar can benefit cruising as well as fishing. Garmin gets that, and representative David Dunn emphasized that Panoptix is not just the remarkable small boat fishing weapon it is today, but also a platform that will see many future developments.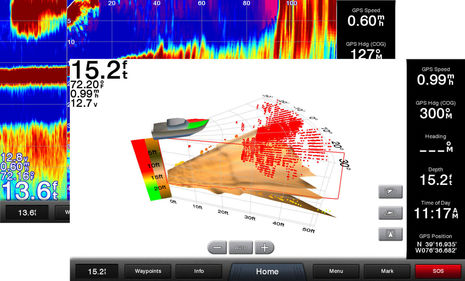 My screenshots failed to capture much, but the Panoptix demo was nonetheless impressive (like in Miami), especially given that Dunn's mate was holding the transducer on a pole. Though the boat was practically stopped, we saw a normal size fishing lure flitting through the 3D water column, which lends credence to the Garmin fishing pros who claim they can put their lures right in front of fish and even tell if they're interested. And Dunn says he's seen Panoptix imaging well at speeds above 10 knots, and that there's lots more possible with interpreting and displaying all the data collected by this phased array sensor.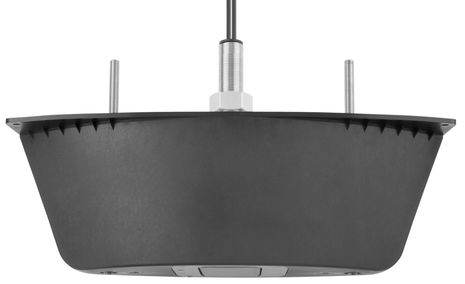 Now let's imagine what's possible with, say, the big Panoptix through-hull transducer announced today (along with 25kW xHD2 open array radars fit for the big sportfishing boats Garmin has won over). What if Garmin designs a forward looking through-hull and focuses the technology on grounding avoidance? I think it will see further and wider than anything available in recreational marine electronics. And what if Garmin gets into crowd sourced depth mapping (soon is my guess)? Panoptix may be able to collect multiple soundings at once, even looking forward since the sensor knows its heading and tilt. Panoptix is not just a new Garmin platform, but a new recreational sonar mode that is probably already being worked on in competitor R&D centers, I suspect.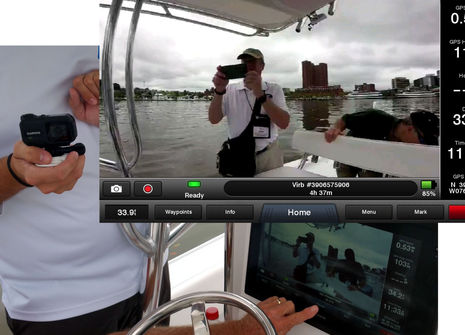 Another sign of the times are great new feature updates that don't even get a press release. Who knew that Garmin 7400/7600 and 8000 MFDs can now display and control multiple VIRB XE cameras over WiFi? Coming soon, said Dunn, are marine mounts with a power supply cable built in, and I just noticed that the VIRB XE can somehow collect depth and wind info in addition to what it gets from its built-in GPS, motion sensors, and other G-Metrix relationships. Moreover, the latest free Garmin Helm app can purportedly record an MFD screen stream running Panoptix, VIRB video, mapping etc. so you can easily share it all on social media.
All of which speaks to FLIR CEO Andy Teich's enthusiasm about the growing value of video imaging on boats. In the exhibit hall we saw a very innovative example — the FLIR AX8 engine monitoring just enabled in Raymarine Lighthouse 15 — and I'm hoping to eventually see this Garmin style integration with FLIR's own FX action/security WiFi cams. And maybe FX integration will be available not just to Raymarine but to other marine developers, FLIR style.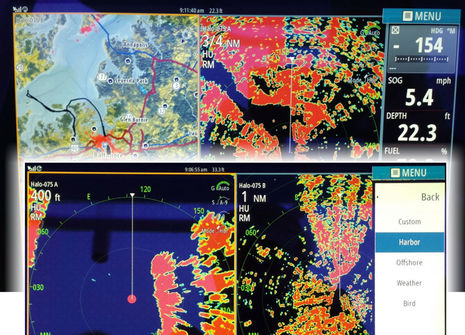 Finally, there was the Simrad demo, which focused primarily on the new Halo open array radar I first saw in January. It's astounding technology, both electronically and mechanically, and I learned details missed in my first "how it works" entry. The automated user modes, for instance, are not just a good combination of gain and clutter settings for a particular situation. An engineer in Auckland working with radar files collected by the test fleet (with over 50,000 miles under their keels now) has 17 internal Halo variables to work with as he perfects a mode. In other words, there's a whole lot of complication behind what ends up being a notable ease-of-use feature. Again my photos aren't great, but notice how Halo handles target-saturated Baltimore inner harbor with aplomb, not sidelobe messiness. The 400 foot range window is showing a couple of nearby seagulls and in the 24 mile range window Halo is peeking at least 20 miles over the waterfront to Kent Island (where TrawlerFest would soon be sadly cancelled). At one point, we saw both these extremes simultaneously, all in automated dual range modes, no tweaking needed.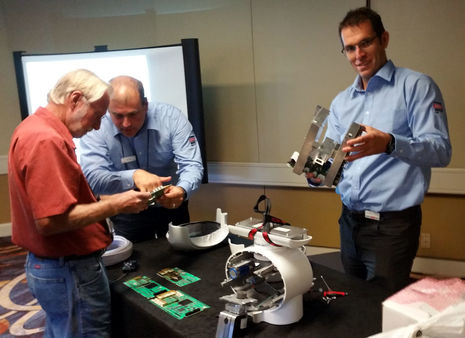 That's the Ranting Installer Bill Bishop enjoying a Halo strip down with Matt Cooper and John Scott, both of whom have spent years helping to develop what, among other things, is the "first dual-range-pulse-compression radar" available in any market. We learned how perfectly that (dead quiet) brushless motor must rotate the antenna, so that the relatively weak solid-state pulses can be precisely added up to image targets as distant and obscured as Kent Island. And we'd already seen how a single allen wrench can be used to dissemble the Halo and easily replace the motor module or the wave guide/electronics module Scott is holding (though the expected lifetime is long). All four of the circuit boards normally live in that module, including the one Bill may be drooling over…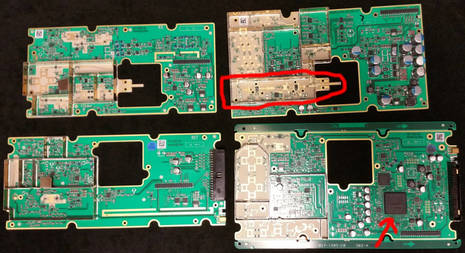 If you click big the image above, you too can see the fascinating section where the tiny RF pulses are precisely channeled through the rare earth Gallium Nitride amplifiers and into the wave guide. Also, highlighted in red is the super powerful field-programmable gate array, purportedly only available from one foundry on earth and the part that makes Doppler target discrimination (i.e. super wave clutter control) possible as a future Halo update (which can be done in the field). So what we have here is another new platform that's already being enjoyed on some boats and that the competitors are eyeballing closely.
Jim, Bill, and I weren't just looking at all this gear as electronics writers. We were also the three judges for this year's NMEA New Technology Award, and Halo was our decision, though it was remarkably close – such are the times. And besides all the Big Four goodies I've covered here, we saw much more, particularly in the connectivity area, like the blossoming of Signal K and new ways you can get your boat online (making it easier to use facilities like the Simrad "check for updates" feature seen below, similarly enabled in Ray's LH15). NMEA also garnered some 160 membership votes from their Products of Excellence Awards, and you can download the interesting results here. These are good times in marine electronics, and there are many winners.