Standard Horizon CPV550, another look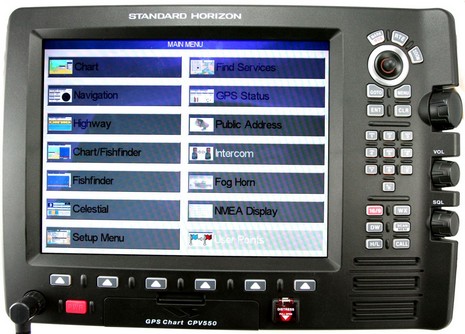 I only mentioned testing this Standard Horizon CPV550 back in Nov., and that was about a fogging problem that I'm told can be readily fixed with dessicant bags. Now my short review is out in the Feb. PMY, and I'll add a bit more detail. Neither of these photos really does the screen justice, but above, and bigger here , is the nicely iconic main menu, which also gives some sense of all the tasks this machine can address.

As noted in the review, the CPV does a lot well, particularly complex DSC functions where the alphanumeric keypad, soft keys, and endless screen space make other radios seem kind of anemic. I had the CPV set up and making/taking DSC calls from the lab radios very quickly, as seen below. It also does a good job with the various extra features of C-Map MAX, like those yellow current arrows seen below. Other plotters I've tried, like the now defunct Simrad CX, were a bit cranky about those arrows, but they show up fine on the CPV and animating through a time/day period is also easy. I plan to do a bit more bench testing on this machine before I ship it back (soon). Oh, and also in the new PMY is my take on Furuno NavNet 3D and Raymarine G, or at least what I know so far and could squeeze into 1,150 words (plus there was the Dec. column where I tried to explain how Furuno, and Maretron, are marrying NMEA 2000 to Ethernet). For readers arriving here from PMY, there's added info on NN3D here, here, and here, and on Ray G here, here, and here.