Genasun & Victron, power to spare?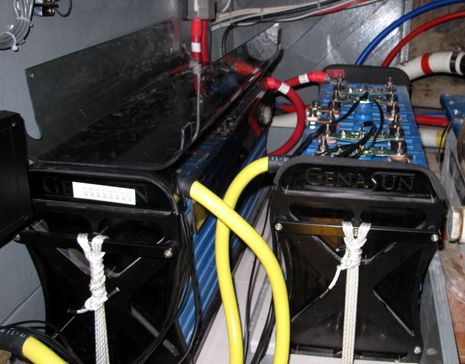 That's a pair of Genasun LFP Lithium batteries that weigh a small fraction of what similar sized regular marine batteries would and offer a lot more usable power than even their 760 amp hour rating would indicate, because they can endure truly deep discharges and accept massive recharges.  Combine these with no less than four Victron MultiPlus inverter/chargers, which can automatically kick in extra AC when shore power or the generator can't carry the load, and you've got power to spare.  Yes, this is a high end project, but note the gray diagonal planking seen behind the lithium batteries…
This refit, master minded by the multi-talented Yachting Solutions, is taking place on a gorgeous 45′ Huckins built in the 50's (some Hutchins history here).  And the elaborate electrical system is minor compared to the engine upgrade; this boat marks the first time Volvo Penta has allowed its IPS drives to be used in a refit as opposed to a new build designed for them.  Maybe I can finagle a chance to see how they work, as this is all happening in my area.
In fact, it was long time acquaintance Alden Cole, seen below, who gave me a peek at the project.  He's the guy who installed the Victrons and battery system.  Alden says he's loved electricity since he was a kid, but it took a few decades to realize he should make a career out of it (the silly boy did a lot of professional sailing in the intervening years 😉  And it was racing sailor Bruce Schwab who represented Genasun in this project.  Bruce represents and consults on a variety of high performance marine batteries these days, as he explains well at his site.  I like to think that what these guys are up to will be cost effective, and very useful, for us regular cruisers one day.  In the meantime, thanks to much help from Panbo commenters, I'm feeling good about Gizmo's  existing power systems, though we're being a lot more careful than the folks on the Huckins will have to be.