Sirius Signal announces new dual color & white SOS distress lights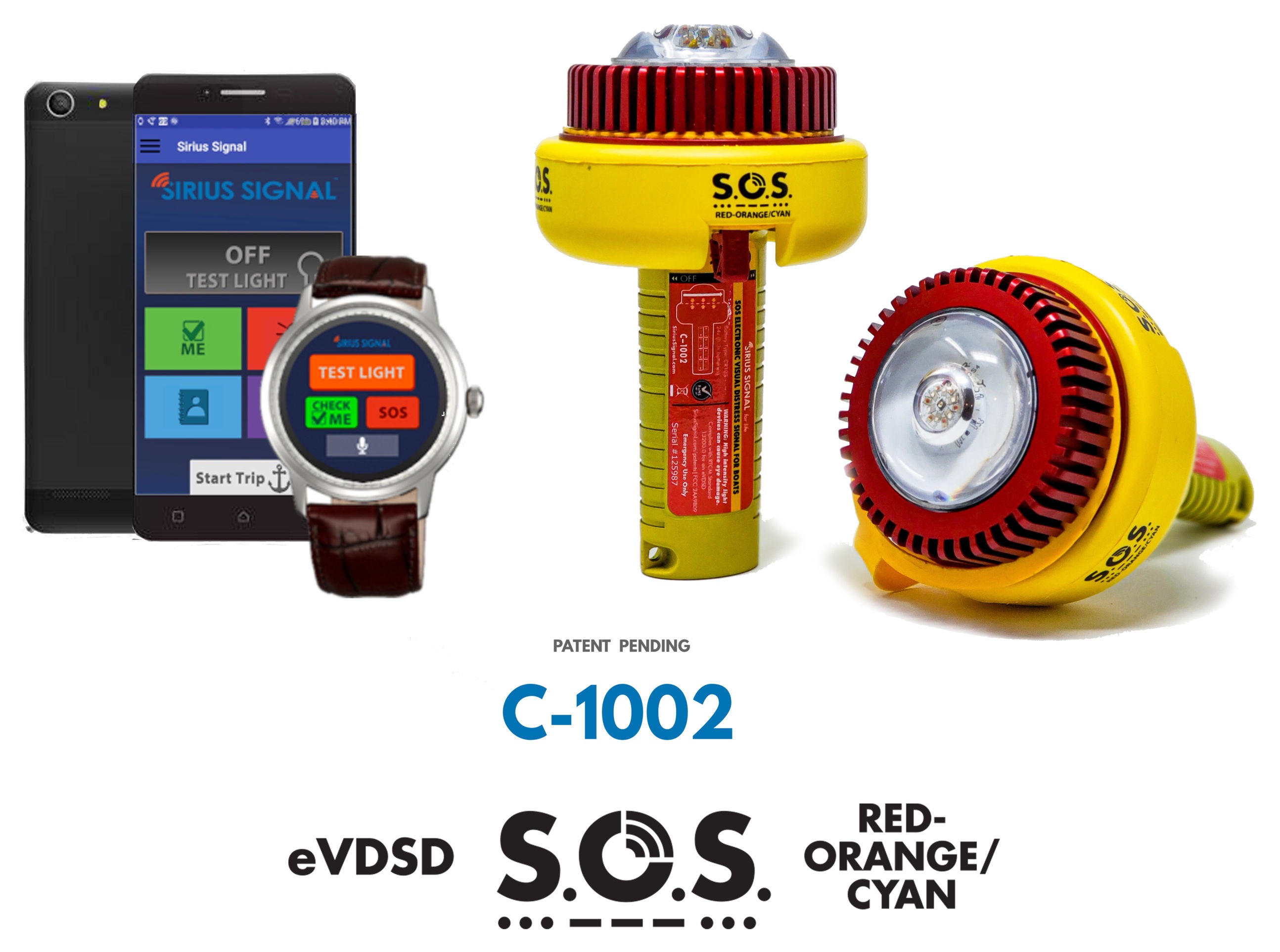 Sirius Signal just announced a super bright red-orange/cyan electronic Visual Distress Signal Device (eVDSD) that promises to be vastly more effective than the current white light models, especially in coastal areas with shore lights in the background. The new model C-1002 SOS device also includes a Bluetooth app for testing, maintenance, and much more. Note, however, that the C-1002 won't be available until next year and its advanced technology will necessitate a premium price.
Additionally, Sirius has developed an improved version of its original C-1001 white eVDSD (2015 Panbo review here), and the company is taking over distribution of all its products (press release here). So in 2020, the Sirius Signal C-1001 design known to many boaters as the Weems & Plath SOS Distress Light that nicely replaced their pyrotechnic flares will become the Sirius Signal C-1003 with the dual color C-1002 a premium option.
While I haven't seen either of the new distress lights yet, that will happen at the NMEA Conference in a few weeks, and here are some interesting details in the meantime.
C-1002 dual color SOS eVDSD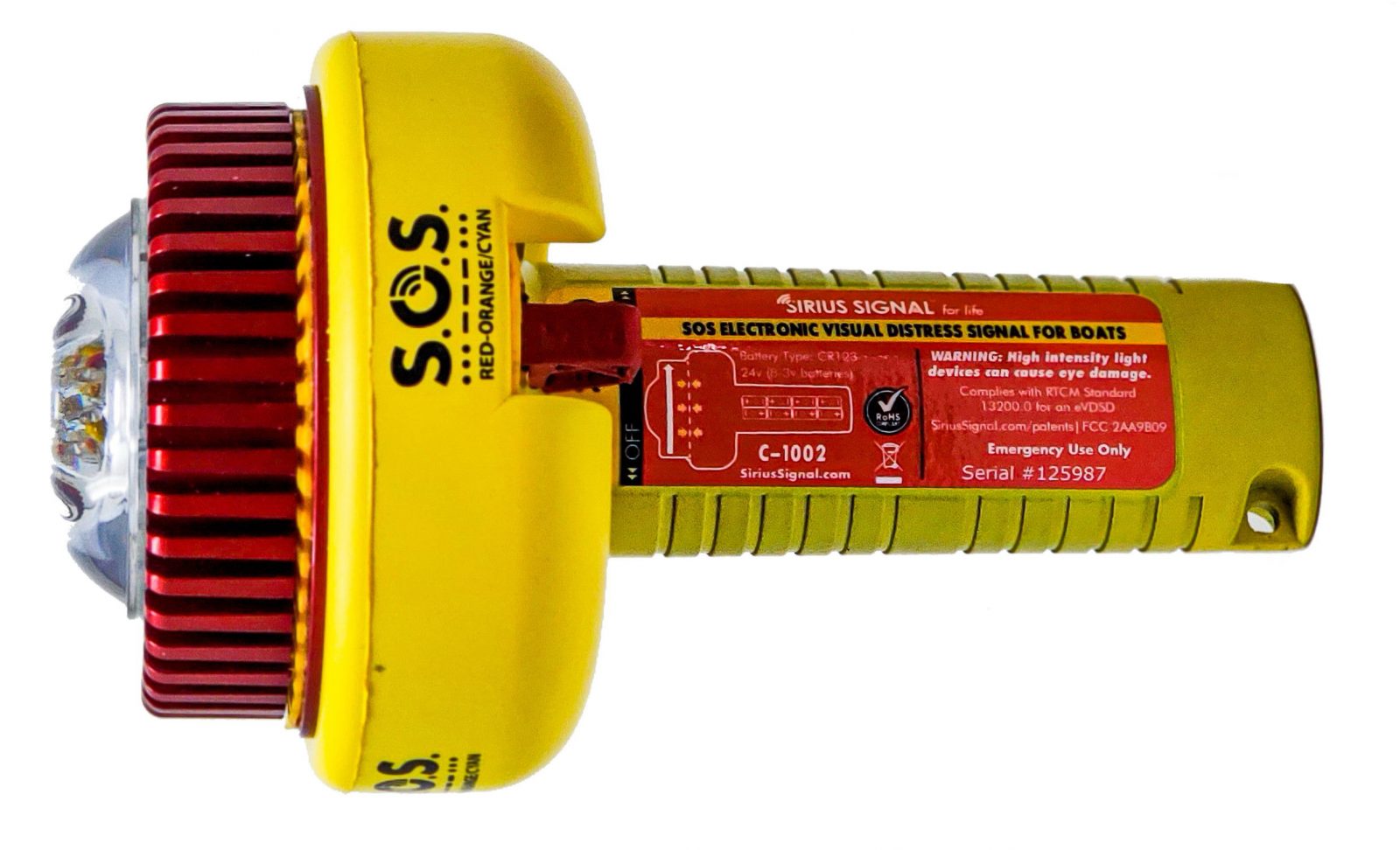 The differences between the dual color C-1002 and the white SOS distress light designs go well beyond the new colors, like a modern car compared to a Model T according to SiriusSignal.com. You can see some hardware details supporting that claim in the photo above: eight CR123A lithium batteries supply 24 volts of DC to an LED array so bright that a substantial aluminum heatsink is needed. I plan to take that warning about how "High Intensity Light devices can cause eye damage" seriously!
Also note the big red on/off switch that allows the C-1002 distress light to be activated with one hand. The original C-1001 (and the new C-1003) use a simple and reliable twist switch, but the new dual color standard (further discussed below) requires one-handed operation. In fact, the new switch is even designed to be operable by a hand inside the 3mm neoprene glove of a survival suit.
Here you can see the C-1002's thirteen (13!) optically enhanced high-intensity light-emitting diodes. According to Sirius Signal, the six red-orange and six cyan LEDs alternately flashing out the S.O.S. signal "offer increased conspicuity against scattered white background light" and I believe them. Plus SAR personnel wearing night vision goggles will see this eVDSD better thanks to the infrared LED, which may even be detectable by satellites.
But wait, didn't the original eVDSD have to be white to meet the U.S. Coast Guard requirement and therefore legally replace (personally dangerous and environmentally terrible) night flares? Yes, but then the RTCM 13200.0 eVDSD Standard was completed last June and in December the USCG accepted it as "equivalent" to the electric distress lights that meet 46 CFR 161.013. While this may sound like regulatory jiu-jitsu, I think it was the relatively fast track to getting us better distress lights built to an approved standard.
I have not read RTCM 13200.0, but the first eVDSD built to this standard — this Sirius Signal C-1002 — seems way more than "equivalent" to the existing white eVDSDs. Actually I gather that the standard is technically quite challenging, especially if the manufacturing goal is to compete with relatively cheap (though short-lived) flares or the still approved and seemingly effective white eVDSDs that typically retail for $90.
I certainly understand why a safety standards group would aim high, especially in our world of fast-evolving technology. But let's also recall that there were no approved electronic distress lights available for decades, specifically until Sirius Signal figured out how to use LED technology to meet the CFR standard at a reasonable cost. And while I think that some boaters will buy a significantly more expensive eVDSD because it's significantly more effective, it also makes sense to sweeten the deal with added safety features.
So the Bluetooth app that works with the C-1002 dual color eVDSD is quite separate from the new RTCM standard, not required and not involved. For instance, the Bluetooth radio chip is even separately powered with a button battery so there's zero chance of it running down the big 24v LED supply.
But I'm guessing that the app will be great for checking the C-1002's battery status. And as you can see above, you'll be able to test or activate the light with your smart phone or watch (which should make it easier to avoid overexposing your eyes to the light show).
Moreover, the Sirius Signal new product page describes how the app will be able to send "Check Me" location messages ashore (within cell coverage) and even guide a boater through first aid procedures. And CEO Anthony Covelli told me to "think Tesla" in terms of app evolution.
C-1003 white SOS eVDSD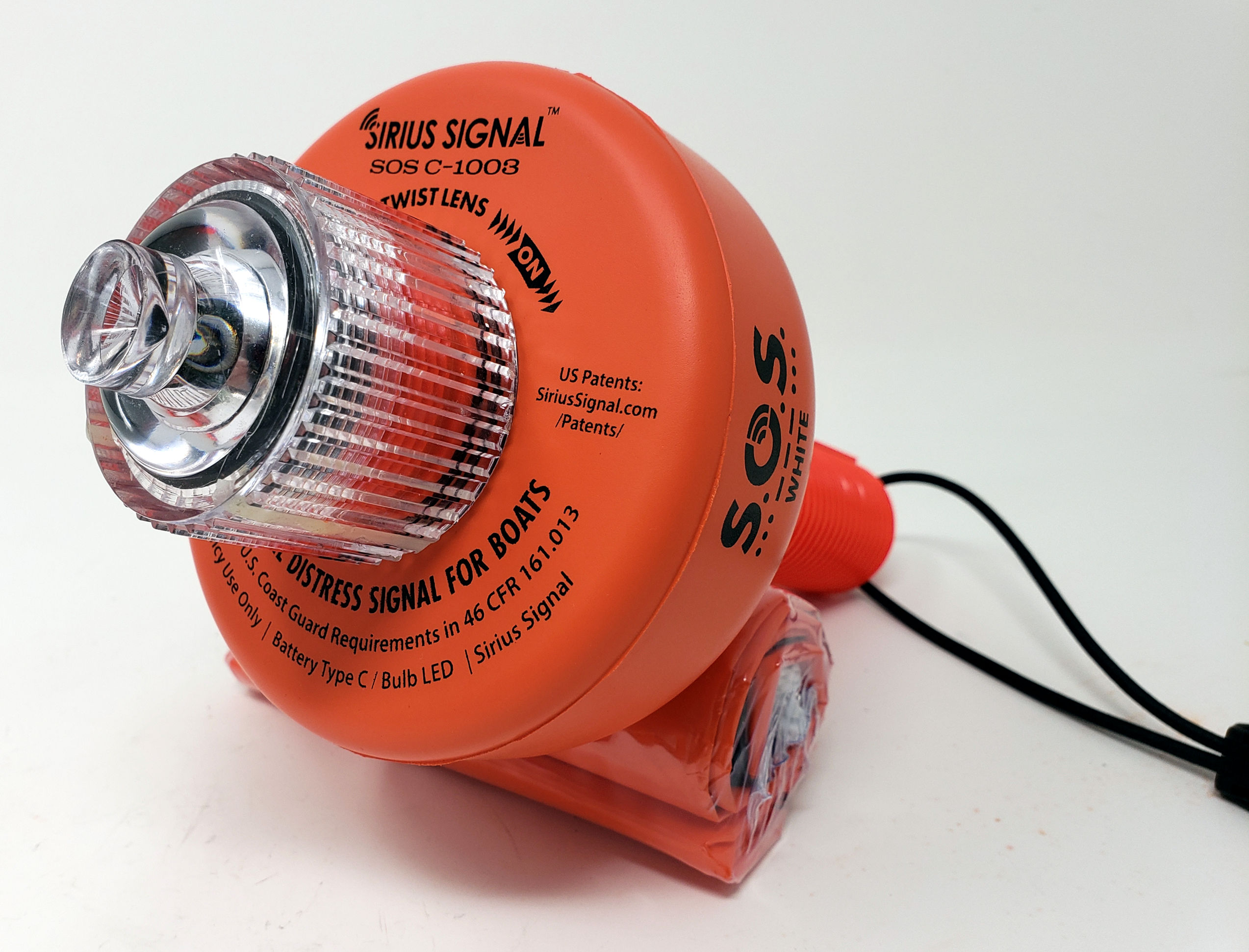 While the C-1002 is strikingly new and different, the new C-1003 white eVDSD is also good news. When I recently compared the original C-1001/Weems & Plath to the Orion Distress Signal, flotation was about the only factor where the Orion seemed to excel. The newly designed float collar on the C-1003 will clearly hold the light higher above the water, and Sirius Signal says they were also able to add at least 20% more brightness to the LED.
So it seems likely that comparing the C-1003 to the Orion will yield a clear performance winner. And I'm pleased to note that where the C-1001 design was already a clear winner in my comparison — user serviceability — also applies to the new models. A boater will be able to disassemble the C-1003 or the C-1002 for inspection and maintenance, and all parts will be available.
The C-1003 distress kit, now including batteries and a whistle as well as the orange day signal, will retail for $90 when available next year, while the C-1002 price is still not finalized. Defender Marine is already signed up as a Sirius Signal dealer and wide distribution is expected. And I look forward to reporting on the eVDSD demonstrations I'll attend at the NMEA Conference.
PS 1/20/2020: Both the C-1002 and the C-1003 are now fully USCG approved — search "Electric Distress" here — and I plan an update entry soon: