Best new tech 2008, boat goodies?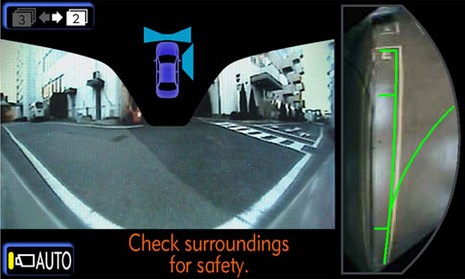 Just like last year, Popsci.com's excellent Best of What's New 2008 edit package is rich with tech that might one day trickle up to yachting. For instance, couldn't a version of the Lexus super wide-angle integrated cameras seen above be useful in docking? How about a satellite able to deliver 1.2 gigabit/second Internet to modest terrestrial antennas, and even modulate signal strength based on its own weather analysis? In the always exciting megayacht toy department are a trio of flying things: the world's first production jetpack, an easy-to-fly folding-wing float plane, and an amazing RC helicopter. And isn't Honda's first-ever hydrogen production car a hopeful milestone? There's more to be sure…
Even developments devoid of electrons, like a light, waterproof fabric that's 80% translucent but can survive "two-by-fours shot at 34 mph from an air cannon" (or possibly a hurricane). And a vertical wind generator vane design that might save a few sailor ears. But while Popsci.com is energized, PC World's 25 Most Innovative Products has gone missing, CNET's Best & Worse tech of 2008 is bit lame, and SciFi.com has apparently dropped its fab Top Ten Gadgets for the Filthy Rich list in favor of a Top Ten Bush Shoe-throwing Games. Sign of the times?
Well, there was no lack of holiday gadget gift guides, and I dare guess that most are still in stock. Or you can avoid gadget lust, and just pursue a great best of 2008 boating stories list, like MadMariner's. And if you're tempted to drop $16.50 on a subscription, consider this: supporting MadMariner is supporting Panbo. Gizmo-wise, though, CES is just around the corner, with 2009 Innovations Honorees already posted. I'm pleased to see that HP's TouchSmart computers have gotten even more compact, powerful, and boat interesting (I think, though my enthusiasm wasn't much shared the first time around). See anything else good?