Cobra MR HH475: floats, rewinds, burps, & does bluetooth cell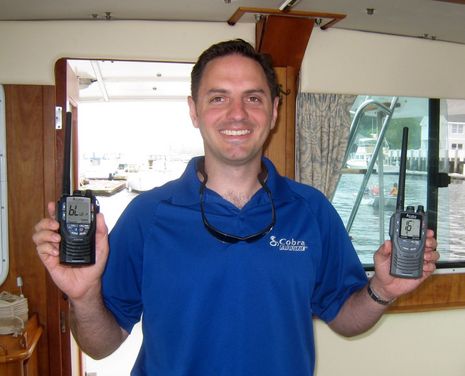 Here's Bill Boudreau of Cobra Electronics showing off the two new floating 6 watt handheld VHFs the company announced earlier this week. The higher end model, the MR HH475, includes the Rewind-Say-Again audio recording feature I liked a lot in the original HH425 and the fixed F80. Plus this handset can also double as a Bluetooth handset for your cell phone, much like Cobra's dedicated MR F300 Bluetooth speaker mic. It doesn't have some of the mic's features, like a built-in address book, but it does have the PTT/VOX choice and the noise cancellation that tested so well in my lab. But what if someone hails you on VHF while you're chatting on your phone?

Well, you're going to miss the VHF call unless perhaps you also have the boat's fixed VHF running. The HH475 will only break into a cell call if a weather alert comes in. Nonetheless, this is quite a feature set. And, yes, the two new floating handsets also "burp" as shown below. This just means you can shake water out of the speaker, a feature Icom invented, I think, though they call it AquaQuake. Borrowing good features is a good idea, I think. I hope Garmin is not the only company to add Rewind, a feature also apparently appreciated by Sea Tow, who just concluded a relationship deal with Cobra.