EchoPilot Platinum FLS, better than expected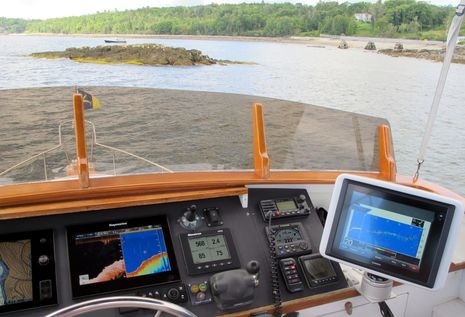 She: "HEY! Do you realize you're steering right at a ledge?!?" He: "Yes, dear." While it was a tough cruise for my lovely first mate, I did learn a lot about what an EchoPilot FLS Platinum Video Engine can actually do. If you click the photo above to full size, for instance, note how the FLS in the Garmin video window is showing especially shallow water about 55 feet ahead, though in a rather vague, pixilated manner. Note, too, that the more conventional and less expensive Raymarine CHIRP DownView/sonar is at least suggesting a shallowing trend. Still, as the title says, I am finding that the EchoPilot's performance and usefulness is better than I expected, but then again — a big "but" — my expectations were quite low…
Forward looking sonar is hard! As discussed in my April entry about EchoPilot FLS (and the Simrad ForwardScan coming some day), my experience with a lesser model EchoPilot and a lot of research taught me not to expect much range or even a consistent ability to image substantial hard targets. The limitations may be even harder to grasp, now that we have quite detailed yet affordable side imaging coming from the likes of Humminbird, Simrad, Lowrance, Garmin, and (sort of, so far) Raymarine. But they're using long, narrow beam transducer elements that fit better fore and aft and more important, they build their screen images one fine line at a time. FLS can't work that way; adding the beam images — a 90 degree bottom to water surface sweep about 10 degrees wide — one to another would just create a big smudge.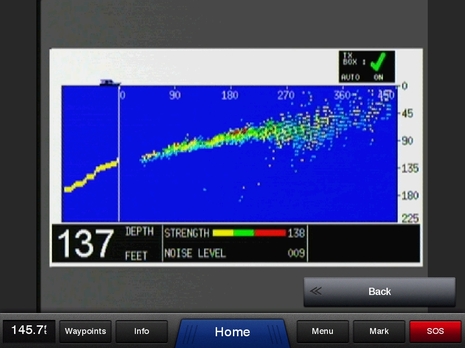 On the other hand, side imaging at best can only suggest a danger that might be directly ahead. Only FLS can show you, as on the screen above, that a shallowing trend will continue and that there may be something of truly serious concern about 300 feet ahead. In fact, this screen nicely illustrates what a bacon-saving technology FLS can be. That could be a poorly charted reef somewhere — or a well-charted obstacle that a navigator had failed to account for. Actually, I was purposely headed at a ledge that's always above water and guarded by a sound buoy, but then again, it has no doubt earned its name "The Graves" several times over.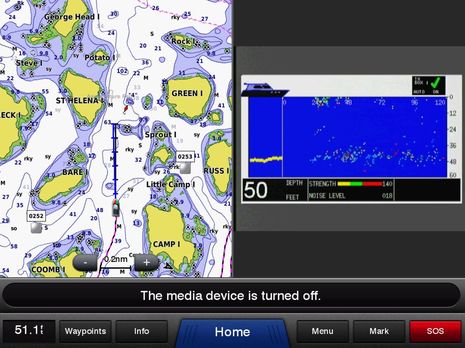 I chose this screenshot for two reasons. While the charted area covers some of the incredibly beautiful granite and spruce islands off Stonington, Maine, note the ridiculous number of rocks awash sometime between high and low tide; it's even more of a gunkholing delight if can see underwater ahead of your boat, even just vaguely. Note, too, how the EchoPilot FLS is targeting something right near the surface about 30 feet away. In this case it's a particularly dense patch of lobster trap buoys and lines, but I've also seen the underwater parts of other vessels and aquaculture pens this way. However, that sort of performance is quite inconsistent, especially in shallower water. I've known since my earliest FLS research that it's nearly impossible to get sonar pings back from a distance more than about 8 times the water depth — extreme 3D technology like Far Sounder's excepted — but often the limitation seems worse than that. I've put Gizmo's bow within 50 feet of ledges and even wall-sided granite breakwaters rising abruptly off a sea floor 10-15 feet deep and not seen them on the EchoPilot screen. Ping absorbing kelp could be the culprit.
Still, if you have an FLS screen, it's hard not to look at it, especially when putzing around in tricky spots. And there was one pulse-quickening point on the recent gunkholing cruise when it let me know about a spot that's significantly shallower than I realized (or is charted). It was a back-engine-and-ease-left, this-is-not-a-test, no-time-for-screenshots moment when I truly appreciated the technology. Even more than other aids to navigation, though, it shouldn't be completely trusted.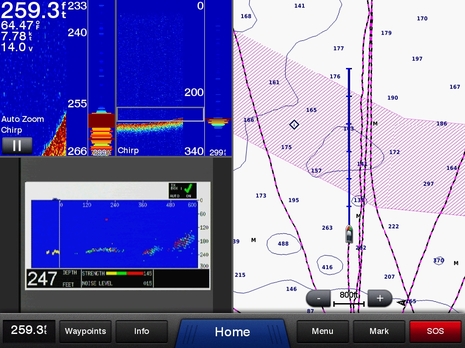 However, I was surprised how well and consistently the EchoPilot Platinum can see fairly deep bottom. While that 247 foot depth reading is about the maximum I've seen — and note the interruptions in the yellow depth history line — the FLS is still showing an underwater hill nearly 600 feet ahead. I believe that this, too, could be a bacon-saving capability in certain very poorly charted areas of the world. Incidentally, this three-window screen is also showing the CHIRP sonar, including an automatic bottom zoom pane, that the Garmin 741 networked to the 8212 can process from the Airmar B75M transducer (latest Gizmo test setup entry here).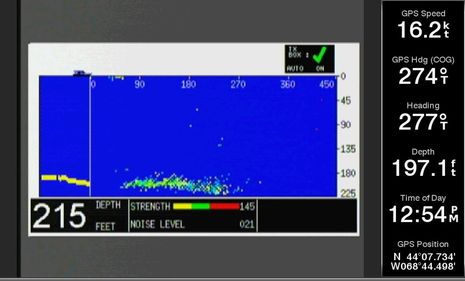 I was really surprised that the EchoPilot continued to perform even when I goosed Gizmo up to semi-displacement 16 knots, because its transducer is mounted on the keel pretty close to the bow, as detailed here. The StructureScan and DST800 transducers also installed forward kept working, too, but the seas were practically flat. When it's rougher I won't be surprised to see all three transducers fail at speed, but my theory is that a few feet of earlier warning at low speeds is worth the trade-off, especially given the short view of the FLS and side imaging. Note that an EchoPilot setup menu let me specify the transducer distance from the bow, which makes the screen vessel icon realistic. I should also add that EchoPilot prefers an transducer mount where there's less deadrise, saying the boat bottom can provide some "ground plane" that helps with getting echo returns coming from near the water surface.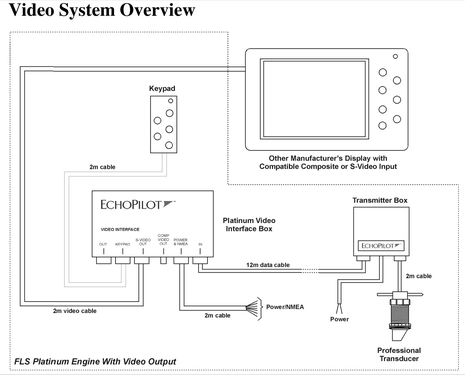 I was slow getting the EchoPilot fully installed, largely because there are two blackbox modules involved and the cable distance from the transducer to the Transmitter Box is only 2 meters. Getting power properly run to a spot near Gizmo's forward bilge was a challenge that involved removing never-removed-before trim…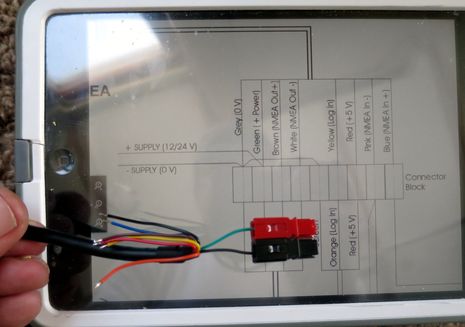 and a few more expletives were shed over EchoPilot's old school wire colors. It's been a long time since I've seen a green 12v plus lead, not to mention a dark gray negative 12v wire that's nearly indistinguishable from a black wire used for something else. And the power wires for the interface module are also unusual, but different. Incidentally, the Platinum FLS can both share depth and display other boat data, all via NMEA 0183, but this feature seems more pertinent to the model with its own screen.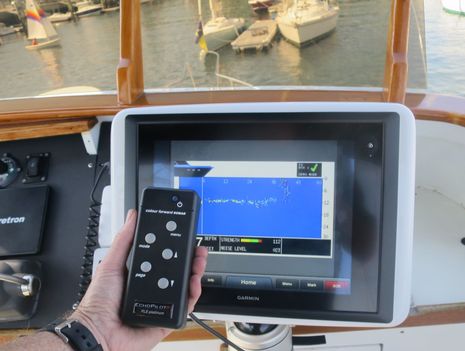 This photo shows the keypad, which can be panel mounted but is working fine for me as a handheld. Because the Platinum video model can only output its screen display, the host MFD can't control anything (except generic video settings like aspect ratio). However, I've found little need to use the keypad with auto range set and gain at max. Note how the EchoPilot is seeing the sailboat hull(s) and heavy mooring float chain about 40 feet beyond its transducer.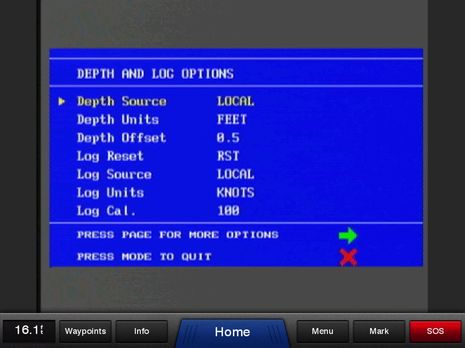 Of course, the keypad is necessary for accessing the EchoPilot's fairly extensive set up and diagnostic screens. But note that though I've set the Depth Units to Feet, the Offset is still expressed in meters (which took me a while to figure out). Note, too, if you click the screen image full size that the EchoPilot portion, which also incudes quite a bit of gray border, is somewhat fuzzy because it's being scaled up from a lower resolution. I tried all available video screen settings on the Garmin 741 and 8212, as well as on the Simrad NSS16 and Raymarine gS125, and this is about as good as it gets. You can definitely see what the EchoPilot FLS is generally up to on any of the screens mentioned, but you'll probably want to push a small window to full screen for maximum interpretation.
Which is part of the challenge that EchoPilot faces when Simrad offers what seems like similar FLS technology but with full use of NSS evo2 screen resolution and controls, plus an install involving only a transducer and a software update at less than half the price. Will Simrad ForwardScan become popular if it can see ahead at least as well as EchoPilot? Will other big integrated MFD developers follow suit? In the meantime, I now understand why many EchoPilot users with reasonable expectations are pleased to have it and why it's nice that such an option is available to most any boater with a video port on their existing display.