Changing transducers — "So you have a 5200 problem?"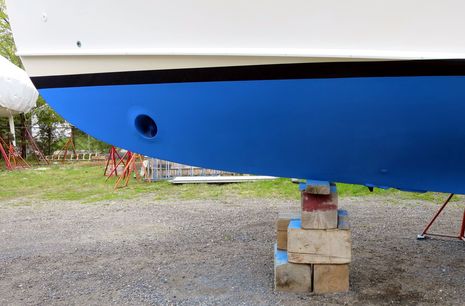 I'm tentatively proud of Gizmo's 2014 forward transducer installs (which you can see better by clicking on the photo above). I knew it would be hard to remove the three ducers installed there in 2010 and "mistakes were made" during the replacement phase, but I'm fairly sure the boat is set up now to properly compare EchoPilot FLS with ForwardScan, and I also look forward to checking out the manly HD version of Navico StructureScan. Plus, there are yet other possibilities for the forward retractable casings and two new fixed transducers back aft…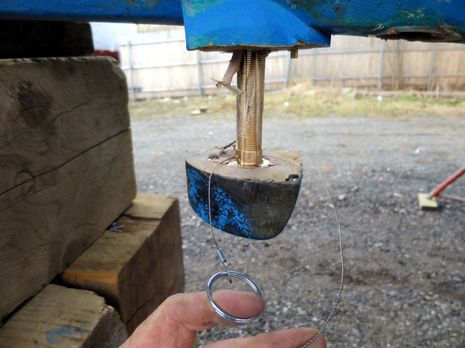 The biggest problem was removing the big old Interphase FLS transducer, which I had installed with liberal quantities of 3M 5200 adhesive/sealant. Yes, it's recommended for permanent bonds, and I've seen fine hardwoods fail before a good 5200 joint, but a protruding transducer on the keel could be easily knocked off in a hard grounding. I figured that wicked tough 5200 would maximize the possibility that the transducer would shear off instead of pulling its stem out, thus leaving the boat with a significant underwater hole. At any rate, I asked around and did some Googling, and one trick I came up with was the $4 Coghlan Pocket Saw you can see in the photo above. It did a nice job of separating the transducer and 5200 layer from the fairing block that I hoped to retain for the EchoPilot casing. But, as indicated by the scars on the transducer stem, more brutal techniques were required to get the darn thing to drop out of the boat…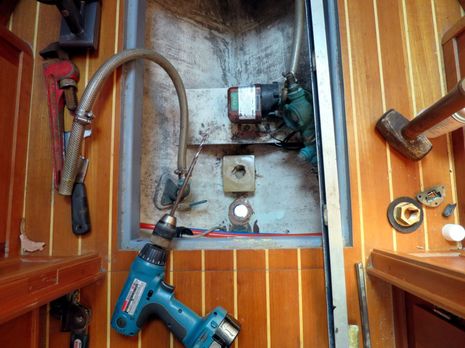 Here's the bilge access in Gizmo's forward cabin, a significant reason why installing transducers here makes some sense. Note the pipewrench, two-pound maul, and most especially the long tapered electric drill bit. What ultimately got the old transducer to move was drilling around the stem — not a problem as the Echopilot casing required a bigger hole — and also injecting the area with some special gunk. But before discussing that, I'll add that it was relatively easy to remove the old plastic housing for the DST800 to install a similar-size bronze Airmar B617 valved housing that will accommodate either the DST800 or the coming Simrad ForwardScan transducer. Note also the air conditioner and head flush water seacock hose that I detached, as it figures in the comedic end to this tale…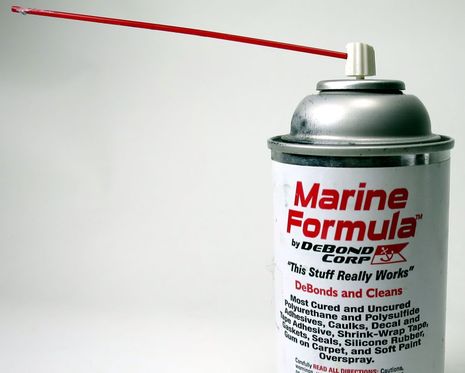 I can attest to the DeBond Marine Formula slogan, "This Stuff Really Works," and that includes 5200. In fact, when I asked about DeBond at my wonderful local Hamilton Marine outlet, the savvy salesman's immediate and deadpan response was, "So you have a 5200 problem?" Well, I explained, not really a problem (as the forward bilge has been bone dry ever since the 2010 install), but I am going for a redo. DeBond is not magic. It won't melt 5200 so you can simply reverse an install, but it does slowly work away at the bond between the polysulfide and whatever surface it's adhered to, and you can speed that process with a knife, wire saw, or drill.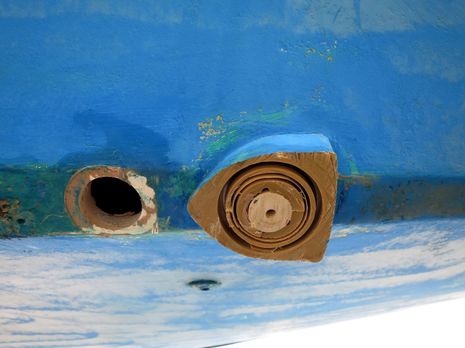 Now, how do you make a small hole into a big hole? Hole saws have a center guide bit and are very hard to control if that bit is spinning in air. The trick was a set of Plastimo tapered wooden plugs (that are smart to have onboard anyway). I hammered one into the old Interphase hole, sawed off the remnant, and proceeded to use every size of hole saw I have between the EchoPilot's 2.5″ stem diameter and its 3.25″ flange, the idea being to fair the flange into the already vertical Interphase block. That part went well, but please bear this in mind: When you dry fit a transducer housing, make sure you not only apply the interior nut, but also make sure there's still enough thread left to snug down the transducer or blank plug. Also, be darn careful during the final install not to cross thread the nut so that you can't tighten it properly and also can't remove it. And be aware that a combination of those errors might lead you to call your daughter on a Sunday evening to squat beneath your boat with a wrench so you can desperately undo the 5200 mess you've created!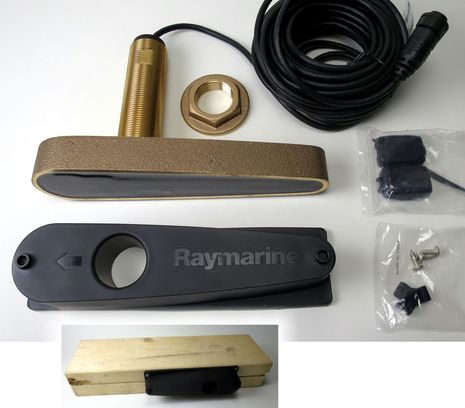 The aft transducer install went much more smoothly. The above photo shows the nice fairing block that comes with the Raymarine CPT-120 CHIRP sonar and downview transducer, and the inset illustrates how you can use its squared off flange to temporarily mount the block so you can run it safely through a tablesaw tilted to match the deadrise of your hull…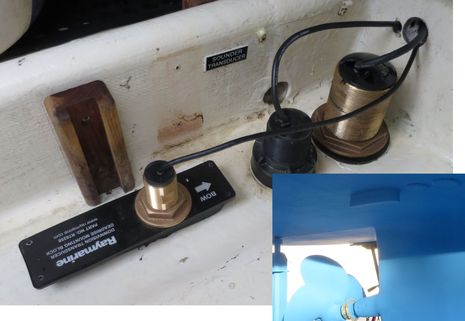 And here's the finished install well aft of the forward transducers but forward of the propeller. The middle transducer is an Airmar 50/200 kHz that came with Gizmo and has served well with various Raymarine MFDs over the years. Finally, most forward is the new Airmar B75 medium frequency (80-130 kHz) CHIRP ducer that I'll be able to switch between Garmin and Simrad displays. It's nice to add that I took the main photo yesterday, more than 24 hours after the boat was launched, and the area is completely dry. (There will be a future entry about that blue water-based copper-free Pettit HydroCoat Eco anti-fouling paint I'm also testing.)
Unfortunately, it took a whole day to assure myself that the forward transducers are also completely sealed. That's because I'd left that hose undone and it turned out that having the seacock shut off does not mean that the seacock is shut off. Which made for some busy moments as Gizmo sat in the travellift slings and I'm not happy about driving around for 18 months with a failed seacock, though I do have those tapered plugs. Oh, and I also have a Macris underwater light mounted near the forward transducers. I think that underlighting the bow may look pretty cool, plus the light could be useful if I ever come across a camera that fits in either the 2- or 2.5-inch casings. Note how I wedged the future ForwardScan casing to get it vertical and tried to sculpt the fairings hydrodynamically. I'm not sure how I did, but poor fairing should show up as a drastic drop in performance as speed increases. Testing is still a few weeks off, however, as I'm also replacing almost every other electronics component on poor Gizmo. It seemed like a good idea last fall.