Fred Pot, AIS man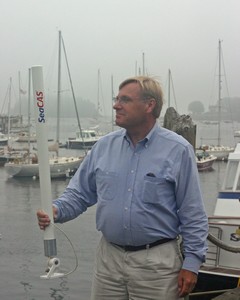 It was an honor to be visited by Fred Pot last week. Fred is a Dutch marine engineer and consultant who's been involved in AIS from the beginning. He currently lives on the West Coast, represents the U.S. on a couple of international working groups, and maintains www.uais.org. He's also started a company, SeaCAS, that's about to introduce the SafePassage AIS receiver he's holding at right (with an appropriate background of Maine fog, bigger here). The whole deal is inside the fiberglass tube: a dual frequency receiver with an AIS tuned VHF antenna, and a 16 channel WAAS/EGNOS GPS with its antenna. The four wire cable can either attach via USB for data to a PC, and power from it, or it can go to a small interface box with a power feed and 38.4kb NMEA 0183 output to a plotter/radar or a mix of displays. It's going to cost $1,250 when it ships in August, but obviously is easy to install and needs no accessories. Other features: a receiver sensitivity rated at -107dBm, the ability to pass along all AIS messages, and the incorporation of dGPS corrections when within AIS range of differential ground stations. I'll try to post a note when there's more information and live ordering at SeaCAS.com, and I'll have more entries soon based what I learned from Fred about the state of Class B and some surprising ways AIS may get used.
PS Yacht AIS, mentioned earlier, has released a final version of its Professional level software and is also now offering it bundled with a dual frequency TrueHeading AIS receiver/GPS for 729 Euros (you'll also need VHF and GPS antennas).
Update, 6/7: Fred reports that while he was travelling, his engineers were able to "vastly improve SafePassage's sensitivity by changing its appearance". The new design will still be all-in-one but with an exposed whip antenna on top of a shorter pipe. He promises a picture as soon as available.