Fuel management 2, FloScan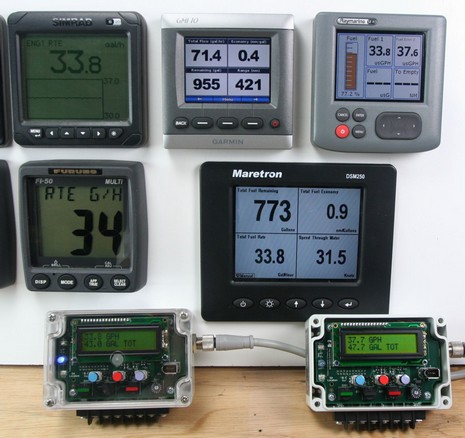 Consider this test a work in progress! (Bigger photo here.) Those are two FloNet N2K interface boxes that FloScan loaned me with built-in simulation of something like a big sportfishing boat blasting along on a plane. I can modify the simulated flow value somewhat using the calibration controls built into the box, which also has an "instance" switch so that the left one (instance 0) is set up as as the port engine and the right one (instance 1) represents the starboard engine. As noted on first sight, FloScan has designed this adaptor so that a special display is not needed to manage all its calibration and flow meter diagnostics; all you need is a display that understands what to do with a fuel flow message(s). Well, easier said than done, particularly when you throw twin flow values at those displays first, and read the manuals later!
The Garmin did pretty well, recognizing the two flow values and totaling them upper left and in the miles/gallon figure. However there's a glitch in its "remaining fuel" figure (explained in Fuel Management, part 1); it's only subtracting one flow value from the total gallons I'd programmed into it. I had to tell the Raymarine ST70 that it should look for two engines, for which it would give individual flow values, but not a total, and its miles/gallon "economy" just repeats flow, and gallons "to empty" didn't seem to work (I may have missed something, or those functions may need tweaking). The Maretron at first only showed one engine's flow and nm/gal, but I later figured out how to enable the other value and now it matches the Garmin. But note that Maretron's definition of the "remaining fuel", unlike Garmin's, is the total tank capacity divided by its percentage level. I have it set to 1,000 gallons, 77.3% full. Note too that if you page to the Garmin's fuel gauge, you'll see 77% full, based on the Maretron tank PGN. Confused yet!
Then there's the Furuno FI-50 Multi, which shows the flow rate of the "0" port engine. If there is a way to set it up for two engines, I haven't found it yet. It also, like the Simrad, does not seem to do an nm/gal economy calculation, but it seems to be the only display that can show the "gallons used" PGN coming from the FloNet (though only one). The Simrad recognizes two engine flow rates (also RPMs and tank levels) as possible data, but I can't get both of them to show at once on a screen. Conclusion, which is no doubt frustrating for FloScan: not one of these displays can yet show everything you might want for dual engine fuel management. Check out the Lowrance LCX screen below to see what I mean. I set up the "Custom Gauges" window to show each engine's individual flow and nm/gal values, as well as their total (in a big, ouch-that-hurts-at-$5–gallon font). The only glitch on this screen is a user error. The Lowrance is seeing the 1,000 gallon tank capacity and tank level from the Maretron sender but using its own mis-programmed tank value of 100 gallons to calculate range and fuel remaining. Now, I'm going to take the holiday off, and hopefully burn a little real gasoline on the water…but in much smaller quantities.
PS Turns out that the Garmin's remaining fuel total is correct; what fooled me and is not correct is the gallon totals simulated on the FloNets. I wasn't tracking time when I took that photo above, but can tell you now that it represents about 40 minutes of simulated fuel burn, as shown on the GMI (45 gallons used), not the 80 minutes or so suggested by the FloNets. Sorry, Garmin, especially the engineers who tried unsuccessfully to duplicate a "problem" that wasn't. I'm sure that real FloNets total flow correctly.