Interactio Optio Fuel, easy installation and accurate fuel flow
{Editor Note July 2022: Interactio has apparently gone out of business and the Optio fuel flow system is no longer available.}
Interactio's Optio Fuel flow system is a tidy little box that delivers gas or diesel consumption information to your phone. The system's app collects performance data about your boat and then makes recommendations for the best cruise speed to help you run your boat as efficiently as possible. Can a little box communicating with your phone via Bluetooth really help you run your boat more efficiently?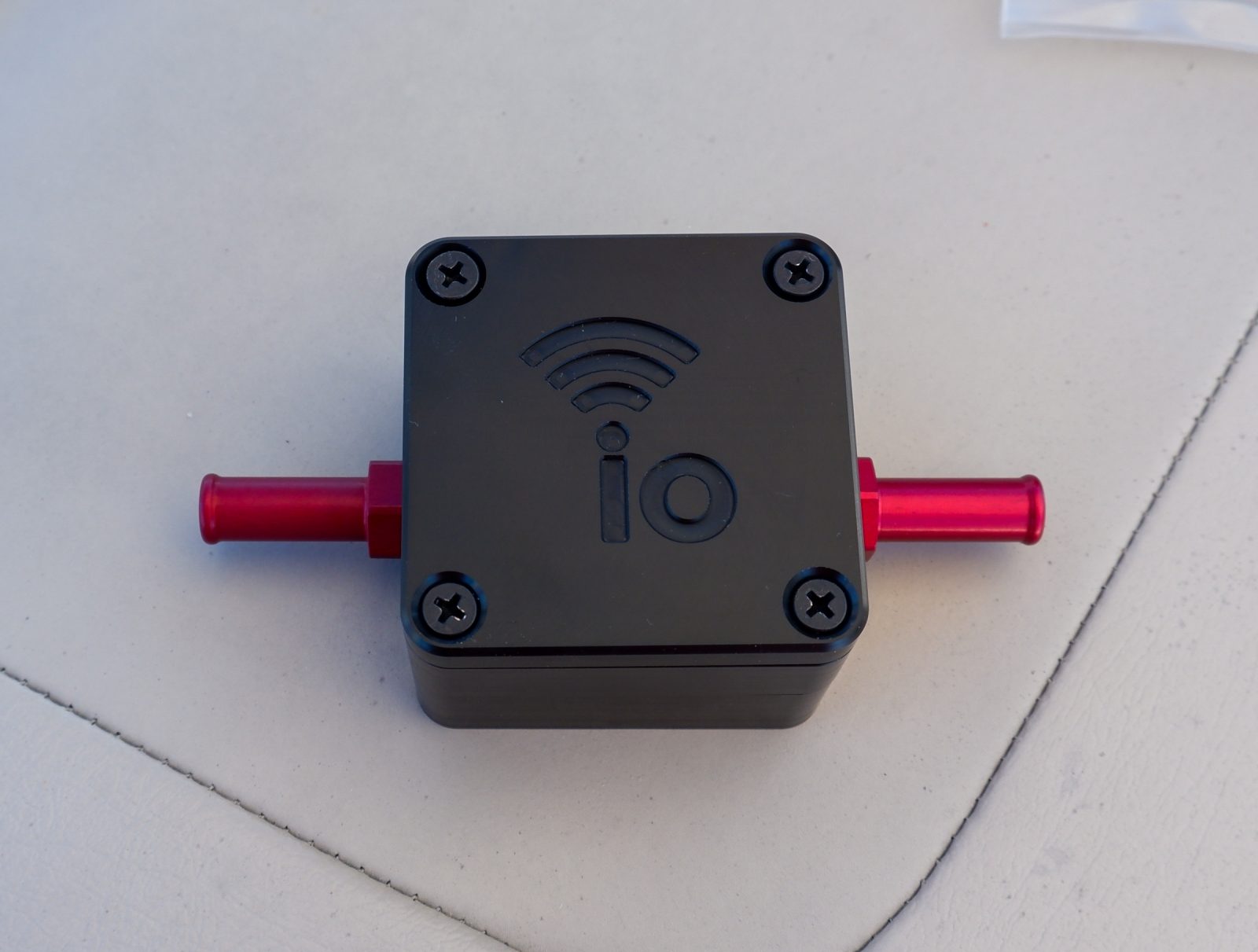 On a gasoline engine without a return fuel line — most gasoline engines — the Optio Fuel flow system consists of one small (roughly 2″ x 2″ x 1″) black box with input and output ports on opposing sides. This about $400, tidy, battery-powered box is all you need to measure fuel flow and send the data via Bluetooth low energy (BLE) to your mobile device.
If the Optio Fuel is being used to measure a diesel engine with supply and return lines, two Optio Fuels will be needed (available in a bundle for about $750), one to measure how much fuel goes to the engine and another to measure how much comes back. The app will then do the math to calculate the difference between these two numbers to calculate the actual amount of fuel burned.
Installation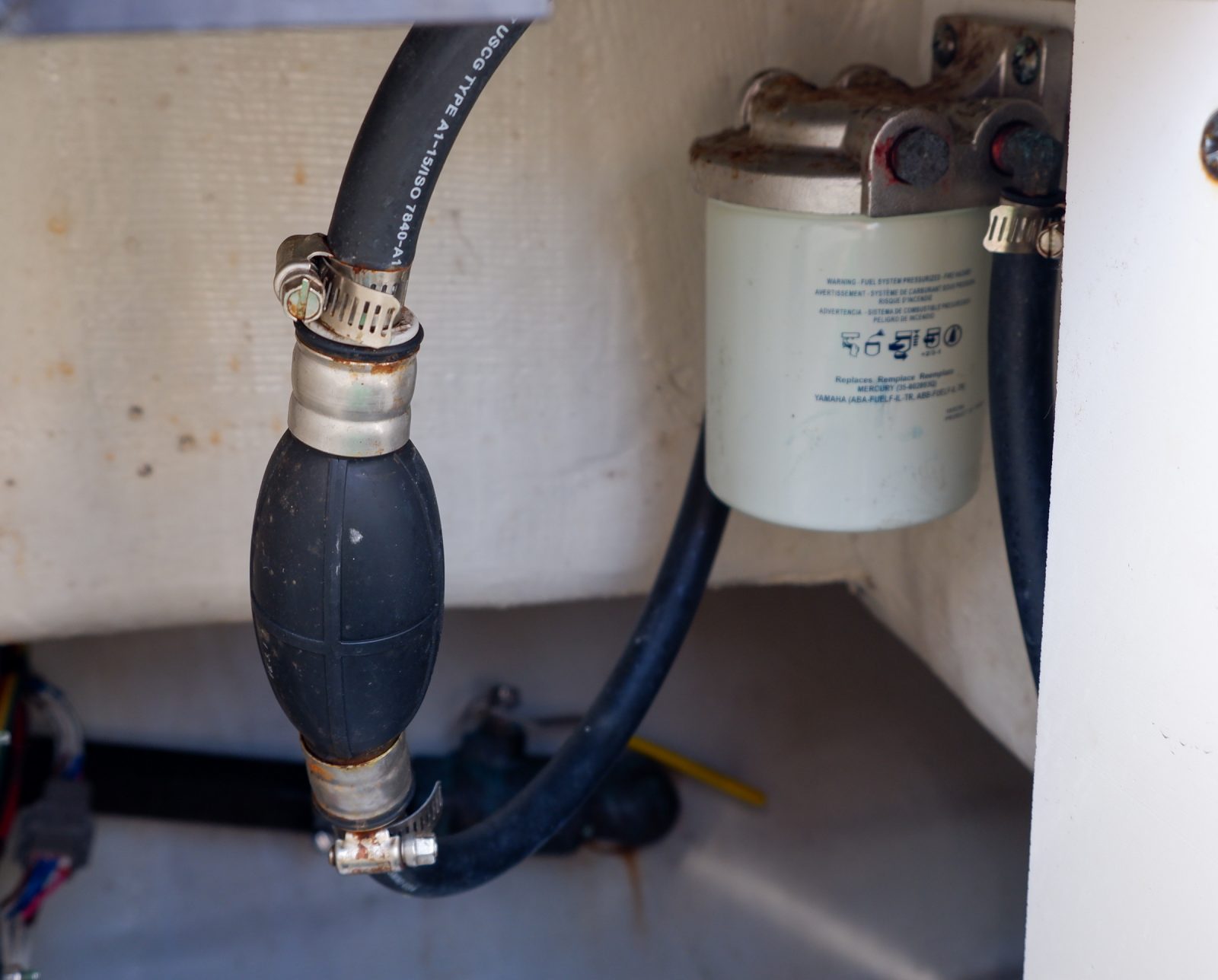 I installed a single Optio Fuel on Panbo(at)'s 150 horsepower Yamaha F150 gasoline engine. Installation was quite simple; requiring mounting the sensor, moving the fuel line from the priming bulb to one side of the Optio Fuel, and then adding a section of fuel line to connect from the priming bulb to the other side. It doesn't matter which port is used as the input and which one is used as the output so you can plumb it however works best for your physical installation.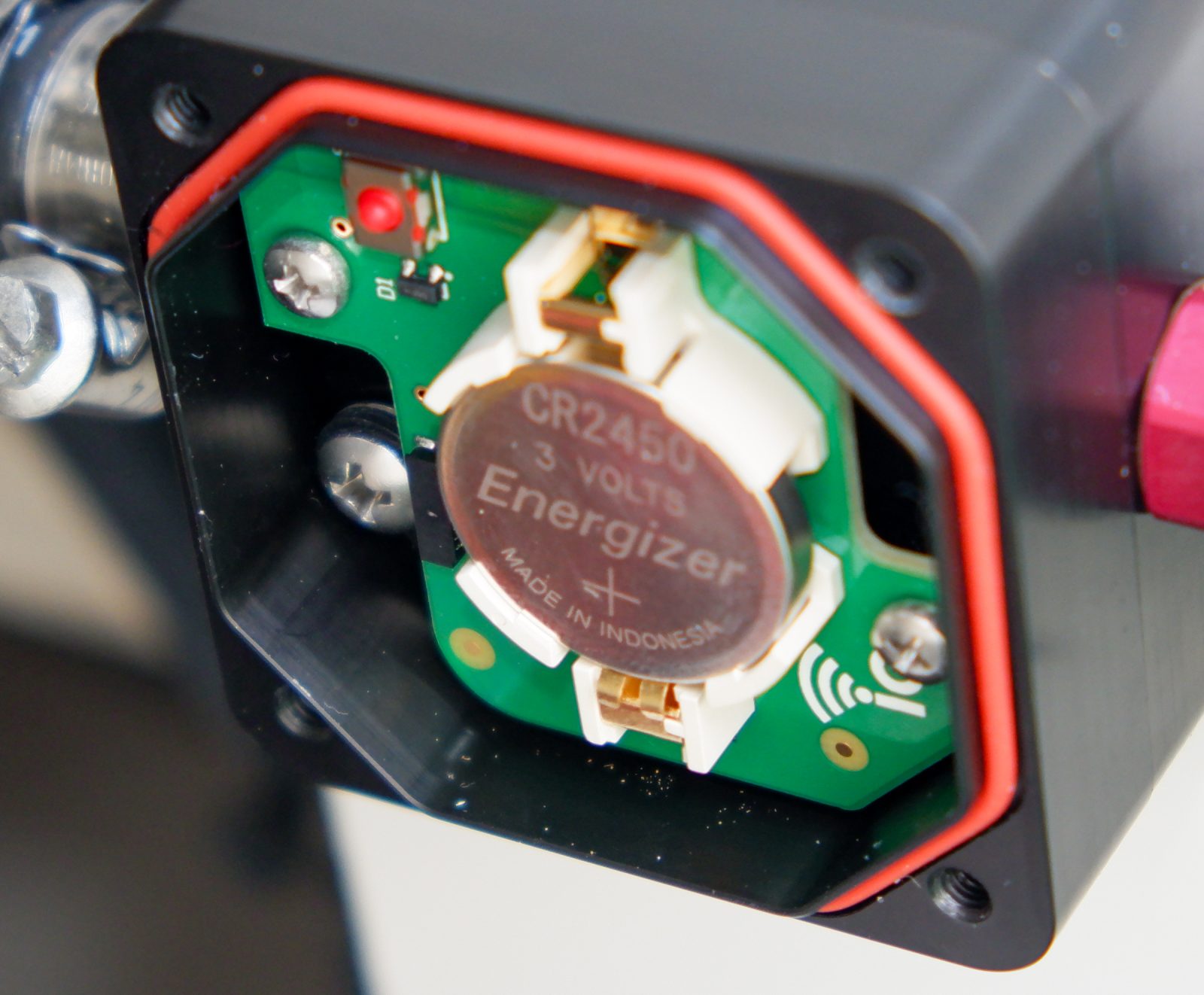 With the physical installation done, the Interactio app needs to be installed on a mobile device and paired. Pressing the red button on the circuit board of the Optio Fuel wakes it up, but if you've already closed the unit up fuel flow will also wake the unit.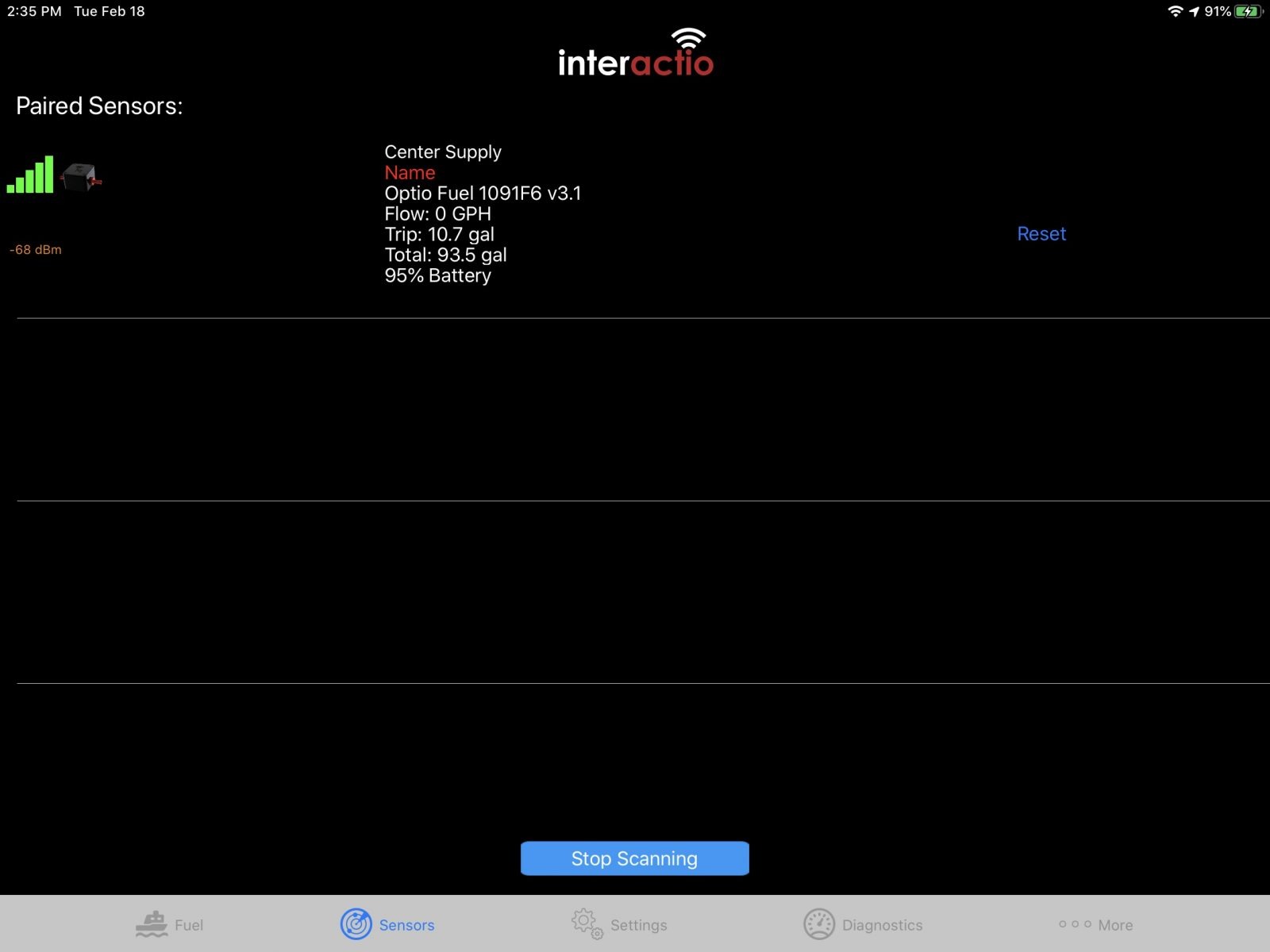 The sensor was quickly detected, and then I only had to input boat information to complete the install. Including taking my time and photographing, the entire installation was well under an hour.
Measuring fuel flow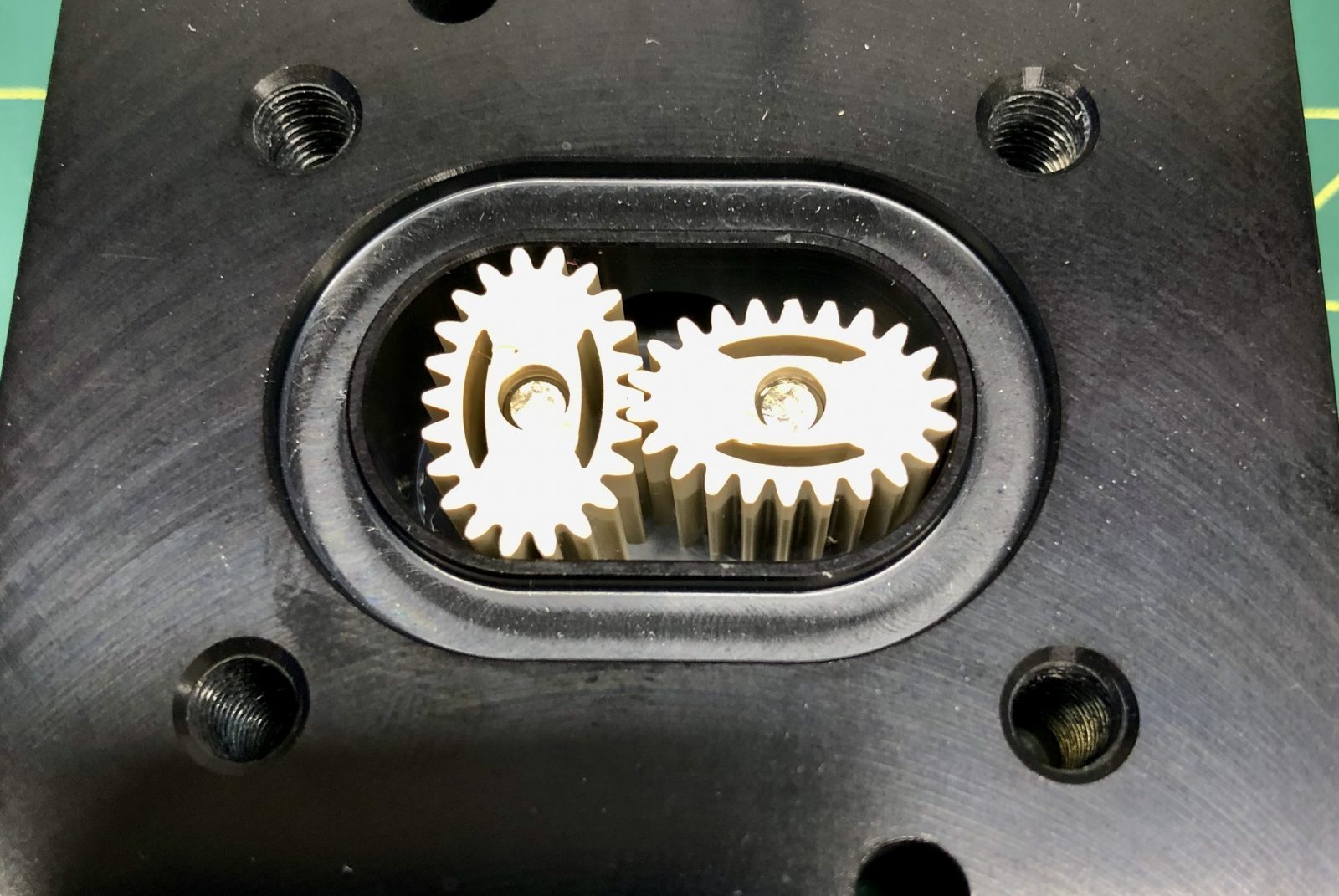 Once installation is complete, it's time to start collecting fuel flow data. I started up the engine expecting to quickly see fuel flow numbers appear, but none appeared. I was confused, the app just stared back at me showing all zeros for fuel flow. Eventually I revved the engine in neutral a couple of thousand RPMs and the sensor registered two gallons per hour. Once I returned the engine to idle the Optio Fuel continued to show fuel flow for a few seconds before returning to zero.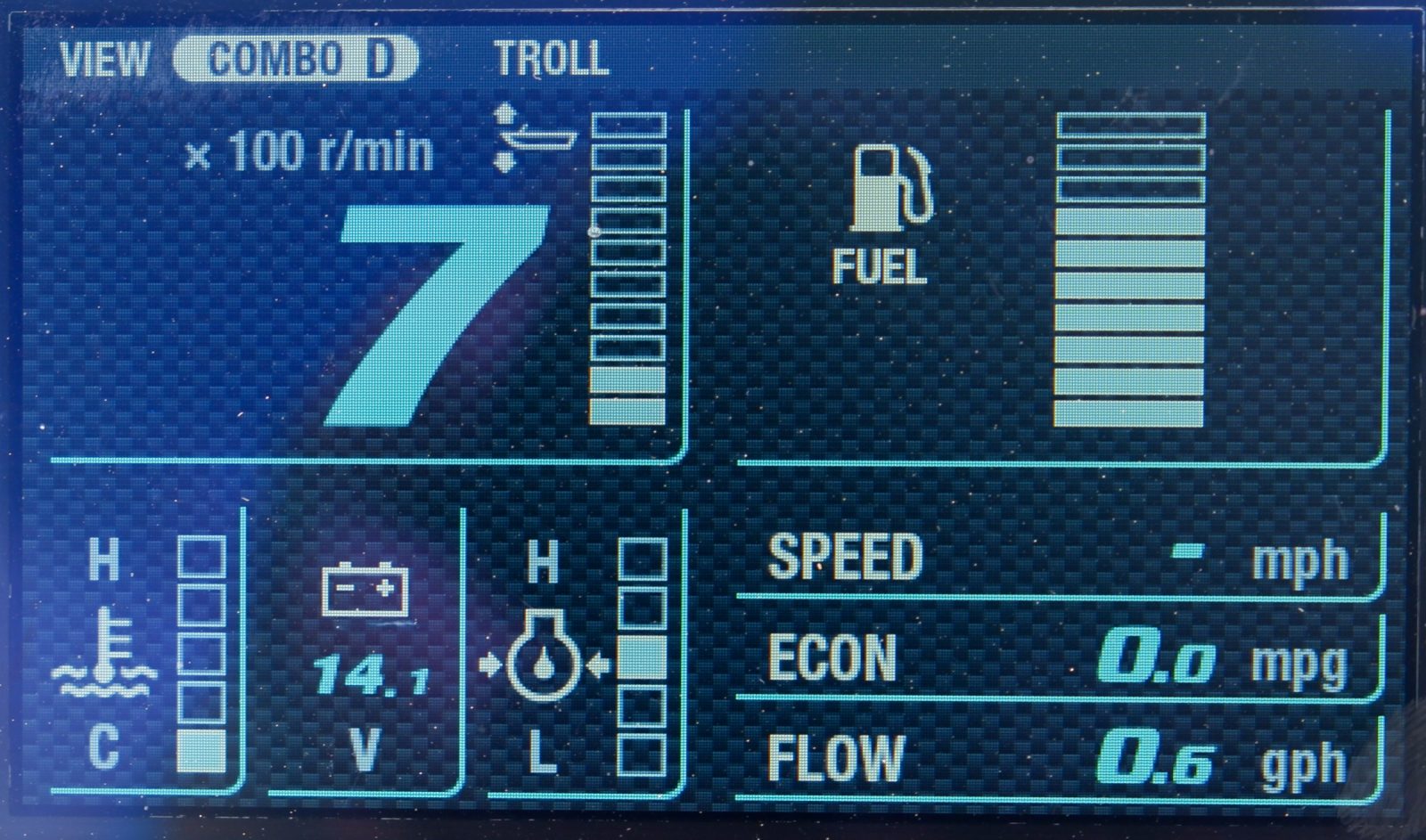 My first reaction was a little concern, how accurate could this sensor be if it couldn't read anything at idle? At this point I realized it might be time to read a little more (I can read, it's just that sometimes I choose not to). I found Interactio's FAQ which includes an answer to "Why does Optio Fuel's flow range start from 1 GPH not 0?" Interactio explains that the sensor is designed to bypass fuel at low flow, both to ensure the engine will receive fuel even if the gears in the sensor are jammed and to minimize the reduction in fuel pressure through the sensor. A little sheepish about my lack of research, I pressed on.
The trouble with low flow rates is largely limited to gasoline engines. Diesel engines draw and return a lot of fuel, as Ben Ellison discovered when he installed Maretron's FFM 100 fuel flow system. Diesel engines cool the injector pump with excess fuel passed through the pump and returned to the tank. So, to measure actual fuel usage for a diesel engine you need to measure the rates at which fuels is supplied and returned and then subtract the return fuel quantity from the supply.
Now that I understood the behavior of the sensor at low fuel flow rates I got off the dock and tested the sensor at higher fuel rates. What I found was wide varations between what the Optio Fuel read and what the Yamaha display showed. This isn't too shocking to me since I knew that the Yamaha display isn't measuring actual fuel flow; instead it's counting pulses of the fuel injectors and using math to determine the current flow (Ben E. has written about this method of fuel measurement for diesel engines as well).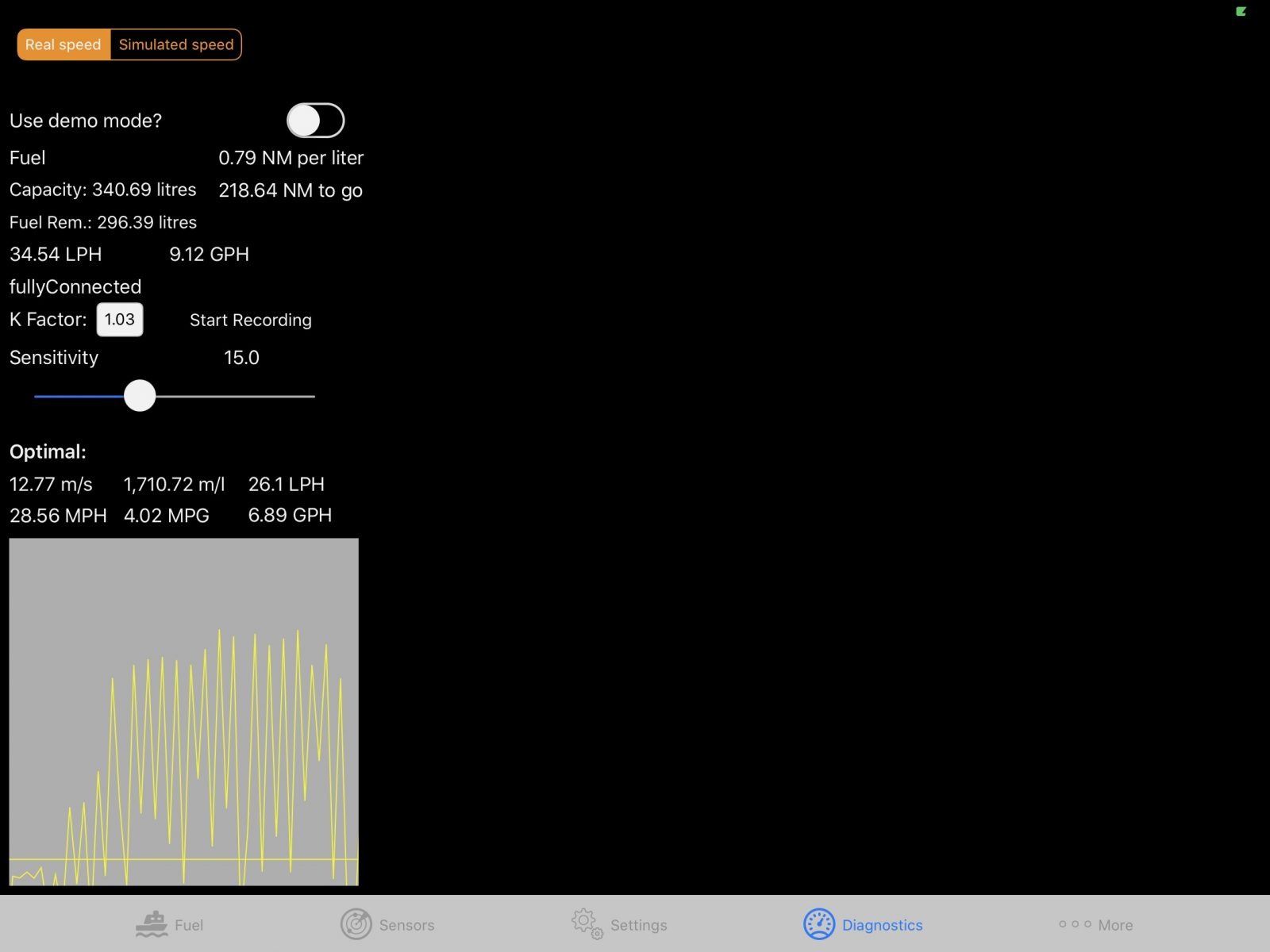 Most modern outboards utilize both low- and high-pressure fuel pumps. The low-pressure pump draws fuel out of the boat's tank and delivers it to a small reservoir on the engine that is used to pressurize the fuel rail of the engine. The low-pressure pump typically pulses off and on to keep the reservoir full. This system means that instantaneous measurements of fuel flow may not reflect how much fuel the engine is actually burning, instead showing how much fuel is being delivered to the internal reservoir of the engine. But, that won't affect the overall fuel measurements because the fuel delivered to the motor's reservoir will eventually be burned and then replenished giving you accurate overall fuel burn information.
Overall accuracy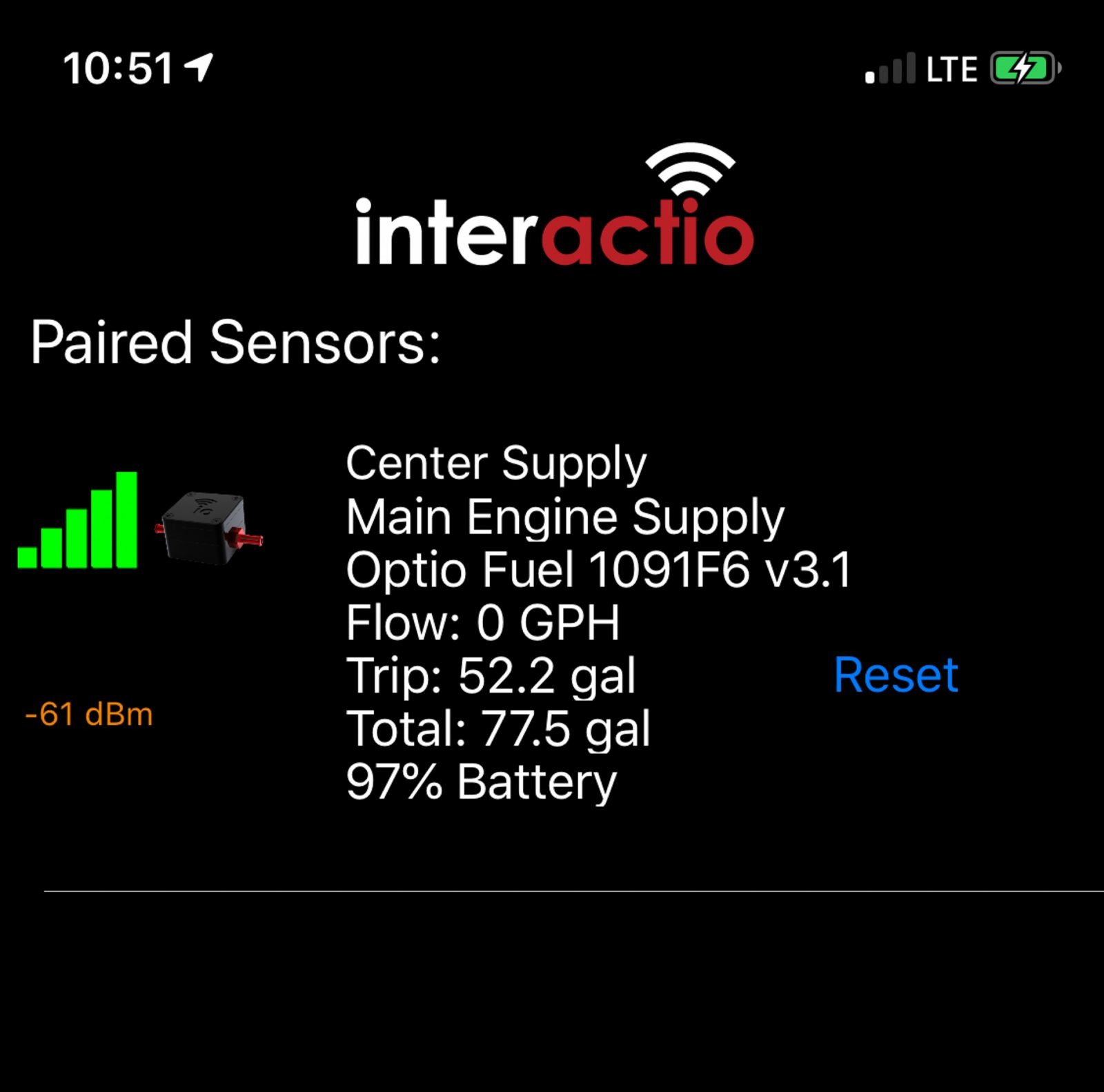 So far I've described multiple reasons the instantaneous fuel readings shown by the app might not be accurate. So, it would be reasonable to infer that the Optio Fuel isn't very accurate, but that's not the case. It turns out the Optio Fuel is very accurate, in my testing through three cycles of burning fuel and then filling the tank I've found the Optio Fuel to be much more accurate than the Yamaha Command Link display. The Yamaha display usually overstates fuel burn by about ten percent while the Optio Fuel has been about two to three percent under actual numbers as reported by the fuel pump. I should note that my testing methodology isn't up to laboratory standards, I've used the same fuel dock for each of the three fill-ups but if the calibration of the fuel dock pump is off that could introduce issues.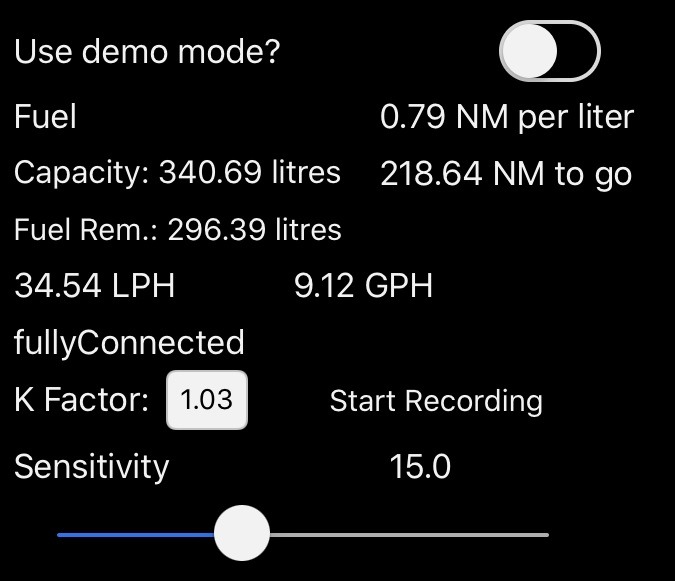 The Interactio app's diagnostics tab includes the ability to edit the K factor utilized by the application for fuel calculations. K factor is the Optio Fuel's calibration adjustment; setting the K factor to 1.03 as I've done above adjusts the burn up by three percent. K factor can be used to adjust for long periods at idle — and hence below to 1 gph threshold for the sensor — or for approximations of other uses of fuel not measured, like a generator.
Optimal cruise speed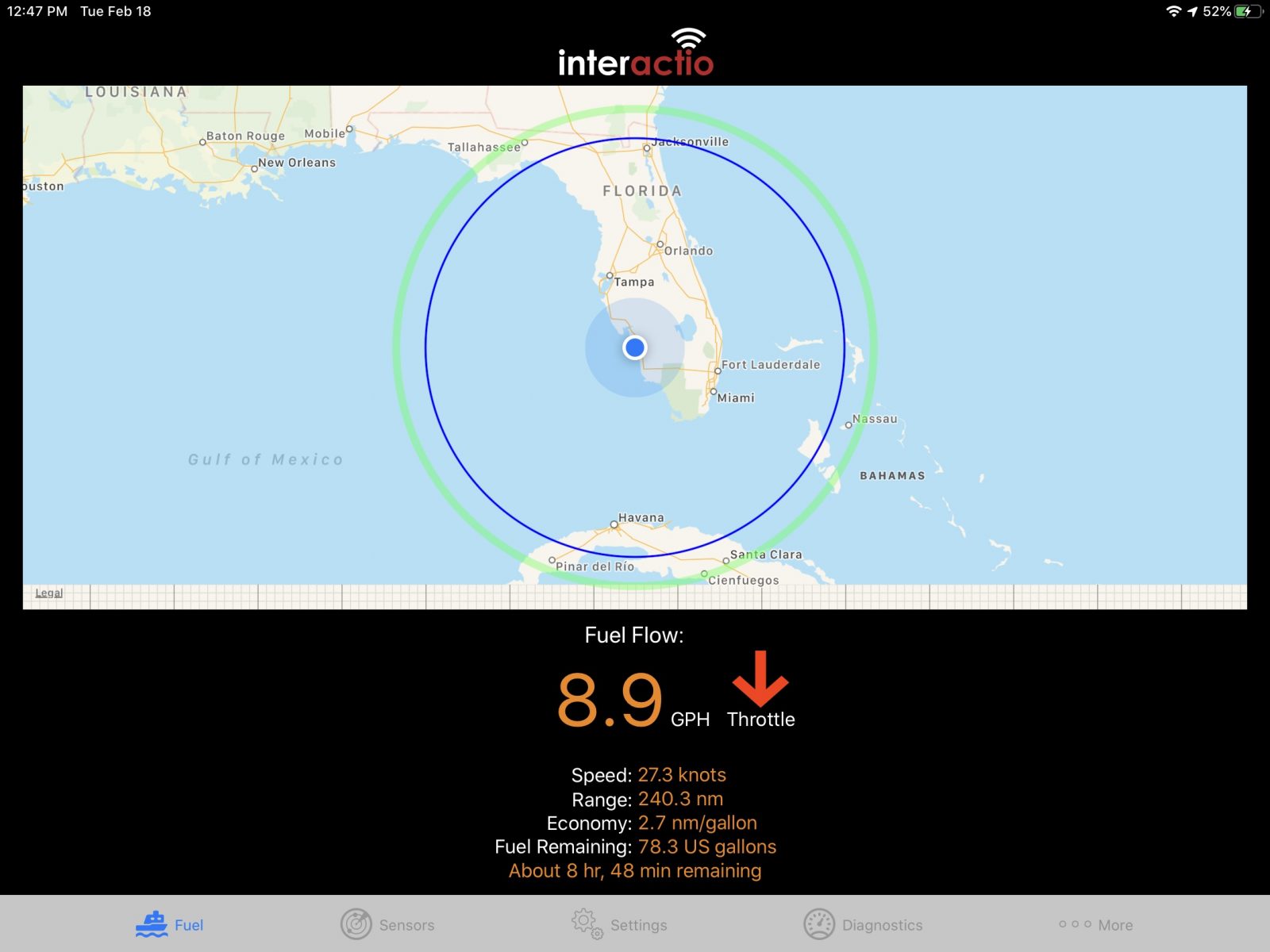 The Interactio app home screen displays current fuel flow, efficiency, and range data. The green circle represents the app's calculation of your range at ideal efficiency based on your current quantity of fuel and the blue circle shows your current range based on your efficiency at that moment.
When I spoke with David Burton, Interactio's founder and CEO, he explained that the app is measuring economy at each fuel burn rate and building a map of the most efficient cruise. Unfortunately, I've found the efficiency calculations and recommendations confounding. For instance the screenshots above show that at 8.9 gallons per hour and 27.3 knots I'm being told to throttle down for more efficient cruising; 27.3 knots burning 8.9 gallons per hour corresponds to just over 3 nautical miles per gallon (nmpg) — though the app is calculating this at 2.7 nmpg. The second screenshot shows 24.4 knots burning 8.4 gph for 2.9 nmpg, but the app is showing 5.4 nmpg and suggesting more throttle. In the final screenshot the boat is travelling at 25 knots and the Optio Fuel is measuring 10.2 gallons per hour of fuel flow for a calculated efficiency of 2.5 nmpg, though the app is showing 2.7 nmpg and ideal throttle.
The recommendations frequently seem to be flawed, but in fairness to Interactio, what they're trying to do is quite difficult and it's made a lot more difficult by the way the low pressure fuel pump draws fuel. I suspect these calculations can get more accurate, but I fear the goal of making accurate efficiency recommendations based only on GPS and fuel flow numbers may be unattainable. Without access to information like speed through water and engine RPM — especially in areas with strong current — I think there may simply be too many factors the app doesn't know about.
Battery life
Interactio says that each CR2450 battery is good for about 1,700 hours of active fuel consumption and that this should easily equal or exceed a year of real world usage. The sensor goes to sleep when no fuel flow is detected and automatically wakes back up when it sees flow. Thus far I've used the sensor for about 35 hours underway and it's still showing 95 percent battery life. These returns make me think the sensor will easily last the advertised time and make the tradeoff of installation simplicity versus having to replace the batteries periodically seem like a very good one.
Pricing compared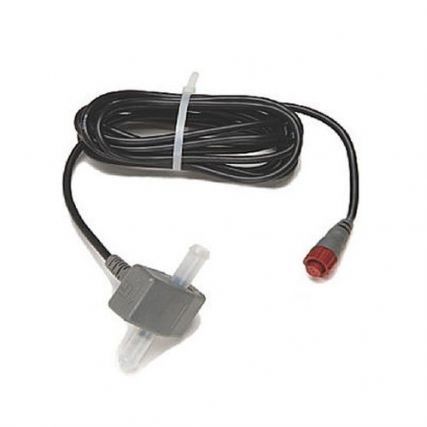 Fuel flow sensors seem to be available at several different price points. A Maretron FFM100 with two flow sensors — which use the same gear system to measure flow — capable of reading .5-25 gph carries a list price of $1185, which makes two Optio Fuels for about $750 look like a good value, especially if this is your first Maretron equipment and you also need to purchase a USB100 or other device to configure the FFM100. But if you compare a single $400 Optio Fuel to a Lowrance fuel flow sensor for $200 it can look a little more expensive. But the reality is that Lowrance, and similar inexpensive fuel flow sensors, use less accurate turbine to measure flow and doesn't have the ability to join two sensors for supply and return calculations.
NMEA 2000 compatibility
The one thing both the Maretron and Lowrance sensors have going for them is NMEA 2000 compatibility. And though this can make installation more difficult since a NMEA 2000 drop cable needs to be run to the sensor, it also means the sensors' data can be displayed on any compatible display. Interactio has plans to offer a hub that will, among other features, provide an interface between Bluetooth Low Energy and NMEA 2000. This option strikes me as the best of both worlds because of the flexibility in placing the hub while maintaining the ease of installation of a fully wireless sensor.
Final thoughts
The primary job of a fuel flow sensor is, not to state the obvious, to measure fuel flow. This sensor accomplishes its primary mission, at least in my testing, with great accuracy and I believe that's what's important. The inaccuracy of the efficiency recommendations doesn't subtract from the great results measuring fuel flow. Plus, I believe that feature is easily improved upon with future software releases. Based on the attention to detail and execution of the hardware design I think it's likely that we will see just that happen. I think Interactio's solution is already pretty good and will get even better when the NMEA 2000 hub is available allowing the Optio Fuel to connect to other onboard electronics.