Globalstar vs Iridium, no winner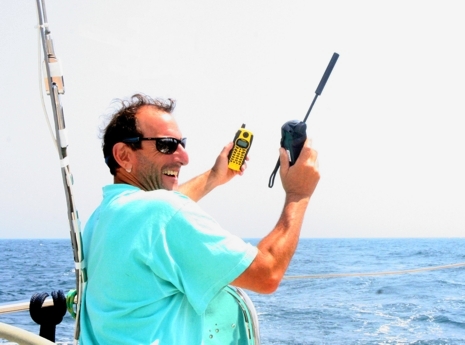 When I sailed from Bermuda to Maine in June, the happy electronics story was testing a Class B AIS. But there were other stories, like getting to try Iridium and Globalstar satellite phones side by side. One reason I've been slow with it is that neither phone seemed a real winner. In fact, that's Vision of Johanna's owner Bill Strassberg expressing our occasional "throw them both overboard" feelings.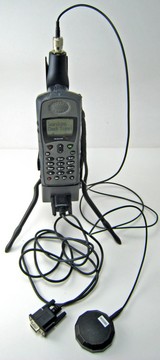 That yellow Uniden waterproof cordless phone connects to his Sea Tel WaveCall 3000 system with backstay-mounted 10" antenna. It worked well during the 2005 Bermuda race but this year regularly cuts off calls and email up/downloads, or just won't connect at all. Just before this year's race, Bill and Gram bought and installed Global Marine's XGate e-mail software and were very pleased with how much it improved Globalstar's data performance, speeding up GRIB file downloads, even picking up partial downloads after a broken connection. But voice calls home were frequently not so pleasing!
XGate email worked well on the Iridium too, but the phone did not do well with Global's XWeb browser accelerator (and the poor antenna I was using, see comments). Plus, while Iridium voice calls always went through and were never cut off, they didn't sound as good as the Globalstar. It's hard to describe the Iridium effect but it was particularly noticeable when I got my home answering machine one day, and couldn't recognize my own voice. I also thought that the 9505A handset, data kit and remote antenna that Iridium kindly lent me were all a bit klunky, and are due for a redesign. There are better looking docking set ups available from the likes of OCENS, but they are pricey, as are Iridium minutes. The big question for lots of North American offshore boaters is when will Globalstar fix its service problems. I'll have a little information to share on that soon.