KVH M3 earns award, and competitor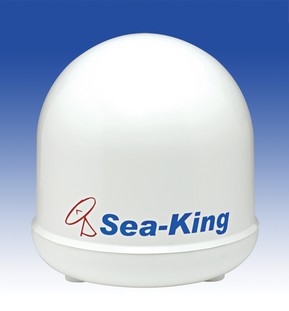 At METS, the DAME awards electronics category was deservedly won by KVH's M3 satellite TV system, a product that impressed me big time when tested last summer. But the little M3 now has a competitor worth noting, the King Control Sea-King 15" Saltwater Dish at right. It's the same size, claims the same tracking abilities, but, unlike the M3, can receive HD and local DirectTV, even work with other service providers. It also has dual LNBs making it easier to feed two TVs, and it's significantly less expensive. On the other hand, the M3 comes complete with a 12v combined controller/receiver (you provide the receiver in a Sea-King system), and a Panbo reader reported today that a KVH tech assured him that they're working on a retrofitable HD/local M3 upgrade. Game on!
By the way, KVH did a great job blogging METS, which I got a particular kick out of as it was a certain KVH exec who—years ago, at a big Miami trade party, in almost classic "plastics!" fashion—advised me that blogging might be a great way to capitalize on my marine electronics obsession. I'm grateful for his encouragement (I think). Here's wishing everyone here in the States a fine and peaceful Thanksgiving holiday.