Memorial Day, "Don't let the bastards grind you down"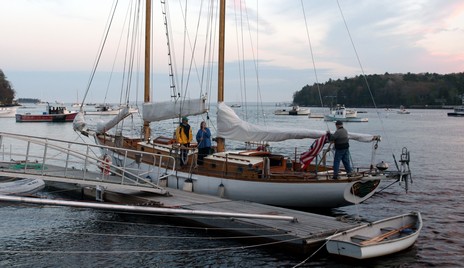 It's Memorial Day here in the States, and frankly a tough one, given what peril and mess we've put our military into. But I will show the flag with pride. I took this particular shot, bigger here, a week ago in Rockport, Maine, as two dear friends held a party to say farewell to Audacity, a wooden schooner they'd owned for 28 years. I first met Max and Lavana in the spring of 1980 in St. George, Bermuda, as they were completing a North Atlantic circumnavigation, and it was a great pleasure to have them eventually move to my town. Inspirational too, as right up until last week they were still sailing this 51' boat just the two of them, and doing all maintenance. Here they're striking the colors for the last time and about to hand the flag to the new owner. It was very sweet moment.
One feature that the original owner of Audacity installed in 1971 is the carved aphorism below. It may be mock-Latin, but it too seems pertinent to the holiday.