M/V Brilliant, loving AIS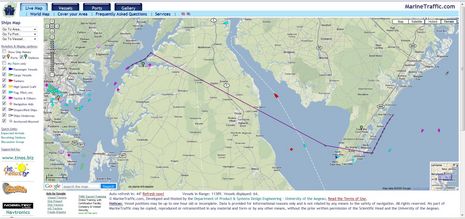 I am a wee bit jealous. That's my brother-in-law Richard Itkin driving his Grand Banks 42 Brilliant down Chesapeake Bay this morning, having left New York Harbor yesterday morning (and Barrington, RI, on Tuesday). As a guy who drove submarines and sub tenders for the U.S. Navy, Rich has a well developed appreciation for collision avoidance, and he's been tickled with the ACR Nauticast B AIS transponder he installed a few weeks ago. But before I pass on his reports, please click on the screen above and note something I just realized regarding MarineTraffic.com.

In fact, deciphering that screen might help many to understand what's happening on any live AIS Web site. Though it may lead to some bogus track lines, the way Marine Traffic connects whatever its network of listening stations has collected in the last 24 hours certainly shows how scattered the stations are, and how much less coverage 2 watt Class B AIS signals get compared to 12 watt Class A. Plus it turns out that if you select that green "Stations" icon upper left (normally off), you can not only see where (at least some of) the listening towers actually are, but you can also click on them for info about the hardware and software being used, number and distance of vessels recently seen, etc. It's all very neatly done, but obviously we need more volunteer listeners if we want to consistently track our Class B buddies up and down the coasts. The good folks at Marine Traffic have all the dope on how to volunteer.
Of course someone like Rich who's actually boating the coast doesn't really care about shore stations (though maybe he was "naval gazing" on his iPhone, as the feeds above are on Ship Finder). What he was excited about when he called was how useful his transponder had been when things got a little complicated as several vessels converged on the C&D Canal's east entrance in the dark this morning. He'd been able to easily speak via VHF with the bridge personnel on two tugs and learned that both could see Brilliant fine. On yesterday's call he told me how great it had been to see the ship below emerging from the East River well before he got a visual, especially as that didn't happen until they were very close, and the big guy was hogging the channel. Now that Rich is in the sunny south, maybe he'll learn to take better pictures (or Raymarine C120W screen shots) for future Panbo use (or his own blog). Just kidding!