Panbo in Cape Town, so far away and yet…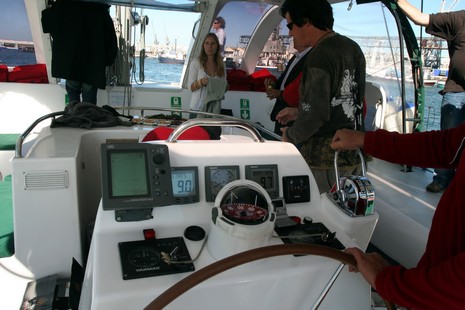 Well, I'd figured that posting might suffer, but I had no idea how long a two day plane trip and a miserable hotel WiFi voucher card system could knock me off line (why is it so easy to serve Internet via WiFi, so hard to charge for it?). If you're reading this, then I've figured a way to update Panbo via the hotel's "business center", and we're back in business. Which starts with my first boat ride in the southern hemisphere. While the electronics—Raymarine ST60 wind, depth, speed and a JRC 1500 radar—weren't exotic in the least, the boat was. Fuji Cat is a Scape Yachts 39' multihull purpose built for day sail chartering. Hence the "bug eye" hard dodger—odd looking, but very effective off Cape Town where the ocean is wide open and cold, and the weather changes fast—plus the on-center helm with all sheets led to it under the platform, and thus out of finger pinch range. The hulls are fairly narrow, construction fairly light, and Fuji acclerated quite nicely even with about dozen bodies on board. There's a "sport cruiser" model that's clocked runs in the high 20's, and can fly a hull if you're up to it.
Meanwhile I've been to the Cape Town Boat Show, and am getting a feel for how vigorous the boat building business is here. In more general sense, things are sometimes oddly familiar, other times a bit different. I just heard "Sweet Home Alabama" playing on an FM station, but that plate on Fuji's snack bar features "South African sushi"—the local joke name for beef (I think) jerky.