Standard Horizon HX850S, first impressions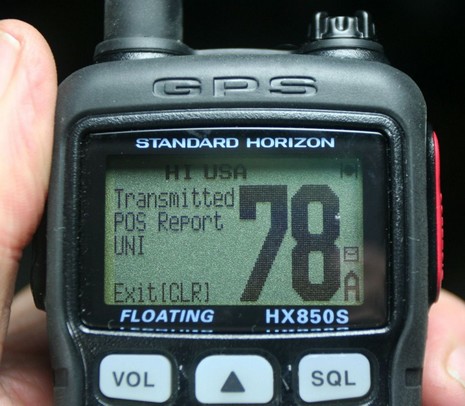 I finally got my hands on a Standard Horizon HX850S GPS/VHF, and I'm almost in love! Even if the 1.75" screen seen above, and bigger here, is not quite as bold as the first marketing images promised, I find it quite readable in any sort of light. The screens are well designed, too, offering channel labels if you want, or COG/SOG/position, and fairly intuitive access to the radio's complete setup and DSC menus. A little time with the manual is necessary to understand some of the radio's more obtuse capabilities and button combinations, but that's to be expected with so much functionality built into such a small package.
One technique I'm using to test the 850S is to place DSC calls to the lab's Uniden 625C (still a great VHF, I think, and still available), which I put in "DSC Standby" mode so it that it doesn't need any "Acknowledge" button pushes. I'm seeing quite good results. For the photo below I went to the Uniden's DSC log (the 850S has one too), and got detail, and then tracking, on an earlier Position Send (photo above) call I made from 1.4nm away. That was across town through heavy foliage. I had similar success with Position Request and Individual calls (which the Uniden acknowledges with a useful "in Standby" message) from various points around Camden and out on the water. I also talked with the Harbormaster, via his not-quite-line-of-sight 25w fixed radio, from about a mile out on the Bay, and he said I came in clearly, as did he. I'll have more about the 850S, including a comparison with the HX760S, soon. But I will note that, somewhat surprisingly, it will not deliver range and bearing to a received DSC position like the Uniden is doing below, nor will it do waypoint navigation. Nonetheless, I think it's terrific for anywhere-on-the-water distress calling, tracking tenders, and who-knows-what-else…and good for normal handheld VHF use. I also think that innovations like the HX850S—and there will be competitors–along with the advent of Class B AIS may finally get boaters to use DSC.