Starlink offers new services aimed at RV and marine use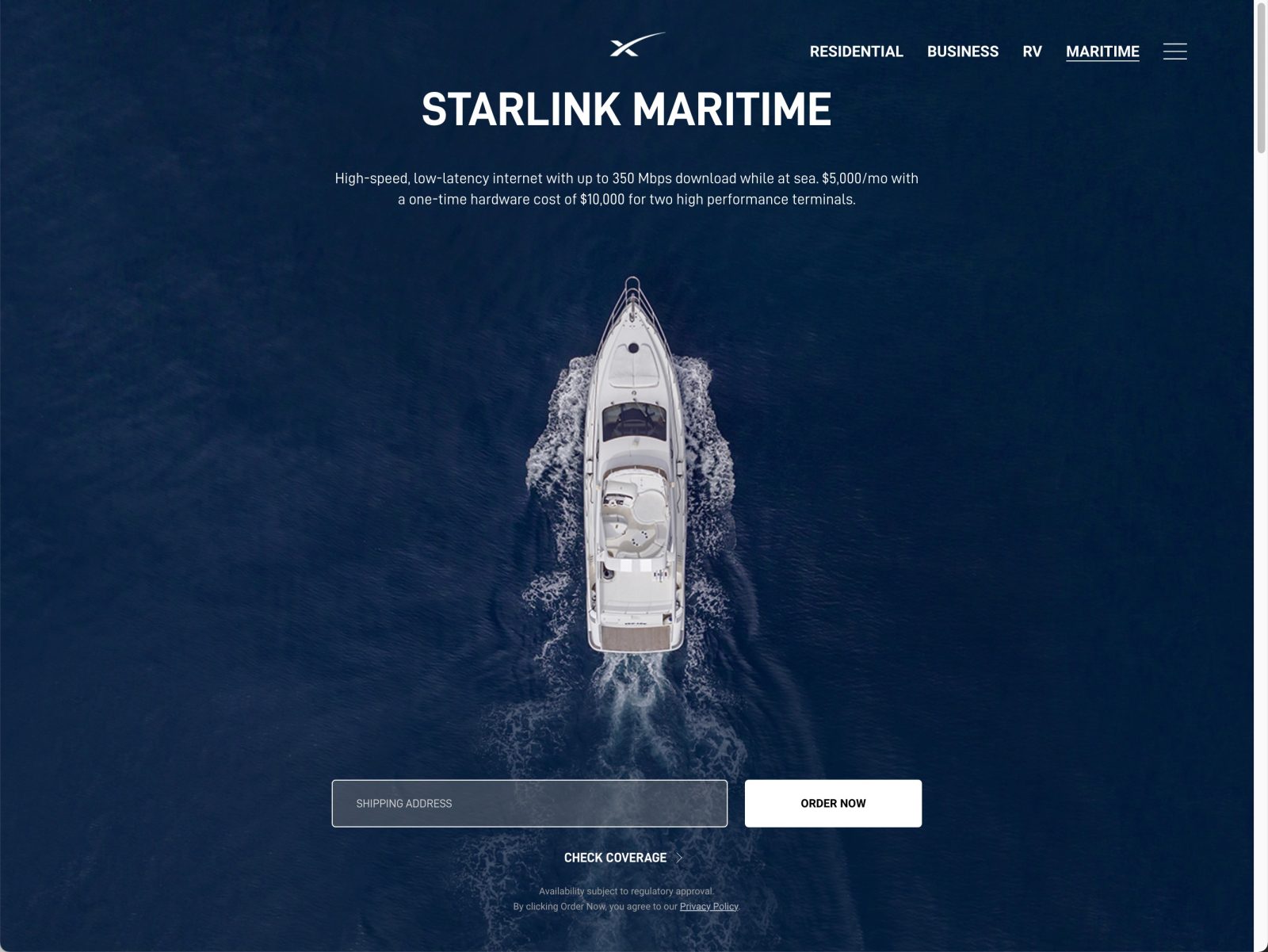 It's been a busy couple of months for Starlink since they rolled out portability. Here's a quick rundown of what's happened with the service since then: they've rolled out RV service, Dish network has filed a complaint against them, their mobile license was approved by the FCC, and they've introduced a maritime service offering. If you're a boater looking to get internet connectivity on board your boat, that can be a lot to wade through. So, let me help you understand the developments and what it means for us as boaters.
Like all of Elon Musk's companies, SpaceX and Starlink are a challenge to cover because they have no media relations function. I find all the information about Starlink the same as everyone else. I'm reporting the current state of affairs to the best of my knowledge, but if you have updates or corrections, please share them.
Current services
Starlink currently offers four service types. The table below breaks down the basics of each service.
Service
Equipment Cost
Monthly Cost
Speeds (mbps)
Notes
Residential
$599
$110
50-200
portability is $25 / month
Business
$2,500
$500
100-350
larger terminal
RV
$599
$135
50-200 / 5-100
in congested areas
same terminal as residential,
can be activated or suspended
month to month
Maritime
$10,000
$5,000
100-350
larger, marinized? two terminals
Residential
Residential is where it all began. As recently as January of this year, residential service was the only service Starlink offered. Residential service is tied to a specific address. Without the $25 per month portability option, you can only use your service within a small radius of your service address. Additionally, if the cell — Starlink terminology for your area — is at capacity, you will be waitlisted for service. Portability allows you to use the service outside of your service address, but anytime you're away from your service address your traffic is lower priority than users in their home service.
Business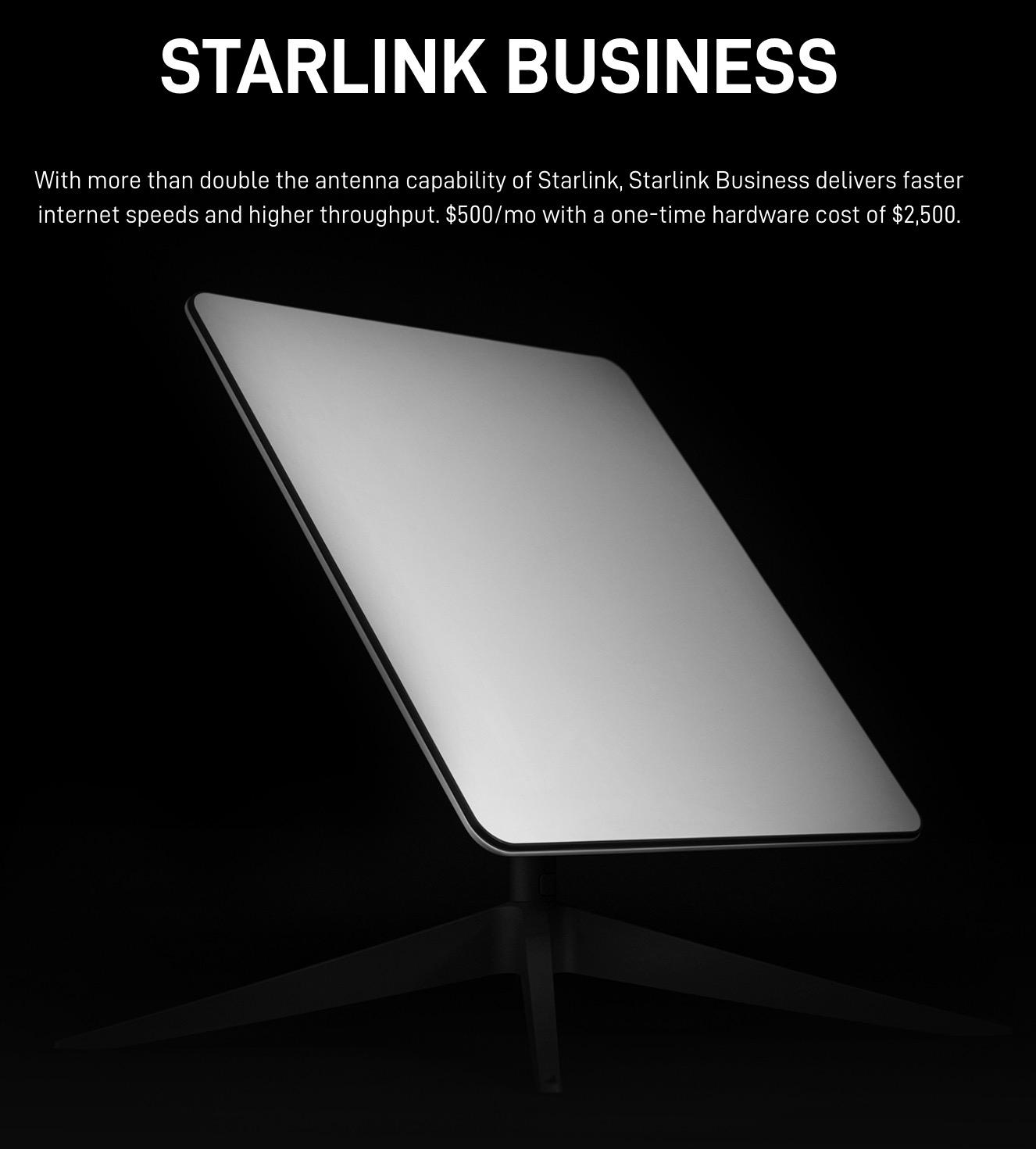 Business is a higher speed plan utilizing a larger terminal, or as Starlink calls them, dishy. Business service is subject to availability in a cell. I put in an address I knew to be full and was invited to reserve my service with a $500 deposit. From what I understand, the business dishy is basically two satellite transceivers in a single enclosure. I haven't been able to find any mention of portability with business service.
RV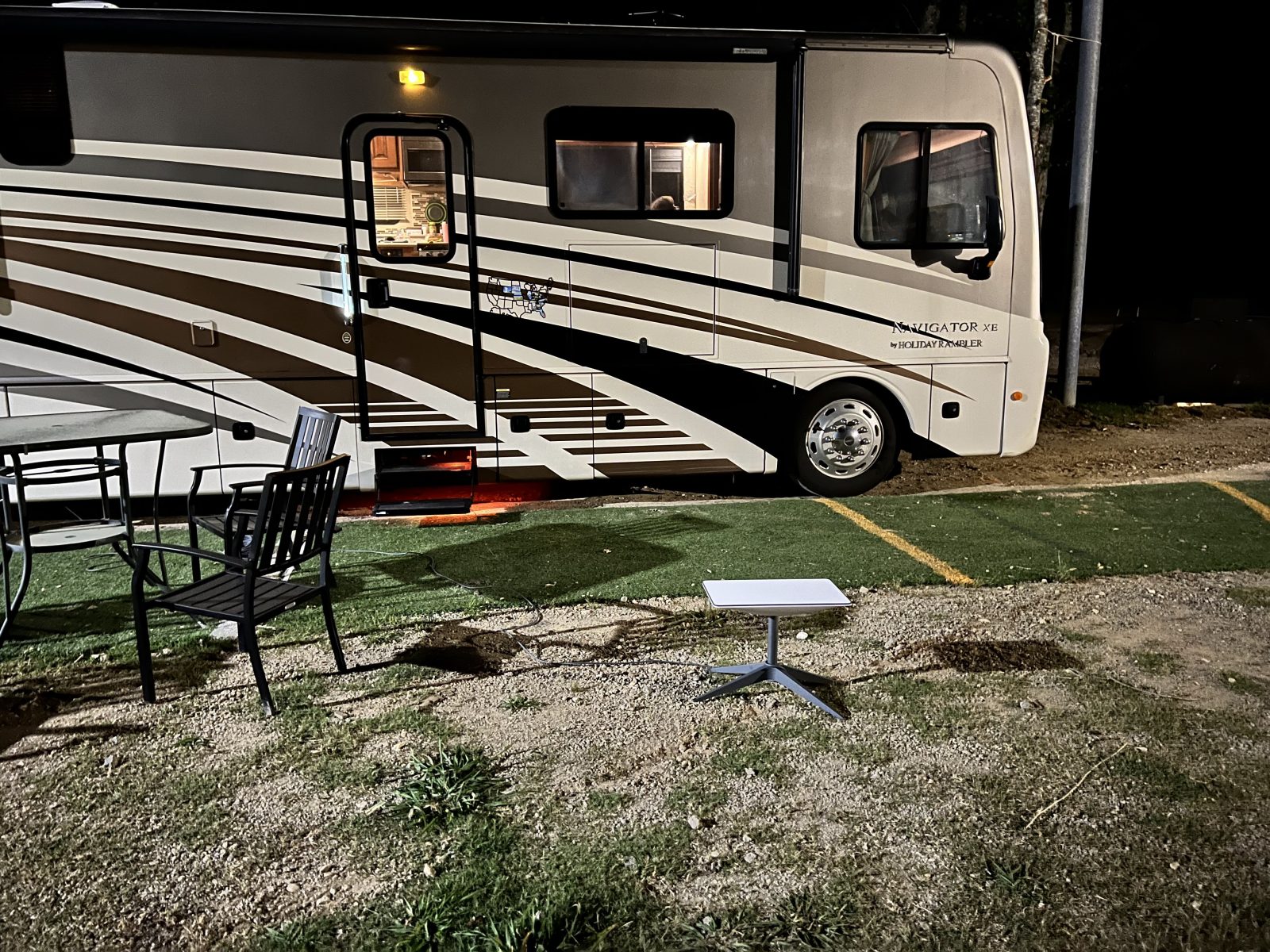 RV builds on residential with a few twists. First, RV service has no service address, so there's no question of availability. Hence, all RV orders ship immediately. RV service is always lower priority than users within their service area. RV plans can be suspended any time. But, Starlink manages all of their billing by complete month. So, if you have the service active for any portion of a month, you will pay for the whole month. RV apparently uses the same dishy as residential.

When Starlink introduced RV service, they didn't yet have mobile authorization from the FCC. So, they advertised the service as portable, meaning you could take it from place to place and set it up, but not mobile, meaning it couldn't be used in motion. Since then, Starlink has received their mobile license and introduced maritime service. But, they haven't updated their terms of service to allow in-motion use. In fact, they're still ALL CAPS adamant that it can't be used in motion. The last sentence, prohibiting installation on a vehicle or vessel, seems hard to square with their RV and maritime services.
Maritime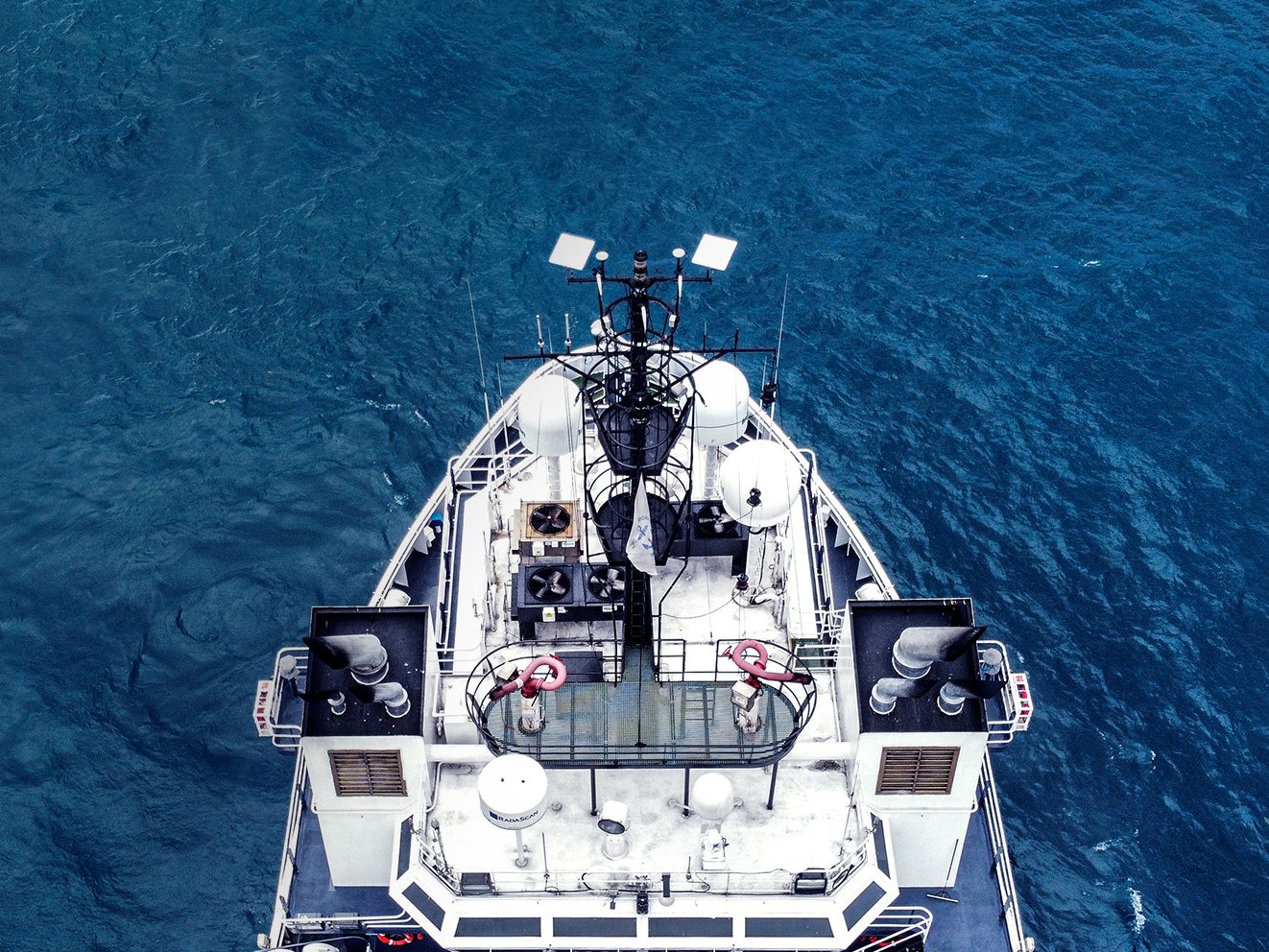 Maritime is Starlink's newest and most expensive service. Just days after the FCC approved Starlink for use in motion, Starlink unveiled Maritime. It appears aimed at commercial vessels and superyachts and it's priced like it. Maritime uses two terminals that appear similar to business units. Although, in a tweet Elon Musk said the terminals are "ruggedized for relentless salt spray & extreme winds & storms in deep ocean." Obviously, portability is included in Maritime and, like RV, it can be paused and un-paused in one month increments.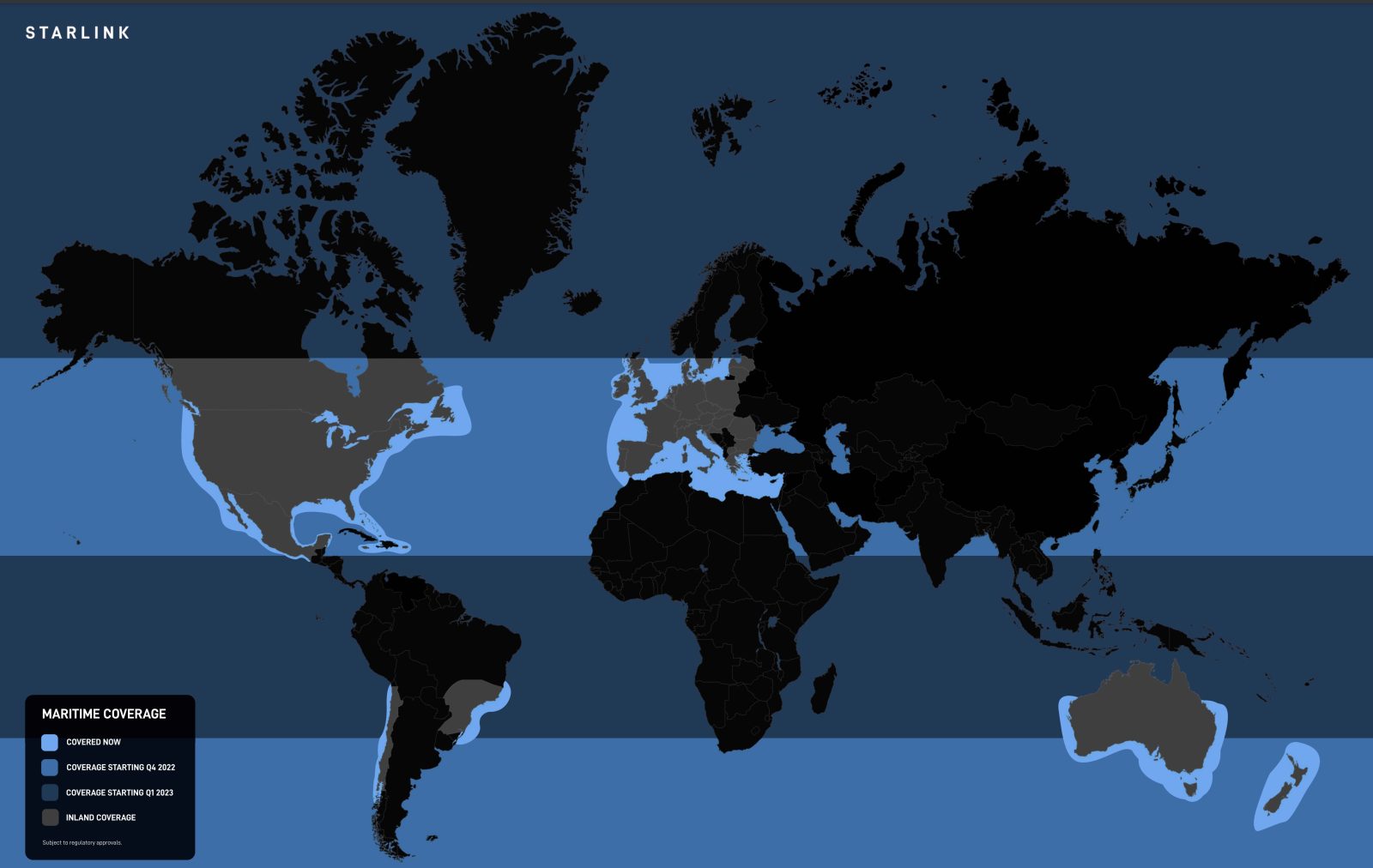 The coverage map above shows that although Starlink is promoting, "connectivity at sea around the globe," the current coverage is more limited. Current coverage is represented by the lightest blue color seen around coastal areas of the U.S., Europe, Australia, and a little bit of South America. The next darker blue bands are slated for coverage starting in the fourth quarter of 2022, followed by the darkest blue gaining coverage in the first quarter of 2023.
The expanses of ocean that don't yet have coverage need Starlink's satellite-to-satellite laser links active to enable coverage. I've seen reports indicating Starlink is well into testing those links, but no firm confirmation.

I've read a lot of consternation about maritime pricing. Starlink's promotional material for maritime makes it pretty clear they're aiming at commercial vessels and megayachts/superyachts. What we don't know is if Starlink assumes all boaters will use this plan? Will they will come out with a recreational marine plan? Or will the RV plan will continue to work for coastal boaters? I certainly hope Starlink will serve the recreational marine market with a plan and pricing that fits the market. But, as I look at their pricing for global coverage, it doesn't look bad. Bear with me, I know that $10,000 for equipment and $5,000 a month is a huge leap from $599 and $135, but we really need an apples-to-apples comparison. For offshore coverage, the obvious comparison is to VSAT.
Last year, I wrote about KVH's new VSAT product line (and they've got even newer products just announced) and received some direct feedback about my use of the word affordable. Regardless of what you call it, offshore, global connectivity is expensive. The market is small and the operating costs for the service providers are quite high. The pricing shown above is for KVH's Elite Unlimited Streaming. KVH's Elite plan can offer speeds up to 20 megabits per second but in relatively small areas like eastern North America, the Mediterranean, and the Caribbean. That smaller coverage area, slower speed, and higher latency come at a greater per month cost plus dramatically higher equipment costs. The dish capable of 20 Mbps throughput carries a $50,000 list price.
Dish network complaint
In late May, Dish network filed a complaint with the FCC that Starlink wasn't doing enough to stop subscribers from using their starlink service in motion. They complained particularly that Elon Musk's tweets promoted using the service in motion at a time when Starlink didn't possess mobile authorization. It didn't take the FCC too long to deny Dish's complaint and approve Starlink's mobile application. It's not unusual to see competitors in this space try to use FCC regulations to hold back the competition. I believe that's the main thing that happened here, but I do think the complaint shows that Dish, and probably others, is worried about Starlink as a competitor.
Recent results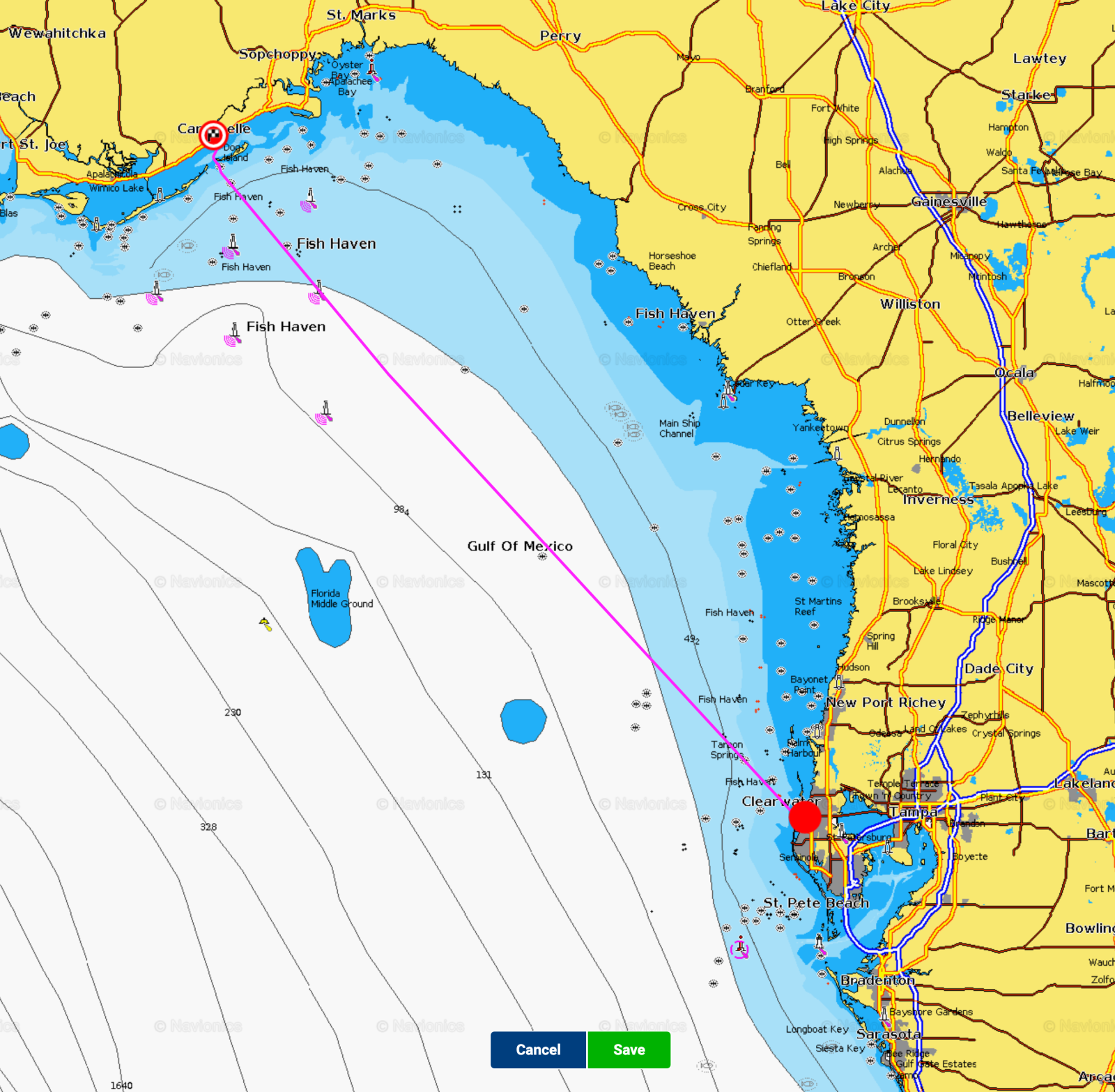 While we wait to see what the future holds, the present is, in my opinion, already a huge improvement over where we were before Starlink. There are regular reports from subscribers to the RV and residential plus portability plans that their service works to about 12 nautical miles offshore. Friends recently crossed the Gulf of Mexico from Clearwater, FL to Carabelle, FL and reported continuous coverage the entire way across the Gulf. They were able to get weather updates, communicate with friends and family via text messaging and WiFi calling, and stream television. That crossing is the longest open water portion of the Great Loop and a source of anxiety for many loopers. Knowing you're able to communicate with ease can be a significant calming force.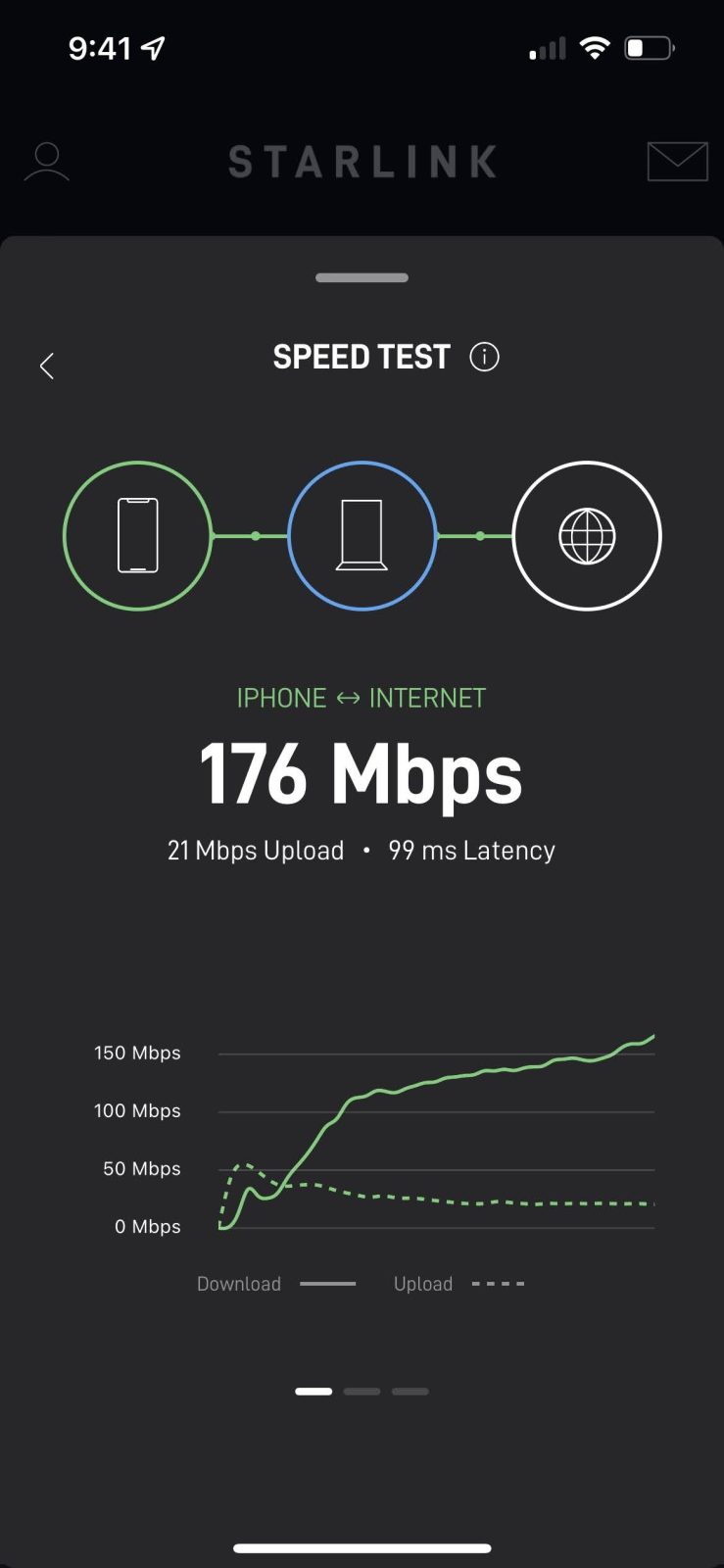 Starlink's network is very new and expanding every day. They continue to launch mind-boggling numbers of satellites. In the last week, they've launched 99 satellites with numerous additional launches scheduled this month. There are currently over 2,500 satellites in orbit. But, they are also adding subscribers to the network very quickly as well. My connection started out very fast when I first activated it in early April. For a period of time I saw my speed test performance dip some, then improve. That cycle has repeated itself a few times. As you can see above, there are times in the evening when I'll see a performance dip, but overall I continue to see good results.
I'm in southwest Florida in the summer and most afternoons we get storms. If those storms are bad enough to turn a weather radar red, it's likely we will lose internet connectivity for some period of time. Typically, it's just a few minutes. I had DirecTV for many years (quite a few years ago) and the outages are similar to what I experienced with them.
Final thoughts
It's hard to believe how far Starlink has come in such a short period of time. At the beginning of the year when people asked me about Starlnk I told them I thought it would be years before it was viable. It's now clear I was quite wrong. The future looks good, but there are still some open questions I'm hoping to see filled in about how they will handle recreational boaters. But, in the meantime, status quo is pretty darn good and a major improvement over where we were just six months ago.