Starlink testing begins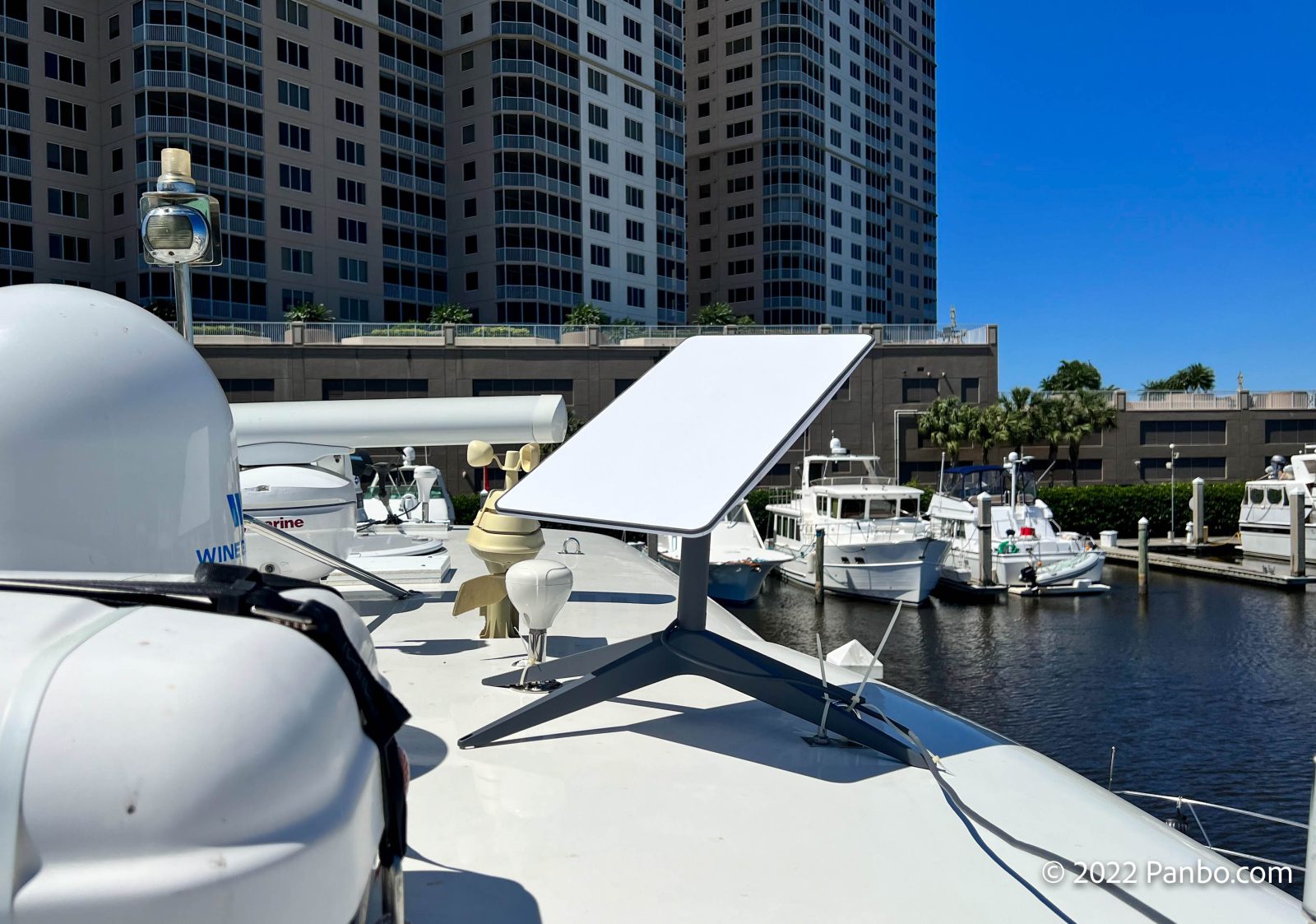 I'm far from the first person to test Starlink's network. Starlink began its public beta period with customers in the northern portion of the United States and Fort Myers, Florida is far from a northern location. So, I've just recently been able to get my hands on a terminal and fire up the testing. But, what I'm seeing so far is very promising.
The terminal arrived while I was out of town, so upon my return, I wasted no time unboxing and (temporarily) mounting the rectangular, flat dish on the hardtop of Have Another Day. As I mentioned, I'm not the first person to review Starlink on a boat. In fact, Steve Mitchell from SeaBits has already written a fair amount about his experiences using it on his boat. Steve has the older, round dish so there might be some small differences in our experience from that.

Before I dive into my experiences, let's talk for a minute about what Starlink is and what it promises. Starlink is an Elon Musk run, satellite-delivered internet service provider. Starlink uses low earth orbit (LEO) satellites and a lot of them. So far, they've launched over 2,000 of them with plans for as many as 42,000 satellites planned. Starlink's use of LEO satellites means they can deliver far lower latency than traditional satellite internet providers. The service also promises performance of more than 100 megabits per second, potentially rivaling land-based internet providers. But, early reports also indicate that Starlink is sensitive to any obstructions including trees, leaves, and sailboat masts.
It's important to mention that Starlink isn't available everywhere in the U.S. right now. They have a map that shows where it's available and where there are waitlists due to capacity. Also, Starlink isn't yet approved for mobile use and they've made no promises about how it will work in such uses. I suspect that when they do make it available for mobile use it will be with different hardware. For now, I'm very happy to test it while stationary. Lastly, it's been just over a month since Starlink turned on roaming. Before roaming was enabled, service only worked within 20 miles of your service address. Now, it seems to work everywhere in the U.S., regardless of the service address.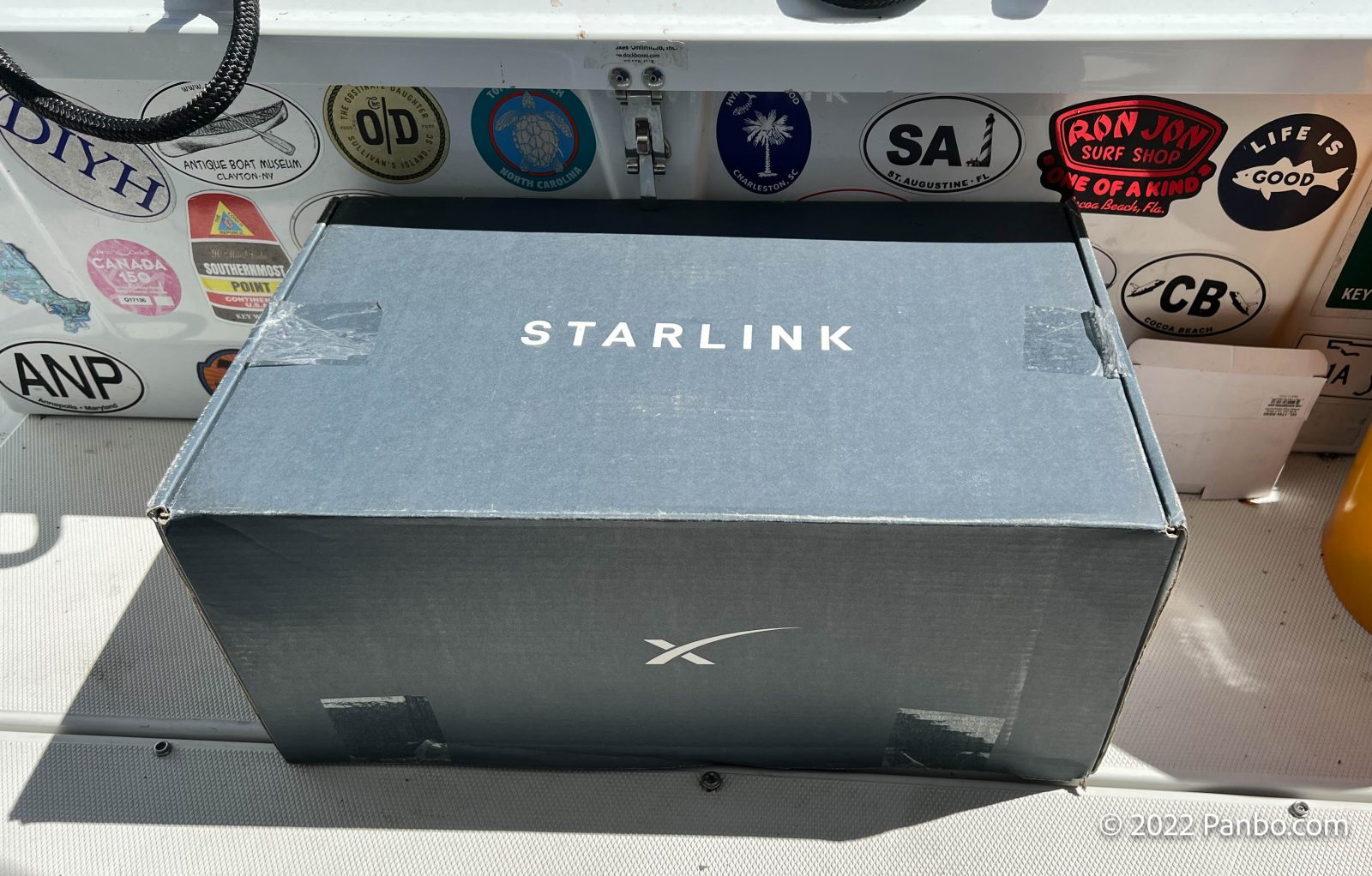 I'd expected a slick box holding my $599 terminal kit with the dish, base, and router. I wasn't too impressed with the presentation of the hardware. The packaging is pretty flimsy and I was surprised to find that everything arrived undamaged given the wear on the box and minimal packaging. But, to my relief it was all intact, so I yanked it out of the box and got to testing.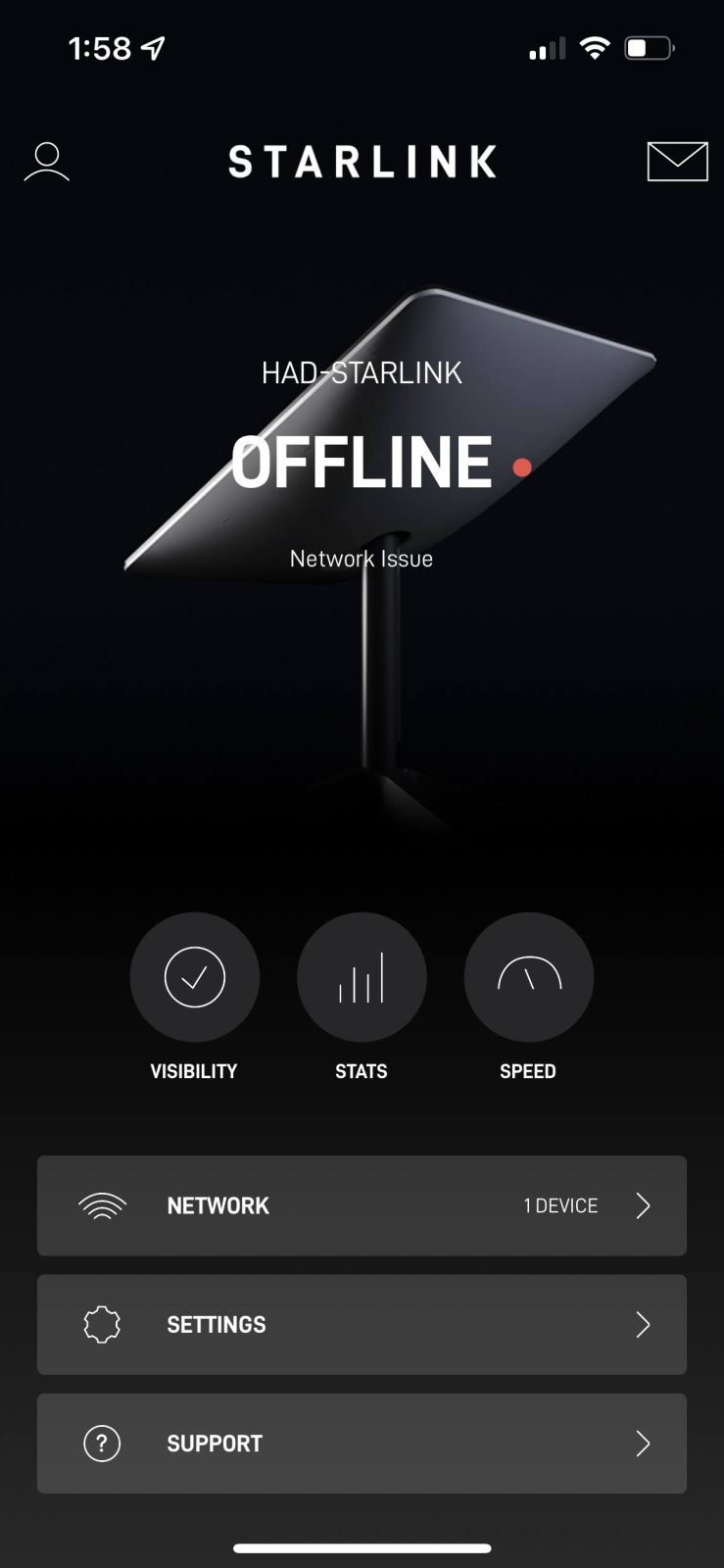 Feeling impatient, I set the dish up on the dock to see if it would grab a signal. There are large buildings to the south of my boat in the marina, but nothing blocking the view to the north, east, or west. So, I was hopeful that Starlink wouldn't have any troubles in my location. For about ten minutes the dish moved around, seemingly at random, using the aiming motors built into the arm of the dish. During this time, the app showed as offline with no other real indication of what was happening. It was just long enough to make me wonder if something was wrong. Then, I saw a brief blip of signal, and moments later the status stayed locked online. Naturally, I immediately ran a speed test and saw the impressive results seen above. Nearly 200 megabits per second is pretty darn good!
After my successful on-dock test, the dish has been moved to Have Another Day's hardtop. So far, at least while tied to the dock, I've had no troubles with obstructions. I'm now just past 24 hours with the service online and results just keep getting better. The speed test results above are from a laptop, connected via 5ghz WiFi one deck down from the router. I've seen downloads exceed 15 megabytes per second. I've also sucked down over 200 gigabytes of bandwidth in testing.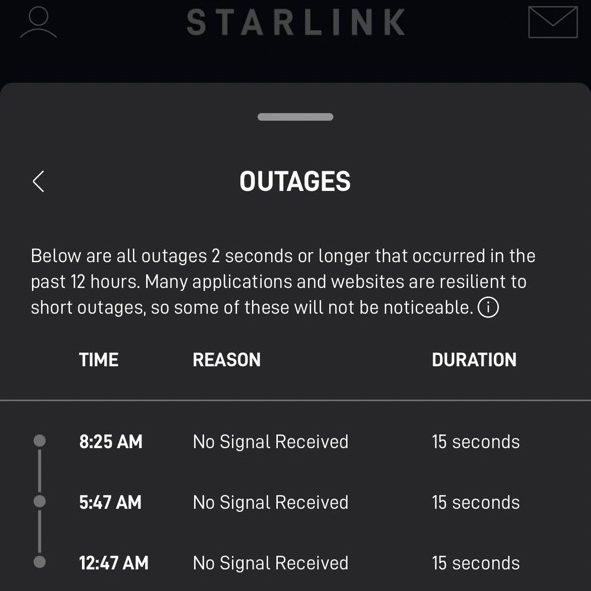 The app keeps track of outages over the last 12 hours. So far, I've seen about one outage every four hours. From what I've gathered this could well be handoffs between satellites. Starlink is still in the relatively early stages of its rollout and continues to work on improving its operations. I hope this will get better. These sorts of disruptions would be noticeable during a video conference but haven't been noticeable while streaming and browsing the web.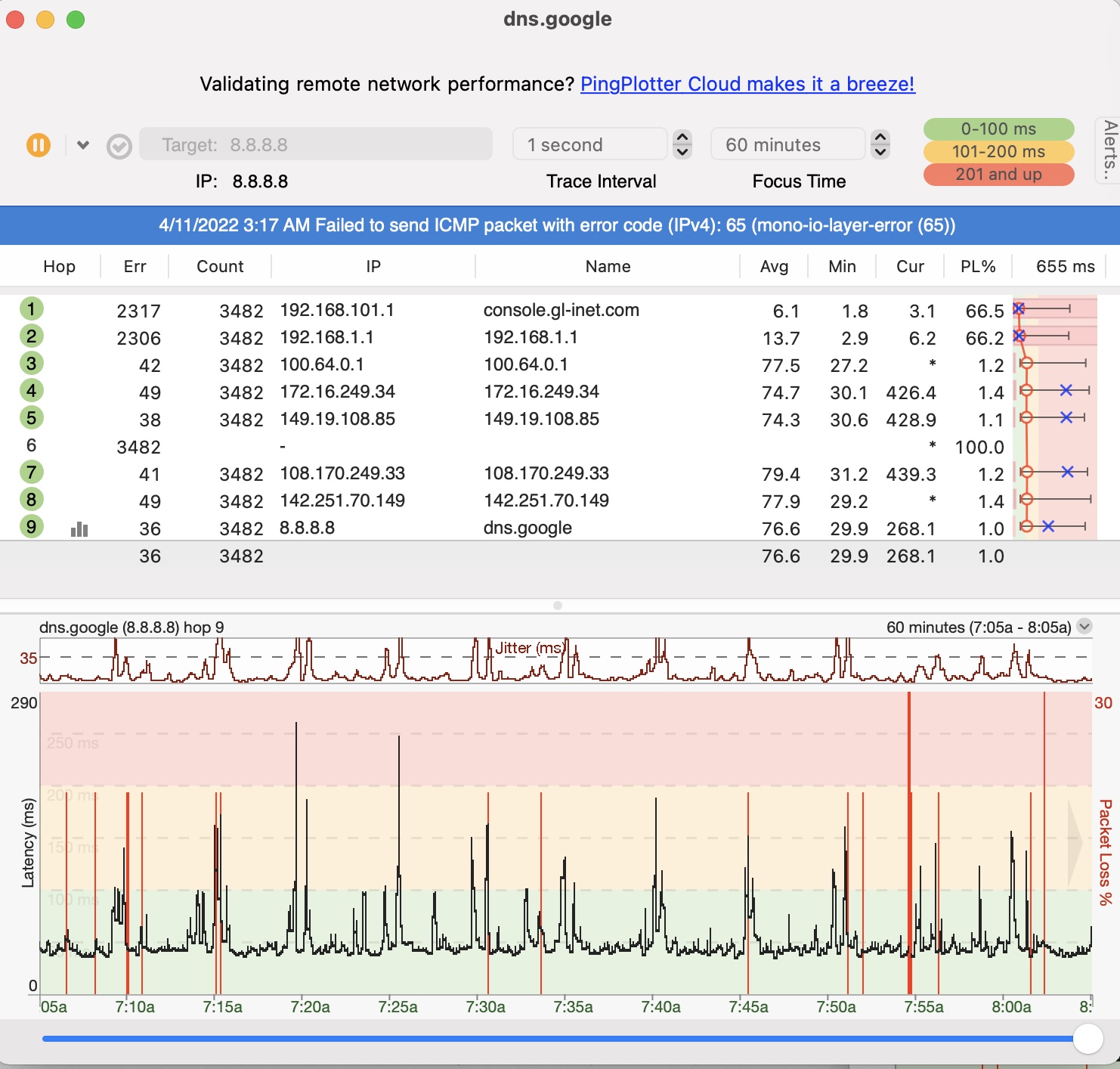 I've been running continuous pings to multiple destinations on the internet. I'm seeing about 1% packet loss to multiple sources. It's common for routers and other network equipment to drop ICMP (ping) packets if their CPUs are busy. Additionally, the spikes of higher latency visible in the chart above correspond to the speed tests I've been running every five minutes. It makes sense that when the traffic of the speed test is saturating the connection, latency will climb. When not saturating the link with speed tests, the average latency has been below 60 milliseconds. That's just fine for nearly all activities except possibly gaming. I'm not a gamer, so I don't foresee a problem.
Starlink is $110 a month for service after a recent price increase. That's on the high end of the range of prices typical for unlimited cellular internet access plans, when you can get them. So far, the performance is better and Starlink comes with the potential to work anywhere you have a clear view of the sky. I have some local cruising planned by boat as well as some RV travel. Starlink will make all those trips, and I'm looking forward to further testing in more locations. Plus, only time will tell how well the service holds up over a longer time period. It will be especially interesting to see what happens as the service adds more subscribers.