0183 or 2000, you tell me (& G.)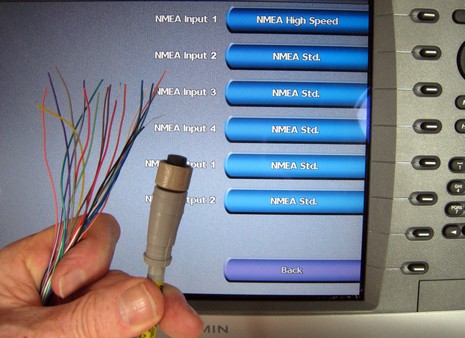 This is Garmin's first reaction to my NMEA 2000 complaint:
We chose to focus on engine data since it's primarily the only thing that you can get over NMEA 2000 that can't be provided from another source (either our Marine Network system or NMEA 0183). Our engineers found a dearth of N2K devices on the market that provided data that couldn't be obtained in another way.




That's an odd criteria, I think. 0183 isn't going away soon, but isn't 2000 better defined, more reliable, and more networkable? Yes! Above is an illustration of why you might want to get as much data as possible over N2K instead of over 0183. The screen shows some of the 4212's fine 0183 support—four inputs and two outputs, each with a high or standard speed setting. To use all of them you only have to strip those12 wimpy wires and…
connect them to the right input/outputs on your various devices. Oh, and you may need to go to another screen and specify which strings are sent out, so as not to overload an output. By contrast, that single rugged NMEA 2000 cable'n'plug is able to suck in data from dozens of sensors, plus send out all that collected 0183 data and whatever else might useful to other devices on the network…all plug'n'play simple, no speed settings, no data string on/offs, no problem.
But at least Garmin added, "We listen to our customers and have the capacity to add support for more N2K sensors in the future." And I know they read Panbo. So thanks for all the comments so far, and don't hesitate to speak up if you think Garmin should support NMEA 2000 thoroughly (or even if you think I'm making much too much of this ;-).