Apple Watch boat applets, Pocket Mariner is raring to go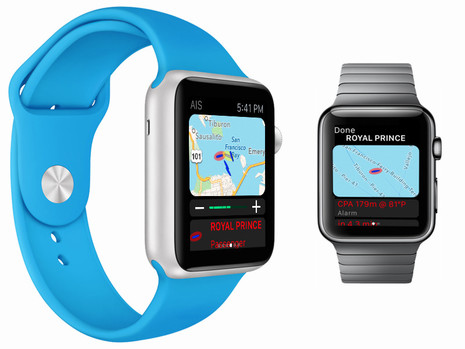 I find the Apple Watch fascinating, even if I have no plans to own one myself, and I encourage anyone else with an interest to read David Pierce's Iphone Killer: The secret history of the Apple Watch at Wired.com for a deep look at what the obsessed designers were up to. The first hands-on reviews are coming out now, pre-orders start late tonight, and at least one boating apps developer will be ready to go when the watches release to the public on April 24…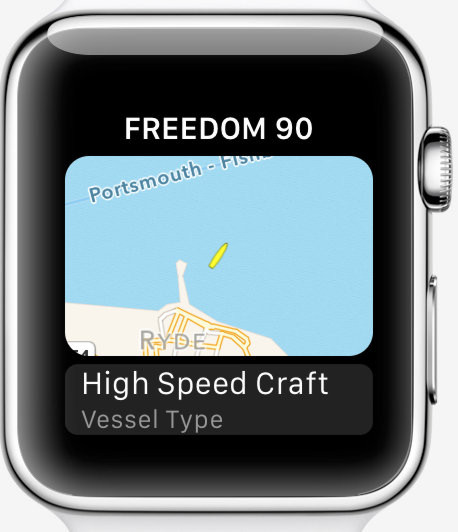 Pocket Mariner has developed many apps for iPhones, iPads, and Macs — as well as Android devices — and three of the AIS-related ones that run on iPhones will soon have free Watch extensions. Above and below, for instance, are screens you'll be able to access on your wrist if your iPhone is running the Boat Watch app, which seems designed for watching vessel traffic from ashore…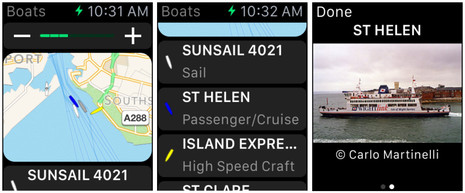 Boat Watch is essentially an AIS viewer, and on the watch you'll be able to see up to five vessels on a miniature map — that's an Apple Watch interface limitation — as well as scroll a list of nearby targets, drill down for typical AIS info like speed and heading, and swipe to a photo, if available. It could be fun for checking out a harbor from a tiki bar or to see the whereabouts of a ferry you're about to board, but who will be the first high roller to show off his megayacht on his $15,000 42mm 18-Karat Yellow Gold Watch Edition?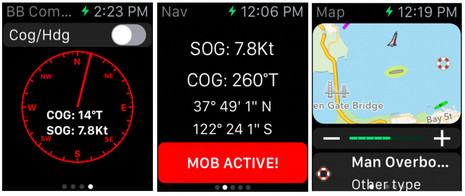 By contrast, Boat Beacon was designed for use on the water — early Panbo review here — and thus, the watch applet includes some navigation screens. Like the main app, the watch extension can also alarm you about a potential AIS collision — i.e. a vessel that gets within CPA/TCPA parameters you set — or if a live AIS man overboard beacon is detected. Boat Beacon users will also be able to access AIS vessel info and photos on their Watch just like with Boat Watch above, and the same will be true with the SeaNav app…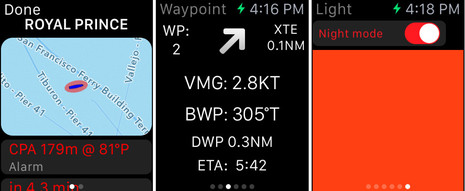 SeaNav can provide vector chart navigation for some regions and can also integrate with Boat Beacon's AIS resources. The charts can't go to the Watch, but that waypoint steering screen will. And both onboard applets include a couple of special watch features like a count down timer and a flashlight mode. SeaNav, incidentally, was the first marine app that extended itself to my Pebble smart watch, and I'm signed up for the new color Pebble Time, which I hope to receive in June. The Garmin vívoactive also looks interesting, and it's easy to imagine the marine electronics integration they could add to it or another version.
But now is the time of the Apple Watch. Besides the Wired article, I appreciated Nilay Patel's review at The Verge and Farhad Manjoo's take at the Times. This watch may be a really big deal, and perhaps especially useful on a boat where you often don't want to reach for your iPhone. Tip of the Panbo cap to Pocket Mariner for being on the case from day one. Be warned, though, that Apple expects to sell out the first batch tomorrow.