Mobile navigation app roundup
Apps running on tablets and phones have come a long way from the first, relatively primitive charting apps that debuted shortly after the turn of the millennia. Not only have the existing apps gained big functionality, but we've also seen many new entries into the category. This entry will attempt to review the currently available apps and their capabilities.
I recently posted an editor's blog asking if tablets are ready to take over primary navigation duties. In a rewarding development for me, the post spawned a lively conversation. I don't think there was a clear consensus from reader comments and I don't have a definite answer to offer either.
The number of choices of mobile navigation offerings has greatly expanded. As I sat down to work on this roundup, I quickly counted a dozen options. To try and collect as accurate information as possible, I asked the developers of each app to provide information on their apps' features and capabilities.
I'll get to a comparison of those capabilities in a moment. But first, let's take a look at the participants:
The apps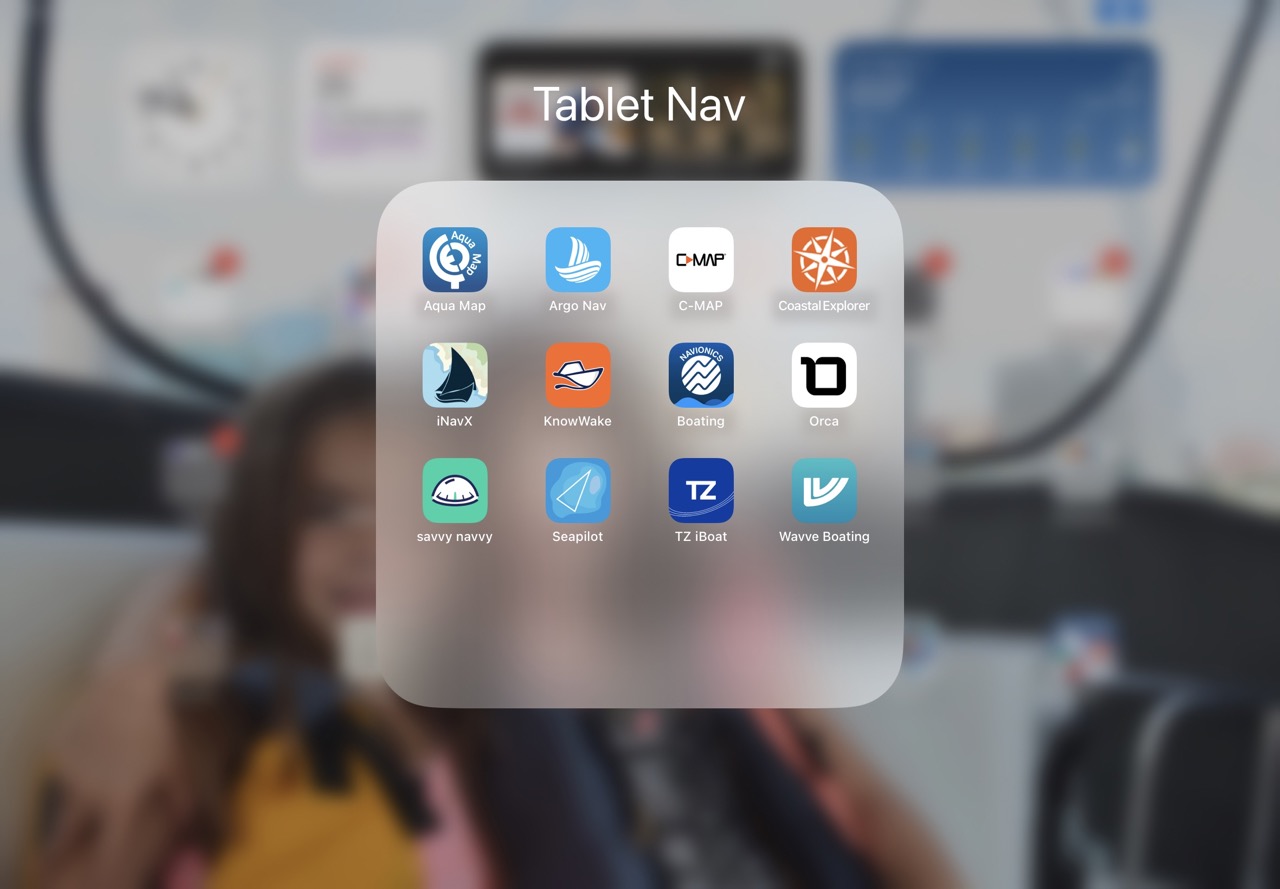 Here is a quick look at each app. Several of these have been covered previously on Panbo, but quite a few are making their Panbo debut.
Aqua Map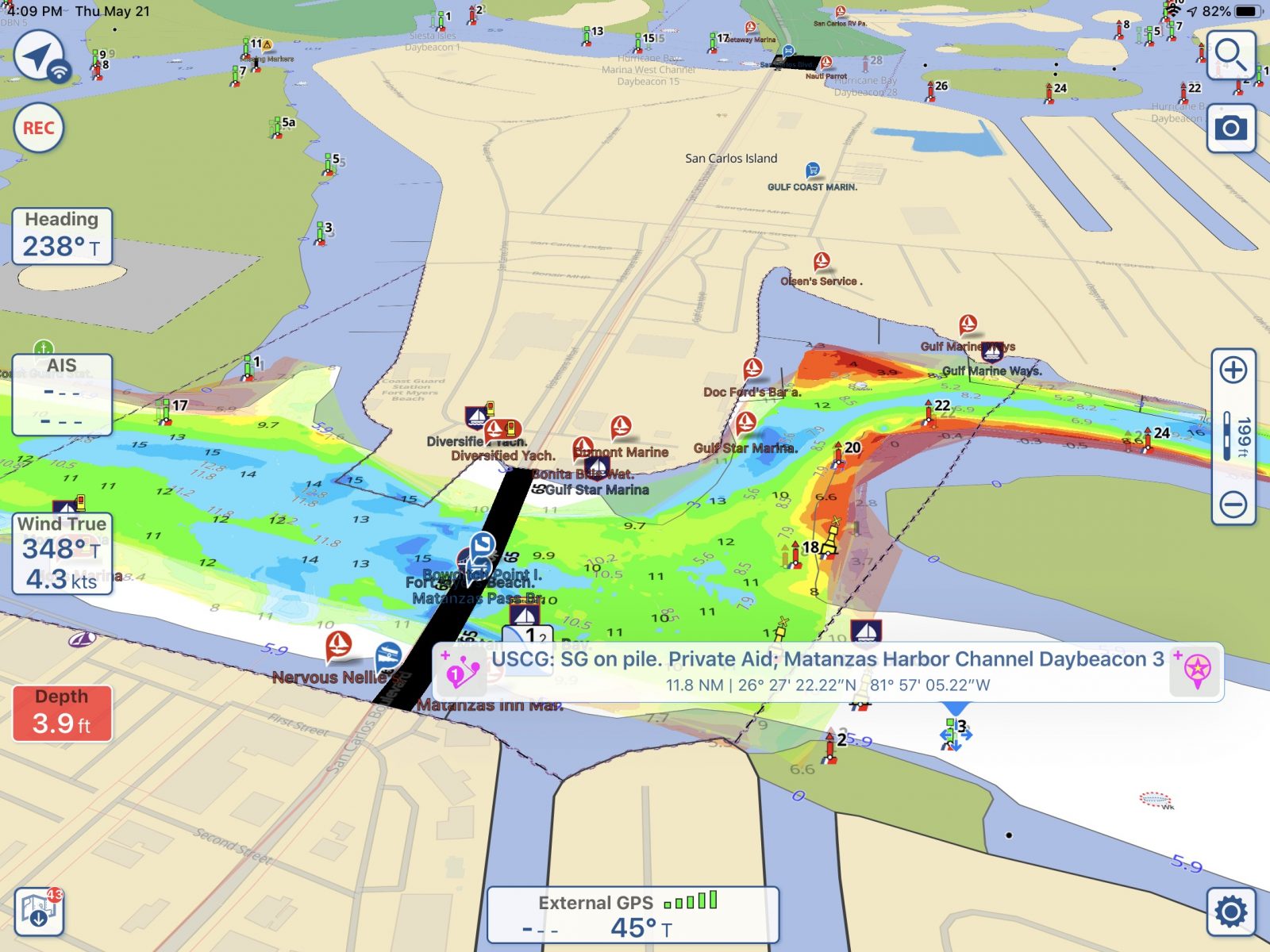 Regular readers of Panbo will no doubt have figured out that I'm a user and fan of Aqua Map. The app's unique blend of ICW cruising tools makes it an invaluable tool for U.S.-based boaters who find themselves in that somewhat unique waterway.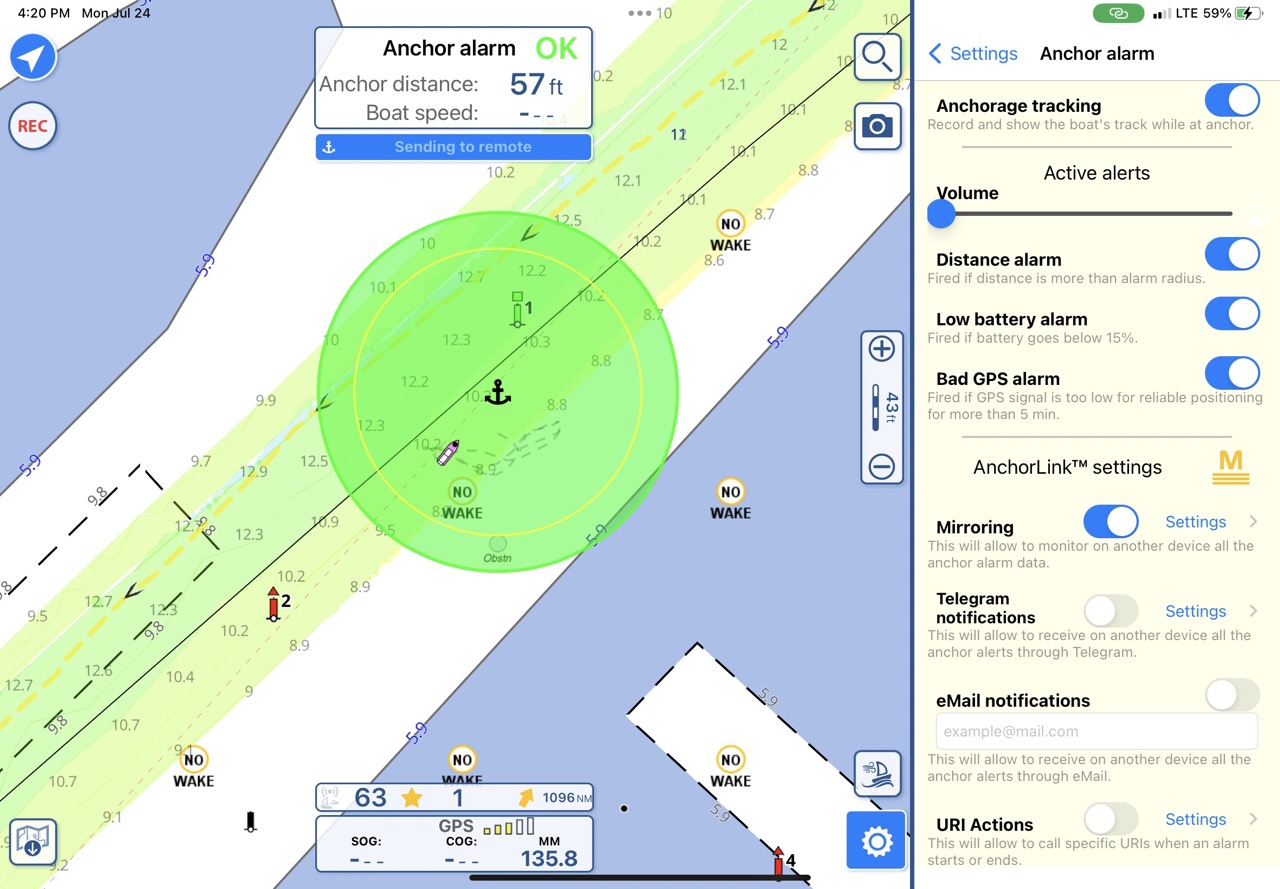 But, Aqua Map isn't just about cruising the ICW. With support for multiple crowdsourced data, one of the most advanced anchor alarms out there, rich social features, and more, it's a good fit for many boaters. The screenshot above shows Aqua Map's new anchor alarm including remote monitoring and notification of the anchor alarm.
Argo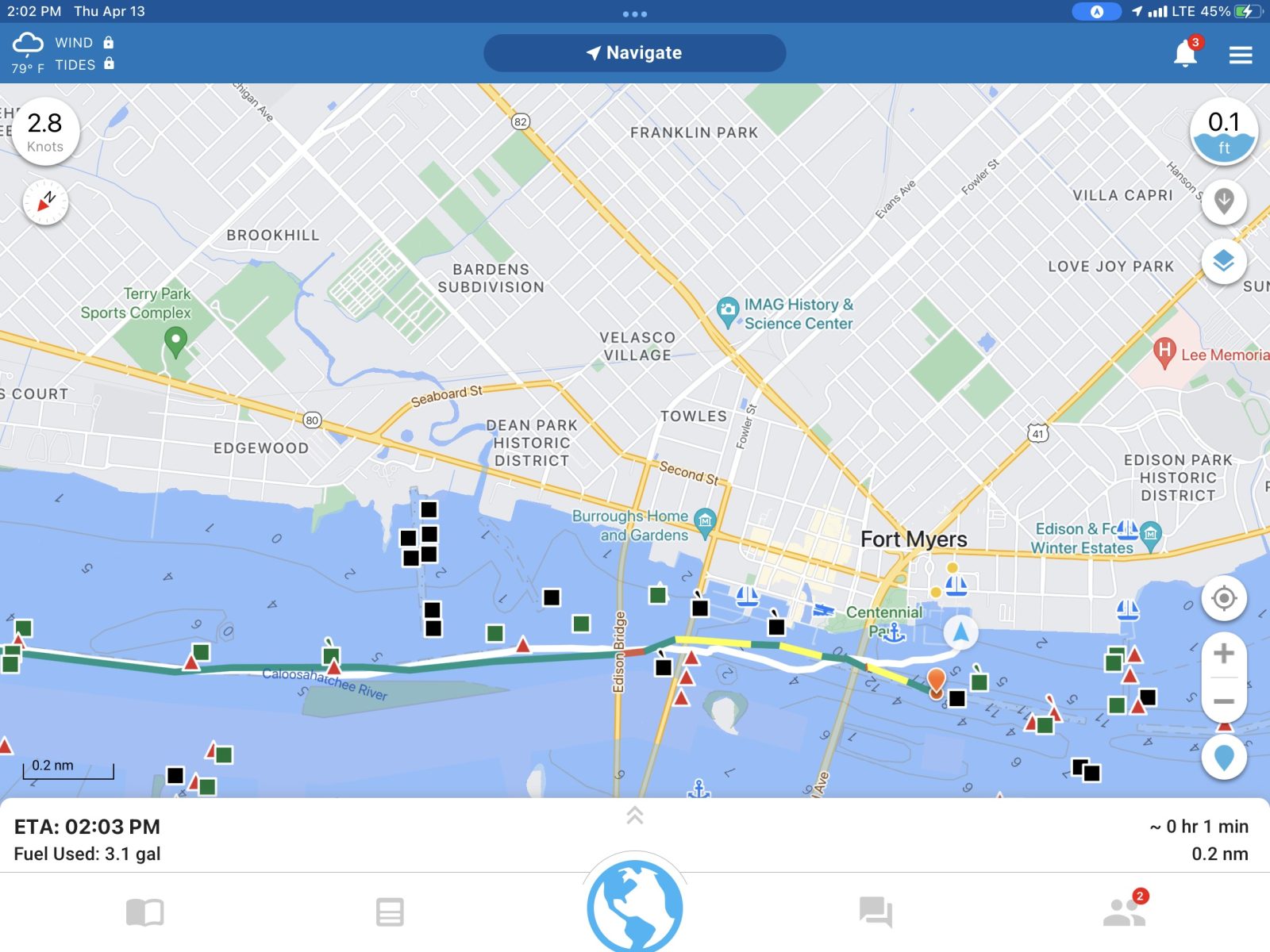 Argo is a relative newcomer, but they've come on strong. Argo is one of several more recently launched apps with automatic routing. To my eye, that's a big bite for an app's early features but so far, the routes Argo generates look pretty good. One of Argo's unique auto-routing features is the ability to select a preference for running inside via inland waterways or outside via open water.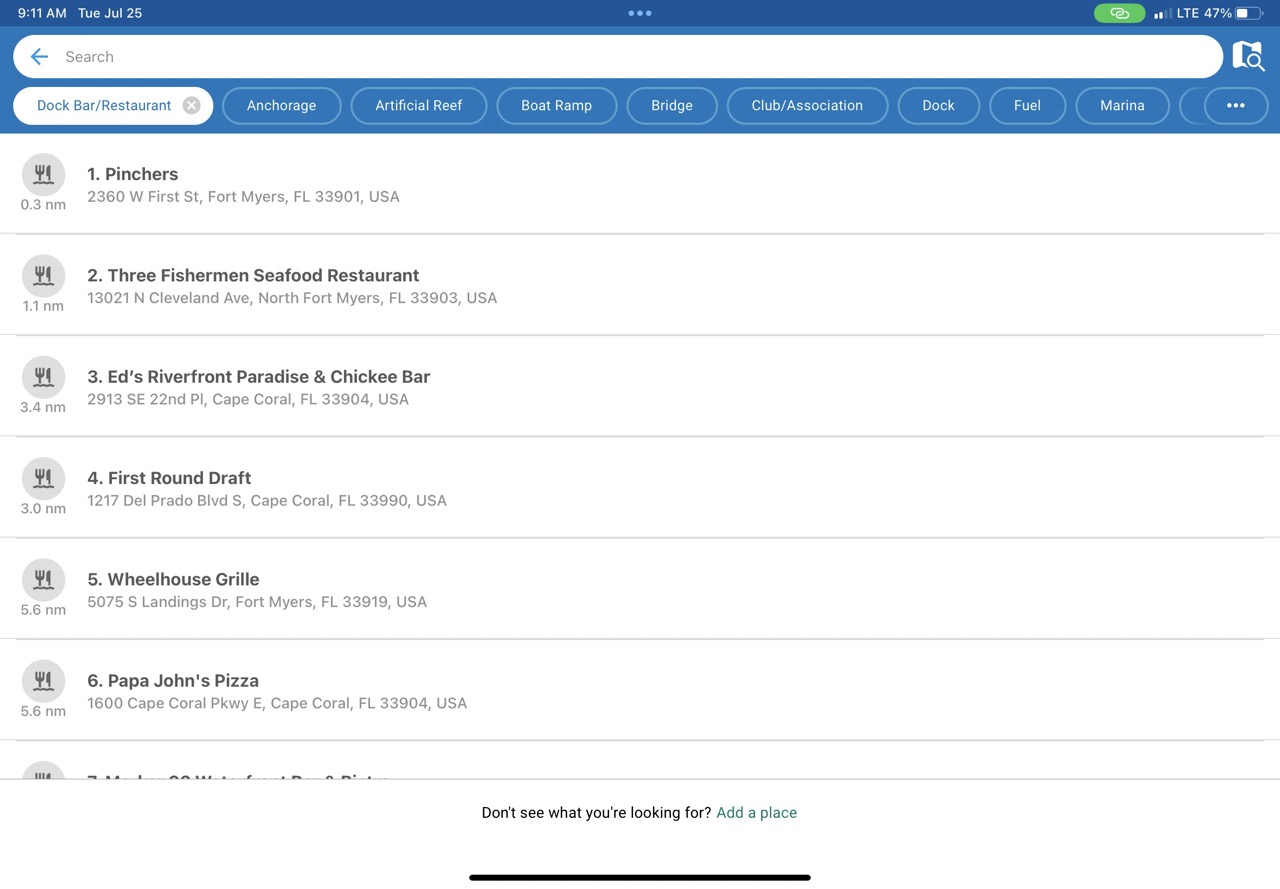 Argo has emphasized putting information at the boater's fingertips. They offer a robust search that includes the ability to search marinas by amenities, a tight integration with Snag-A-Slip to streamline the process of booking and strong social features. The social features include the ability to find each other on the water, add boaters as friends, and find boaters by yacht or boating club affiliations.
C-Map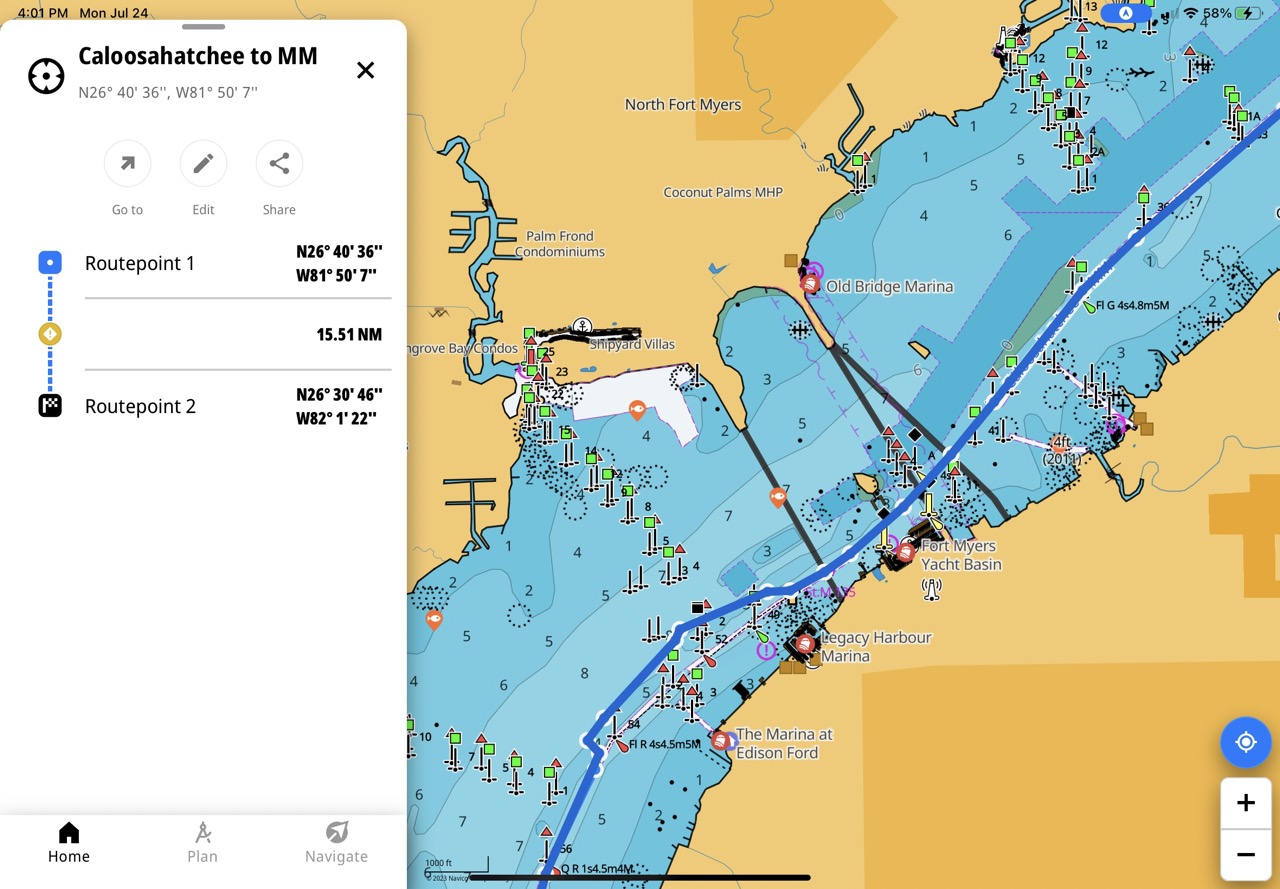 C-Map's app verges on a companion app for Navico brand MFDs. But, with auto routing built-in, a decent anchor alarm, trip logging, and other features, it earned a spot in the roundup. The app uses the same visually appealling and, in my experience, accurate X-series charts as Simrad's NSX and B&G's Zeus S.
Overall, I found the app easy to use but not as fully featured as some of the more complete chart plotter replacement apps.
Coastal Explorer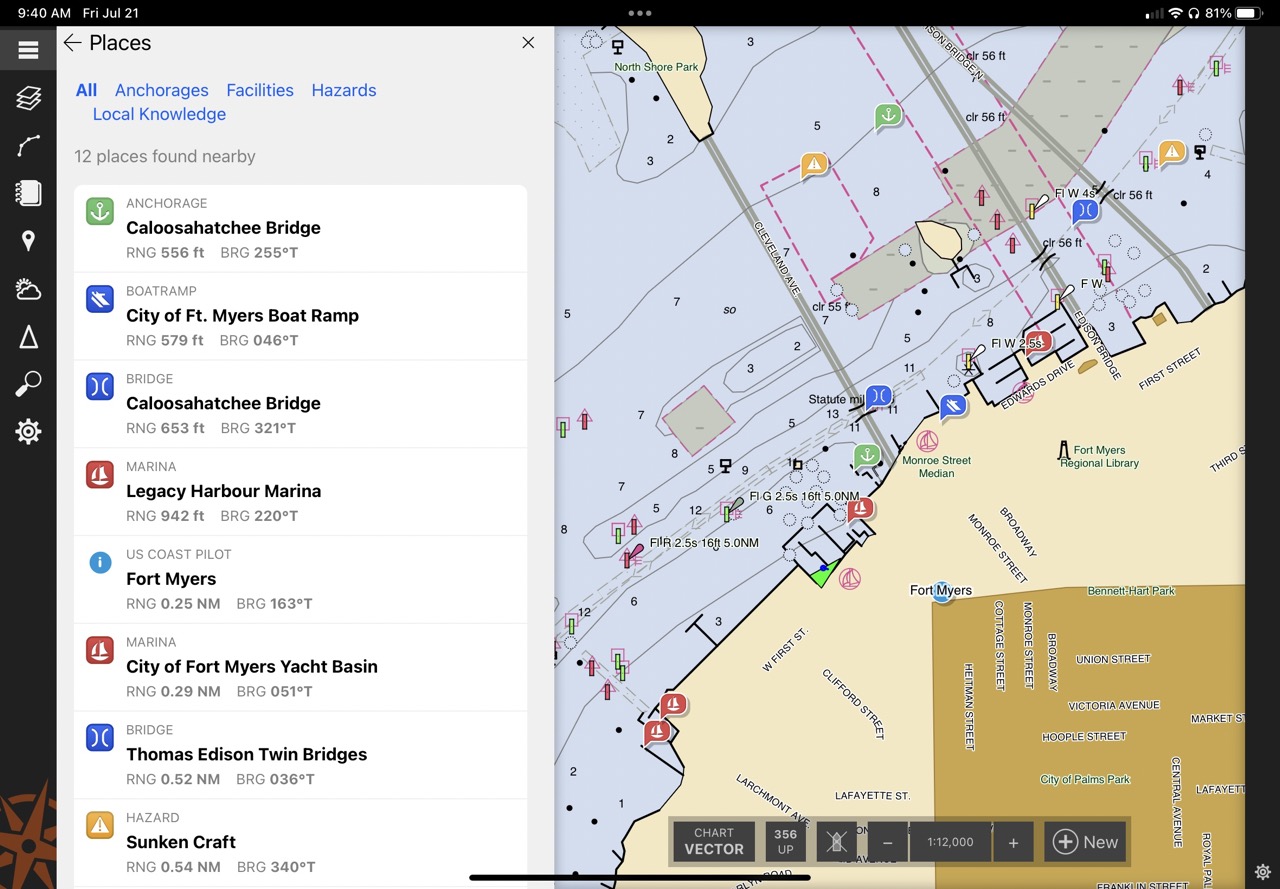 Panbo's relationship with the PC version of Coastal Explorer dates back to Ben Ellison's 2005 coverage of its public beta. Shortly after I bought my first Great Lakes boat, I bought Coastal Explorer, mostly because of Ben E's coverage and positive reviews. While CE remains an excellent navigation package, many helms don't lend themselves to a full-fledged PC. So, Rosepoint Navigation has developed Coastal Explorer for Android and iOS.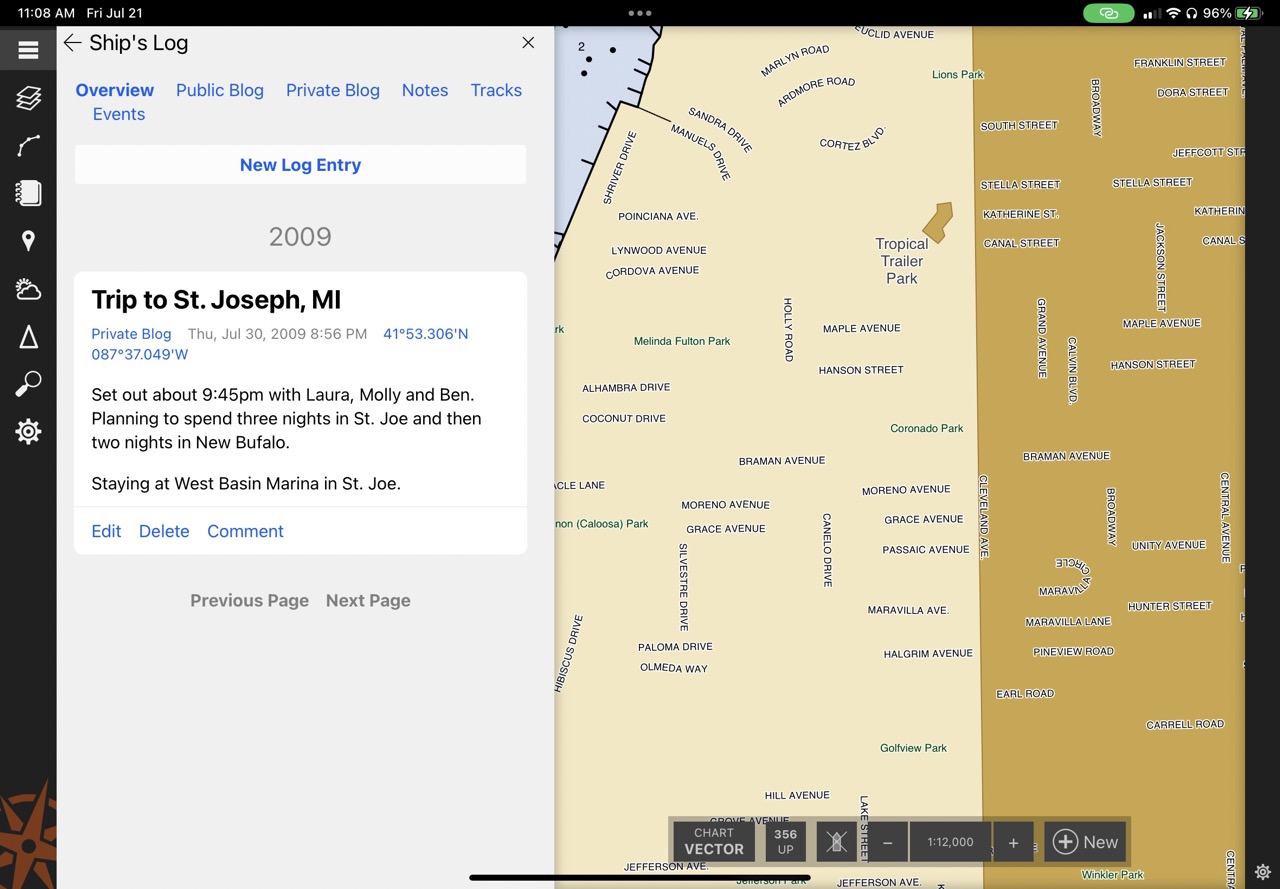 Like CE for the PC, the mobile version is a powerful and fully featured navigation package. It also has the advantage of syncing up with Coastal Explorer for the PC. So, shortly after logging in to my account, I was treated to my log entry from a 2009 trip across Lake Michigan.
i-Boating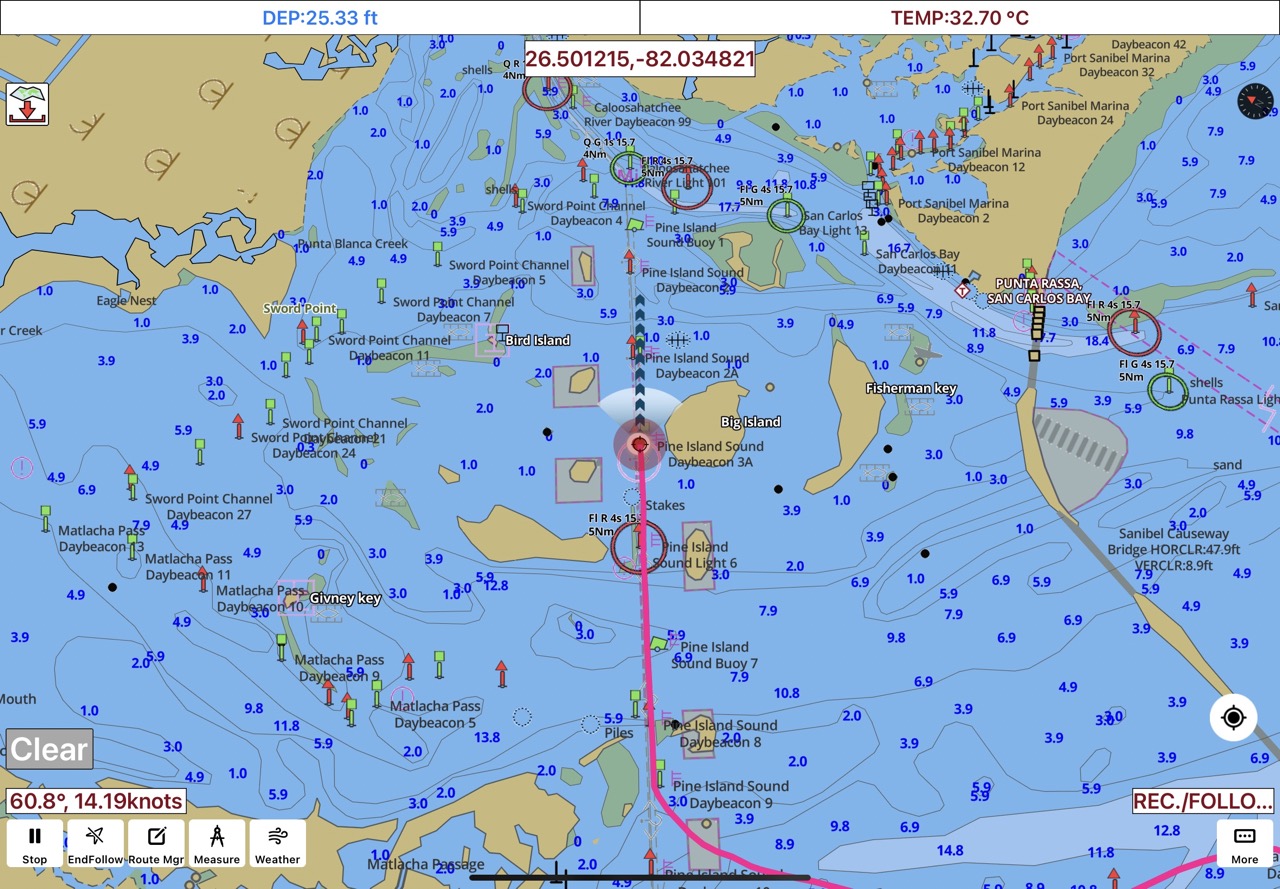 8/3/2023 – added i-Boating after reader suggestions – i-Boating was added to this list after several readers suggested it be included. Those readers enthusiastically endorsed both the capabilities and customization of the app. I'm planning on spending more time on the water with i-Boating, but thus far I'm impressed with the broad feature support of the app.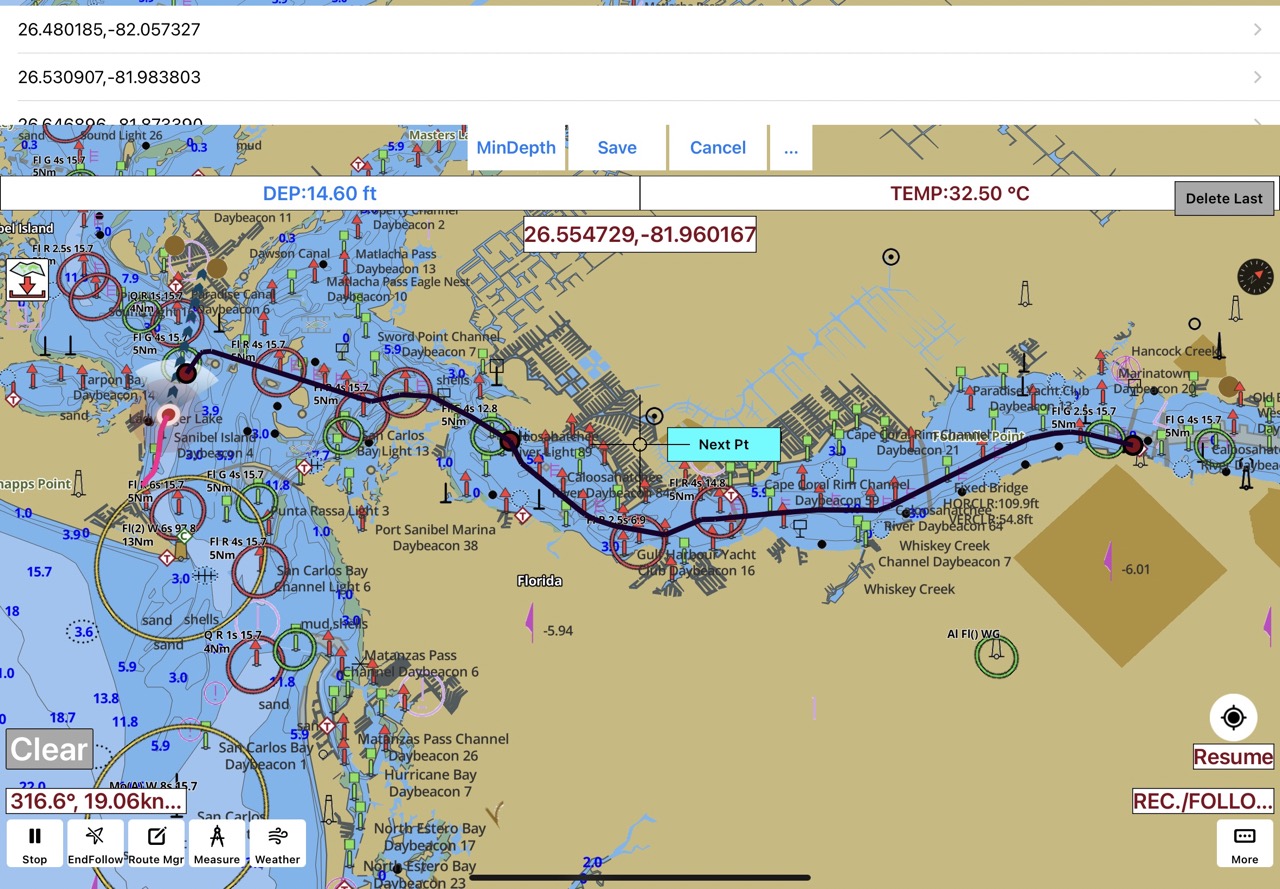 i-Boating includes automatic routing. In my testing, automatic routes were calculated almost instantly. So fast, in fact, that I was skeptical the routes were actually calculated. But, looking through the routes, I found good routes that followed safe depth, ATONs, and avoided hazards. Thus far, I have found the learning curve on the steeper end, though the app is also very fully featured which follows a pattern of other apps in this roundup.
iNavX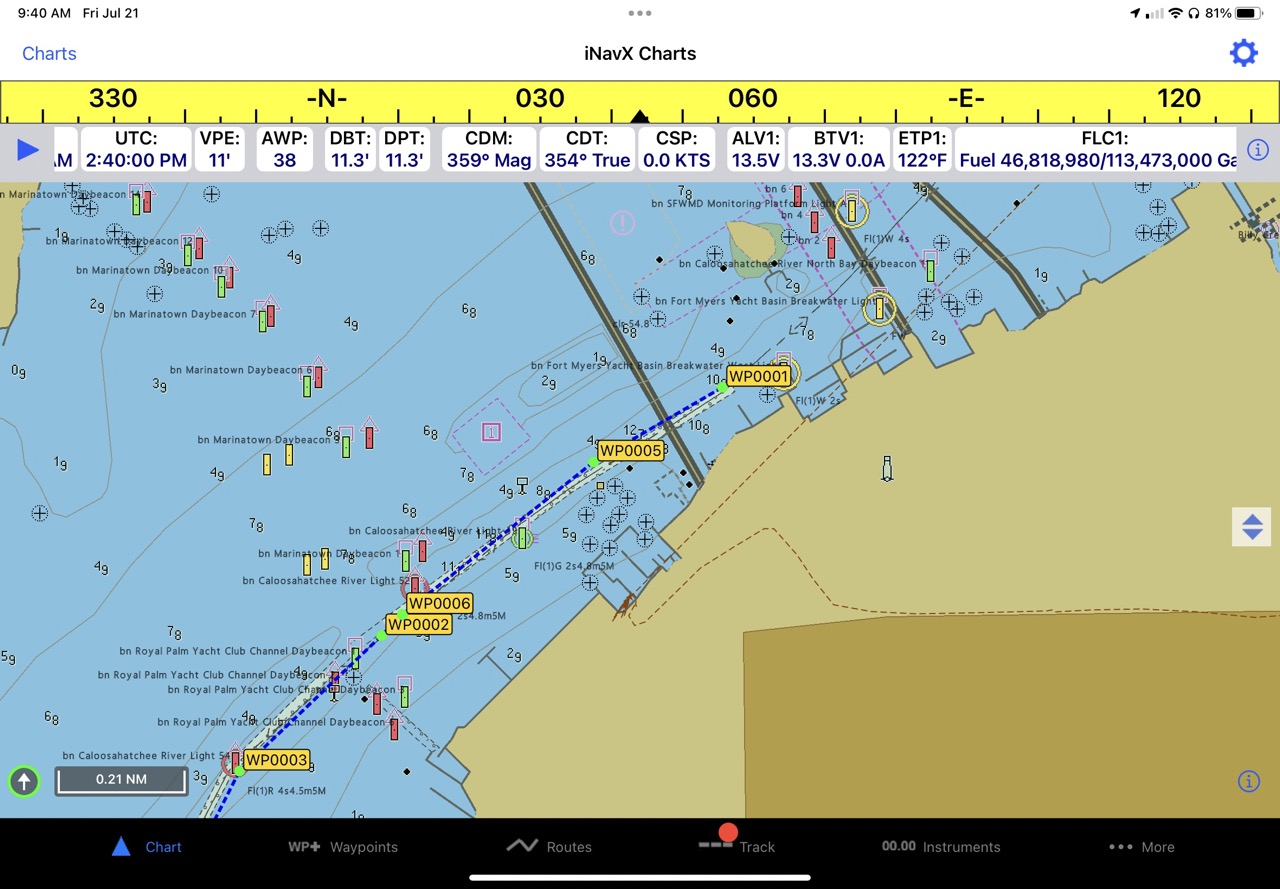 iNavX is the grandfather to many of the apps in this roundup. Putting this entry together has taken me way back in the Panbo archives. Ben E first posted about iNavX in 2008 when it hit the nascent App Store just weeks after the release of the iPhone 3G. If you have a moment, the comments on that 15-year-old article are a fun read.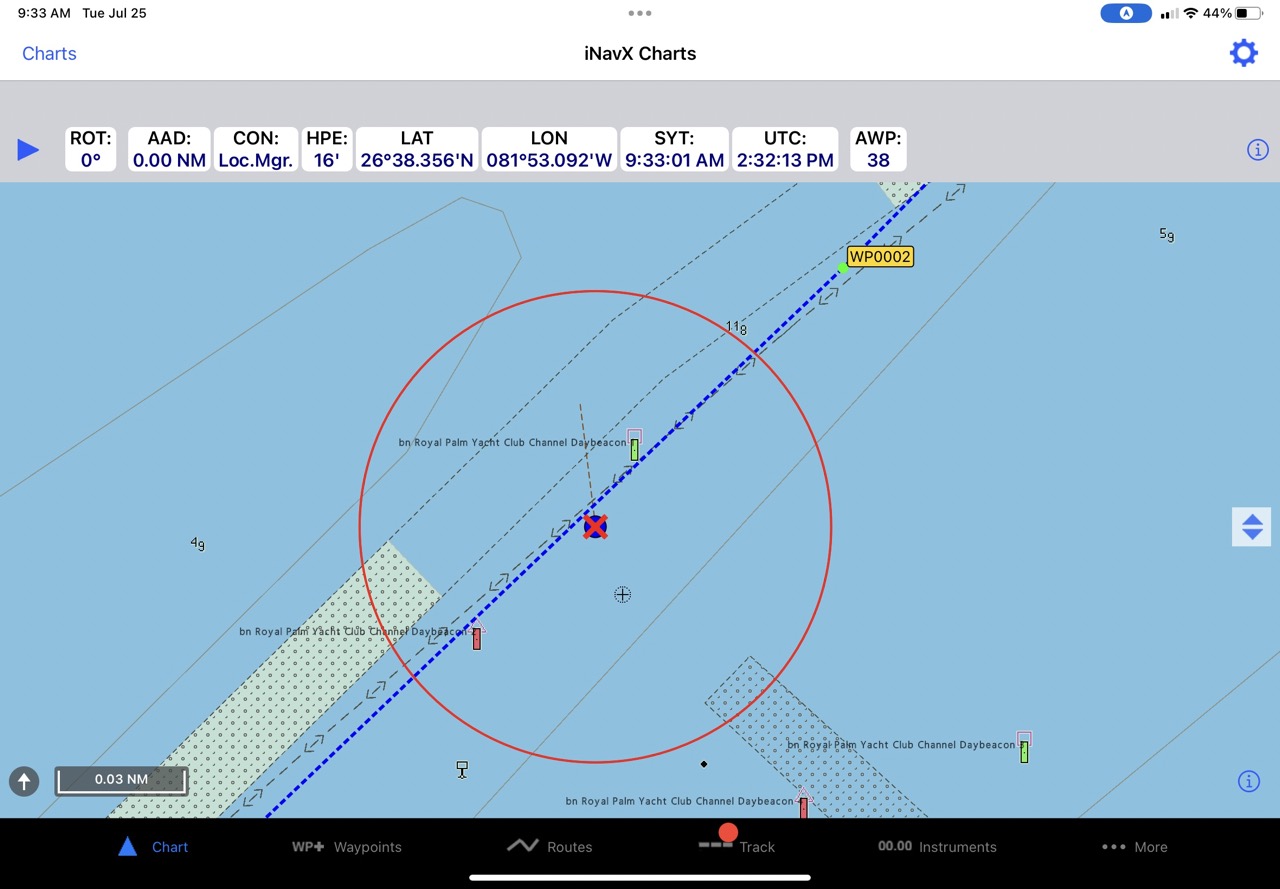 Since its launch, iNavX has built out its feature set to include integration with onboard electronics, weather display, anchor alarm, and a comprehensive chart catalog. iNavX has recently replaced the increasingly difficult-to-license Navionics and C-Map data with their own iNavX Professional+ charts. The interface isn't as intuitive as some of the more recent apps, but it has a mature and complete set of features.
KnowWake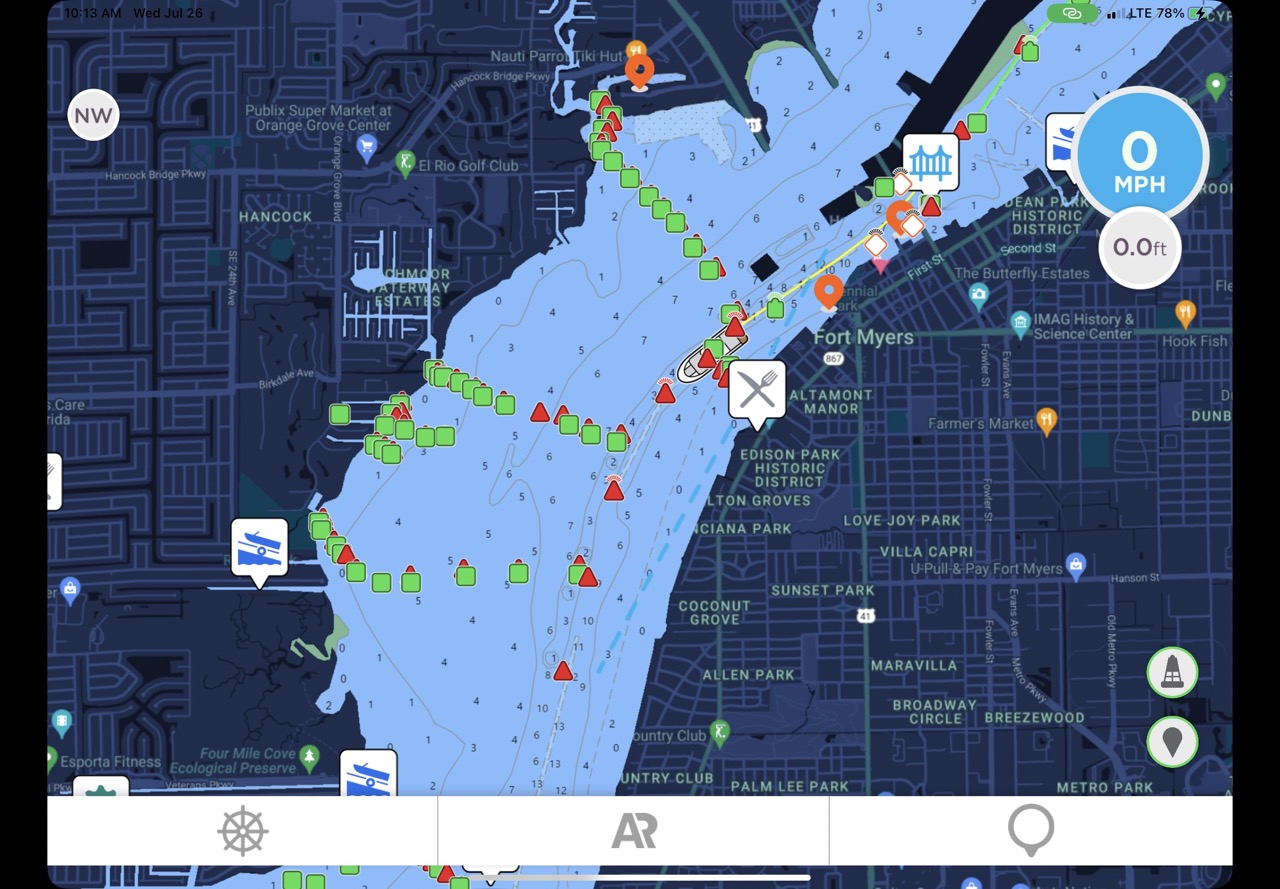 KnowWake promises to be the Waze of boating navigation apps. That aim means the app focuses on ease of use and reporting things seen on the water. Ease of use comes from a relatively simple interface with automatic routing, color-coded no-wake zone indications, and strong social capabilities.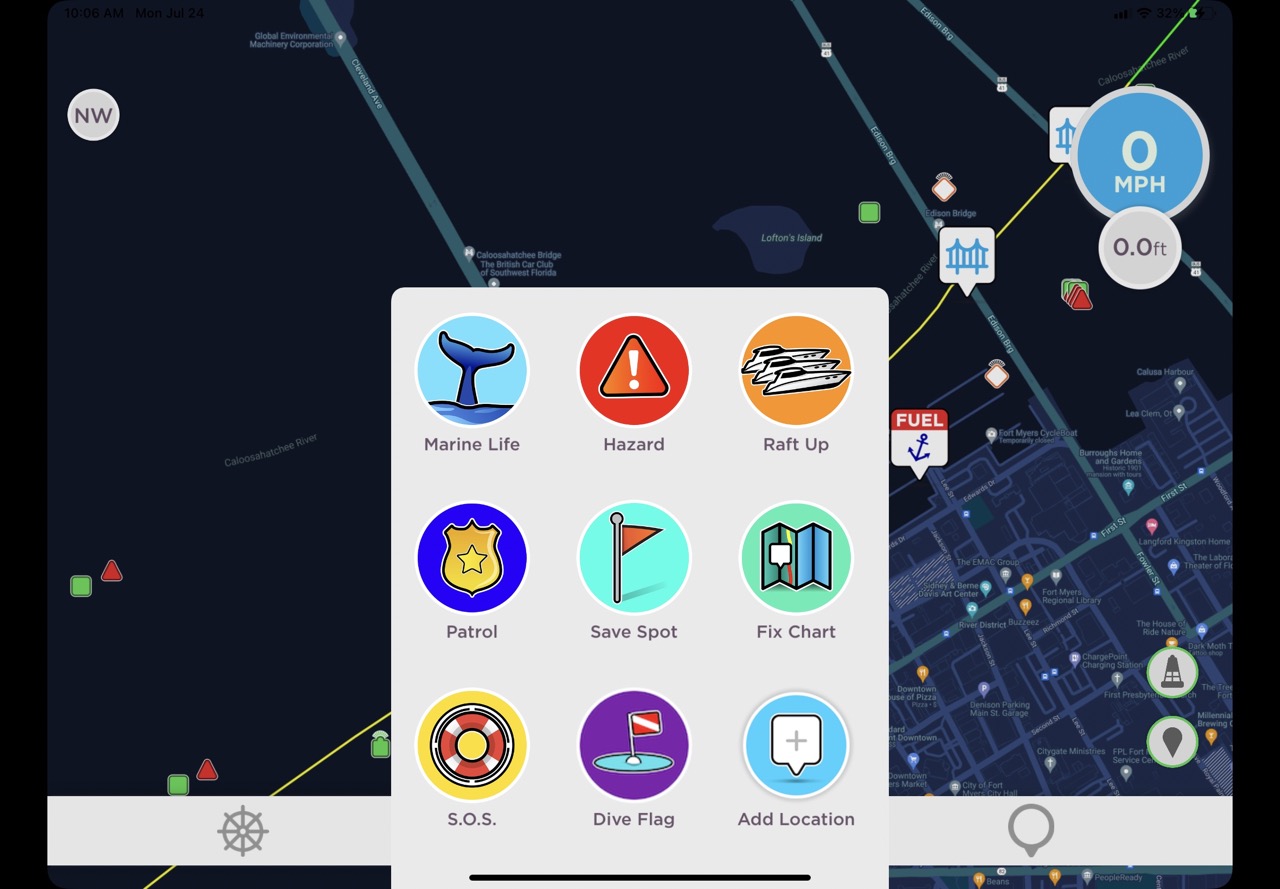 The Waze-style reporting of points of interest along the water allows boaters to share information with other boaters about hazards, interesting sites, and even law enforcement.
Navionics Boating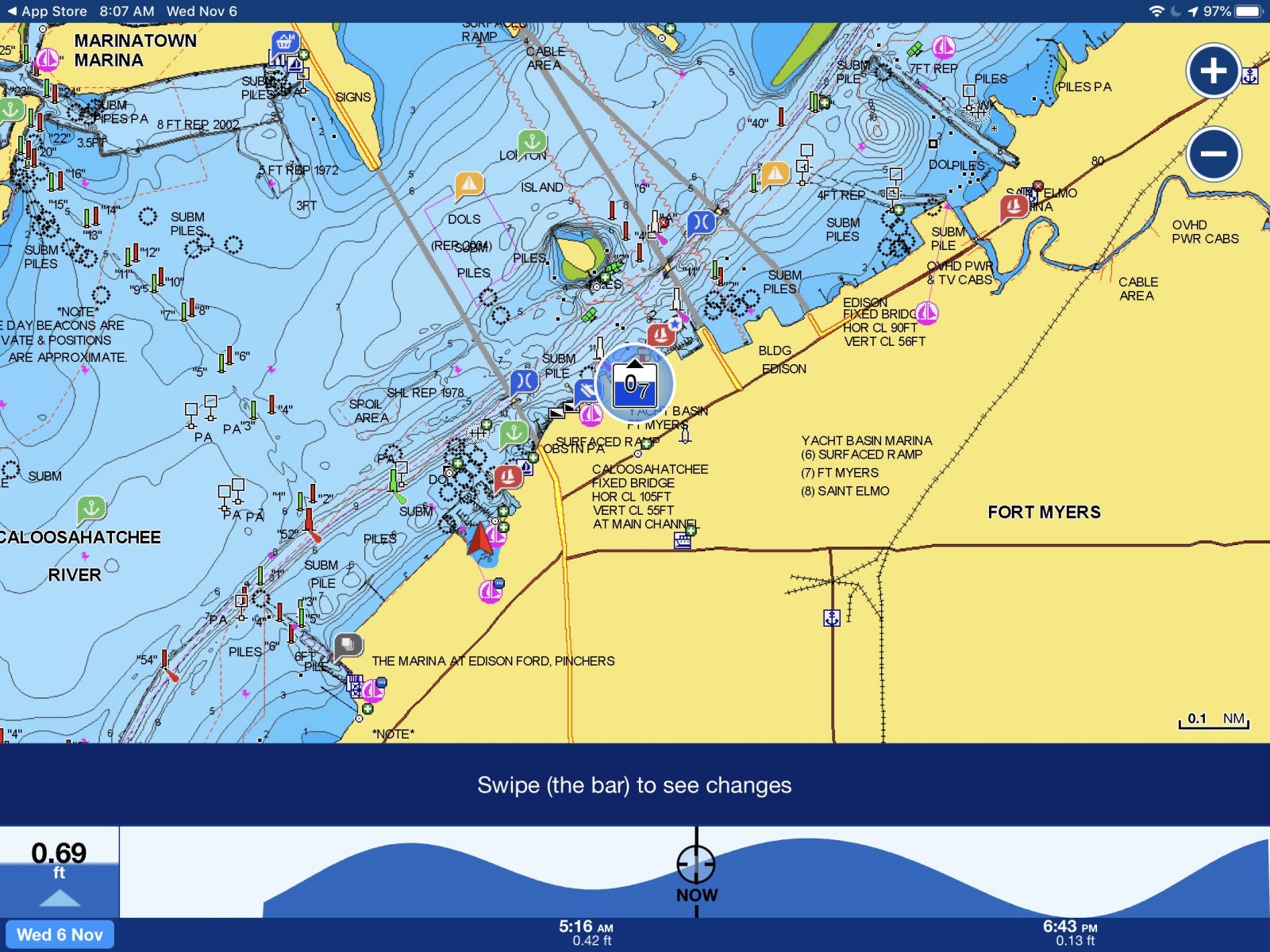 Navionics' Boating app has, to me, long represented the navigation app with the shortest learning curve. I find the app intuitive and easy to use. It includes Navionics' auto-routing capabilities, Active Captain Community data, Sonar Charts, and more.
Starting at $25 per year, I think it's a no-brainer for the power of the app and comprehensive charts. Perhaps the biggest potential downside is the likelihood that an onboard chart plotter is already using Navionics' charts. That means the app isn't providing redundancy in the event of a charting error in Navionics' data.
OpenCPN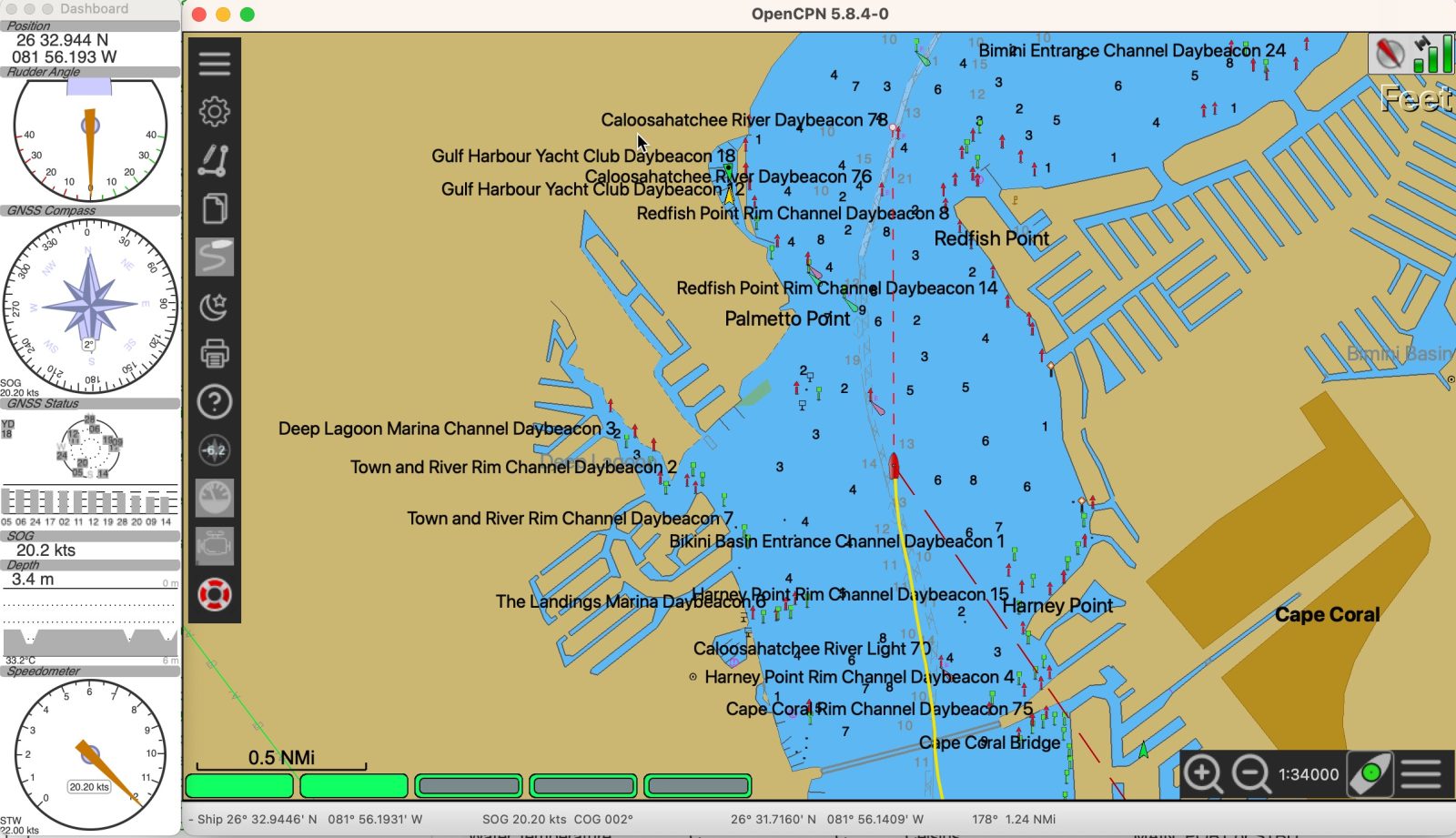 OpenCPN is a little bit different than any of the other apps discussed in this review. First, it's an entirely free, open-source project. The app is free, charts are free, and there are no advertisements in the app. Second, OpenCPN runs on Windows, MacOS, Android, and numerous flavors of Unix/Linux including on a Raspberry Pi. But, it doesn't run on iOS and that's limiting for many users.
OpenCPN is the most customizable of any of the apps discussed and includes a deep plug-in catalog. That catalog includes radar support, engine gauges, and many other options. OpenCPN's customization comes with a need for a little bit greater user investment. I think the learning curve is a bit steeper than many of the other apps.
Orca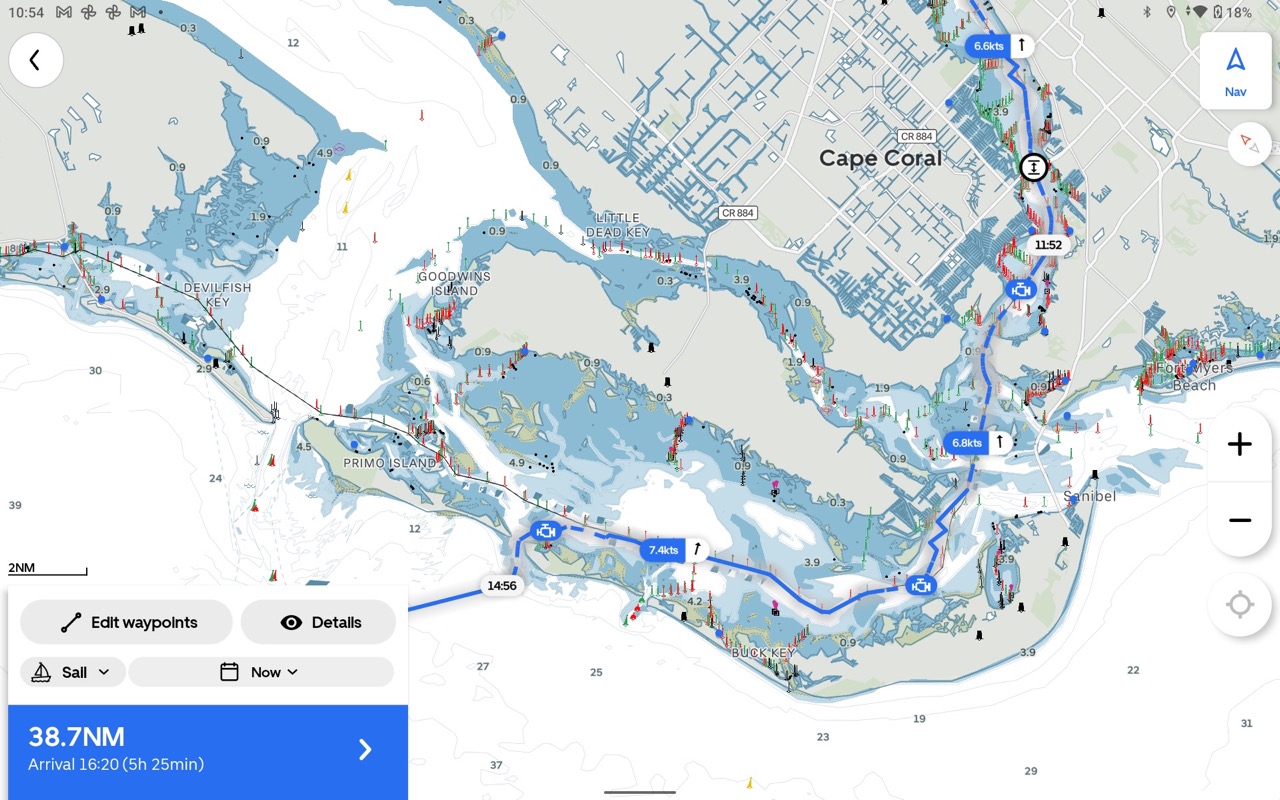 Orca's system is comprised of both software and hardware. But, the app can run on any Android or iOS tablet without any of their hardware required. As I mention in my recently completed, in-depth review of Orca, they offer a lot of capabilities. With all that it can do, Orca is making a serious run at replacing traditional installed equipment.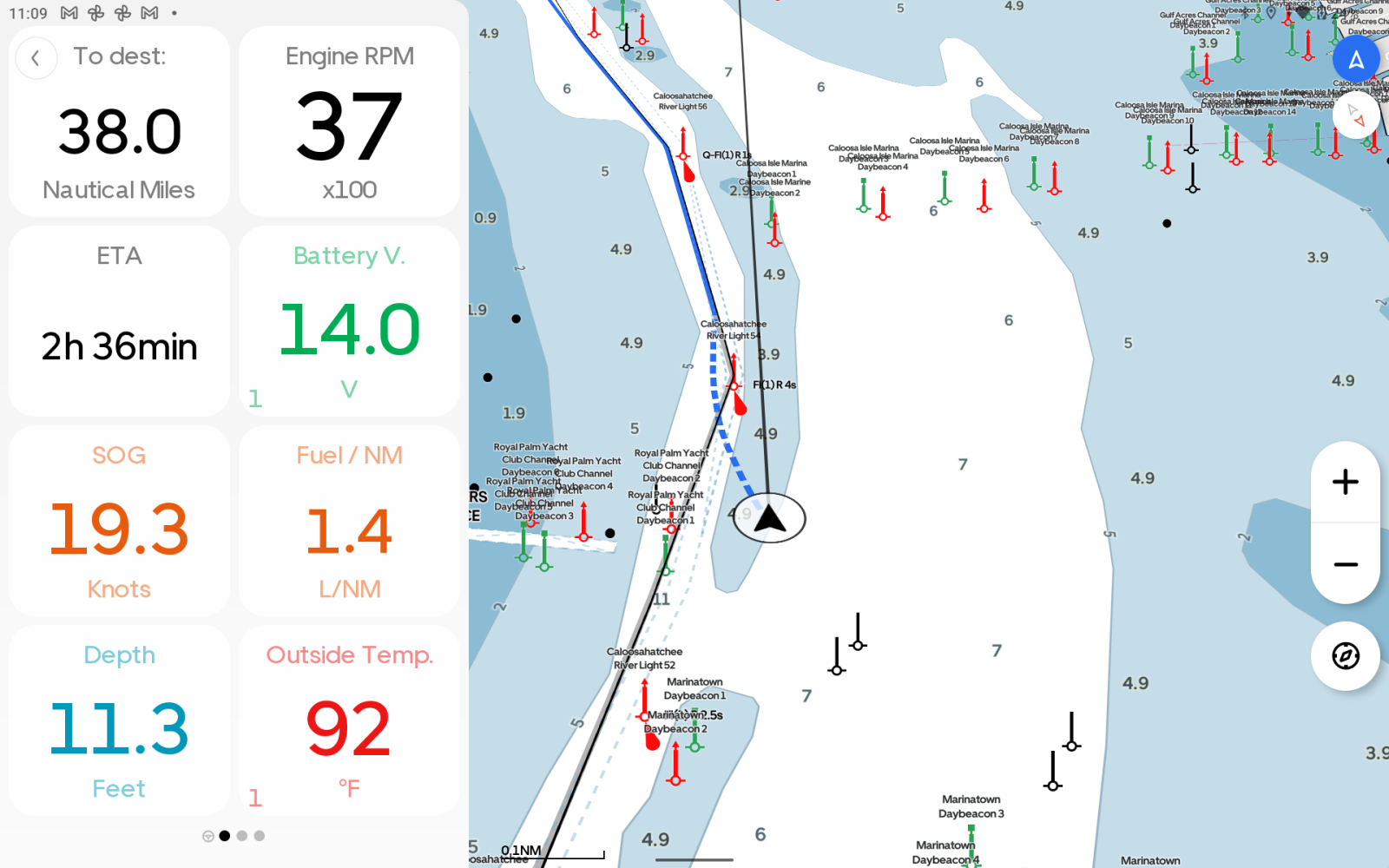 The system includes extensive sailing features, autopilot integration, coming radar support, as well as a full feed of NMEA 2000-based gauge capabilities. To take advantage of all their features, an Orca Core is required, but their automatic routing and core navigation features can be used on any GPS-equipped Android or iOS tablet.
Savvy Navvy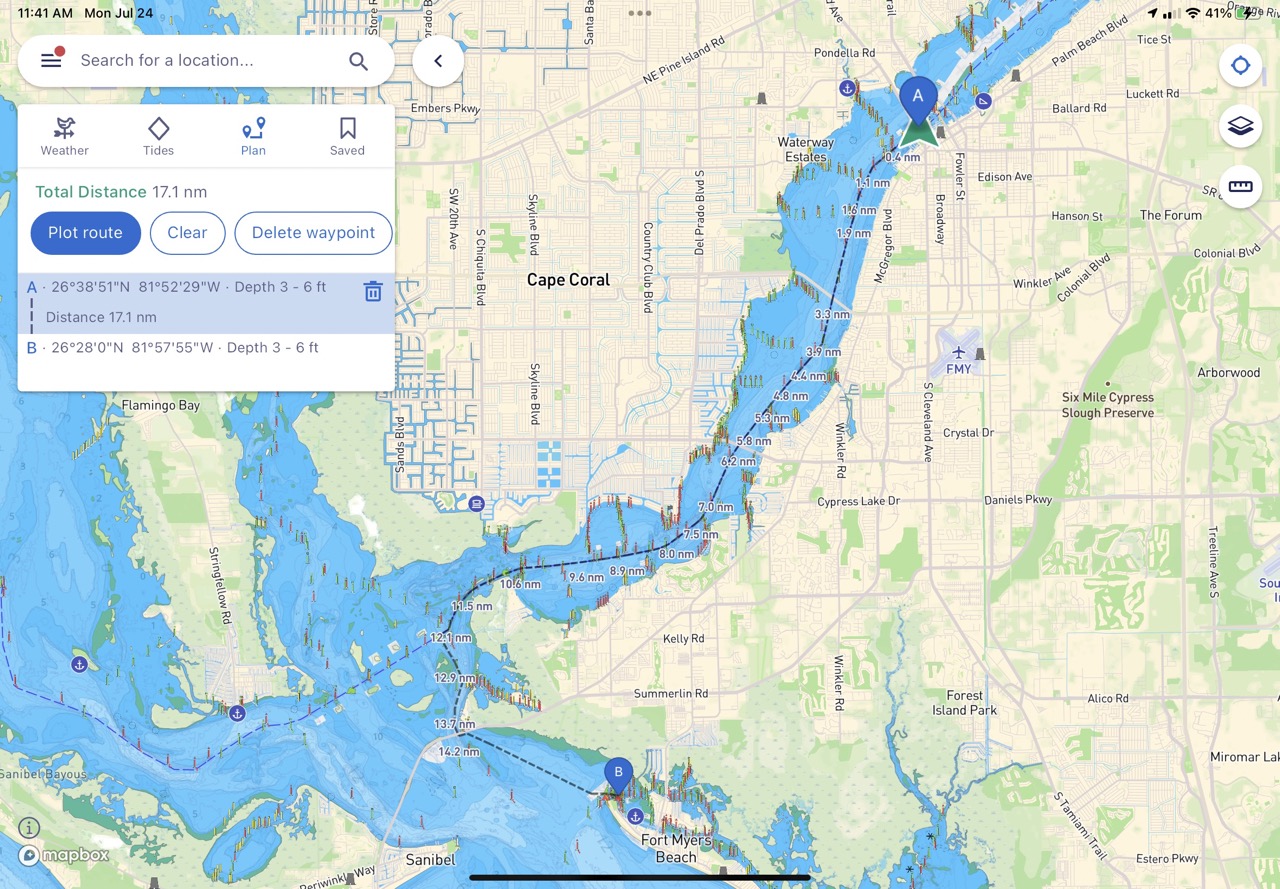 Savvy Navvy is a visually appealing, intuitive app to use. I find it nearly the equal to Navionics Boating for ease of use. Savvy Navvy's auto-routing will factor in a sailboat's polars, avoid traffic separation schemes, and respect ATONs. As a relative newcomer, that's an impressive set of features.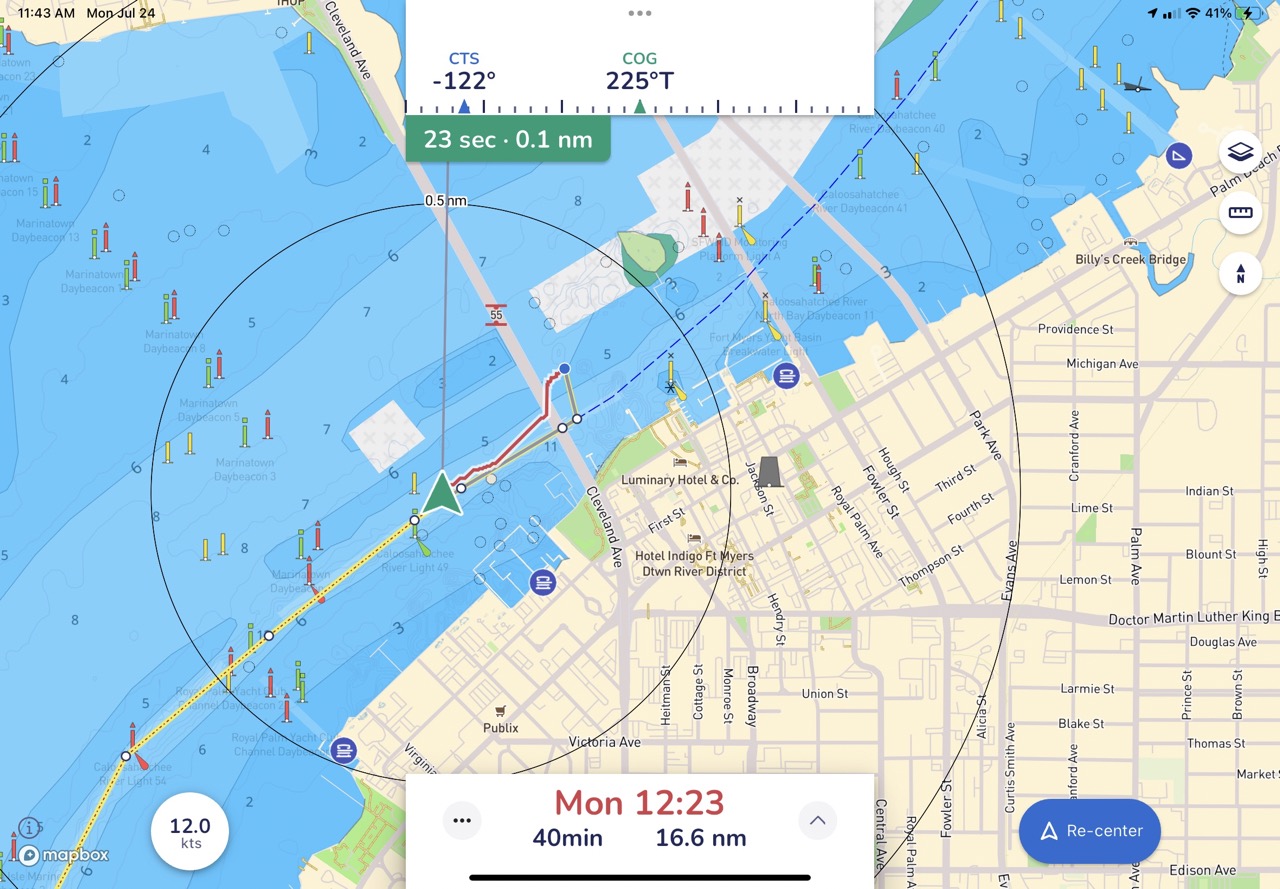 The app's intuitive UI make getting started with it quite easy. I quickly found myself comfortable with the app and utilizing its features. I found the core navigation features to be quite strong but support for external GPS, Depth, AIS, and other instruments is currently lacking. They are working on adding internet AIS aggregator support and hopefully will add some of the features soon.
SEAiq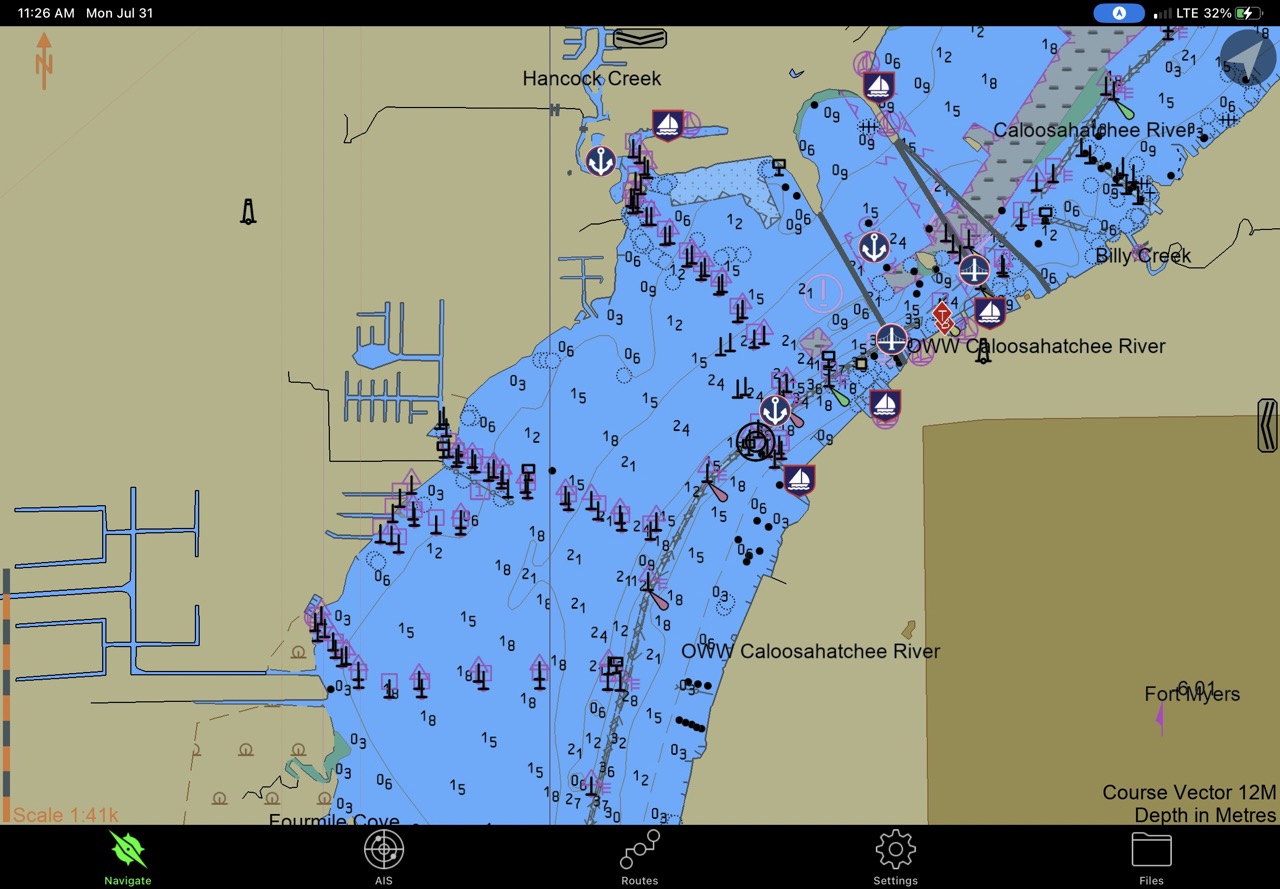 SEAiq is available in two versions, SEAiq and SEAiq Pilot with advanced features aimed at professional mariners. In fact, SEAiq says that one-third of professional pilots worldwide use the pilot version. I added SEAiq after a hearty endorsement in the comments, so I'm a little new to it.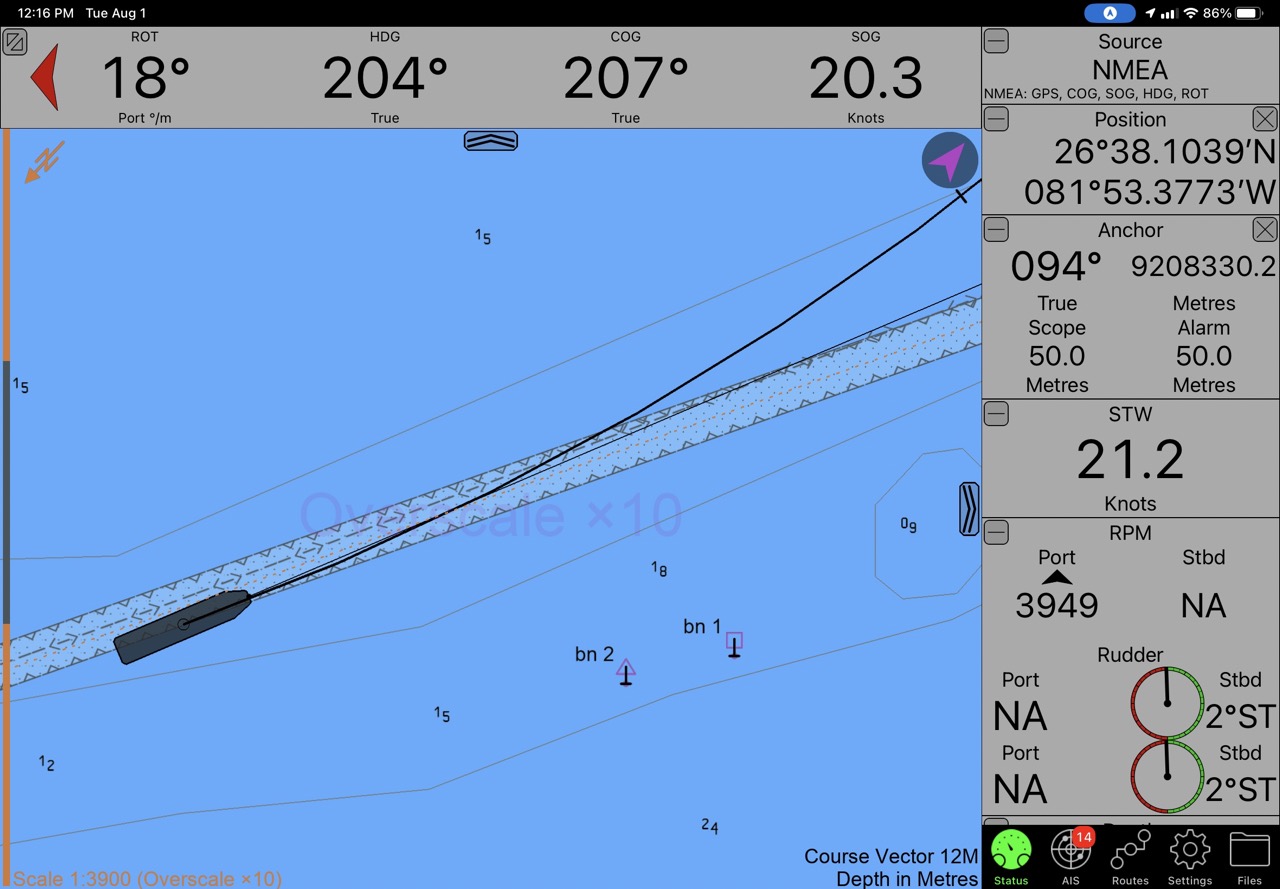 Thus far, it looks very capable and is one of only three apps in the roundup capable of displaying engine data. I have found the learning curve a little steep but once I've gotten things figured out, I'm impressed by the power of its functionality.
Sea Pilot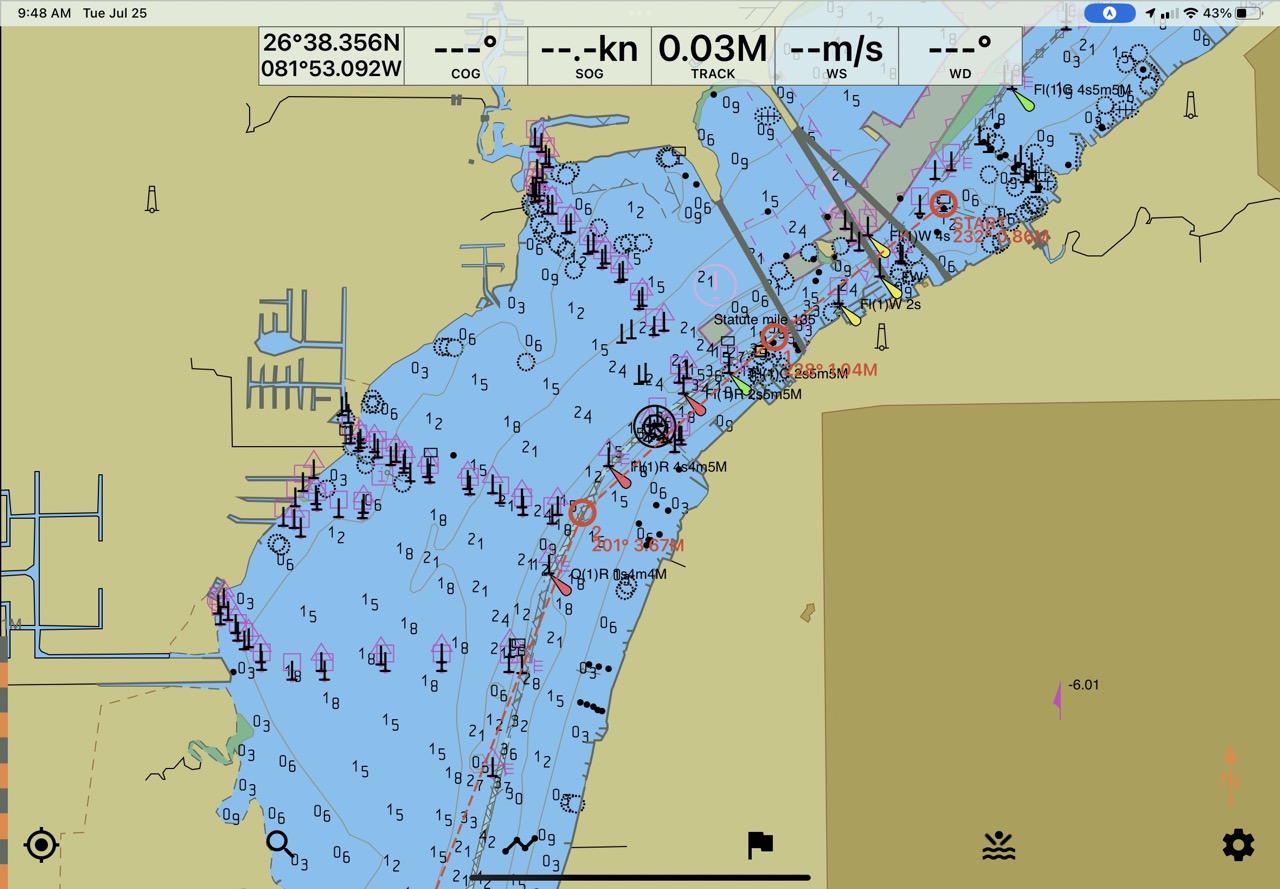 Sea Pilot debuted in 2011 and was acquired by Raymarine in 2018. The app offers auto-routing, WiFi instruments, and AIS data, internet AIS aggregated data, and more. Sea Pilot's auto routing will consider a sailboat's polars and weather conditions, but in my testing I had a hard time getting automatic routes created in the shallow waters of southwest Florida.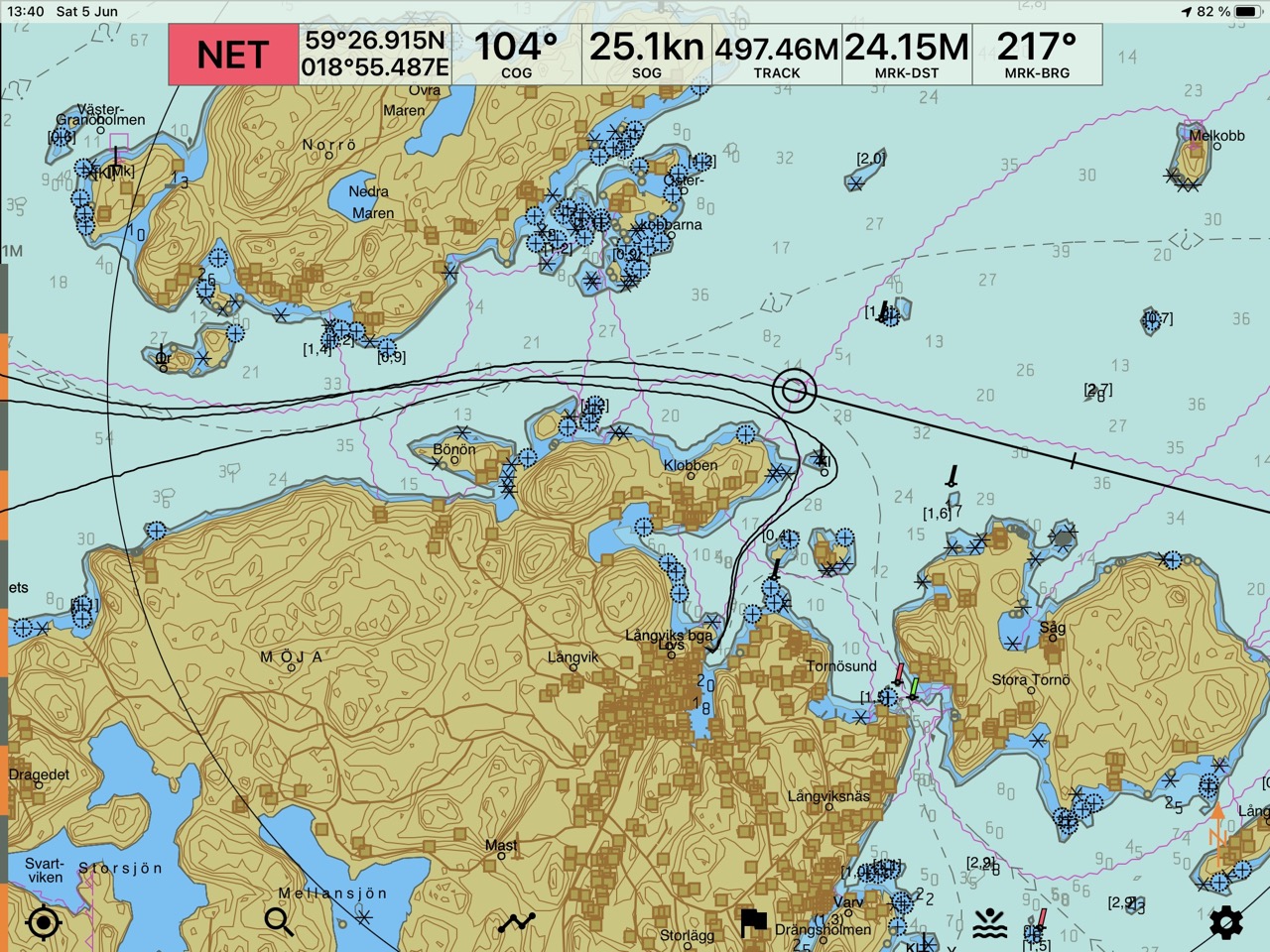 Sea Pilot's NMEA integration, AIS capabilities, and professional chart appearance make for a capable navigation system. Like some of the other apps that have been around for a while, the interface isn't as visually appealing as some of the new apps.
TZ iBoat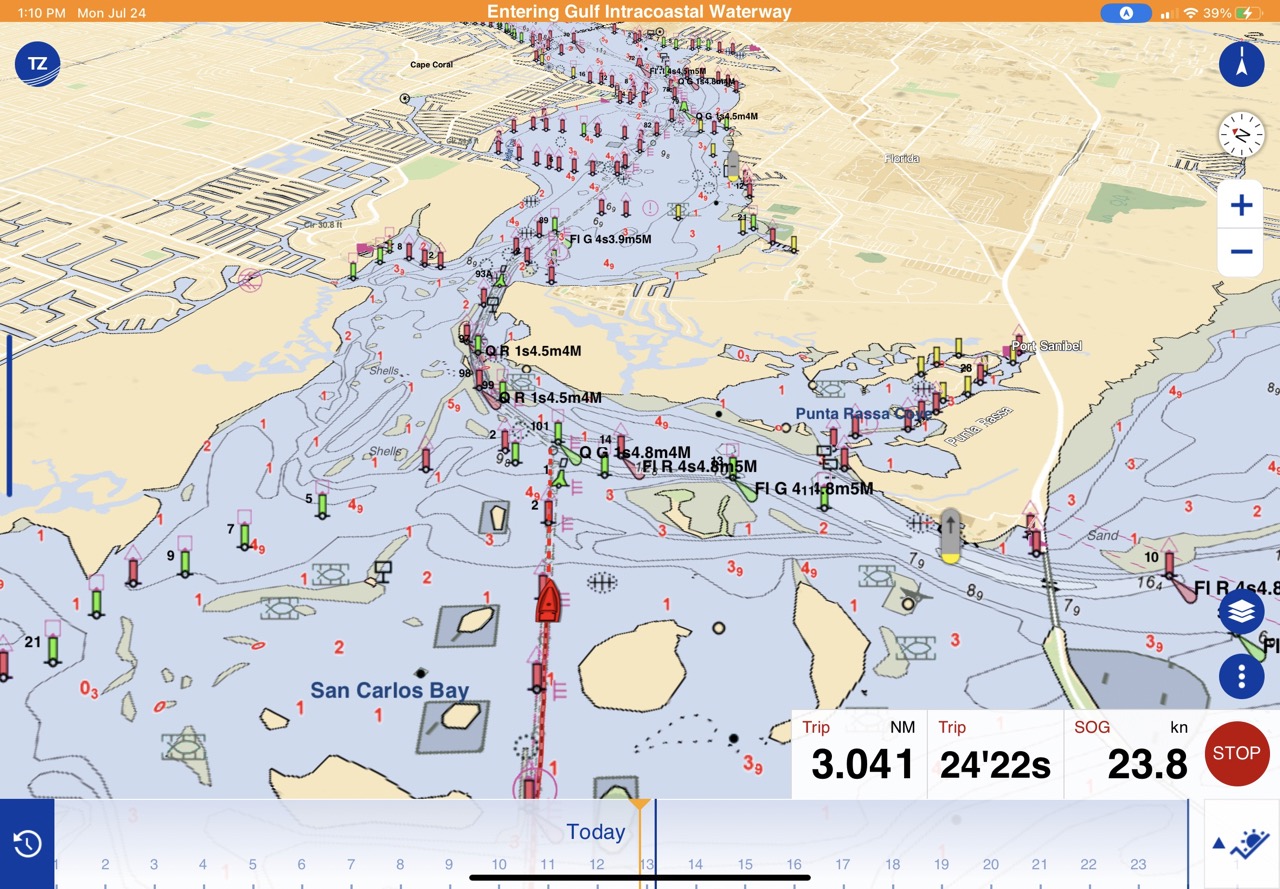 TZ iBoat is a full-featured navigation package in its own right. But, iBoat also integrates tightly with Furuno equipment. That integration includes support for Furuno's DRS4W WiFi radar, autopilot support, and participation in the TZ Cloud. TZ Cloud integration allows seamless synchronization of routes, trips, waypoints, and more across TZ devices including PCs, mobile devices running TZ iBoat, and Furuno NavNet TZ Touch 2 and TZ Touch 3 MFDs.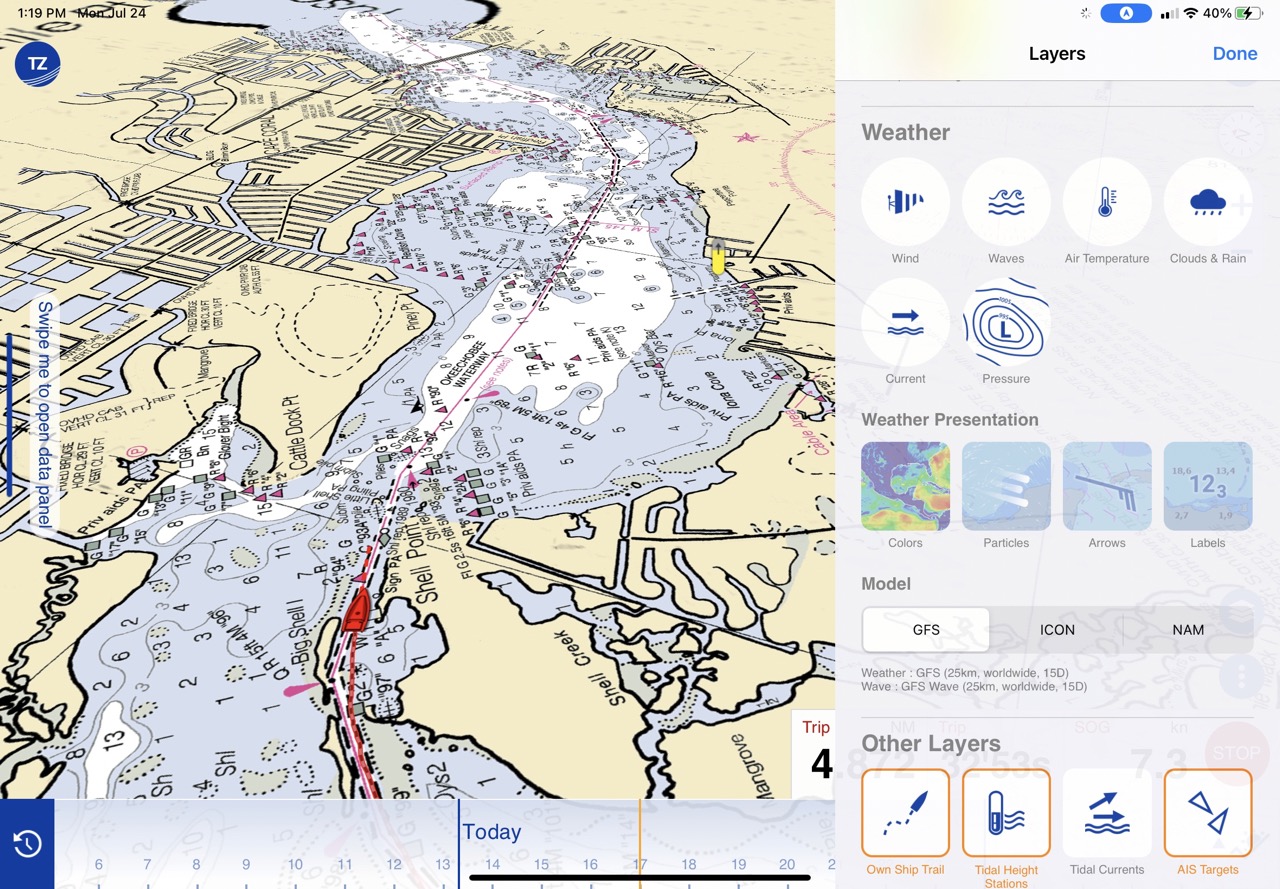 TZ iBoat also includes a robust weather forecast display system, anchor alarm, and all the features you'd expect of a navigation app. The main limitation is iBoat is only available on iOS; there is no Android version.
Wavve Boating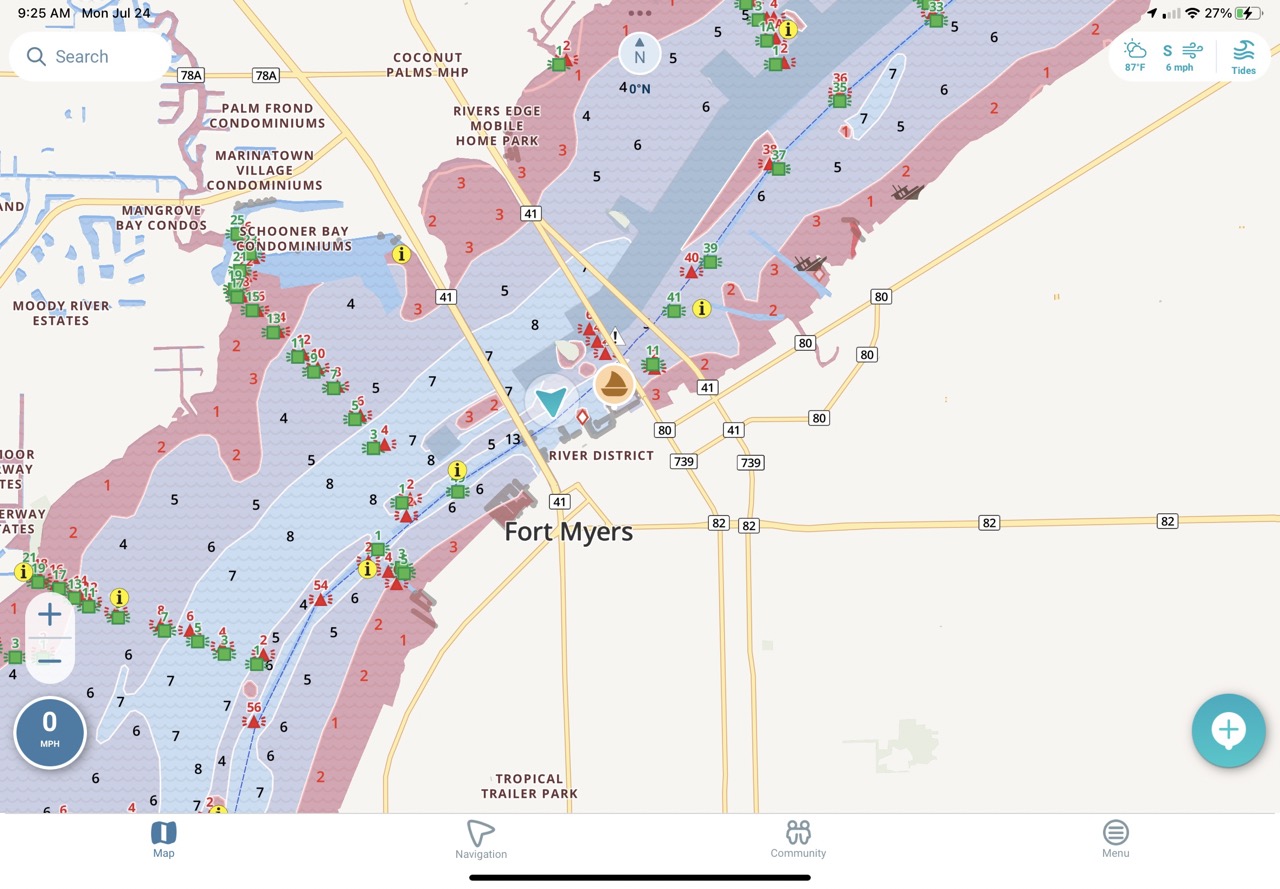 Wavve Boating's tagline is, "A better boating experience with the easiest marine navigation app." To ensure ease of use, Wavve has focused on keeping the user interface simple. The focus of the app seems to be ease and simplicity, auto routing, and social features.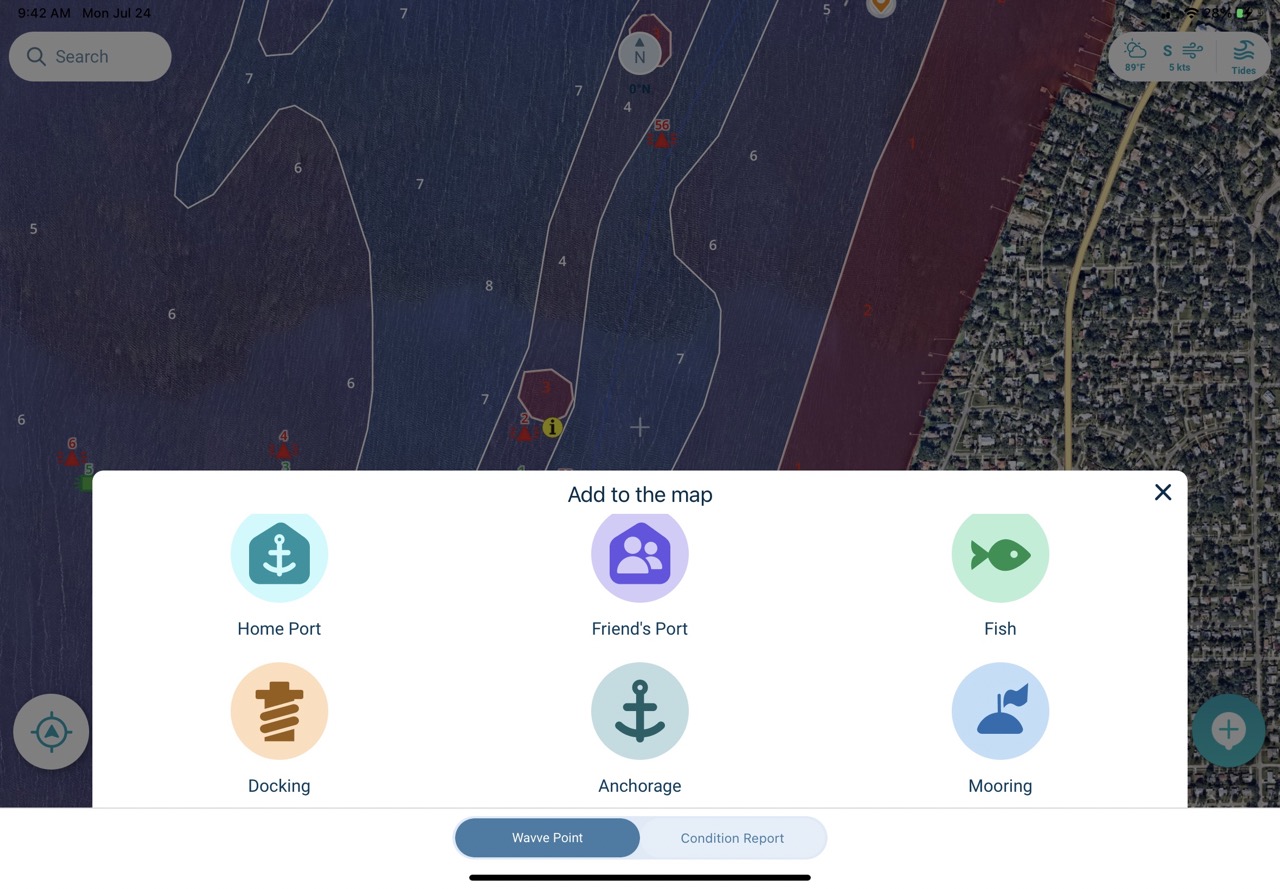 Like several other apps in this roundup, Wavve says they're trying to deliver an experience like Google Maps or Waze. So, like Waze, Wavve Boating allows a user to report various types of information and sites encountered on the water.
General features
Let's start with a high-level comparison of the features each app offers. Initially, we will look at the cost of each app and some of the most important features each app offers. I'm going to drill deeper into several of these features to break down some of the more subtle differences between them.
Minimum price
Automatic routing
Integration with onboard nav electronics1
Display internet sourced weather info
Anchor alarm
ActiveCaptain Community, Waterway Guide, or Navily
Import/Export data
Aqua Map
Free for 1 chart tile at a time, $9.99 / year
✓
✓
✓
✓
GPX, KML, KMZ
Argo
Free basic, $19.99 / year for premium
✓
✓
C-Map
Free app, $14.99 premium features
✓
Screen mirroring Navico MFDs
✓
✓
GPX
Coastal Explorer
Free app, $50 / year for
charts and nav features
✓
✓
✓
GPX, NOB
i-Boating
Basic app is free, U.S. charts are $14.99 / year. All other licenses are perpetual
✓
✓
✓
✓
GPX, KMZ
iNavX
Free app w/ NOAA charts, premium add-ons
✓
✓
✓
✓
GPX, KML, KMZ
KnowWake
100% Free
✓
✓
✓
✓
CSV
Navionics
$24.99 / year for U.S. and Canada
✓
✓
✓
✓
✓
GPX
OpenCPN2
Free except $9.99 for Android
✓
✓
✓
GPX
Orca
Free app, downloadable charts and premium
features €119 per year
✓
✓
✓
✓
✓
Savvy Navvy
Free baisc USA coverage, $99 /year premium, other regions- tiered offerings
✓
✓
✓
✓
GPX
SEAiq
App and basic features are free. SEAiq is $50, SEAiq USA is $25
✓
✓
✓
✓
GPX, KMZ, CSV, HTML
Seapilot
Free basic, $39.99 / year premium
✓
✓
✓
GPX, GRB, polars as text
TZ iBoat3
Free app, US coverage is $19.99 per year
AIS and Radar add-ons
✓
✓
✓
TZ cloud, GPX
Wavve Boating
$7.99 / month or $45.99 / year
✓
✓
1 – Including GNSS, depth, AIS, radar, autopilot, weather, etc. 2 – OpenCPN only runs on Android, not iOS 3 – TZ iBoat is only available for iOS
I think it's important not to simply count the checkmarks in the tables and use that to decide which app is best. The intent and area of focus of these apps vary. Including based on the types of boats and boaters they're designed for, the other equipment they're intended to support, and the cruising grounds they best support.
Integration with existing navigation electronics
The vast majority of the apps included in this roundup support receiving location and depth information via WiFi. The most common means of transmitting this data is via a device attached to the boat's NMEA 2000 network that translates the data on the network and transmits it via WiFi. That device may be an AIS unit, an MFD (limited to Navico MFDs), a dedicated NMEA 2000 to WiFi gateway, or a gateway manufactured by the software developer as Orca and Rose Point offer.
Most apps are designed to use an NMEA 0183 formatted data stream. This detail gives rise to some confusion. Although the data comes from an NMEA 2000 network, it is formatted using NMEA 0183 sentence structure. This is seemingly a vestige of the transition from NMEA 0183 to NMEA 2000. The NMEA 0183 data structure can prove limiting for newer data types. For example, engine data and digital switching weren't ever part of the NMEA 0183 standard. As a result, carrying this data over NMEA 0183 requires some creativity and limitations. In the near future, I expect we will see more apps move to support a raw NMEA 2000 feed rather than the translated NMEA 0183 one. In fact, Orca is already doing this with their Core.
| | | | | | | | | |
| --- | --- | --- | --- | --- | --- | --- | --- | --- |
| | Location | Depth | AIS via WiFi | AIS via internet | Weather | Engine information | Autopilot | Radar |
| Aqua Map | ✓ | ✓ | ✓ | | ✓ | | | |
| Argo | | | | | | | | |
| C-Map | | | | | | | | |
| Coastal Explorer | ✓ | ✓ | ✓ | ✓ | ✓ | | ✓ | |
| i-Boating | ✓ | ✓ | ✓ | | ✓ | ✓ | ✓ | |
| iNavX | ✓ | ✓ | ✓ | ✓ | ✓ | ✓ | ✓ | |
| KnowWake | | | | ✓ | | | | |
| Navionics | ✓ | ✓ | ✓ | | | | | |
| OpenCPN | ✓ | ✓ | ✓ | | ✓ | | ✓ | ✓ |
| Orca | ✓ | ✓ | ✓ | ✓ | ✓ | ✓ | ✓ | ✓ |
| Savvy Navvy | | | | In progress | ✓ | | | |
| SEAiq | ✓ | ✓ | ✓ | ✓ | ✓ | ✓ | ✓ | |
| Seapilot | ✓ | ✓ | ✓ | ✓ | | | | |
| TZ iBoat | ✓ | ✓ | ✓ | | ✓ | | ✓ | ✓ |
| Wavve Boating | | | | | | | | |
Charts
Nearly every chart we use on our boats starts with a government hydrographic office (HO). From the foundation of an HO chart, developers take that data, interpret, potentially enhance and augment, and display it on their navigation apps or chart plotters. Chart publishers like Navionics and C-Map have been doing that work for decades and have rich data of their own to integrate into the HO-sourced charts. Other apps may simply take the HO charts, format them for display in their software and present the data to the user.
One of the realities of the acquisition of Navionics by Garmin and C-Map by Navico is the reduced availability of those charts to third parties. As a result, apps that formerly supported a rich catalog of Navionics, C-Map, and HO-sourced charts have fewer charting options. Additionally, nearly every navigation app or chart plotter developer is now also in the business of chart packaging.
| | | |
| --- | --- | --- |
| | Chart Providers | Notes |
| Aqua Map | Government HOs, Explorer Charts, private data sources | Aqua Map displays over 80,000 U.S. Army Corp of Engineers surveys and USCG lights list and local notices mariners. NOAA charts, USACE surveys, and USCG LNMs are updated weekly and the lights list is updated daily. Over 14,000 lakes with bathymetry in the U.S. and Canada |
| Argo | NOAA ENCs and Crowdsourced bathymetry data | NOAA ENC view presents real time chart with no lag in updating ATONs. Standard charts also depth information from over 90,000 USACE surveys |
| C-Map | C-Map, Government HO charts, Explorer Charts | C-Map charts are Disover-X and Reveal-X, C-Map's latest chart technology. Charts include official HO data as well as unique survey data only available in C-Map. Genesis layer includes quality-controlled crowd-sourced data. |
| Coastal Explorer | Government HO | |
| i-Boating | Government HO | |
| iNavX | Government HO, Explorer Charts, iNavX Professional+ Charts, Blue Latitude, CHS, Delius Klasing | iNavX Professiona+ charts developed with SliTech. They are country-specific vector charts leveraging HO charts alongside other providers. In progress adding all inland waters of the U.S. |
| KnowWake | Government HO | Government HO, Self-updating, color-coded wake zones |
| Navionics | Government HO, private survey, user submissions from app and MFDs using Navionics charts | |
| OpenCPN | Government HO, Explorer Charts, Mbtiles from numerous sources | |
| Orca | Orca charts (sourced from Government HOs) | Automatic updates and 100% transparency on data sourcing for each country |
| Savvy Navvy | Government HO | Savvy Navvy licenses UKHO, NOAA and other official HO charts from around the globe. Their designers build Savvy charts from the ground up to show essential marine information in a clean and easy-to-view interface. Also use OpenStreetMap for land views. |
| SEAiq | Government HO | |
| Seapilot | Government HO, In Sweden – charts from Hydrographica | Charts are offered for Europe, North America, Australia and New Zealand |
| TZ iBoat | Government HO, Explorer Charts, In-house Mapmedia charts | A single subscription unlocks vector, raster, BathyVision, depth shading, continuous updates, and community maps |
| Wavve Boating | Government HO | |
Crowd-sourced data
One of the traditional advantages of navigation apps is their ability to display and update crowd-sourced data including anchorages, hazards, marinas, and other points of interest along the water. In the United States, the two main providers of this data are Waterway Guide and Garmin's Active Captain Community. In Europe, Navily seems to be leading the way.
Additionally, quite a few of the apps included in this review maintain their own database of information submitted by their users. I prefer one of the cross-app services like Waterway Guide, Active Captain, or Navily because the data isn't limited to just users of one app.
| | | | | |
| --- | --- | --- | --- | --- |
| | Waterway Guide | Active Captain Community | Navily | Notes |
| Aqua Map | ✓ | ✓ | | Aqua Map live sharing |
| Argo | | | | Argo Community |
| C-Map | | | | C-Map Genesis Community |
| Coastal Explorer | | ✓ | | |
| i-Boating | | | | |
| iNavX | ✓ | | | |
| KnowWake | | | | |
| Navionics | | ✓ | | |
| OpenCPN | | | | |
| Orca | | | ✓ | |
| Savvy Navvy | ✓ | | | |
| SEAiq | ✓ | | | |
| TZ iBoat | | | | Community Maps |
| Wavve Boating | | | | Wavve Boating Community |
Final thoughts
One of the single best things about mobile navigation apps is the ease with which a boater can switch between them. In your own usage, you may find you prefer one app for inland boating and another for open water. You might find you prefer the navigation of one app but the logging of another. Whatever your preference, the cost is typically low enough, and switching is simple enough that you can easily use multiple apps for whatever you like.
Another advantage of mobile apps is the ease with which they can be updated. So, often if you find your favorite app is lacking a feature, it might be just around the corner.
I encourage boaters to try as many apps as necessary to find what they like best. Experiment and get to know these apps. They have some really amazing tools and deliver those tools at a very affordable price point. Finally, if I've missed a comparison you'd like to see, please let me know in the comments below. Perhaps I've missed an app or I haven't drilled into a detail. There are so many ways to compare these apps, I had to draw the line somewhere. But, I have more data and would be happy to address additional areas.