Orca offers smart navigation with your tablet or theirs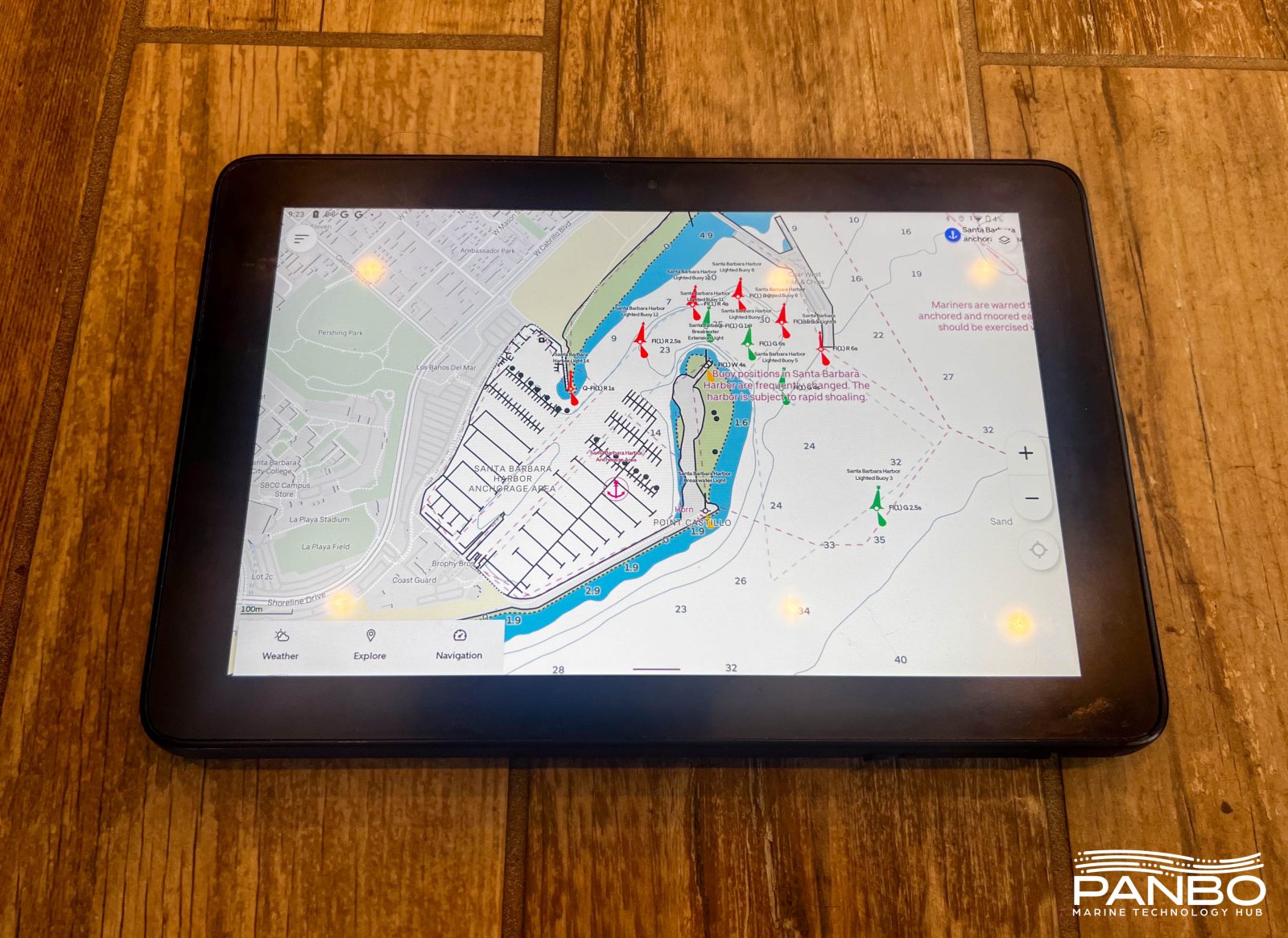 Orca makes some pretty heady claims about their CoPilot navigation app and hardware. Their home page is dominated by the tagline, "The ultimate navigation experience" and promises "Better boating with Orca." Those are bold statements, but Orca's goals are indeed ambitious. Orca aims to deliver a smarter, more automated navigation experience by leveraging both their own and off-the-shelf hardware. So, how far along the path to delivering the ultimate navigation experience has Orca progressed so far? Let's take a look.
I've recently taken a look at the challenges of using a tablet as a primary navigation system. Orca has set an ambitious goal of addressing many of the challenges associated with using a tablet as your primary navigation system. With their hardware options and software subscription, Orca has options to fit many types of boats and boaters.
The system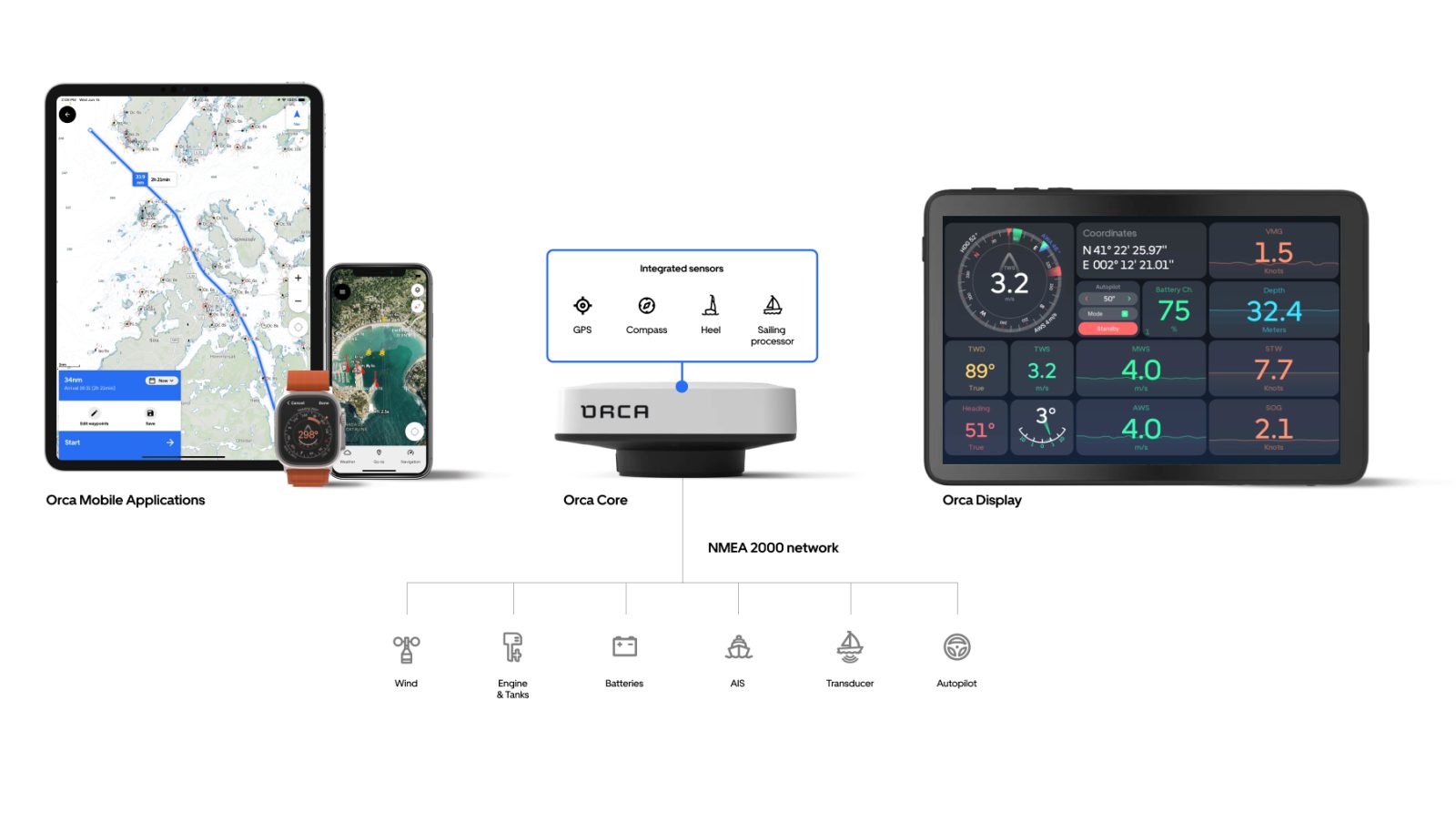 Orca's system is comprised of their app, Orca CoPilot, running on your tablet or theirs, and the Orca Core, an NMEA 2000 connected GNSS receiver with a 9-axis IMU and WiFi and Bluetooth radios. Orca's modular approach captured my attention. I like the idea of adding the core to your NMEA 2000 network and then being able to use my tablet, phone, or a dedicated, marinized tablet.
Orca CoPilot app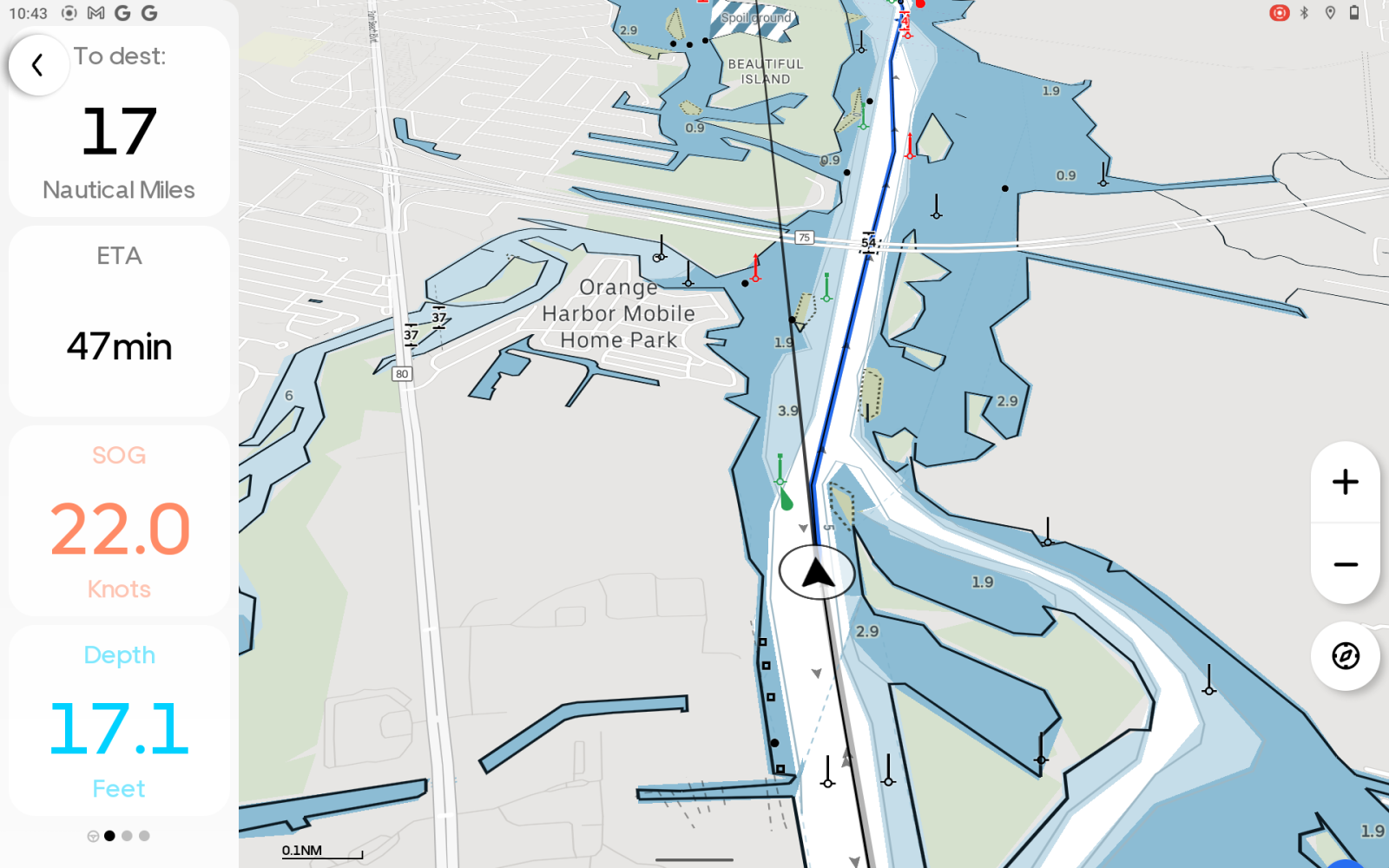 Let's first take a look at Orca's app. You can run the app on your own iPad or Android tablet, you can use the Core or not, but if you're going to use any part of Orca's system, you will use their app, CoPilot. Ultimately, I think it's the software that will determine Orca's success. There are quite a few navigation apps out there. In fact, one of my summer projects is to produce an updated comparison matrix of all of them, so first, let's see how CoPilot compares.
| | | | |
| --- | --- | --- | --- |
| | Aqua Map | Navionics Boating | Orca CoPilot |
| Auto Routing | | X | X – including sail routing |
| Supports external GNSS/Depth | X | X | X |
| AIS via WiFi | X | X | X – also supports internet AIS aggregator |
| Wind via WiFi | X | | X |
| Engine info via WiFi | | | X |
| Autopilot controls | | | X |
| Real Time Tracking | X | X | |
| Crowd Sourced Data | ACC and Waterway Guide | ACC only | |
| ACOE Survey Data | X | | |
| Location Sharing | X | X | X |
| Anchor Alarm | X – with remote monitoring via Internet connection | X | X |
Orca has hit the ground running with some pretty significant features and deep integration with their Core hardware. As you can see from the list above, they have a strong feature set, including some features not found in either Aqua Map or Navionics, the two leading apps in my opinion.
Auto routing
For a long time, if you wanted an app with auto-routing, your only choice was the Navionics Boating app. But a recent crop of apps, including Argo, Savvy Navvy, and Orca, have launched with auto routing as one of the core features. I don't know if it makes me a curmudgeon, but I remain very suspicious of automatically built routes. Over time, I've seen the routes get better and more logical, but regardless of the auto-routing engine, I also continue to see potentially dangerous detours automatically plotted. The Orca Facebook Owners' Group has several examples of routing anomalies, but in my waters, I can report the routes have been generally accurate and safe.
Sailing routes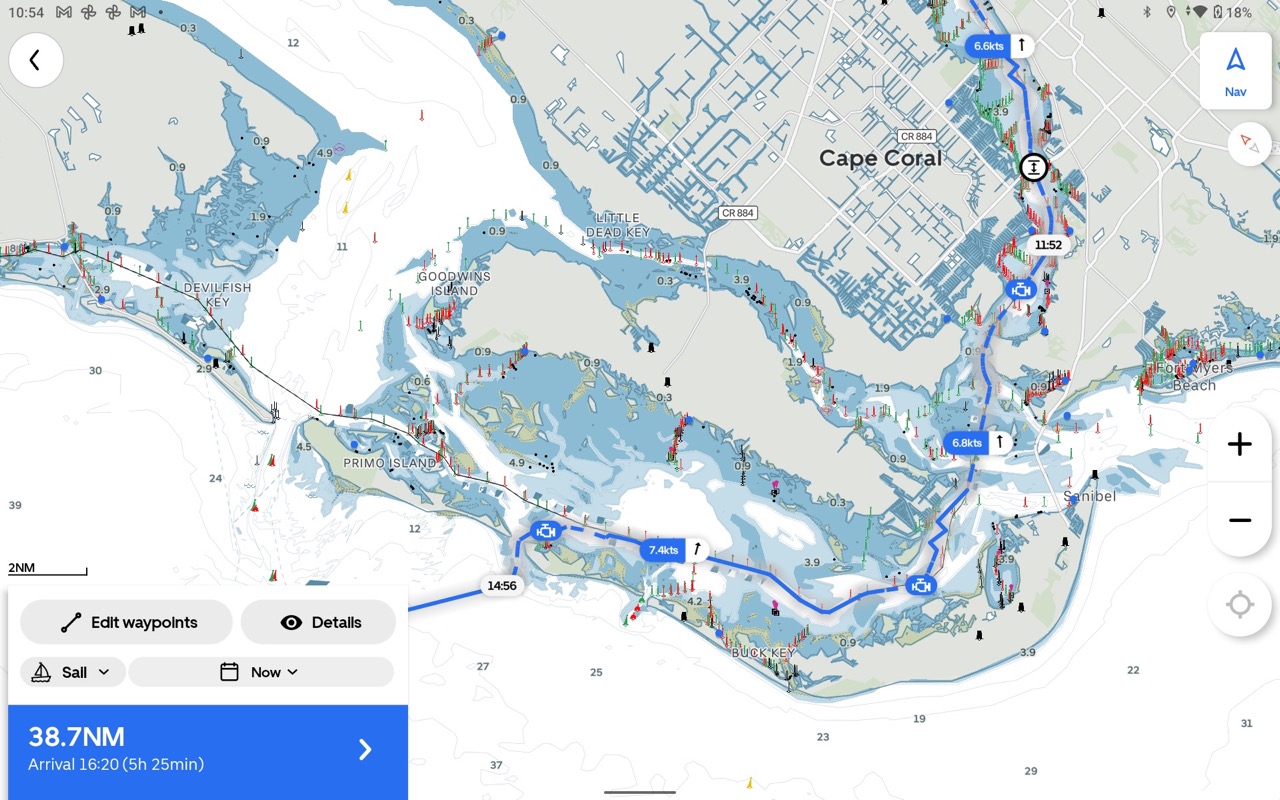 I believe Orca's stand-alone sail routing capabilities are uniquely capable and easy to use. The only other similar automatic sail routing I know of comes from Predict Wind. When selecting a route type, you have a choice between manual, engine, and sail. Manual routing leaves all the decisions up to the operator. Engine routing will build a route planned around using the engine for your entire trip. Sail routing will sail when appropriate and call for engine use when that's appropriate. If you look at the screenshot above, you will see engine icons in numerous spots while in others you will see a wind speed indicator and an arrow indicating a sailing leg. Additionally, engine-powered sections of the route are hashed while sailed portions use a solid line.
Instrument display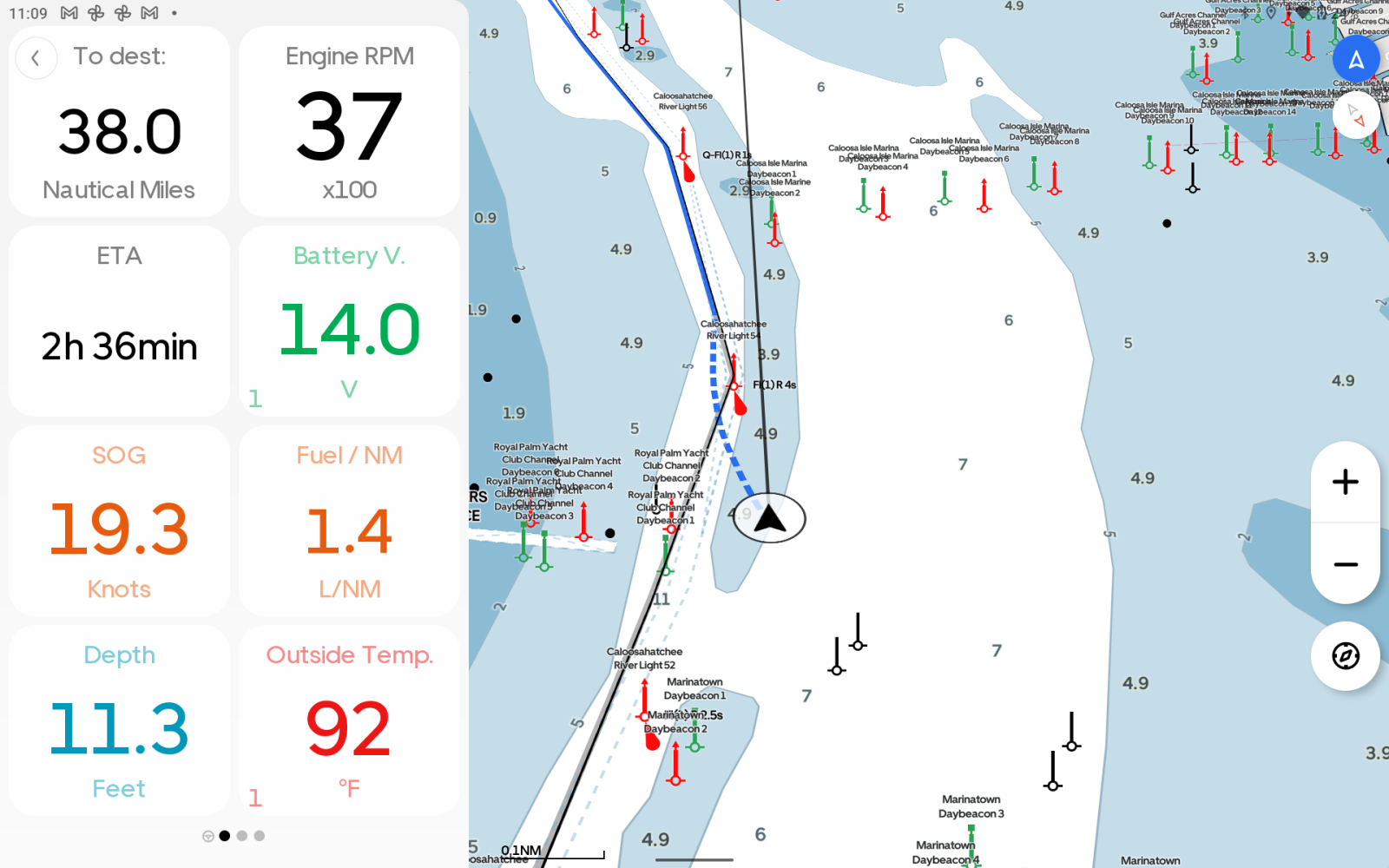 Compared to the vast majority of navigational apps, CoPilot offers a great deal more options for displaying data and can display more data than any other app I've seen. I've long wondered why other apps don't allow the relatively straightforward option of displaying data received from the NMEA 2000 network. I'm really pleased to see Orca take advantage of this data and allow clear and easy display of the data.
Weather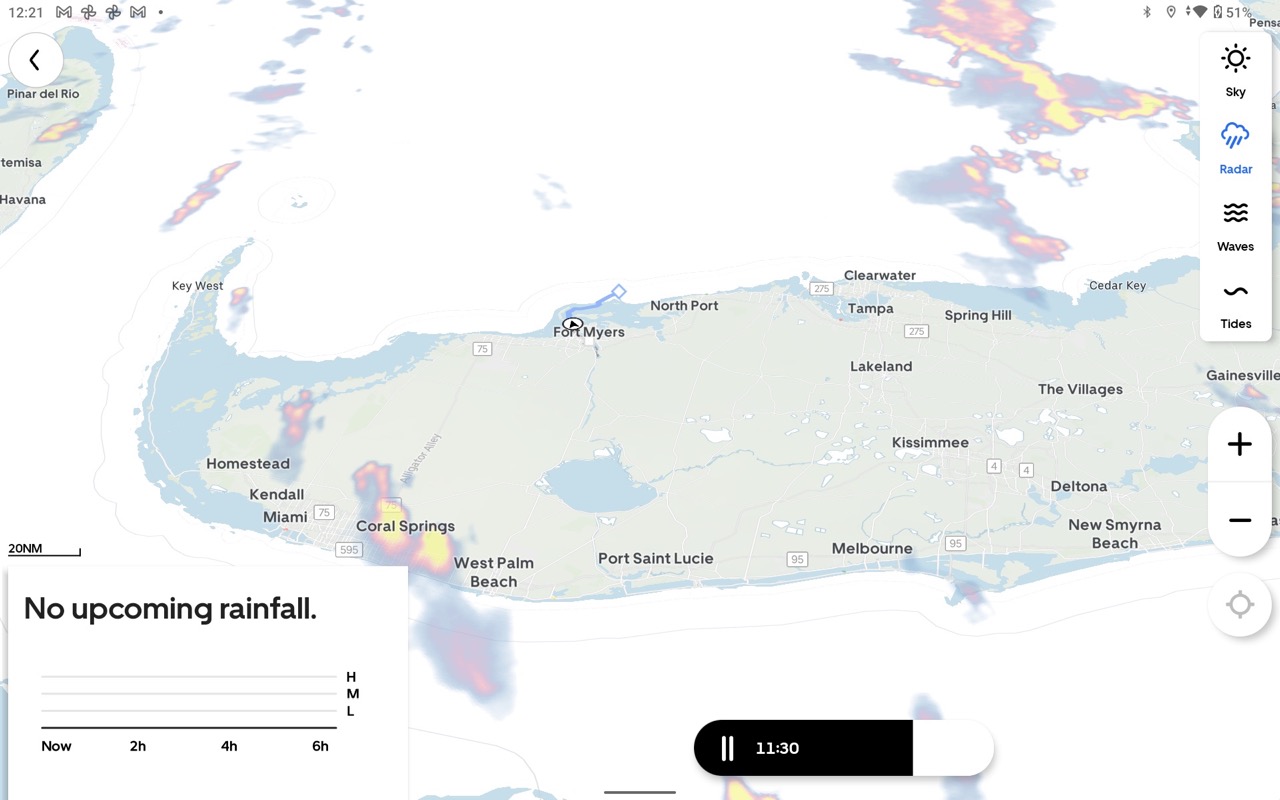 Orca offers general conditions (they call it air), radar, wave, and tide weather information. Most of the weather can be displayed for current or upcoming conditions. If you have an active route, the weather will be displayed along your route.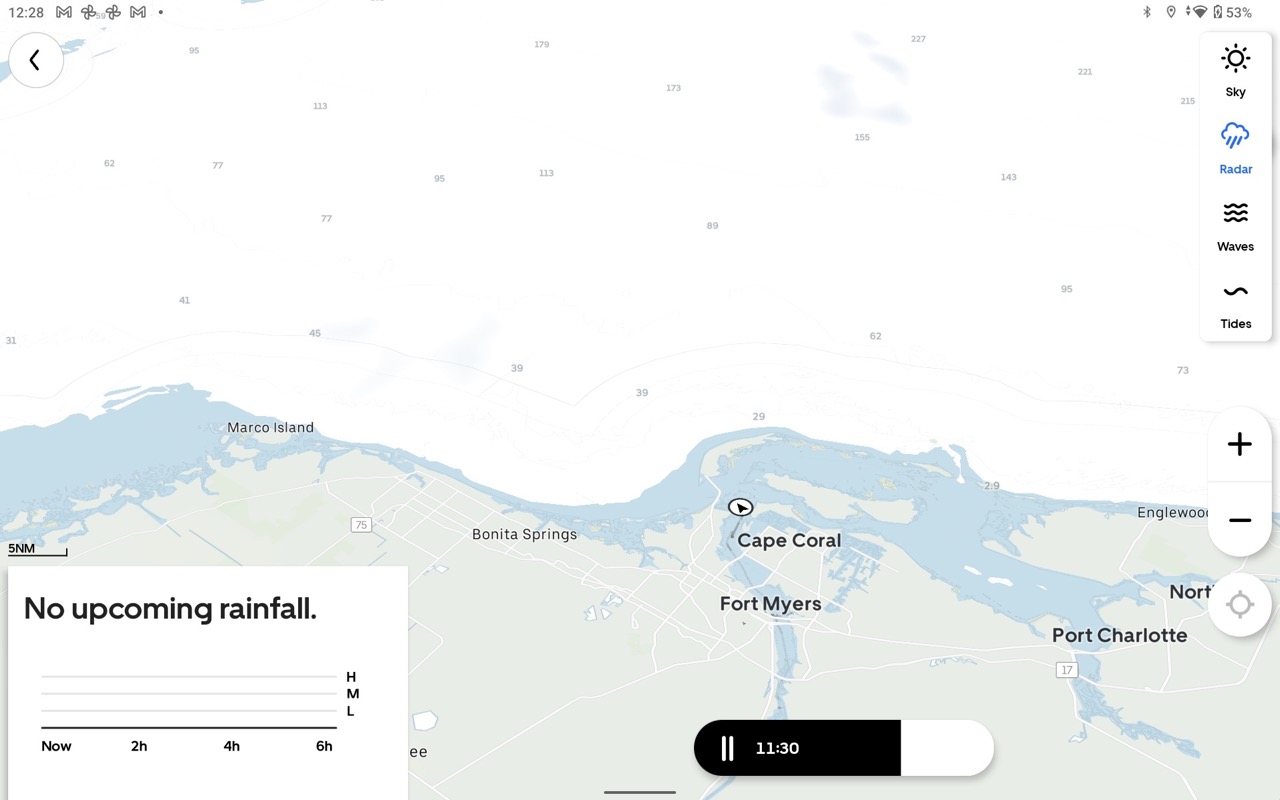 I did come across a few anomalies with the weather forecasts. In the examples above you can see the current sky conditions show light rain while the radar is showing no upcoming rainfall. Perhaps, the light rain is about to end and there's no more rain in the forecast? But, I think the next one is a little tougher to explain. The graphical wave forecast shows 4-8 foot seas in the area of my pin, but the detail on my pin is showing 14-15 inch waves.
AIS
CoPilot receives AIS data via NMEA 2000 and augments that data with information from Marine Traffic. Or if your boat isn't equipped with an AIS receiver or transceiver, the app can display AIS info from an internet aggregator of AIS information.
Sailing features
I already touched on Orca's sail routing capabilities in the auto-routing section, but there's quite a bit more to Orca's sailing features. Orca touts their sailing processor in a recent blog entry. The sailing processor, a feature of the Core, is capable of calculating apparent and true wind as well as compensating for potentially inaccurate sensors on the boat. I'm the wrong person to take a deep dive into the full realm of sailing features, but my reading of the Orca Owner's Group suggests people are mostly happy with the functions while also seeing some opportunities to further refine the calculations.
Premium subscription

Purchasing a Core or Display 2 gives a year subscription to Orca Premium. Otherwise the subscription costs €119. The premium subscription includes offline charts, auto-routing, and more. But, the app can be used for free on your tablet with somewhat reduced functionality. As long as your device remains online, you can get a good feel for the app.
Rapid updates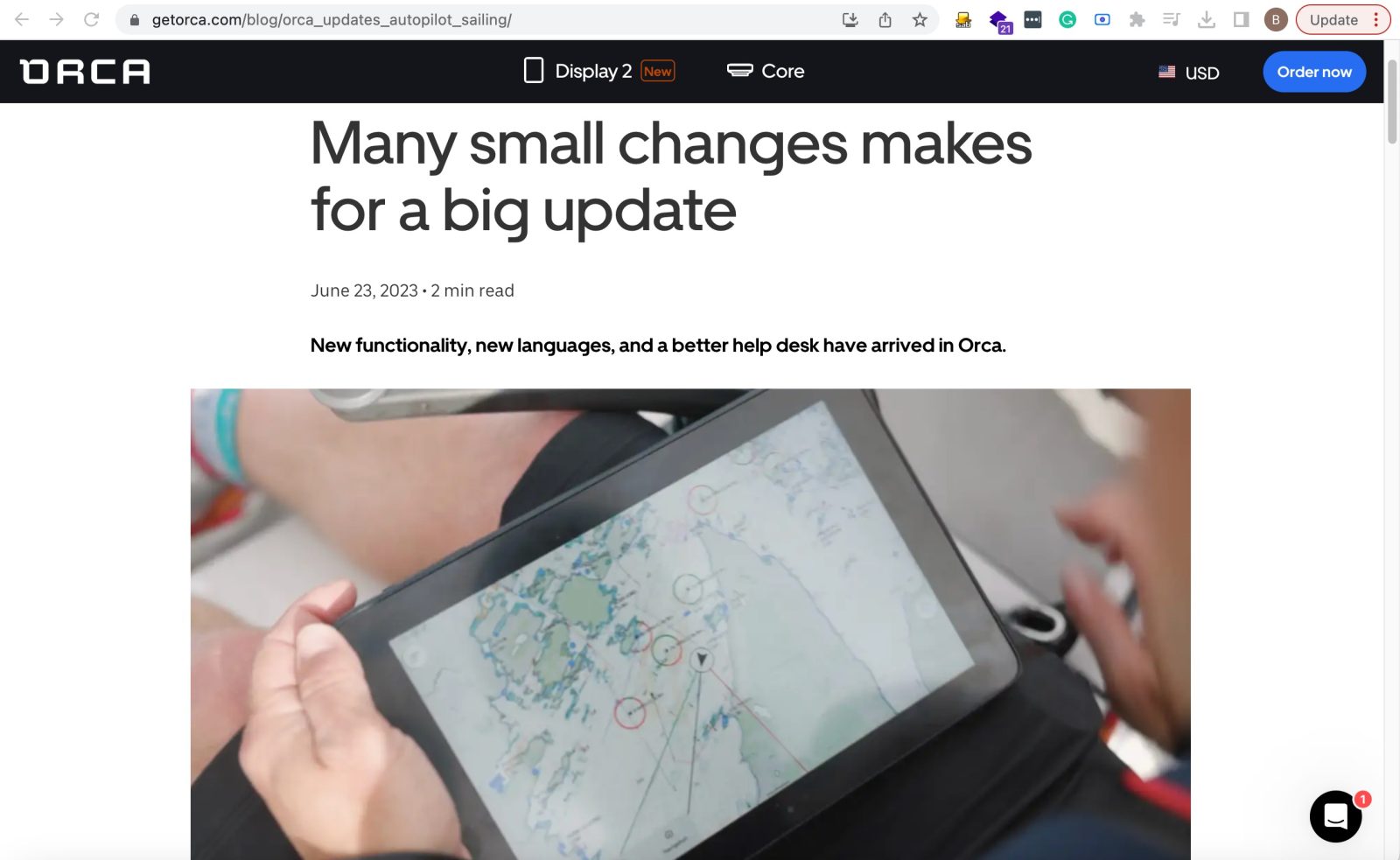 Orca follows a weekly release cycle for the CoPilot app. Their release notes show that some of those updates are small while others include pretty major changes. In the time I've been using the app, I've seen quite a few changes and improvements. I've also seen Orca be quite responsive to my suggestions as well as those made by members of the Facebook Owner's group. It has been gratifying to see rapid response to bugs and opportunities to improve.
Orca Core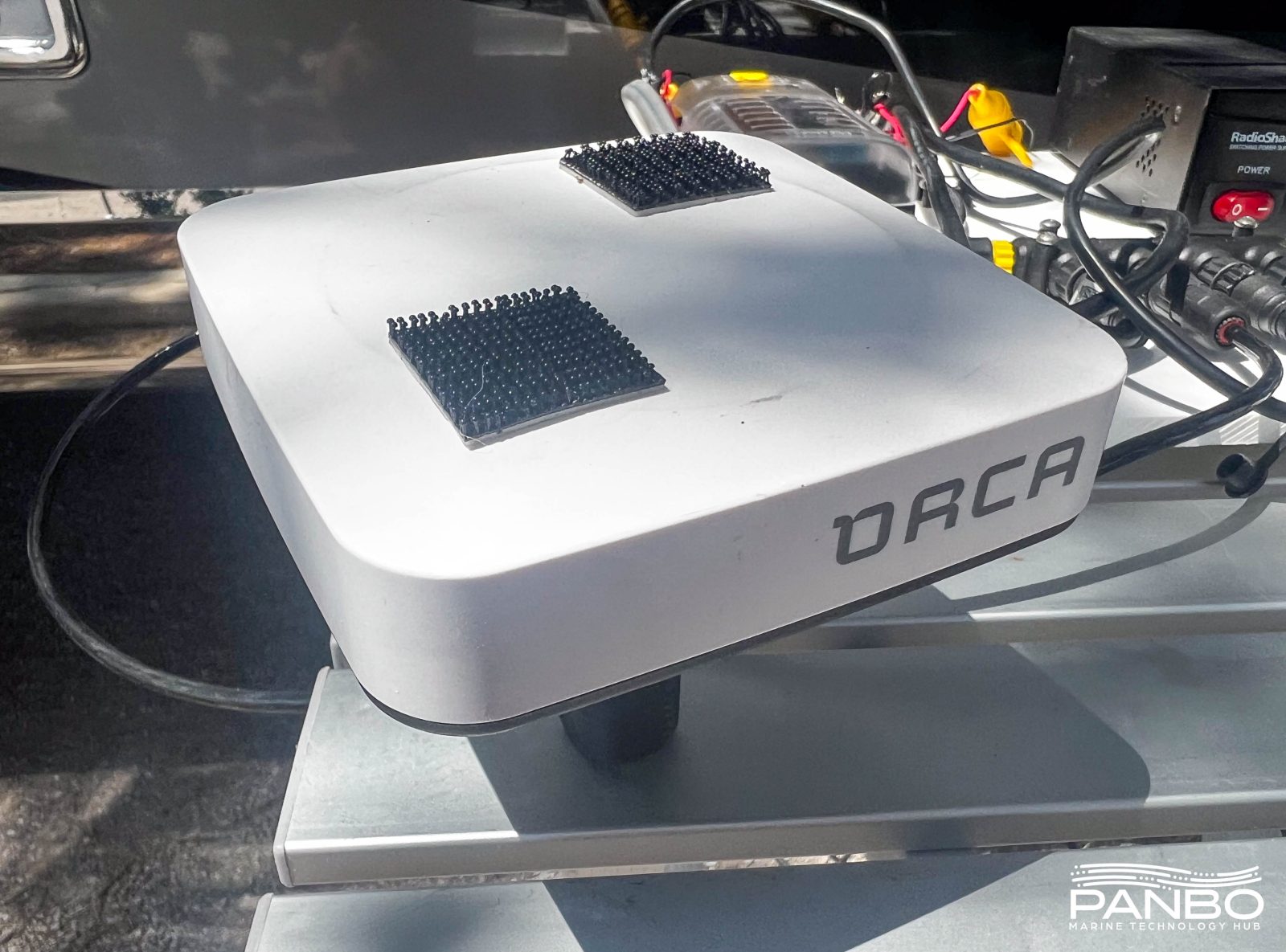 The Core is a $500 (U.S.) NMEA 2000 component that provides location information, heading data, and acts as an NMEA 2000 to WiFi and Bluetooth gateway. Core also records your trips and stores data about them for later uploading. Orca uses Core to seamlessly allow connectivity between the tablet, an Android or iOS you provide, or their Display 2, and the boat's NMEA 2000 network. That connectivity allows the app to receive GNSS information (from the core or from a GNSS receiver on the NMEA 2000 network), display gauge information, and control of Garmin, Raymarine, and Simrad autopilots.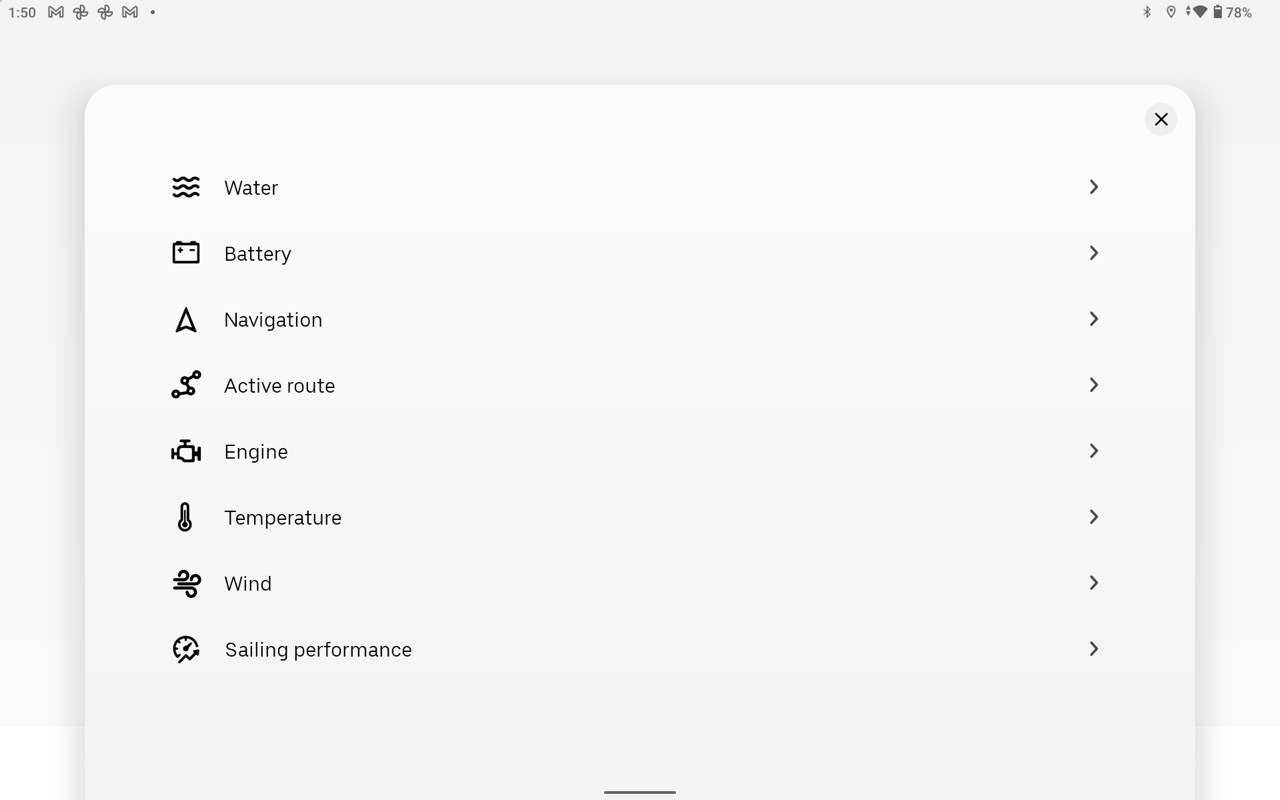 Core includes an 800 megahertz ARM processor and does extensive processing on the device, including the sail processor functionality I mentioned earlier. Plus, Orca has been able to work around the typical data limitation most nav apps experience. Typical NMEA 2000 to WiFi to nav integrations actually use NMEA 0183 formatted data for the information exchange. As a result, information types that don't have NMEA 0183 sentences, like battery information, digital switching, and engine information are either limited or not available. It appears Orca is using a direct NMEA 2000 data stream since they're able to display a much fuller dataset.
If my speculation is correct, that should also mean that Orca could support NMEA 2000 alerts and easily display those alerts. Thus, helping to address the dearth of NMEA 2000 displays that support alert PGNS.
Currently, Core only works with the Orca app. So, it can't be used as a NMEA 2000 to WiFi gateway with other navigation apps. But, Orca says that feature is on their roadmap and should be enabled later this year.
Mobile devices connect to the Core either via Bluetooth or WiFi. In my testing, I found the Bluetooth connection simple and reliable, but some functions require a WiFi connection. Many mobile devices, especially those running iOS, frequently disconnect from a WiFi network that doesn't have an internet connection available. If there is an existing, especially internet-connected, WiFi network on the boat, Core can connect to that network. Thus, all devices connected to the boat's network, have access to the Core.
Physical installation
Core offers several mounting options. It can be mounted by drilling a hole in a horizontal surface, inserting the threaded shaft through the hole, and tightening a collar. Alternatively, Orca includes an adhesive disc to allow surface mounting, in which case the threaded piece can be removed. The Core can be mounted in nearly any orientation. On their site, Orca shows the Core mounted on its side in a cabinet near a nav station. Core needs good visibility of GNSS satellites and separation of more than 1 meter from sources of magnetic interference.
On Panbo(at) I mounted the core on top of the center console and definitely less than 1 meter from potential sources of magnetic interference. Thus far, I haven't noticed any troubles with heading information. The Core is water-resistant and suitable for mounting in an exposed location. I mounted the core upside down using the 3M hook and look fasteners you can see stuck to the top.
Orca Display 2
The Display 2 is a $1,000 ruggedized Android tablet perfectly suited for use on a boat. Tablets aimed at general-purpose applications focus their design on being thin and light. It turns out that thin and light aren't the primary attributes most boaters care about. I've previously written about using tablets for navigation and the potential advantages and disadvantages. I'd say Display 2 does a nice job addressing the majority of the disadvantages while retaining nearly all the advantages.
Display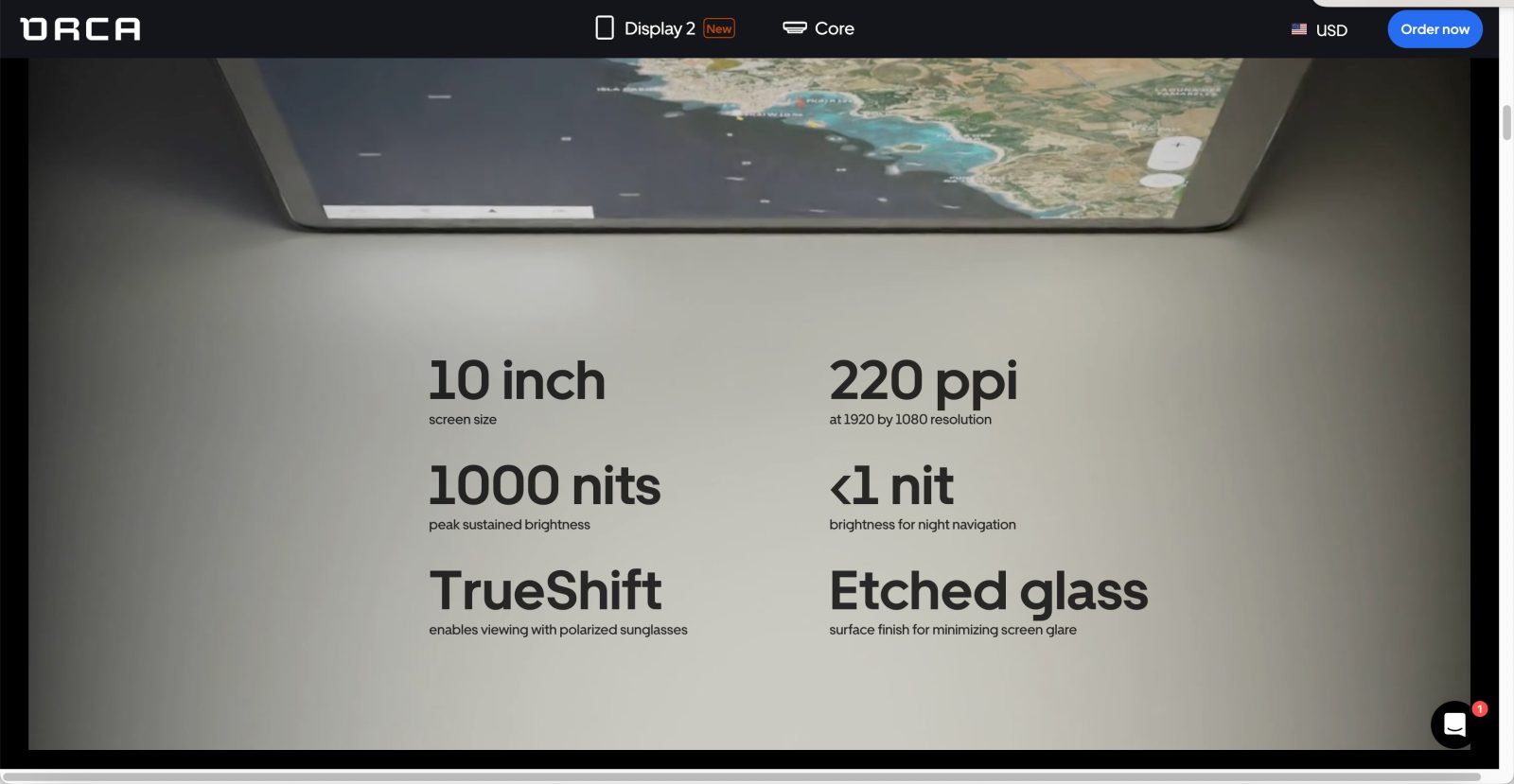 When I first unboxed and powered on the Display 2, the first thing I noticed was the brightness of the crisp display. I don't wear polarized sunglasses, but I did grab a pair of my wife's and could quickly see the Display 2's advantage compared to an iPad Pro 10.5 and a Samsung Galaxy S5e.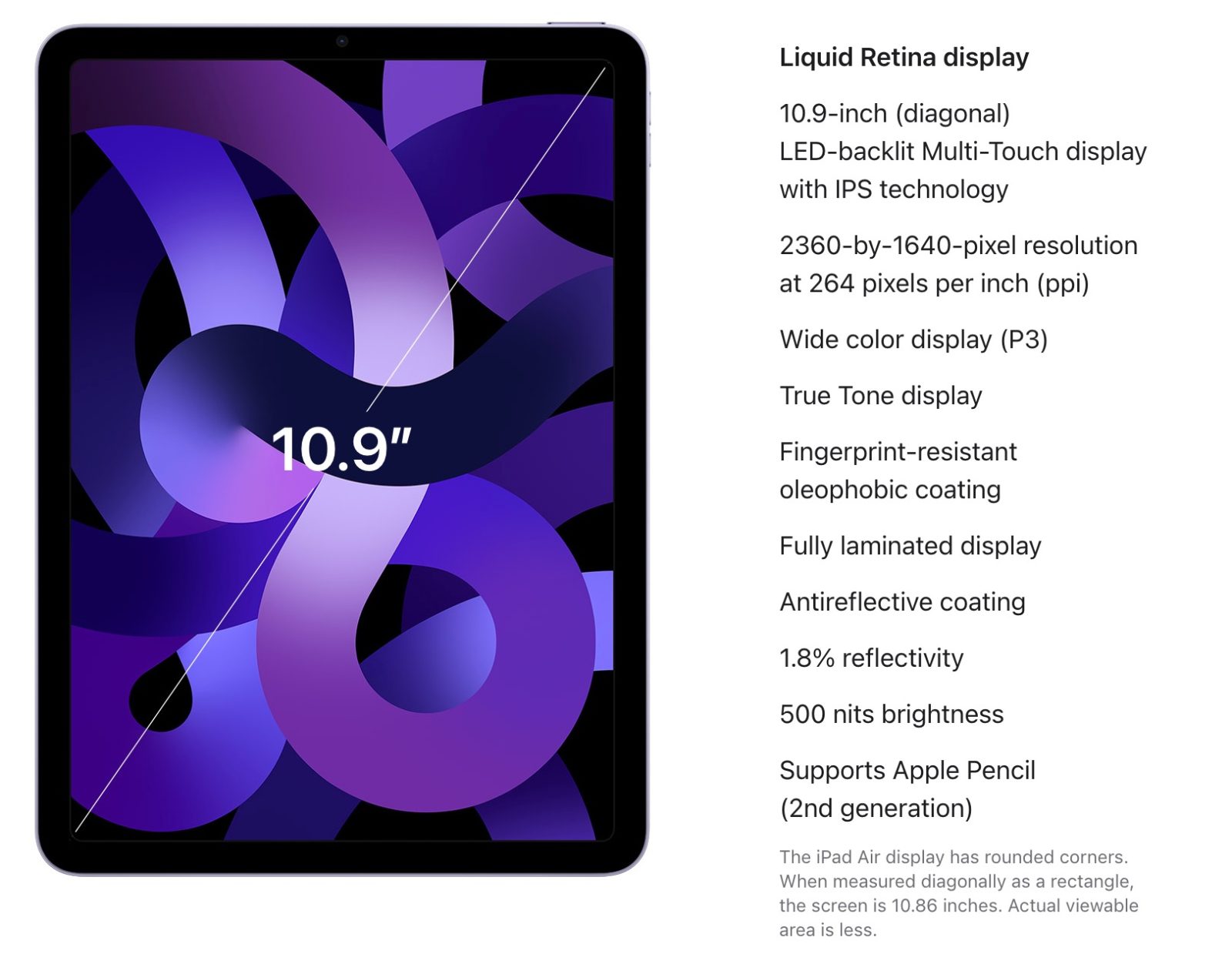 The press release for the Orca Display 2 generated a lot of discussion about the display, comparable brightnesses, and possible resolution shortcomings. First, let's talk about brightness. Display brightness isn't reported in a manner that makes comparison easy. For example, Orca lists the brightness of the display as 1,000 nits peak sustained brightness. Apple says the 11-inch iPad Pro can achieve 600 nits max brightness and the 10.9-inch iPad Air is rated at 500 nits. Samsung doesn't publish any brightness specs, but Tom's Hardware measured the current flagship Galaxy Tab S8 11-inch at 480 nits maximum in the center of the display. But no matter what ratings are used, to my eye, the Display 2 is brighter than either my Galaxy S5e or iPad Pro 10.5.
The Display 2 is also lower resolution than either of the other tablets. At 220 pixels per inch (PPI), its specs lag behind both the iPad's 264 and the Galaxy Tab's 290. However, without looking up the specs, at my helm, there's no way I could pick out higher and lower resolution. In fact, the Display 2's 1920×1080 resolution is in line with what nearly every MFD uses, including monster displays like Garmin's 8624. The 8624 is actually 1920×1200 due to the screen ratio, but that calculates to under 95 PPI!
Performance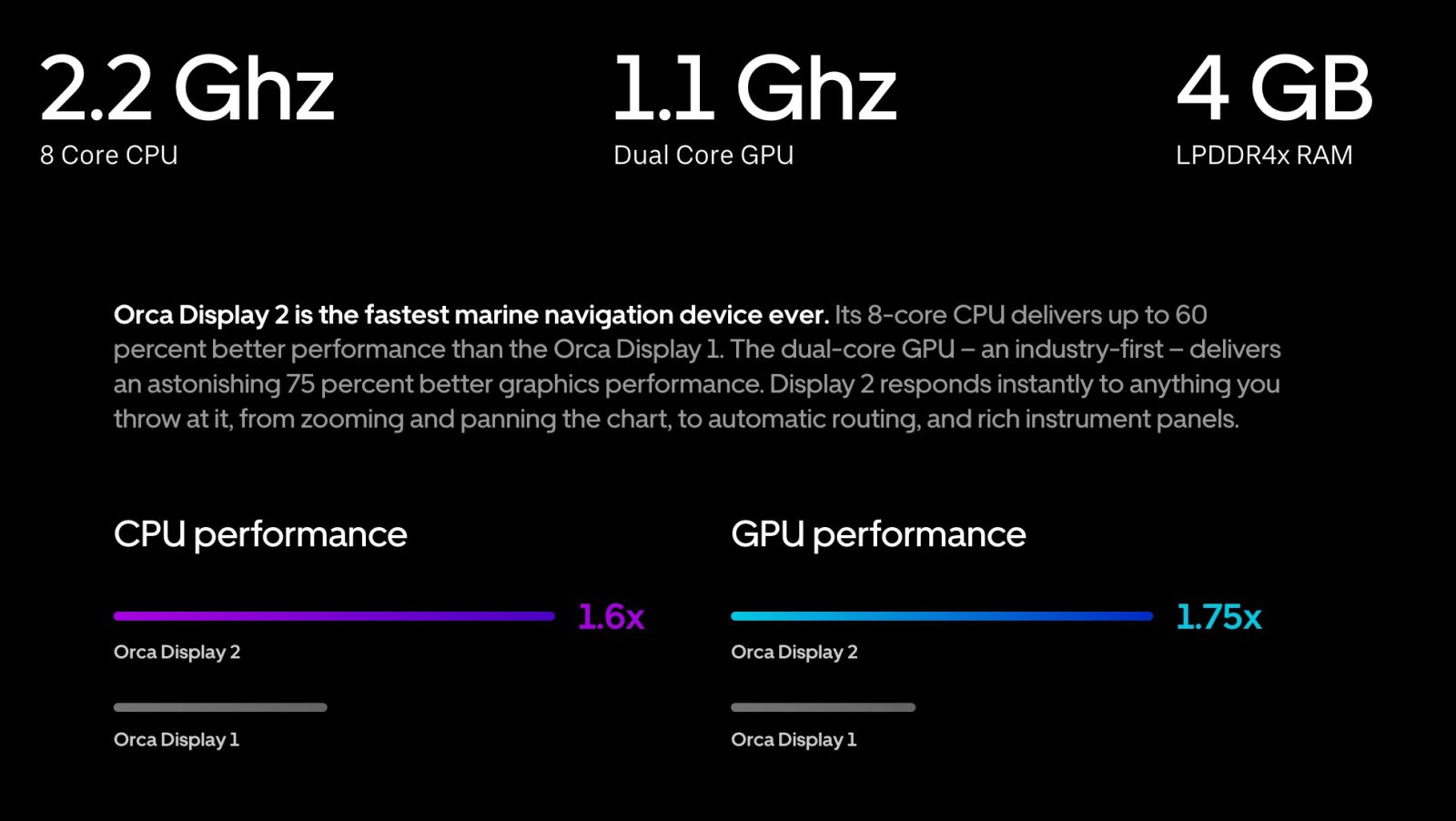 The display 2 boasts an 8-core, 2.2ghz processor, dual-core GPU, and 4 GB of RAM. These specs are all comparable to current tablets. iPad Airs and Pros with Apple's M1 or M2 processors have more raw horsepower, but in using the Display 2 I haven't seen any performance issues.
Battery life / Charging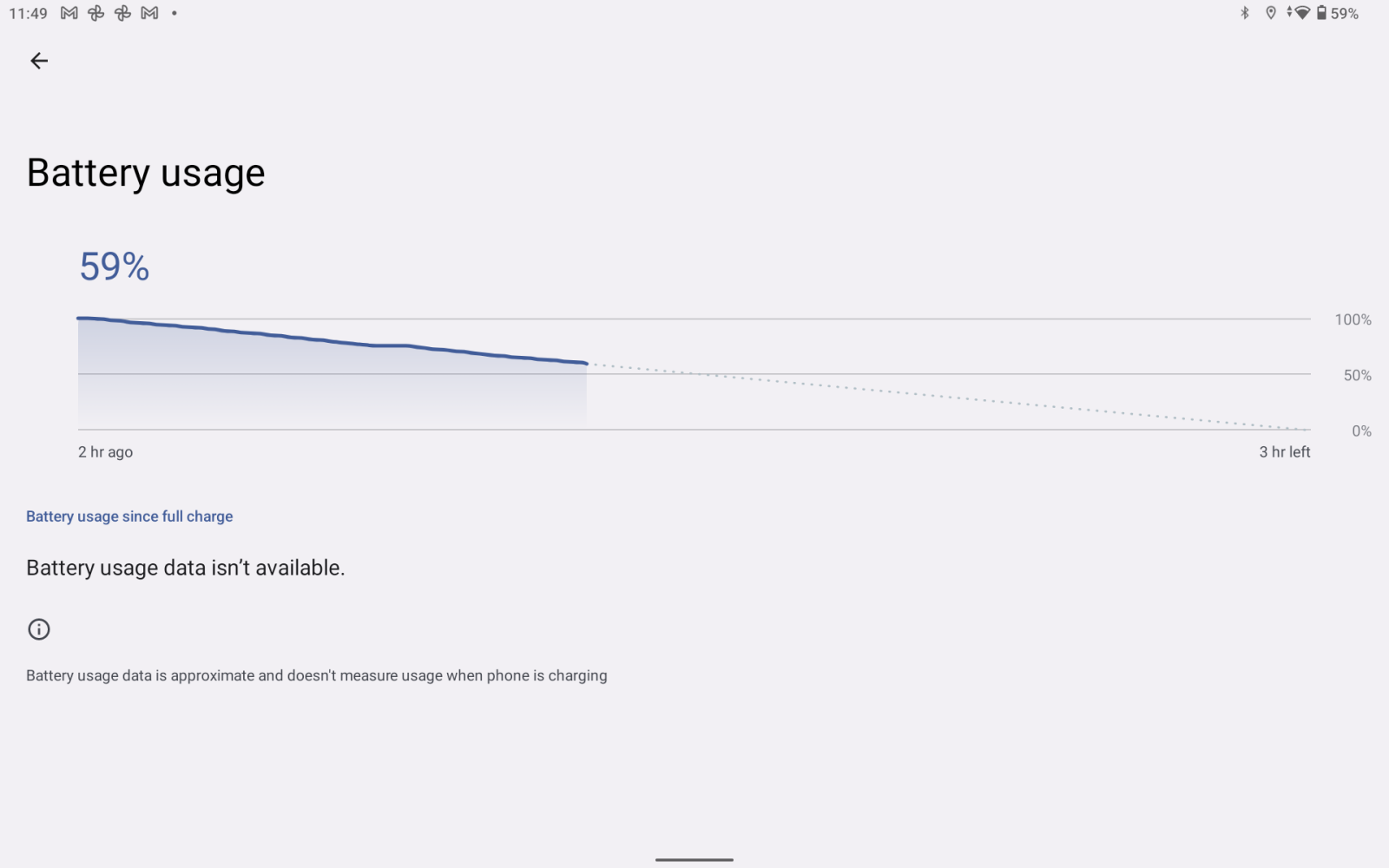 Battery life and adequate charging is one of the biggest challenges of using a tablet. First, as tablets get hotter and run their displays at higher brightness, they use more battery power. Second, as batteries get hotter, the internal power and thermal management systems on the tablet may dial back charging to help shed heat.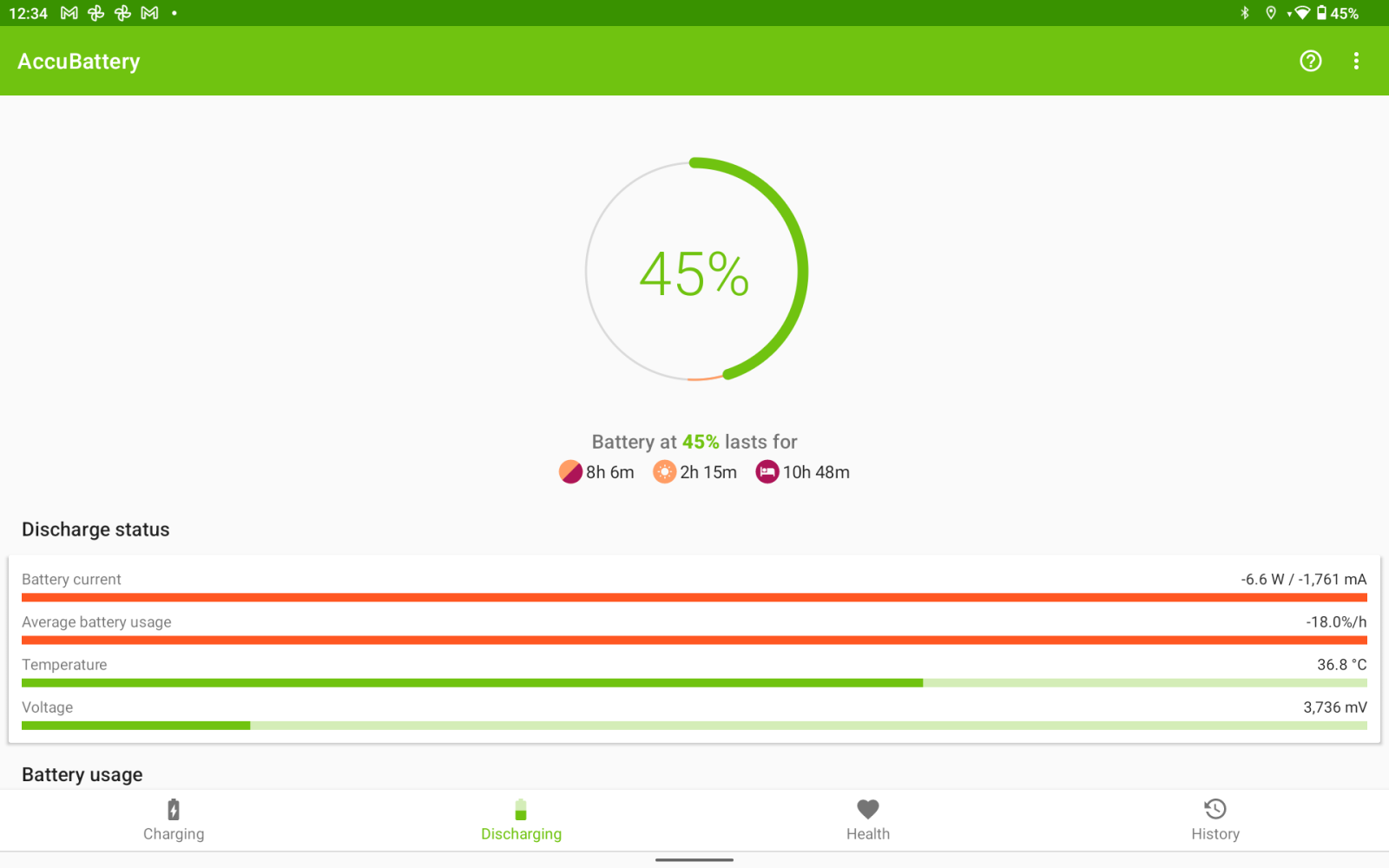 The Display 2 has a 9,500 milli-amp-hour battery. Orca says the battery will run the display for 8 hours of navigation. I've set the display not to turn off and turned the brightness up all the way. With those settings, I'm seeing it use 18-19 percent per hour or just over 5 hours of worst-case use.
Possibly more important than the battery's ability to deliver power is the tablet's ability to receive power from charge sources. I've had some struggles finding high-output 12-volt USB chargers that an iPad likes. Often, despite higher ratings, the iPad doesn't seem to be charging as fast as the usage is discharging.
Orca charging mount
Orca's Display 2 has three options for charging, all of which seem to allow faster charging than discharging. Those options are: 25-watt charging via the Charging Mount shown above, 15 watts via a Qi wireless charger, or up to 25-watt charging via USB-C. The $300 charging mount can be ordered either for flat mounting to a console or for the upright mounting pictured. The upright mount uses a Ram mount, so you will have access to the full suite of Ram mounting options if the included one doesn't work for your circumstances.
The charging mounts have just begun shipping and I haven't received one yet. So, I haven't had the opportunity to gain firsthand impressions. But, I like what I've seen so far and also really like the positive mounting it offers to reduce the risk of damage to the tablet from being tossed around on the boat.
Real-world results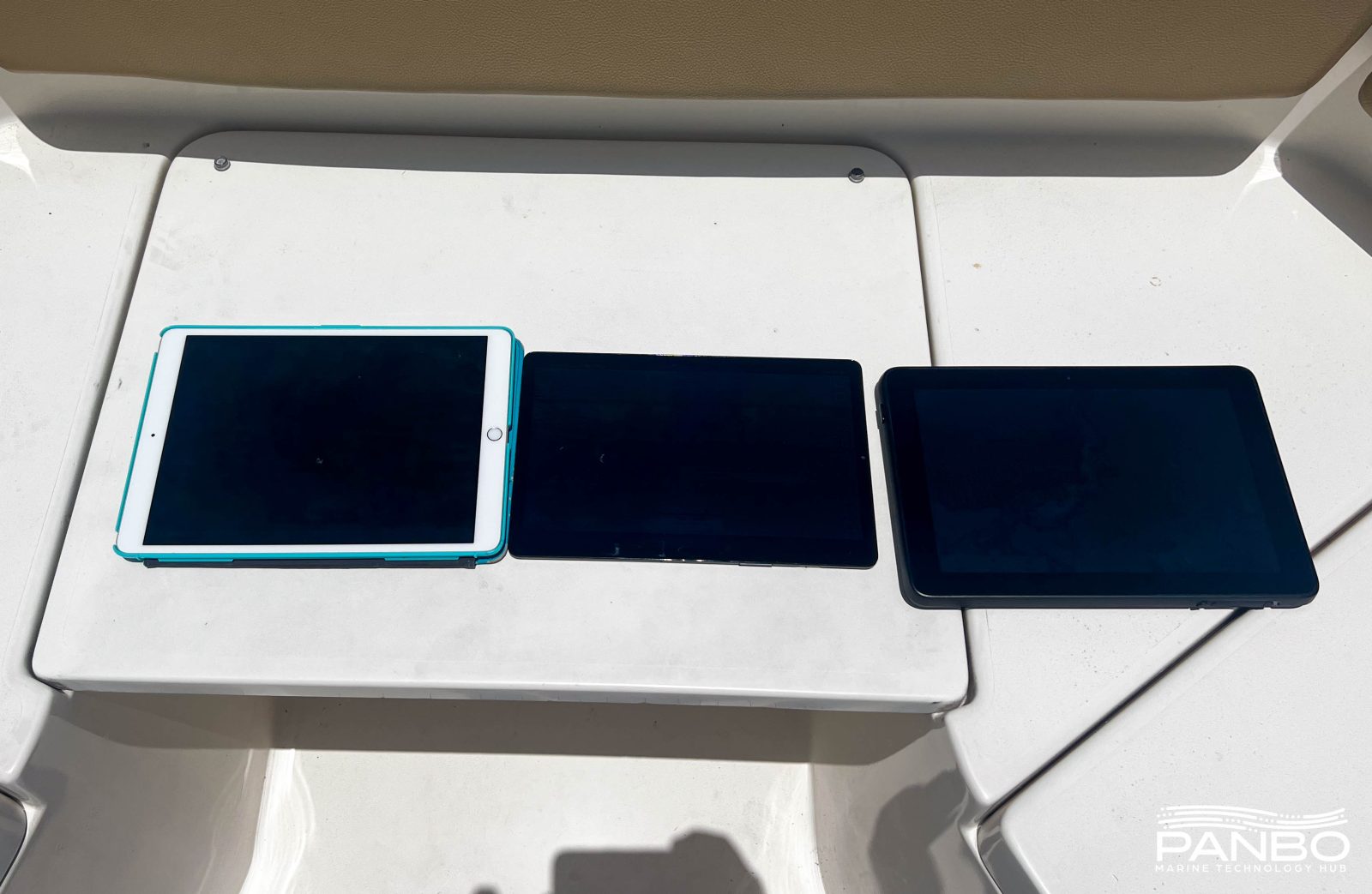 I spent some time on a ninety-plus-degree, sunny day with three test tablets out in the sun. I used an iPad Pro 10.5, a Samsung Galaxy Tab S5e, and the Orca Display 2. Despite what the appearances in the image above, all three tablets were on for the duration of the test.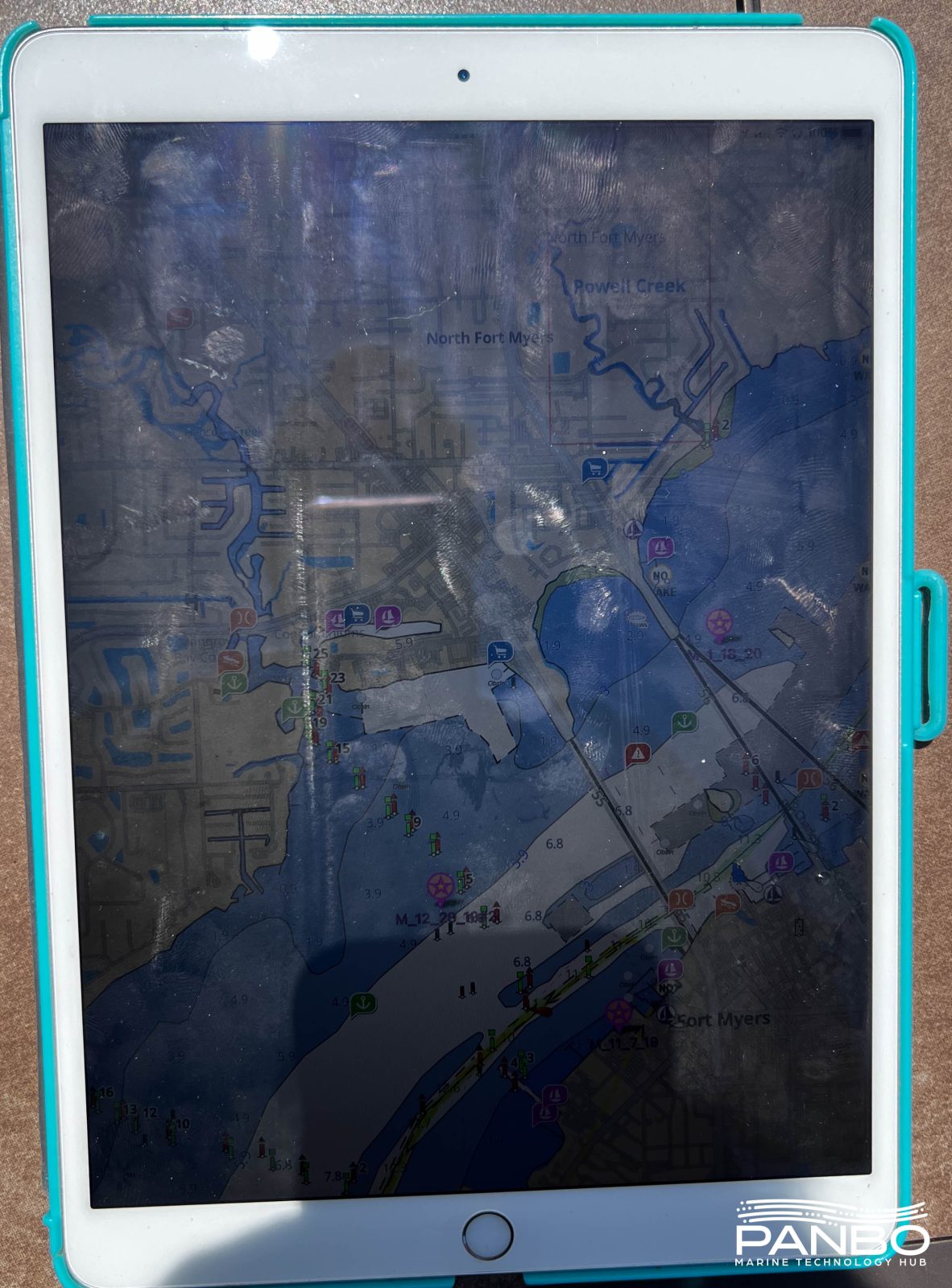 With all three tablets in direct sunlight, I quickly noticed that the Orca Display 2 was definitely the most easily visible. It's hard to capture that in photographs with the camera automatically adjusting for the extreme brightness of the day. Initially, the iPad and Samsung tablets had similar brightness, but the iPad's thermal protection quickly kicked in and dimmed the display. The Galaxy Tab was slower to dim, but when I picked it up, the back was scorching hot. To a degree that I would worry about internal damage.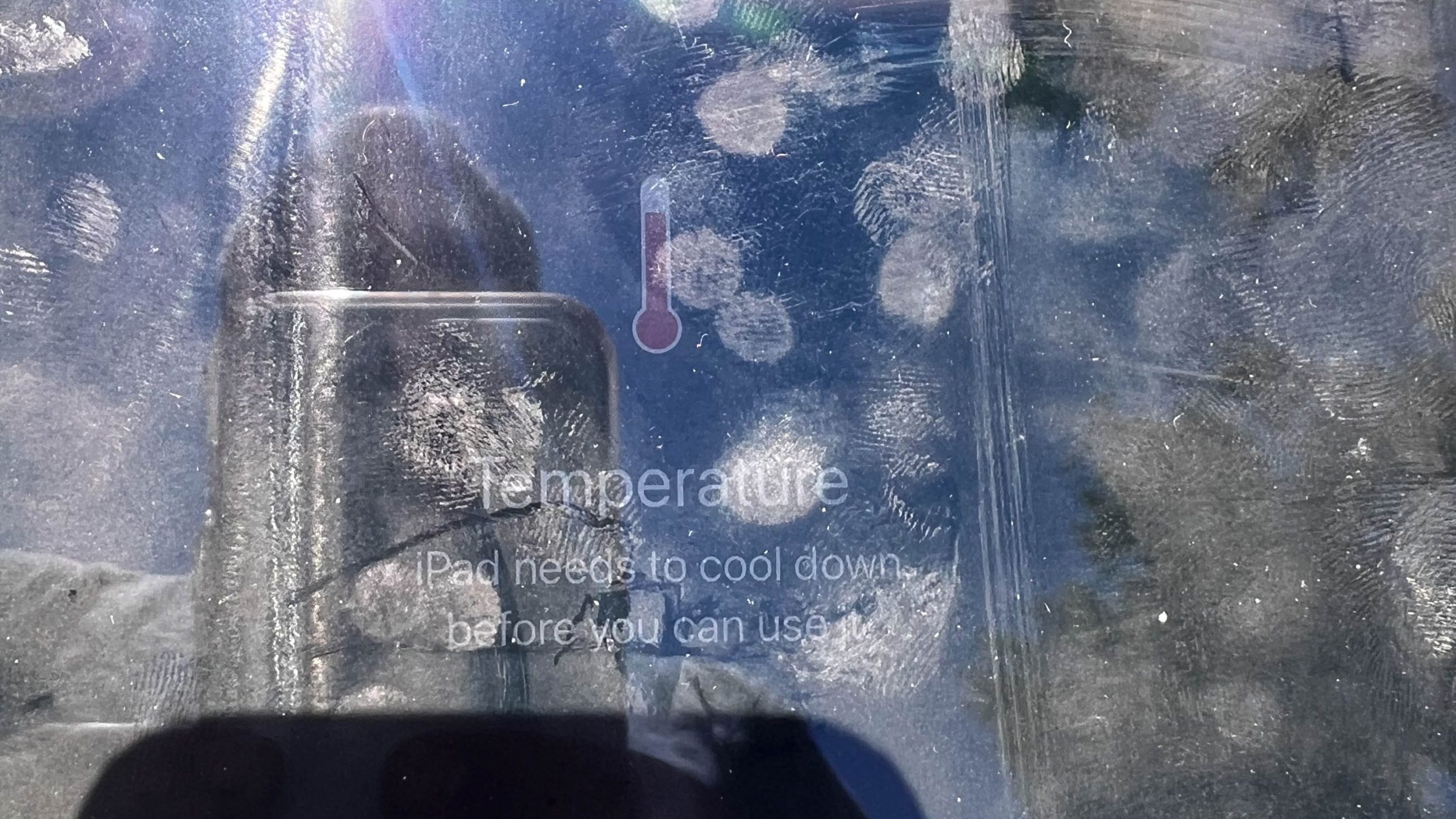 The Galaxy Tab did eventually dim its display but not as much as the iPad. Within about five minutes of being exposed to the sun, the iPad began displaying the temperature warning and stopped functioning. The Orca Display 2 never dimmed or shut down. Additionally, the plastic case of the Display 2 wasn't noticeably hot.
Third-party apps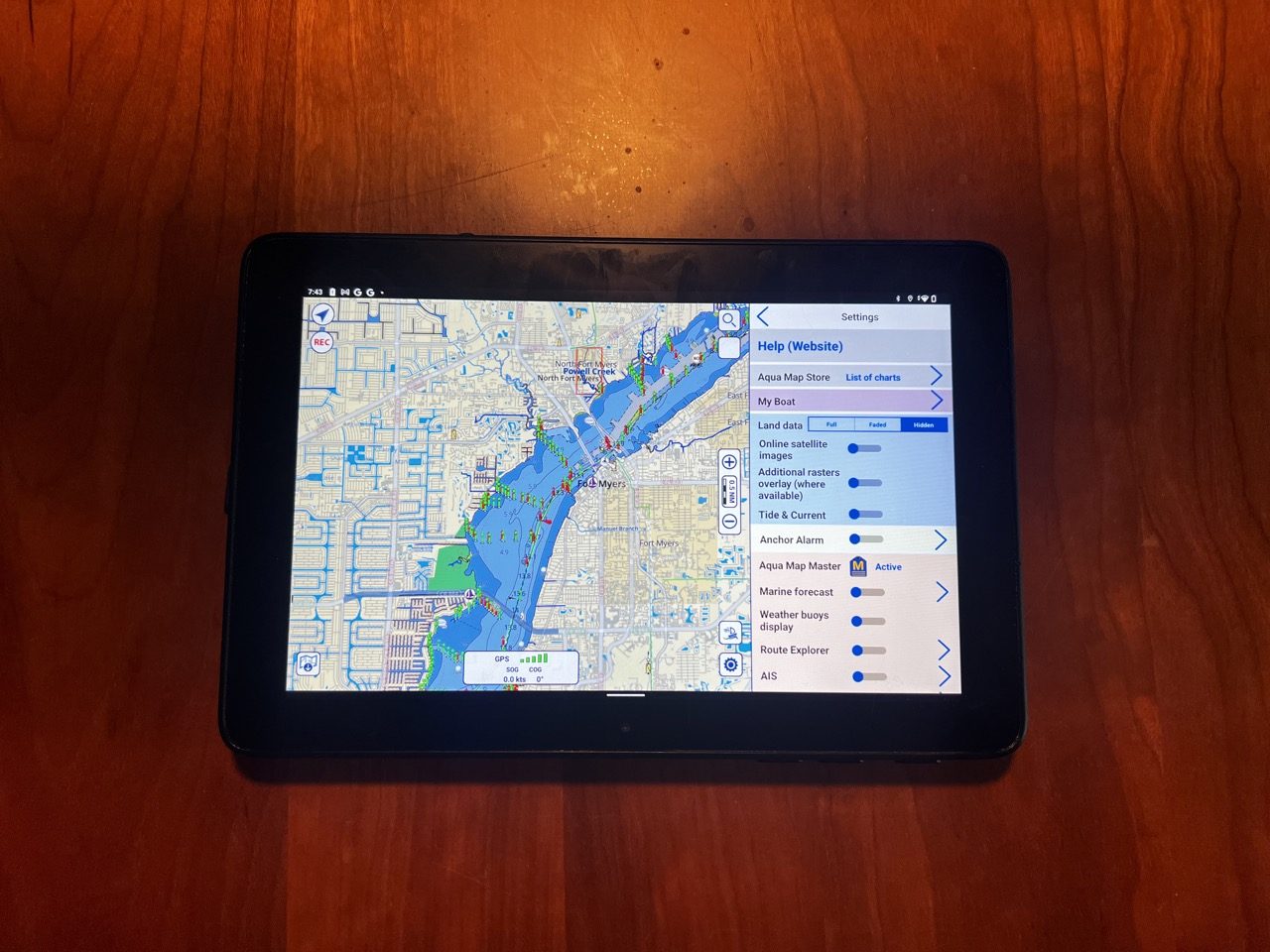 The Display 2 runs a version of Android. As a result, it can run Android apps, including other navigation apps. The picture above shows Aqua Map running on the Display.
The Display automatically launches the Orca app as soon as it is turned on or unlocked. To access other applications, a press of the menu button in the app brings up the screen seen above left. Pressing the apps button in the lower left corner brings a full list of installed apps. The Display 2 is equipped with the Google Play Store, so apps are easily downloaded and installed.
Final thoughts
With claims of the ultimate navigation experience, Orca has set an ambitious goal for themselves. They're delivering a lot to back up that claim already. Plus, with strong responses to user suggestions and weekly releases, they are able to respond to suggestions and improve the system quickly. I'm excited to continue to watch what they can accomplish.