Are tablets ready to replace chart plotters?
Apple's Steve Jobs introduced the iPad in April 2010. At the time, I was working in financial services technology. The day it was introduced, I ordered a half dozen of them so we could try them out and see what this new-fangled computer without a keyboard might do well. That original iPad, with 256 megabytes of RAM, 16 gigabytes of storage, and a tiny app store was pretty limited. But, we've come a long way in the last 13 years and tablets can do an awful lot. But, are they a replacement for dedicated navigation electronics? Let's take a look at the capabilities they offer and some of the remaining limitations.
The allure of tablets
As something many of us already have, being able to use a general-purpose device for the purpose of navigating our boats is attractive. Many (most?) of us use our phones for car navigation, so it's a natural extension to use a phone or tablet to navigate a boat. In fact, I've lost count of the number of marine mobile navigation apps that promise to be Google Maps or Waze for the water. I've had on-the-water experience with Aqua Map, Argo, Coastal Explorer, iNavX, Know Wake, Navionics, Orca, Savvy Navvy, TZ iBoat, and surely more I'm forgetting. Each offers unique features and advantages, but none have reached the ubiquity of Google Maps.
Cost-effectiveness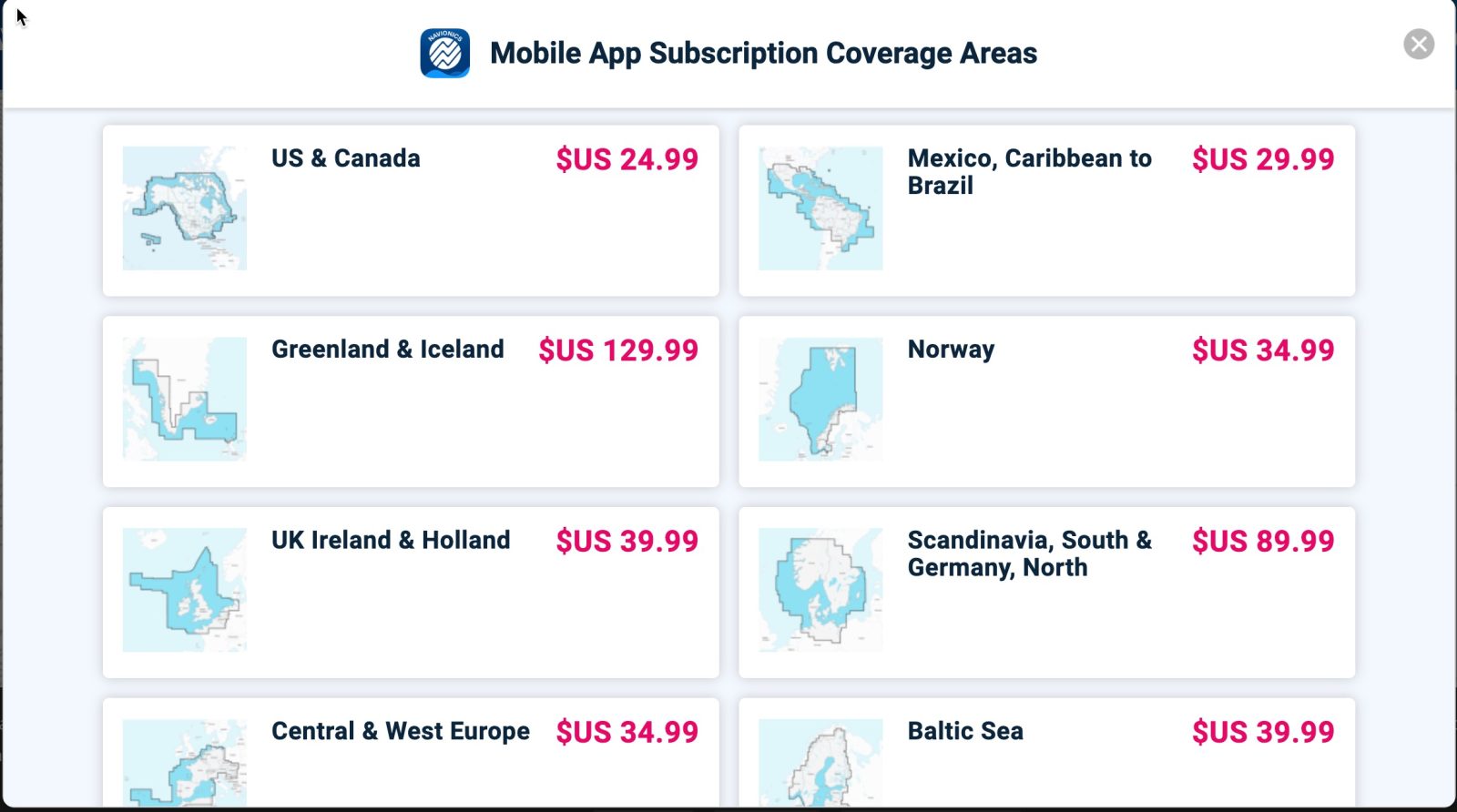 Compared to traditional installed navigation equipment, tablets offer several advantages. Often, the single largest advantage is affordability. Several of the most popular tablet navigation packages offer annual subscriptions with continental coverage for just twenty to thirty dollars. Navionic's Boating app is $24.99 for the U.S. and Canada and similarly priced for other regions. Aqua Map's U.S. and Canada subscription is $14.99 per year or $39.99 for a perpetual license. With prices quite low, it's also feasible to subscribe to and use multiple navigation apps.
Flexibility
One of the greatest benefits of tablet navigation is the ease with which a boater can switch from one app to another. I realize that sounds obvious, but compared to an installed chartplotter, it's a major difference. With installed equipment, once you've made your purchasing choice, you're committed. But, with a tablet, you can use different apps for different circumstances. For example, I think Aqua Map's Master suite provides invaluable features for cruising the trouble spots of the ICW. But, if you're in open water, you may prefer another app.
I advocate the use of tablets as supplementary navigation devices to installed equipment. In this role, a boater can select an app that utilizes different charts than their navigation equipment. So, if your chart plotter is using Navionics charts, you wouldn't want to run the Navionics Boating app and thus have two devices, both running Navionics charts.
Internet connectivity
Compared to an installed chart plotter, there are quite a few things tablets do as well, or better. For example, although several chartplotter manufacturers have implemented crowd-sourced data from Active Captain, I've always found the display and updating of that data easier and more intuitive in tablet apps.
Despite the inclusion of WiFi radios in most chart plotters for nearly a decade, the majority still don't connect directly to the internet. As a result, access to updated charts, current weather data, and cruising information is limited or cumbersome. Tablet navigation apps provide easy access to crowd-sourced navigation information sources like Active Captain Community and Waterway Guide, plus easily updated weather and other information.
The downsides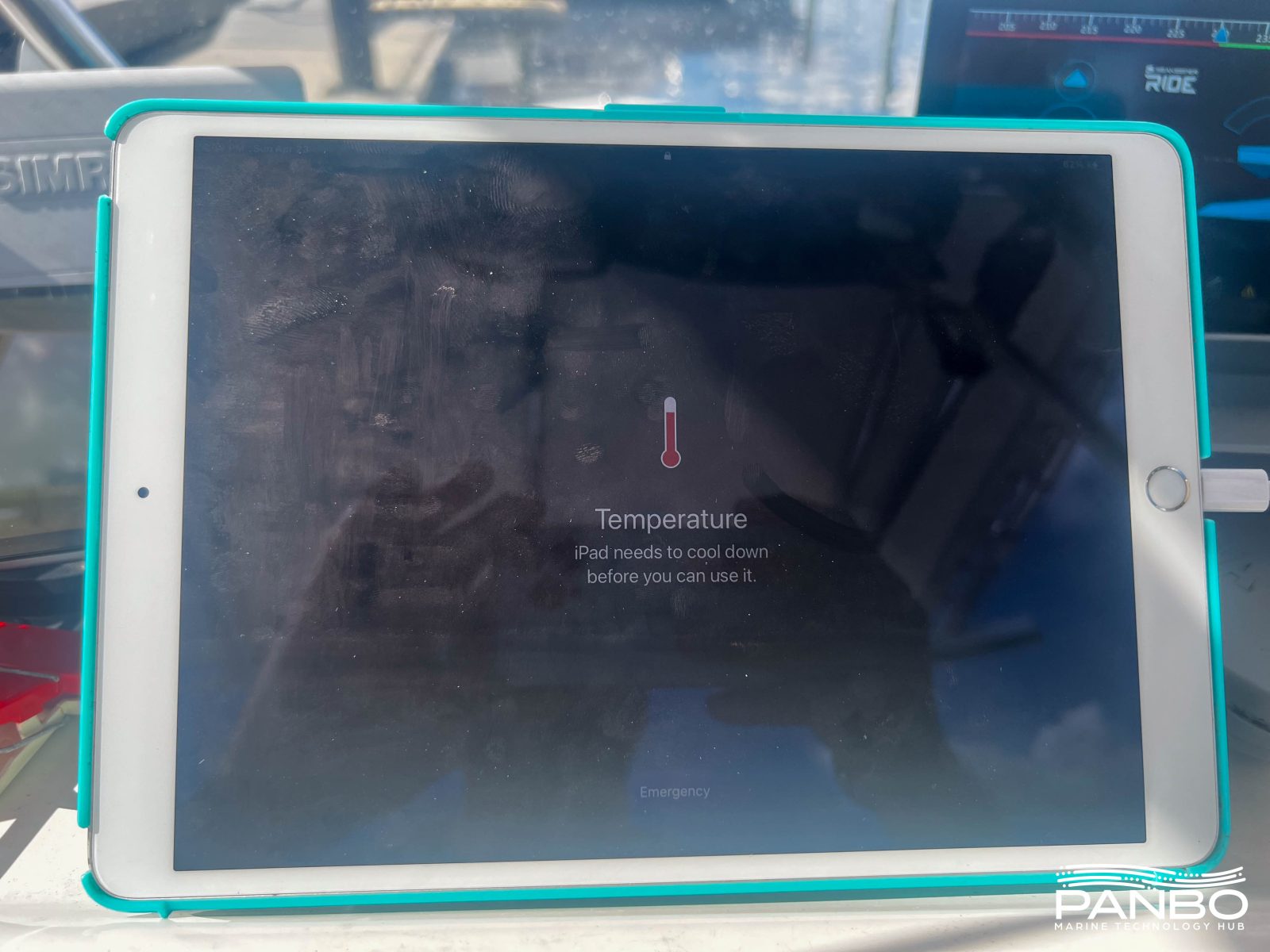 There's a lot to be gained from a tablet running a navigation app. But, there are some limitations to tablets as well. In my opinion, the single largest concern is reliability. To my mind, there are three primary concerns, heat, power, and physical damage.
It used to be that tablet displays weren't bright enough to be easily viewed in direct sunlight. Fortunately, most current tablet displays are plenty bright. But, they're only bright enough when they are cool enough to run at full brightness. In my experience, iPads and Android tablets struggle to cool themselves on warm, sunny days and may shut themselves down. Even before that happens, the displays will dim and the processors will run more slowly.
Running at full brightness, tablets are power-hungry. Keeping up with their power needs requires high-output chargers. Even, with a powerful charger, the batteries can discharge while connected to a charger. The newest tablets, that rely on USB-C power seem to manage charge better.
Lastly, unlike installed equipment, tablets aren't meant to be permanently mounted. So, we need to find a way to secure the tablet. Cases, like the one my iPad is sitting in above, can help protect the device. But, it also serves to hold some heat in, making the cooling problem more difficult. On Have Another Day I never found securing the tablet too difficult. In contrast, Panbo(at)'s ride is rougher and I've definitely tossed my iPad a time or two.
Tablets also don't have NMEA 2000 interfaces or other marine-specific connectivity. WiFi gateways allow us to connect our tablets to a marine network, though at the expense of a little more cost and complexity. Additionally, except for TZ iBoat, tablet navigation apps are typically limited to chart plotter functionality, depth sounding, and AIS display. Radar and high-end sonar systems still typically require brand-matching displays from marine electronics manufacturers.
Do the advantages outweigh the disadvantages?
I've talked quite a bit about the plusses and minuses of tablets. But, what does all this mean? Should you use a tablet to navigate your boat? Let's break it down a little further. I firmly believe there is a place for tablets and phones in navigation. The only outstanding question in my mind is, should I replace my installed navigation electronics with a tablet? Things are getting better, but I just don't think we're quite there yet.
Supplemental navigation
In this use case, a tablet is used to augment the existing navigation equipment on a boat. I am and have long been an enthusiastic advocate of using a tablet to supplement your navigation electronics. In a supplemental role, the advantages of both a tablet and installed equipment can be fully realized. As I mentioned above, I think supplementing installed equipment with a tablet is a no-brainer. You get all the benefits I mentioned above, and if you should encounter some of the weaknesses, you still have your installed equipment ready to go.
Primary navigation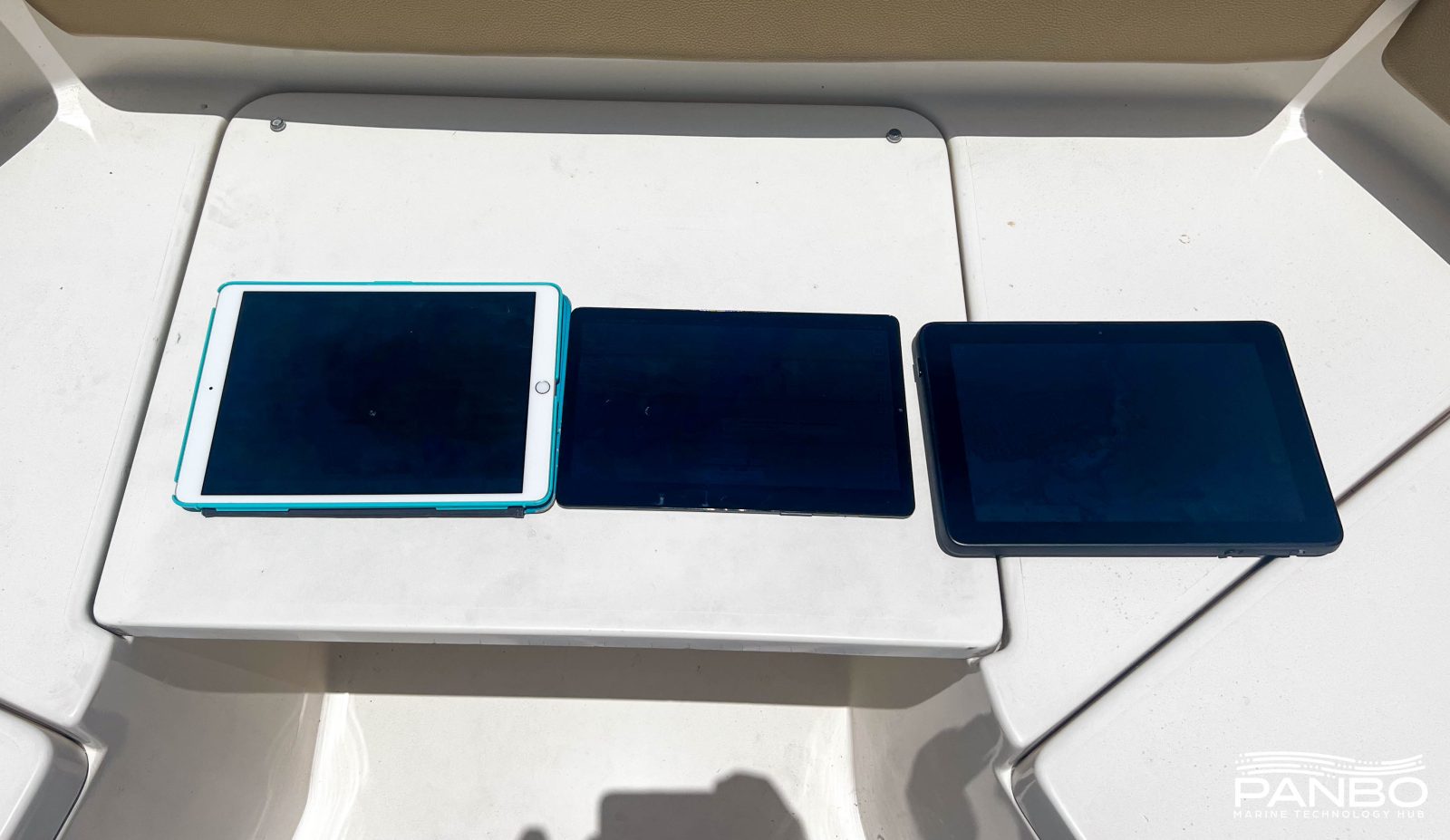 In terms of features and functionality, I think tablet navigation apps do an excellent job and are capable of safely navigating your boat wherever you may want to go. But, the reliability of tablets in this role still isn't where I would want it to be for a cruising boat. If you're making day trips in familiar waters, tablets are a fine option. If you have older installed electronics that work, but a tablet provides a better experience, I think that makes a lot of sense.
There are some ruggedized tablets that are made to operate in these conditions and those seem like a good fit. In fact, I've been testing Orca's Display 2, a tablet made for the purpose. A lively conversation in the comments section of the Orca Display 2 press release is part of the inspiration for this entry.
A purpose-built tablet might just be the answer. When Apple, Samsung, and other makers of general-purpose tablets design them, they make them thin, light, and attractive to as broad an audience as possible. Thin and light are often the enemy of heat resistance and durability. But, while Orca's Display 2 seems to be a great tablet, it's part of a larger offering from Orca with their Core and apps. It probably wouldn't make sense to buy an Orca Display 2 to use exclusively with another navigation app.
Final thoughts
The decision about how to outfit and equip your boat is one of personal preference and comfort. Mariners safely navigated long before GPS, Loran, or other technological aids. It can be done and it can be done safely. There are plenty of experienced cruisers safely navigating their boats with mobile devices. On the other hand, I've come across new cruisers who have had some white-knuckled experiences courtesy of reliance on mobile devices and ill-timed problems. So, we all have to figure out what works for us, our boat, and our experience. I'd love to hear from you about what you're using and how you've made it work for you. I'm also well aware that I haven't captured all of the potential advantages or disadvantages of tablet navigation. So, if you have more to add there, I'd love to hear that as well.