Aqua Map Master adds AIS, WiFi instrument data, USACE surveys and route explorer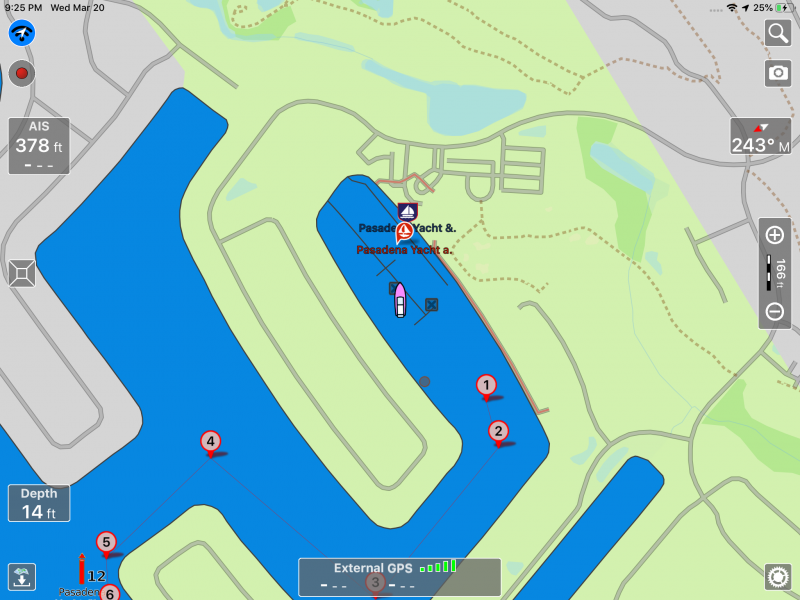 Aqua Map has added a premium tier called Aqua Map Master that adds AIS overlays, data via NMEA-0183 and SignalK over WiFi, US Army Corp of Engineers survey data overlayed over charts and a new route explorer.   With Master, Aqua Map adds several features I haven't seen on any other mobile app that I'm excited to try out.
Aqua Map Master is a $10 per year subscription that Aqua Map says will get all their new premium features.  Aqua Map already has a nice suite of features including support for both Waterway Guide and Active Captain Community crowdsourced data, a great anchor alarm, strong data sharing, and now a new suite of premium features.
WiFi data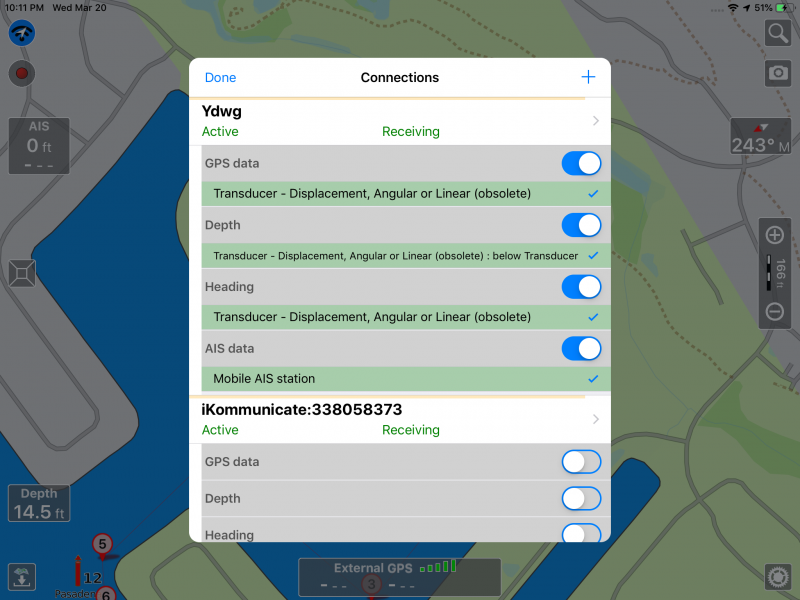 Aqua Map now supports receiving data from GPS, heading sensors, depth instruments, AIS receivers, and wind instruments via WiFi.  Aqua Map can receive either NMEA-0183 formatted messages via TCP or UDP or SignalK messages.  I have a Digital Yacht iKommunicate and a Yacht Devices YDWG-02 WiFi gateway onboard that are both compatible.  Aqua Map automatically discovered the iKommunicate while I had to manually add the Yacht Devices gateway.  Once connected Aqua Map notifies you that you will be disabling internal GPS within the app until you turn off the external data source and changes the GPS status box text at the bottom of the screen to show external GPS in use.
AIS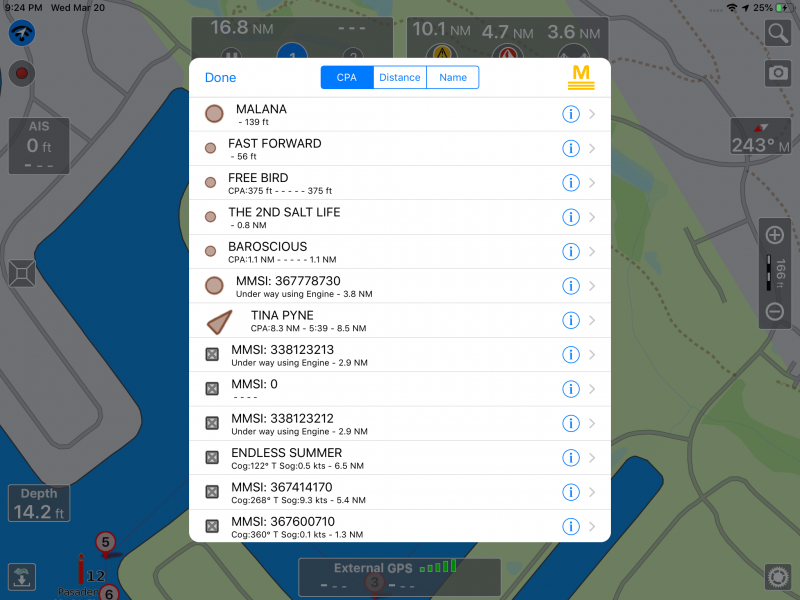 Aqua Map displays AIS targets from an onboard AIS receiver connected to your mobile device via WiFi.  iNavX (and several other mobile apps) offers the ability to display AIS data either from an onboard AIS receiver or from an internet AIS aggregator where AIS data is downloaded via an internet connection and then displayed on the screen.  Each method comes with some advantages and disadvantages.  Aqua Map's use of an onboard AIS receiver means you will get real-time data for boats around you as long as you have a receiver onboard.   Apps that use an aggregator will work even if there's not an AIS receiver on your boat but the data will be delayed and is reliant on volunteer receiving stations near your boat to receive and relay AIS information to the aggregator.
USACE surveys
I've already used the U.S. Army Corps of Engineers' surveys while planning my upcoming travels and will soon use them underway.  I'm pretty excited to have 40,000+ surveys overlayed over navigational charts.   I've used USACE surveys quite a few times to negotiate tricky areas but now having those surveys available at my fingertips without navigating all the USACE district sites is a big improvement.  Some of the more troublesome areas are surveyed by the Corps on a very regular basis so overlaying these surveys can mean having access to highly detailed depth data that is only days or weeks old.
The transparency of survey colors is displayed based upon their age so that the most recent surveys have bright, vivid colors as in the screenshot above, while older surveys are much more muted colors.  I have seen some places where it appears the surveys might not be properly georeferenced to the charts, but I don't know with certainty that it's an issue nor if that's a limitation of the surveys or Aqua Map.
Route explorer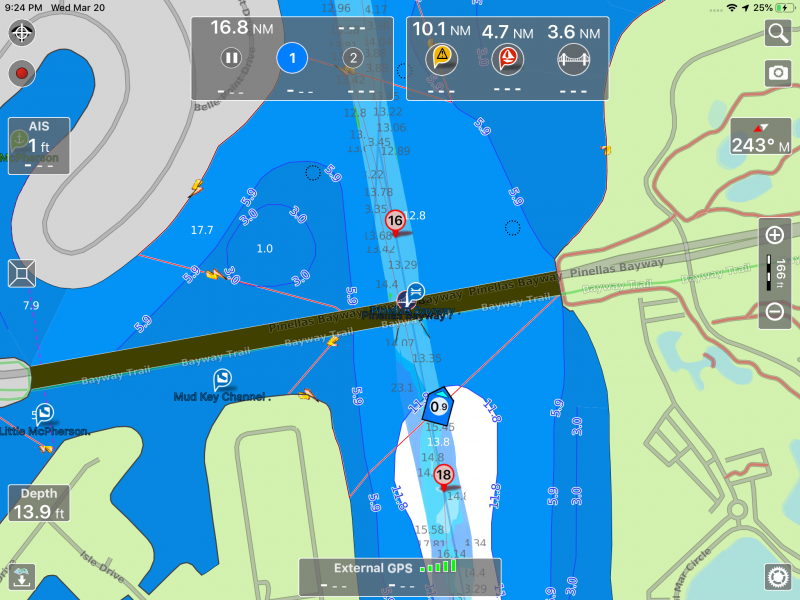 Route explorer lets you see what's coming up along your route.  In the picture above the right rectangle at the top gives you information on what's coming up on your route.  In 10.1nm there's an Active Captain Community hazard, in 4.7nm there's a Marina and in 3.6nm a bridge.  Route explorer lets you know at a glance what's coming up, plus, if you click on any of the three icons it will center the map on the next hazard, marina or bridge.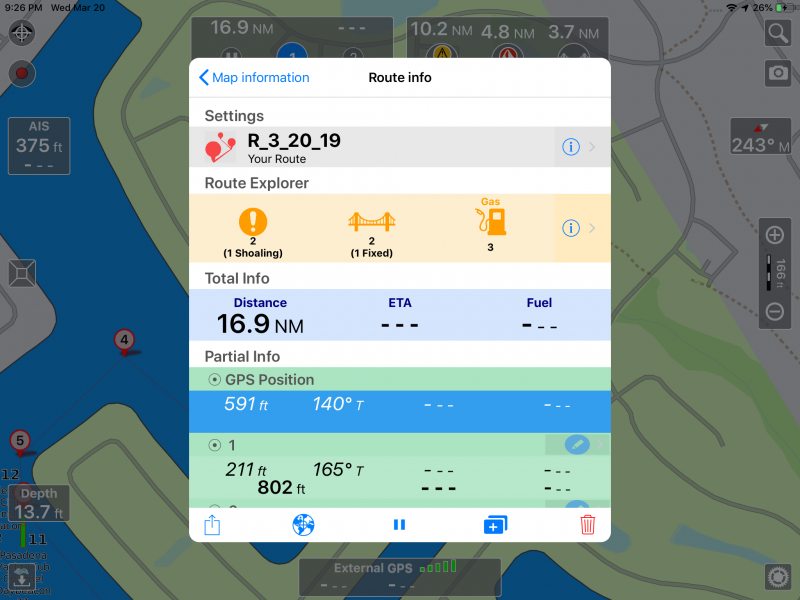 Route explorer also adds a section to the Route info summary letting you know what's coming up on your trip, including fuel stops.
For $10 per year, Aqua Map Master is a lot of great functionality and strikes me as an easy decision for anyone who uses Aqua Map.  The additional features make an already strong option even more useful.
Edited 3/21/19 to correct my error on iNavX's AIS capabilities