A few valuable boating apps, and what's your favorite?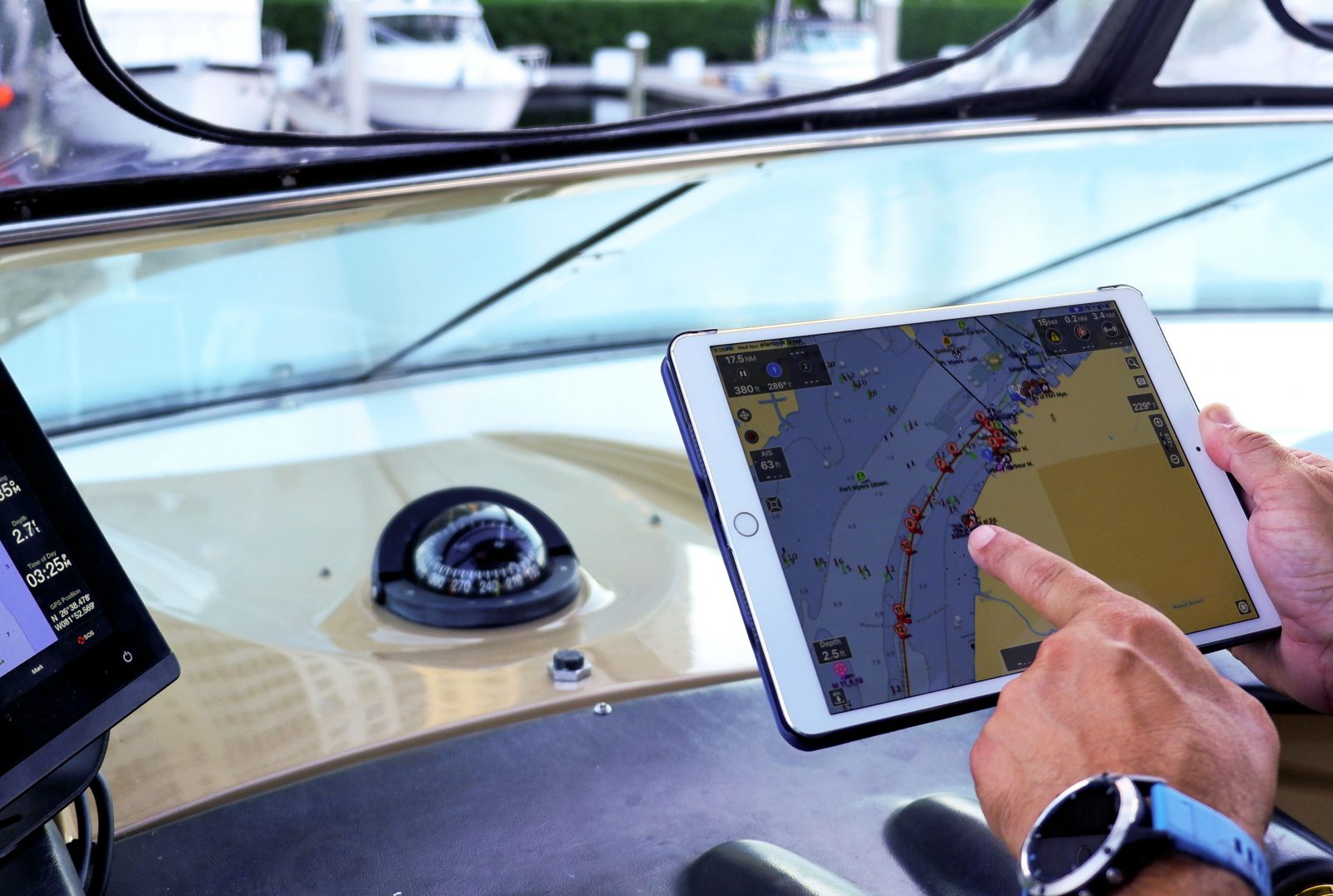 Most boaters carry around an impressively powerful and easy to use computer in their pockets: their smartphone. Smartphones have enough processing power, sensors and capabilities to augment or possibly even replace dedicated navigation equipment onboard your boat. Mobile phone and tablet apps for boating have steadily improved and today offer a compelling set of functionalities that can make boating both safer and easier.
To me, one of the key benefits of mobile apps at the helm is the ability to use multiple brands of charts. Using different chart providers helps avoid falling victim to any issue with your charts. What follows are examples of what's possible with mobile apps across several categories. This list isn't exhaustive and that's not the intention. The list of mobile apps is extremely long with more coming out every day. Each category mentioned here has dozens to hundreds of apps.
Although the functionality of mobile apps has reached the point where they are capable of replacing multi-function devices (MFDs) and other equipment, I still believe boats should have at least one dedicated marine-display onboard. Mobile devices are much more susceptible to moisture, heat, dead batteries, and falling overboard than single-purpose hardware installed on the boat. In my own cruising, I've dealt with apps crashing, batteries dying, and overheated iPads shutting down from sitting in direct sunlight. But, as a supplement or backup to dedicated devices, mobile apps deliver impressive capabilities.
Navigation Apps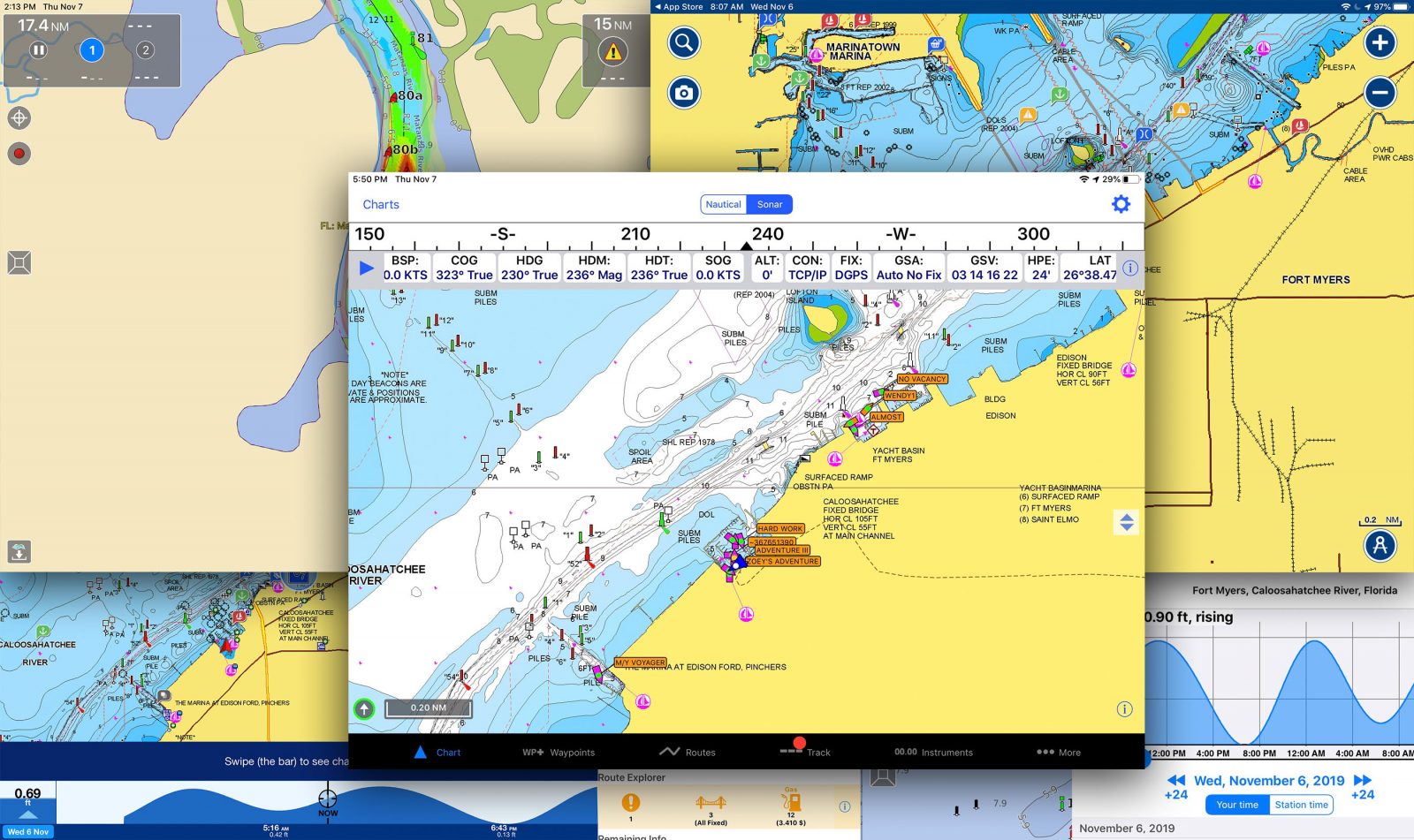 In the last decade navigation apps have matured to the point today where their features and functions rival, and in some cases even beat dedicated hardware. One of the biggest advantages a mobile device has (whether it's a phone or tablet) over installed hardware is an (almost) always available internet connection. This connection makes updating charts and other data easier. Installed hardware requires multi-step processes to update data and in practice often results in less frequent updates of this data.
Aqua Map's tide display

Navionics Boating tide display
Highly responsive touch screen interfaces and flexibility to plan your travels away from the helm make mobile apps great planning tools. The inclusion of tide information, weather forecasts, and bridge and locks schedules make apps especially useful for planning.
Navionics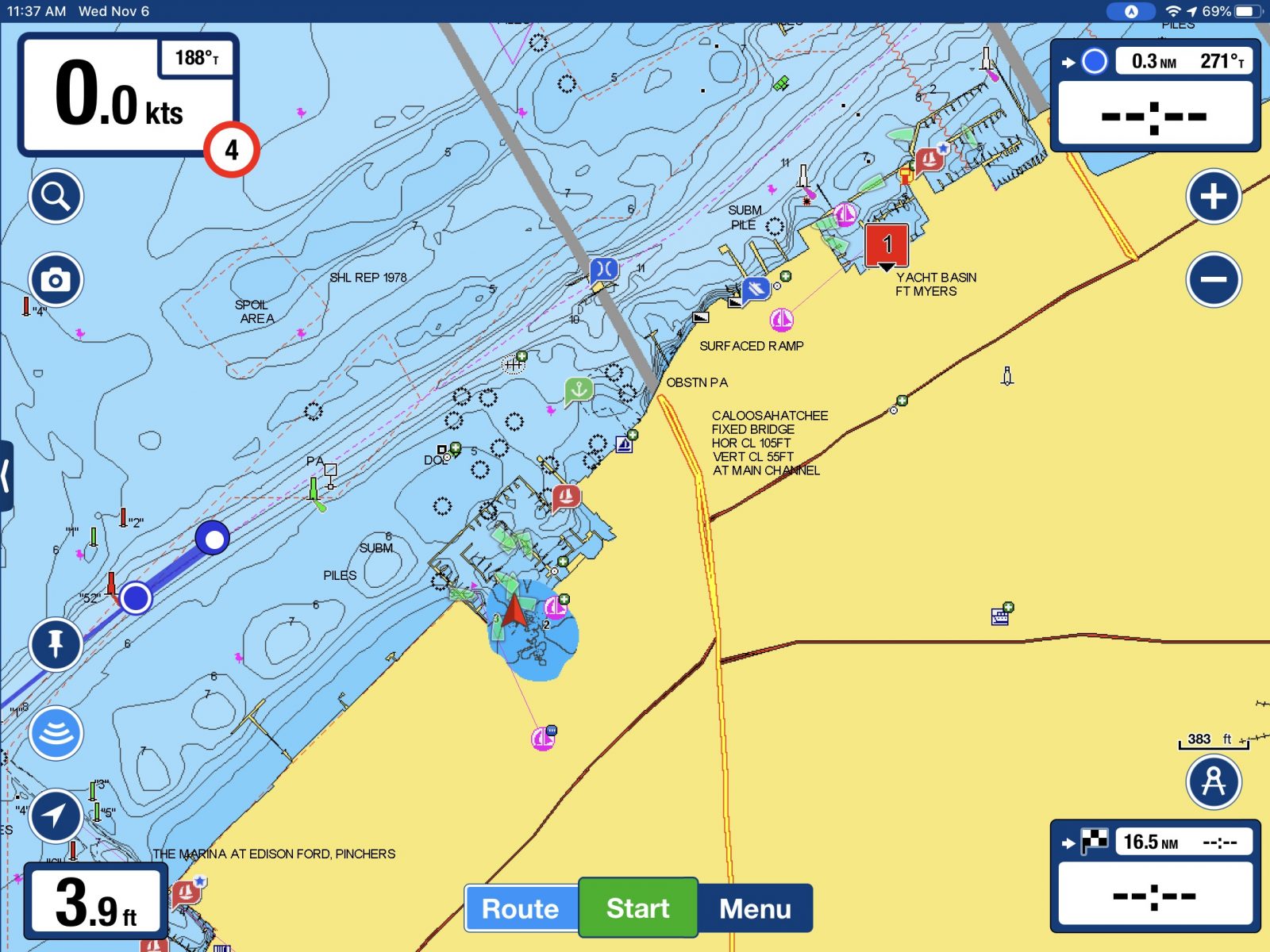 Navionics Boating is a full-function navigation app that has recently received quite a few major new features. It's also the easiest of the three apps discussed to use. Think Google Maps easy! The core features that have made Navionics one of the leading navigation apps are their dock-to-dock auto-routing, community-sourced SonarCharts, easily downloaded daily chart updates, and a responsive, easy-to-use app. In the last year, Navionics has added support for Active Captain Community crowdsourced data and display of AIS data from an onboard AIS receiver.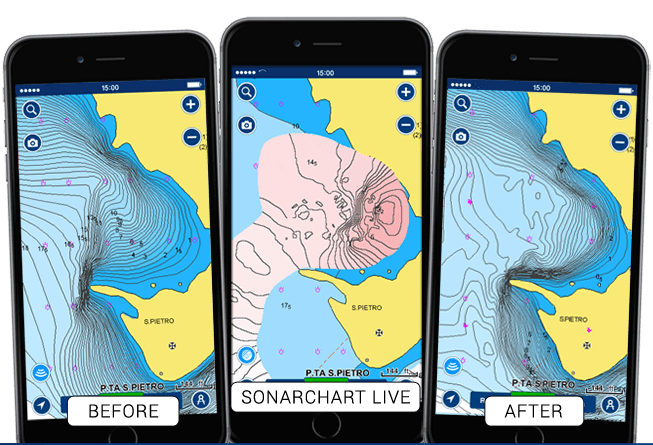 Navionics' app also supports its SonarCharts functionality. SonarCharts Live records depth data from an onboard depth instrument and displays it in real-time on your chart within the app. That data is also recorded and shared with Navionics, who then processes the data and creates a SonarChart layer within their charts based on the data received from the many boaters using the Navionics app or an MFD capable of recording and uploading SonarChart data.
All mobile apps can be useful planning tools allowing you to plot your course for travels from the comfort of a couch. But, Navionics goes one better with Plotter Sync. If you're using a B & G, Lowrance, Raymarine or Simrad MFD you can synchronize your routes between your MFD and the Navionics App by using the WiFi connection in your MFD. Navionics sells its app as a subscription with an annual U.S. subscription for $15 per year or U.S. and Canada subscription at $22 per year.
Aqua Map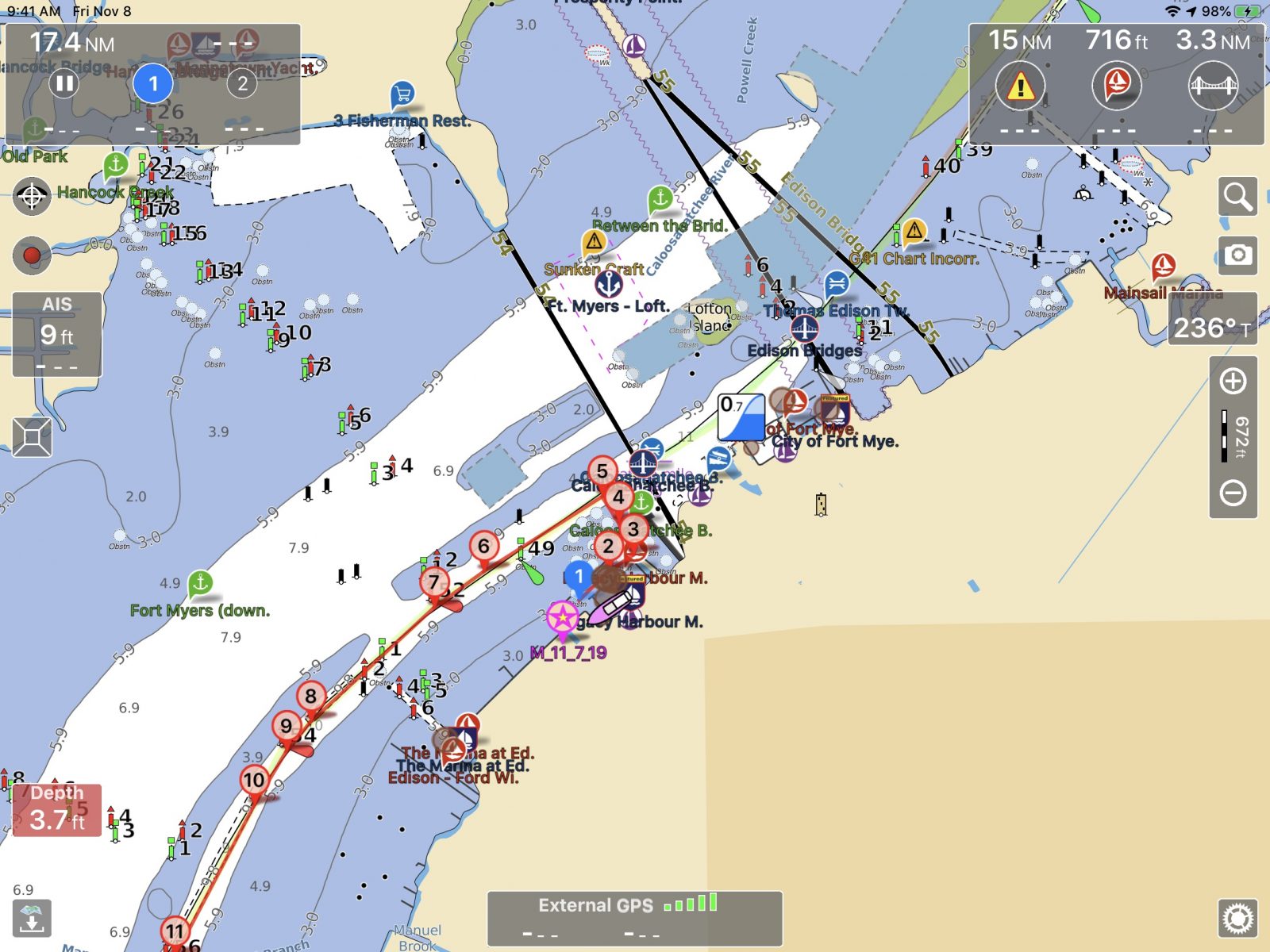 Aqua Map is a newer entrant into the navigation apps marketplace but they've quickly built a capable app with an impressive set of features. Aqua Map supports several major features important to many boaters and has a few features entirely unique to them. Aqua Map displays both Waterway Guide and Active Captain Community crowdsourced points of interest to provide information on marinas, anchorages, hazards and navigational features. The app also has a highly capable anchor alarm that makes monitoring your boats' position at anchor easy and accurate. Aqua Map is available in the iOS and Android app stores for $10 for U.S. charts with one year of updates or $25 for lifetime updates. Aqua Map with U.S. and Canadian charts is $15 per year or $40 for lifetime updates.
Aqua Map has added a compelling set of features they're calling Aqua Map Master, available as a $10 per year add-on. Master includes the ability to display Army Corp of Engineers surveys overlayed onto your charts. Master also includes Route Explorer and the ability to display AIS and instrument data display. Aqua Map master's capabilities show its greatest value when traveling in shallow waters, areas with hazards, and under bridges. Many of the features were developed for cruising the Intracoastal Waterway.
Route Explorer's capabilities can be seen above with a sample route down the Caloosahatchee River. The Route Explorer section on the popup in the middle of the screen shows there's one hazard on our route, three bridges (all fixed) and 12 potential stops for fuel with a minimum price of $3.41. Once underway the center box would be dismissed but we'd still have the top left and top right corner boxes. The top left is showing our progress along our route with distance and ETA to our destination. In the same box, distance, heading, and ETA to the next waypoint are shown across the bottom. The top right box is the Route Explorer box showing we're 15 nautical miles (nm) from the next hazard, 0.2nm from the next marina and 3.4nm from the next bridge.
Aqua Map makes navigating in skinny water a little easier by overlaying the United States Army Corps of Engineers (ACOE) survey data over the chart display. The survey data gives good visual clarity to where the deepest water can be found in problem areas. The ACOE has made survey data available for many years but it's only been available via district websites in PDF or Google Earth files. Aqua Map allows the surveys to be easily displayed and updates them using their chart update functionality.
iNavX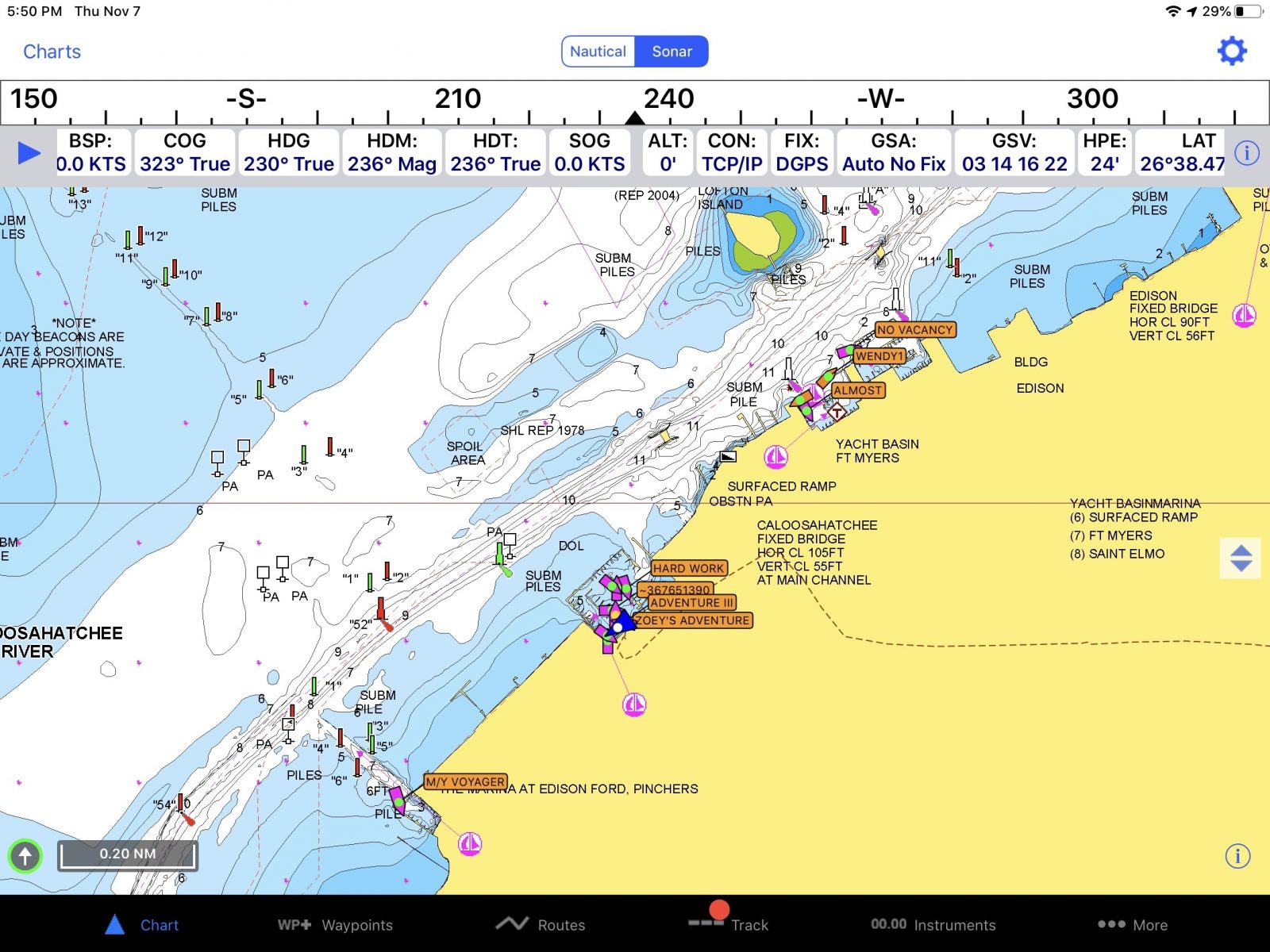 iNavX is one of the pioneers in providing full navigation functionality with a mobile app. iNavX has been offering mobile device marine navigation since 2008 and they've built a lot of functionality into the program but it comes with the steepest learning curve of all the apps. iNavX costs $5 with access to free NOAA charts. Additional charts are available within the chart store built into the app.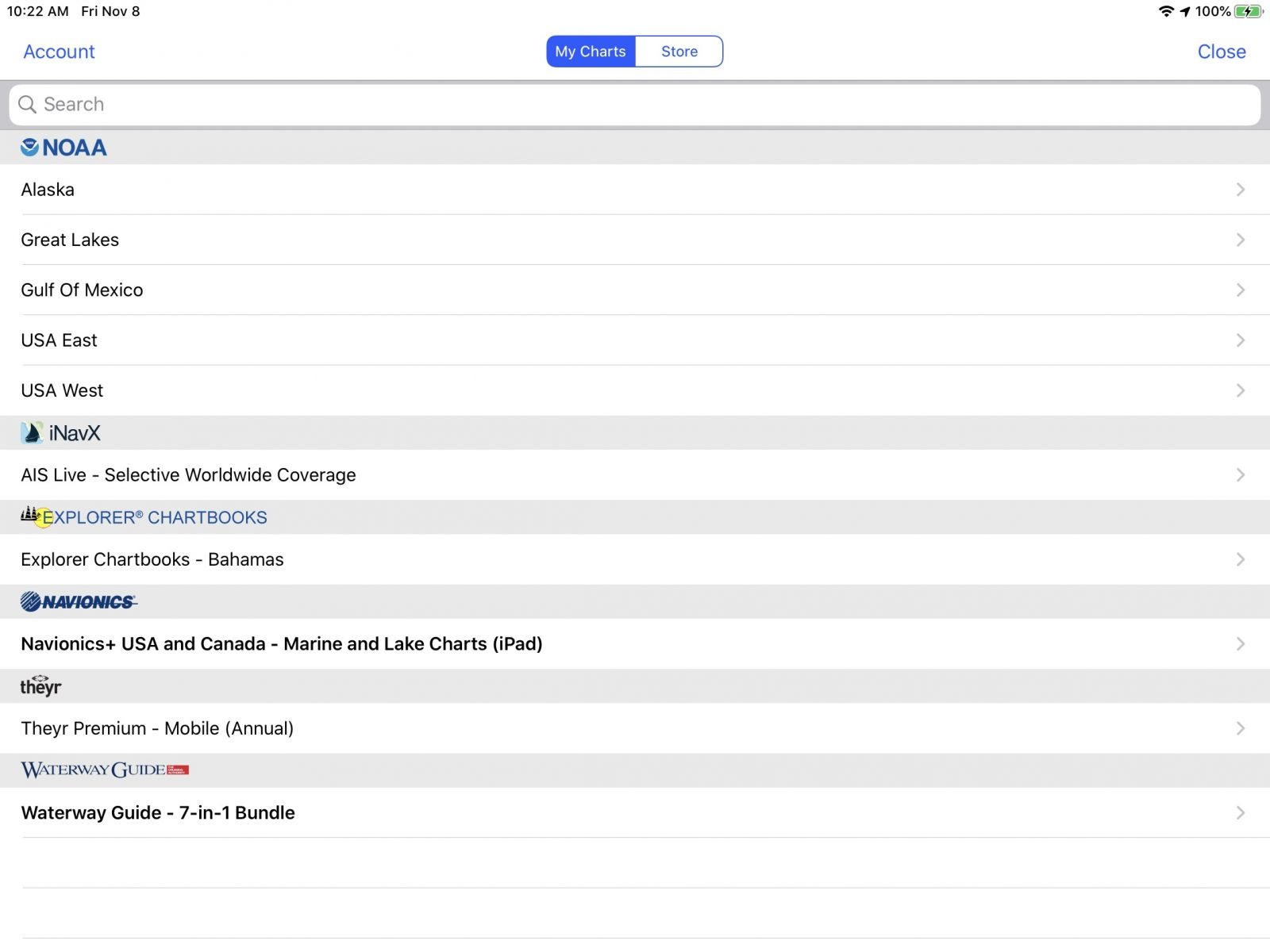 The app supports the broadest range of chart sources of any mobile app, including Navionics, NOAA, Canadian Hydrographic Service, Explorer Charts' Bahamas Charts, Blue Lattitude's Mexico charts, and Delius Klasing European charts. Plus, iNavX displays Theyr weather and Waterway Guide companion content as chart layers allowing you to display additional information on top of your chart.
Like Navionics and Aqua Map, if your boat is equipped with an AIS module and WiFi gateway, iNavX can display AIS and other information from your boat's navigation system. But, unlike the other two packages, iNavX can still display AIS information even if you don't have an AIS receiver or transceiver on your boat. Using their AIS Live service, iNavX uses a series of receiving stations to transmit AIS information to your mobile device via the internet. This data isn't updated as quickly as the information coming directly from an onboard AIS receiver but can be a useful alternative if you don't have AIS equipment on board.
Safety and support apps
Boating apps aren't limited to just navigation. The United States Coast Guard and Boat U.S. both have apps aimed at making boating safer and easier. The Boat U.S. app allows you to check the weather, look for discounts in your area, check your membership and insurance status, and even call for a tow. The Coast Guard's app allows you to fill out a float plan and file it with friends and family. Additionally, the app provides a way to report hazards, pollution or suspicious activity directly to the Coast Guard. Plus, the Coast Guard app provides information on recommended and required safety equipment, access to the rules of the road, state boating regulations and a means to request a safety check from the Coast Guard Auxilliary.
Weather apps
One of humankind's favorite past times is discussing (and complaining about) the weather. So, it's no surprise there's a nearly endless supply of weather applications out there. Depending on where you do your boating you might be in search of dedicated marine weather applications (coastal and offshore boaters) or you might be better suited to find a general-purpose land focused weather app (inland waters and rivers). The screenshots above are of NOAAWeather Radar Live, Windy and Weather Underground apps. These three serve as examples of the thousands of weather apps available.
Almost all weather information in the United States comes from the National Oceanic and Atmospheric Administration's (NOAA) network of sensors. The main difference you will see among the weather applications is the forecasting model applied to the data NOAA collects and the way it's displayed. If there's a weather application you find easy to use and informative, you're well served to stick with it.
One often-repeated piece of advice from weather experts is to never shop for a forecast you like. If you consult multiple sources of weather using multiple models you should be looking for agreement among those forecasts. If three forecasts suggest you may have poor cruising conditions but a fourth shows good weather you're likely well served to discard the outlier and go with the consensus. Doing otherwise is a recipe for a lumpy, fatiguing day at the helm.
Final thoughts
The combination of these apps and a mobile device might not be full-fledged replacements for the dedicated and installed equipment onboard your boat. However, they can make your boating easier and more pleasant. They keep information at your fingertips, keep you updated when conditions change, and even summon help when you need it.
But, the apps I've listed above are the ones I've had the opportunity to use and like. These might not be the same apps you like the best. So, I'd love to hear from all of you about what you use and what works for you