Navionics Boating app AIS feature, great idea but…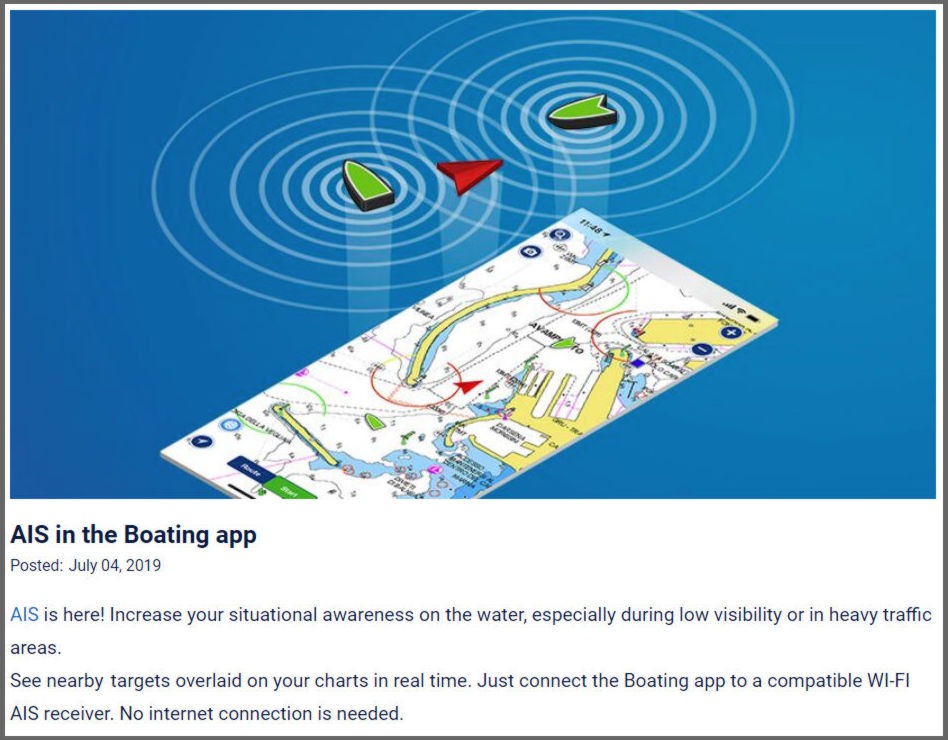 Well, dang, I was steeled up to write an unusually negative entry about the AIS feature that Navionics recently added to its Boating app, but then I learned that they're already planning virtually all the improvements that I intended to vigorously champion. So, if you too are having trouble making the WiFi connection work — or if you too are disappointed with the resulting target display — don't worry; apparently, we just have to wait for future versions.
In the meantime, however, let's discuss how boat data over WiFi can and should work, and also what makes AIS target display actually useful when you're underway.
AIS data via WiFi
First of all, congratulations to Navionics for deciding to support AIS data coming from a boat's own receiver instead of using possibly spotty and/or delayed AIS info from the internet (even though the latter is easier to do on a mobile device that's likely online much of the time, and is also desirable as a secondary source).
Moreover, while the Navionics AIS feature announcement only mentions AIS receivers with WiFi built-in, their PDF list of compatible devices also includes many Navico multifunction displays (possible because of GoFree Tier One 0183) and numerous NMEA-boat-data-to-WiFi gateways. Plus the Navionics app tries to make the connection automatically, which sounded great until it hardly worked with any of Gizmo's many WiFi AIS sources.
This is an extreme example but it illustrates at least part of the problem. While WiFi connected to Gizmo's boat router, version 14.1 of the Boating app running on my iPad automatically connected to three AIS data sources but couldn't reliably receive data from any. Yes, the source identified as a "Digital Yacht WLN10" (though I don't have that device installed) did deliver some AIS info as well as the Sonar (depth) and GPS that the app can also use, but not well. In reality, there were about twice the AIS targets you can see (faintly) overlaid on the chart and meanwhile the Sonar and External GPS data feeds were fidgeting on and off, which is why they seem conflicted in the screenshot.
It's not surprising that the Navionics app chokes up while trying to digest multiple sources, but it's discouraging when I can use other apps running on the same iPad to successfully choose whichever of those same data sources I want to use. Moreover, even with an easier single-source situation like a direct connection to a new Actisense W2K-1 WiFi gateway (I'm testing) Boating v14.1 failed to even find the AIS, GPS, and depth data that other apps can display fidget free.
So while trying to make the data connections automatic is a worthy goal — and is working for some boaters as reported in this recent Panbo discussion — I began hoping that Navionics would also let us set up the connection the way other developers do.
Hurray then that "in the next few releases" of the Navionics Boating app there will eventually appear a "Custom device configuration"… whereby "There will be a way within the App to enter IP address and Port Number to connect to virtually any device streaming AIS, GPS, Sonar data via WiFi and NMEA 0183."
I'll illustrate what that means below, but first let's look at how Navionics Boating v14.1 displays AIS targets and where that's headed.
AIS data display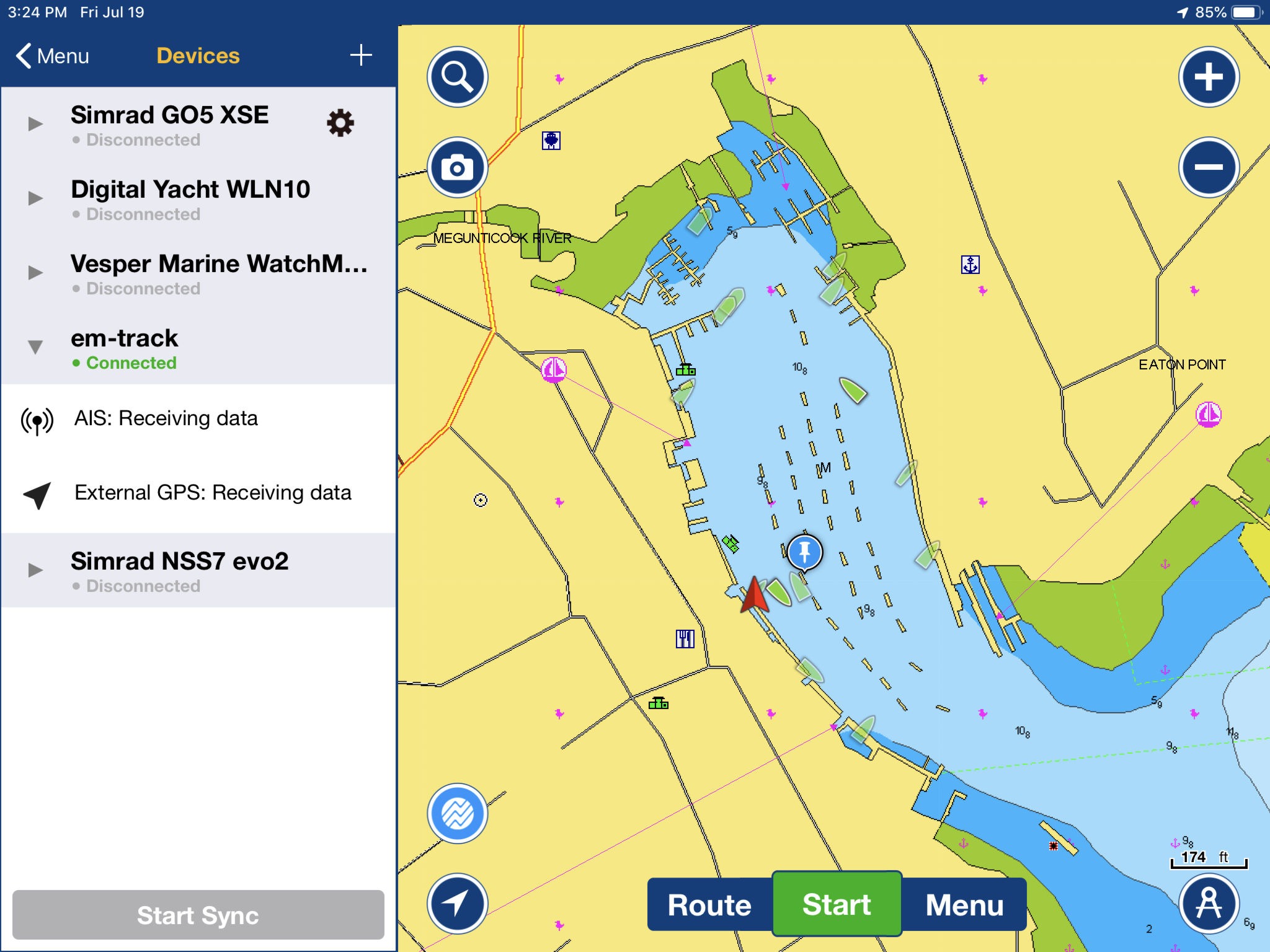 In this example, Boating v14.1 is connected directly to the WiFi access point created by a Si-Tex MDA-5 AIS transceiver (a SOTMA type Class B+ that I'm finding to be quite able and fairly priced). Nevermind that Boating identifies it as an "em-track" (another issue with auto-discovery) and nevermind that I seem to be on a dock instead of Gizmo's nearby float (the cause may be my install of Si-Tex's external GPS antenna, not fidgety data reception). But please do click the screenshot larger to better see the display of AIS target info, which seemed to be delivered consistently.
While Navionics uses transparency to de-emphasize vessels that aren't moving — nice, I think — the four underway AIS boats plotted in Camden Harbor at this time don't seem sufficiently obvious in this presentation. The colors are quite similar but mostly I miss the COG/SOG vector line that's common to nearly every other AIS target display I've used.
Moreover, and again this is an extreme example, I was quite surprised to look up and realize that the underway vessel plotted as alongside Gizmo was not actually there or anywhere close. Now it's common to see differences between plotted and real AIS vessel positions — the typical Class B dynamic data transmission rate of 30 seconds is one cause (that Class B/SO can improve on). But this seemed to be a case where maybe the vessel had been alongside at some point prior and then turned off its AIS before docking somewhere out of sight. AIS displays usually mark a target that has not been seen for a while, or you can dig into the detailed target info when in doubt.
But a Boating v14.1 individual AIS target info window does not include a timestamp, which to me is like a tech review without a date. Also not included is the size of the vessel — Helix is not 109 ft long, but was that close to Gizmo supposedly — and the type of AIS in use, all of which is included in the Si-Tex data stream. What's not included for Class B vessels are items like IMO number and Navigation Status, which is why those uninformative lines above are filtered out of most Class B info windows.
Also missing from Boating v14.1 are calculations for Closest Point of Approach (CPA) and Time of (TCPA), along with a sortable list of current targets. And these are critical items if and when you seriously use AIS as an aid to collision avoidance.
But, yes, I am indeed picking on the first version of a worthy feature. However, that's because Navionics Boating is already a terrific boating app in my opinion, and this expanded WiFi data feature could take it to the nav tool level of good apps like iNavX, iSailor, SEAiq, and TZ iBoat. Moreover, I fear that some boaters have not developed a critical eye for effective AIS target display, so maybe my rant is helpful that way.
The best AIS target display I'm familiar with is still Vesper's WatchMate app, but it requires particular Vesper AIS devices. Hurray then that the Navionics Boating app WiFi AIS feature will eventually include:
Display of ROT, COG, SOG and Heading on each target.
Anti-Collision.
AIS targets search.
Targets on the map will reflect proportionally the actual size of each vessel.
iNavX doing WiFi AIS data right
While we're at it, let's look at how some other apps have been handling WiFi AIS data for some time, and iNavX is a worthy example as it trail blazed this feature before Panbo even had an iPad. The iNavX v5.5.6 screen above came from the same iPad and Si-Tex WiFi AIS as the Navionics examples.
Note that I've set the highly valuable underway target vectors to represent two minutes at current Speed over Ground (SOG), my preference in coastal waters, and that this setting in iNavX is the same as your own vessel vector (in other apps and on MFDs these are often separate settings). Note too that one of the many AIS display settings you can see in the gallery below is the ability to show / not show target boat names, a setting I use enough that I wish the switch was right on the chart screen.
The top left screen above shows how iNavX handles the WiFi device IP address setup that Navionics has tried to protect users from but will add as a secondary connection method. It does indeed look frighteningly geeky. How the heck, for instance, did boating come to involve the difference between TCP and UDP, and how do you find those numbers on the source device anyway?
Well, I'm not an IT person either, but I have learned enough about IP addresses to do this sort of setup many times, and once done it tends to work well. Note too that if the connection is made, you'll know it immediately from the stream of NMEA 0183 messages scrolling in that lower window, which is common to many apps and also great for data troubleshooting if needed.
The other screens show more iNavX AIS display settings — but please don't filter out Class B targets — as well as their sortable target lists and an individual target screen with the precise timestamp right at the top (harumph).
I'll close with the fact that the Navionics Boating development team was already monitoring Panbo comments about the WiFi AIS feature when I contacted them. And hopefully that's extra incentive to share your thoughts about how this excellent boating app should evolve.