The damn iPad: iNavX, X-Traverse, Navimatics & AC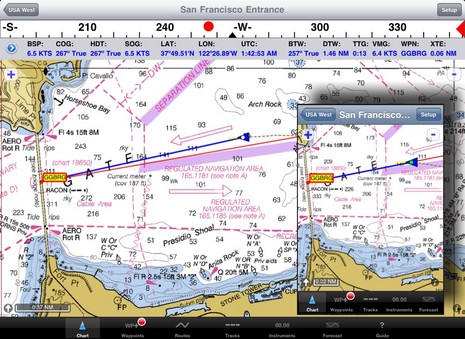 It's so sad: Nowadays when I contemplate my amazing portfolio of iPhone marine apps (discussed here, here, here, and elsewhere) in iTunes, featured right across the top of my PC screen are the ones now also optimized for the iPad. But I don't have an iPad (though I did touch one). And behold the difference. The size of what you see when you click on the image above will depend on your particular screen's pixels per inch, but the proportions are right regardless. iNavX on a 9.7-inch, 1024 x 748 pixel iPad is obviously quite different from iNavX on a 3.5-inch, 320 x 480 pixel iPhone. There's room for more chart and bigger touch buttons, not to mention nav data and a compass ribbon across the top. Damn…

In fact, the iNavX web site now boasts "The power of a color chartplotter for a fraction of the cost" and, while I'll stay out of that argument for the time being, developer Rich Ray does make a good case for how far he's taken the software, and how able it looks on the bigger iPad. Note, for instance, the series of screen shots comparing iNavX iPhone and iPad versions. Ray has also gotten his program to play nicely with a Digi Connect WI-SP WiFi serial server, which means you can get AIS and other NMEA 0183 data flowing to your iThing without any other computer involved (and he even added a Digi Connect guide to his extensive help files).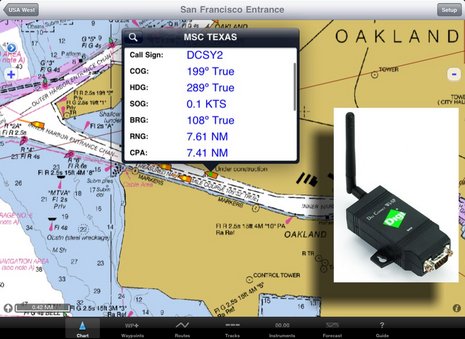 And if you want to use your spiffy iNavX/iPad combo with anything but free NOAA raster charts, you'll be pleased to know that X-Traverse keeps growing its already giant cartography portfolio, and adding to what the service can do (new Facebook integration, for instance, plus integration with Navionics NavPlanner 2). When you purchase charts via X-Traverse you get two activations, so if you're already using them on, say, an iPhone but haven't activated them with a PC or Mac, you're probably good to go if you get an iPad. The exception: Navionics is pricing its iPad charts differently — understandable, I think, given how inexpensive their iPhone charts are, and their many partnerships with companies that manufacture those old time chartplotter things — though $50 for the new U.S. super region is not bad. That region includes the Northern Bahamas, by the way, but below is a sample of alternate NV charts of the same area, also offered by X-Traverse. Choices are good. And I'm not done…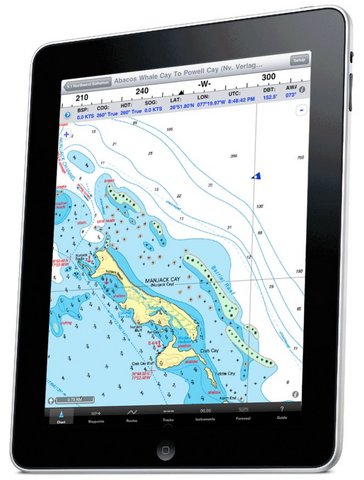 Navimatics has not only adapted its Charts & Tides program for the iPad, but expanded the included regions of NOAA ENC charts, lowered the price, and is just about to add support for ActiveCaptain! The implementation looks good on an iPad, too, as you can see below. As with MaxSea TimeZero 1.9 (just about to release!) and the Coastal Explorer 2010 beta, the ActiveCaptain data is cached so you still have it when not connected to the Internet. And we know Active Captain itself is also working on an iPad app. Damn.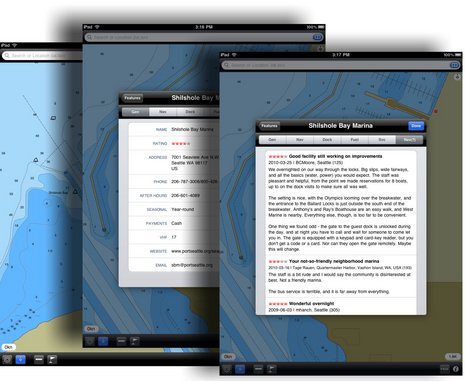 So here I sit without an iPad (despite my efforts to bum one from some Yachting reader), and look at all the boating apps below that will no doubt grow to iPad size eventually. (Some of which I haven't even reviewed here yet, sorry.) But I kid; what I did acquire recently is a smart phone that makes the iPhone seem positively pokey. More on that soon.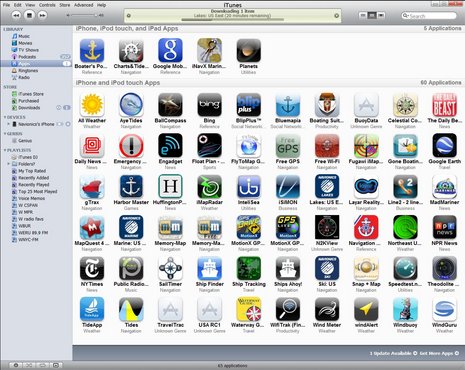 PS (thanks to Brian's comment below): On May 12, MotionX HD with NOAA ENC charts (like Navimatics) was introduced on May 12 exclusively for the iPad, for $3…damn: