iNavX on the iPad, a Beta tester's enthusiasm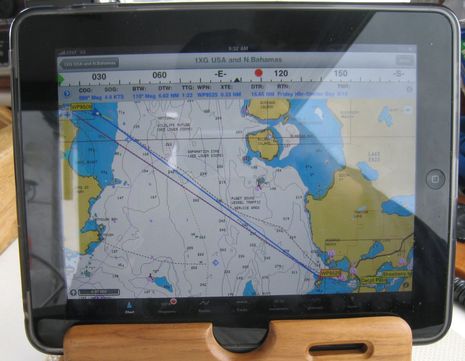 Navigation on iPad is a hot subject, as discussed here recently (and, mind you, Navionics has now joined the fray). So I'm pleased to publish the following excerpt from a review by Tom MacNeil, a long time beta tester for the GPSNavX/ MacENC/iNavX family of charting programs. To say that he's enthusiastic about how developer Rich Ray's software runs on an iPad is an understatement! Tom has been sailing and messing with boat technology for thirty years, and currently runs an marine electronics and electrical shop somewhere in the Pacific Northwest. Warning: If you read the following, you may soon find yourself at the Apple Store typing in your credit card number…

I haven't been this excited since since I was a kid waiting for
Christmas. The big present was the new 64GB iPad 3G. When Apple made the
first announcement, I knew that this could be a solution to
navigation on boats. Not only did I know this, but developer of iNavX
marine software for the iPhone, Rich Ray also knew this to be a fact. I
have been a Beta tester for him since the early days of GPSNavX, MacENC
and iNavX. I knew that iNavX would scale perfectly to the iPad, and
that was Rich's full intention.
As the six weeks of waiting
spiraled down, Rich was very busy working on the new application. Unlike
some other developers, he decided to keep this application a "universal
app", which means it will run on the iPad, iPod Touch or the iPhone.
The consumer only has to pay once.
Finally delivery day for
the new iPad was upon us. I personally met the FedEx lady and received
the package. Rich wasn't far behind and a couple of days later I had
the first beta for the iPad. Rich had taken full advantage of the
added space that the iPad offers with a "Compass Banner"/ "Instrument
Banner" on the top and a "Tab" menu bar on the bottom. The various
charts display superbly on the bright sharp screen.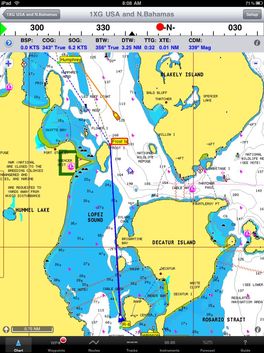 First
things
The first thing I did was download all the charts I would
need. This was done through X-Traverse, an online supplier iNavX uses to
move docs and charts back and forth. I was able to download Navionics
and Canadian raster charts. (This app was designed to display many
different chart formats). I had previously downloaded the charts I would
need from NOAA.
Adding new routes took a bit of learning, but
not too bad once you get the hang of it. It is a simple matter of
either showing all the waypoints you already have in iNavX
("settings" > toggle on/off on top of screen), and tapping on them to
make up a new route, or creating new waypoints by tapping on the chart
and selecting the "waypoint" button. A pop-up window appears asking you
if you want to add to the route. Simply tap out your course.
At
first blush the charts looked stunning on the iPad. You are struck with
the clarity of viewing on the iPad's 1024 x 748 pixel display. Apple
has done a superb job on this screen making it viewable from the most
oblique angles. The method of multitouch, making finger gestures on
screen to get the desired information, made it a great experience. The
iPad also has the advantage of portrait or landscape view. Up here in
the Northwest, we do a lot of north and south cruising, making portrait
view very useful.
Laying in a course
Now it is just a
matter of tapping on routes and picking the one you want to navigate.
In
this case we are going from Shelter Bay to Friday Harbor. Nuts, Wrong
way! Okay, no problem. I simply touch on the route title which opens up
Friday Harbor to Shelter Bay, showing me all my waypoints (on each
w/p, the degrees magnetic and distance). I hit the little roundabout
arrow above, which reverses the route and I am ready to go. At page
top, I hit the "go to" button and then in the upper left touch
"Routes". I touch "chart" in the Tab Bar and there I am. I have
activated the my first route.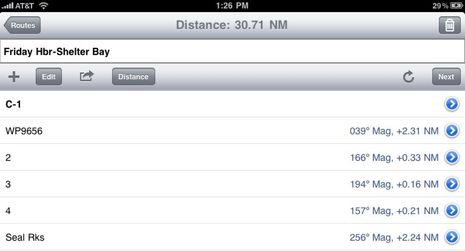 Getting under way
I
felt the iPad would not be just an "in between" computer on your boat,
as some have suggested. A correctly written program could be completely
self-contained, fitting all your needs.
With that in mind, here
is a typical trip…First thing, get the iPad ready to go. Launch
iNavX then… to the setup page (which is the first page that you will
find in this program) and pick your desired chart. In this case, because
of it's simplicity, I pick the Navionics charts which covers the entire
US, and are priced appropriately. The Pacific Northwest is my cruising
grounds, so I pick Puget Sound. The chart loads up right away. I tap on
"chart" and that forces the program to center on my vessel. One thing
that I have learned, the GPS inside this iPad is not like the GPS in the
iPhone. Although I have found that to be adequate, this is a superior
unit. Even sitting inside my house, this GPS acquires a signal. It is
much more sensitive, and I found the accuracy to be quite good.
We
cast off the lines, and since this is a beta test, I am looking for any
anomalies or problems. As I come up on my first waypoint, I have
the iPad propped up in a vertical position. As a side note, I made a
small wooden tray, which consists of cutting a slot in a pice of wood, a
half inch wide and 7/8″ deep that the iPad sits in … either vertical
or horizontally, with a wooden base and soft rubber feet on the bottom,
so it stays stable in my cockpit.
Getting from point A
to B
I double click on the first waypoint I am approaching. Up comes
a pop-over which gives me several options. The first one is "next Bouy
6" which advances to the next waypoint. As previously mentioned, if I
were working with routes, it would allow me to add/edit this waypoint,
zoom in, zoom out or activate tides andcurrents in my area. This current
version of iNavX does not have auto next (as yet), so when I come upon a waypoint,
it is a simple matter of double tapping and hitting "next" to advance
the w/p.
Since I have activated the instrument strip at the top,
which is user selectable, I am now reading the COG (Corse over Ground),
SOG (speed), XTE (my cross track error), BTW (bearing to w/p), DTW
(distance to w/p) etc. I have the option to put in HPD so I can see just
how valid my satellite signal is.
For this section of the
trip, I have elected to use the iPad's built-in GPS. The compass banner
is taking direction from the GPS. (When HDG is set to "off" the compass
reverts to GPS.)
Reflections
It will be an
interesting test today because usually in the Northwest, you don't have
to worry about sun, as it's normally cloudy, making screen viewing
easier. However today is the exception with sunlight streaming in. I
gave up a long time ago trying to see a laptop screen, or any other type
of display in the cockpit. I finally broke down and bought a sunlight
viewable display, which has worked beautifully on the boat.
Would
the iPad work outside? Well here it sits right in front of me. Sunlight
is hitting both the outdoor screen and the iPad. So far no problem
viewing. It is a remarkable screen, the only problem is reflection, I
might have to turn it a bit to keep a direct reflection off, but all in
all very easy to read. If you take it out where the sun is hitting it
directly, it's a challenge.
Right away I notice that my track
is being laid down behind my course, and just for the heck of it, I
switch over to the tracks page, where I can see that iNavX is keeping
accurate account of my trip. My tracks can be imported and exported. I
have stats, such as count, distance averaged, and elapsed time. If I tap
on a track in the lower Tab Bar, up comes a popover that gives me that
particular track, the date, Lat/Lon, speed over ground, and heading.
For the rest of Tom's review — including info on iNavX AIS, weather, and tide displays, as well as its ability to connect to boat sensors via WiFi, and lots more images — see this page. You'll find at the end that Tom "would have no trepidation about cruising
anywhere" with this set-up, but I think we'll be debating that notion for a long time. Meanwhile, the pads, tablets, slates, etc. will get better and better, as will the apps. iNavX, for instance, just got "analog" instruments: