iNavX, raster navigation on iPhones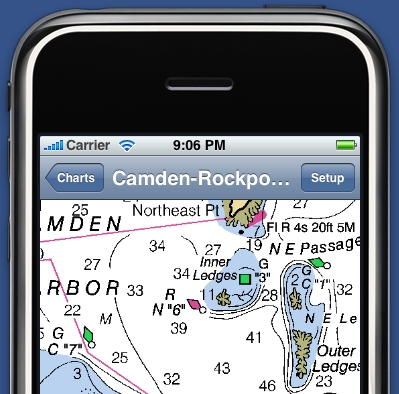 On Saturday the Apple iPhone app store started offering iNavX Marine Navigation and it's already generated eight mostly positive reviews there. The $50 program is the work of Rich Ray, who also developed GPSNavX and MacENC, and it looks similarly well done. It works with the built-in GPS of the new 3G iPhone of course, but can also be used on older iPhones using cell tower location services. Alternately you can set it up on an iPhone, or iPod Touch, to get GPS, wind info, and other data via a boat's WiFi router and a program like MacENC (or Coastal Explorer) that can output NMEA 0183 messages to TCP/IP (Franson GPSGate should also work).
The charts are downloaded straight from the NOAA site and stored on the phone. I'll be curious to see how easily they pan and zoom, as opposed, say, to the reprocessed raster charts offered by ActiveCaptain Mobile (which I now have up and running). You may recall that NOAA raster charts are experiencing an "update interruption", but at this point they're still the most current charts you can get, I think. And note that while this screen shot makes it look like I've got the iNavX here in Camden, actually it was captured by Ray as a comparison with a recent Garmin Colorado entry. I do hope to try iNavX on someone's iPhone and/or that some of you Panbo-reading iPhone zealots will comment on its performance. Hang on, Gram Schweikert is already on the case.