iKommunicate from Digital Yacht, Signal K gets kickstarted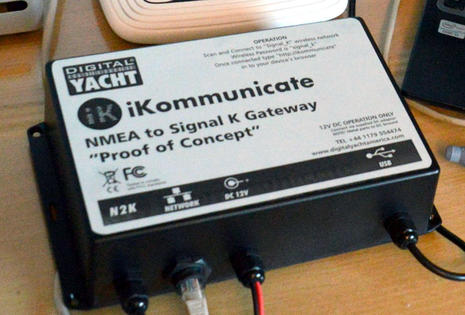 Sorry for the fuzzy photo, but it makes sense as the iKommunicate Signal K Gateway isn't a real product yet, and the real product may look quite different from the "Proof of Concept" prototype above if it actually materializes early next year. Why so vague? What's happening here is a techy chicken and egg thing. Digital Yacht was understandably hesitant about developing a gateway for Signal K apps and services that hardly exist yet, but the Signal K universal boat data concept — open source, entirely free, and created by unfunded volunteers — needs a commercial level NMEA gateway so that third party developers can easily show us what the potential apps and services can do. That's my understanding of why DY launched the iKommunicate Kickstarter campaign and also why I'm hoping that fellow boat geeks and related companies will join me in backing the project and thus helping Signal K become real…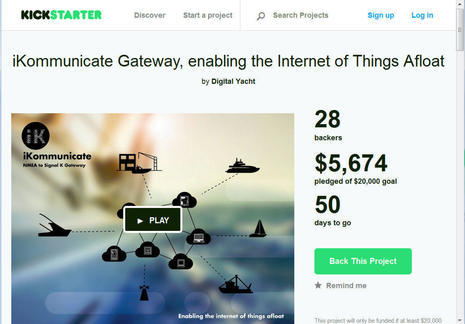 Actually, it's very likely that the iKommunicate Gateway crowdfunding campaign will reach its $20,000 goal, as it's already more than 25% there after just three days and little publicity. In fact, I think that Digital Yacht set the goal low and the campaign period long because the company is already committed to making the gateway happen. The idea of using Kickstarter is not just to hedge gateway sales against the uncertain commercial future of Signal K, but also to build a community of enthusiastic kibbitzers toward that future. And note that backers of product projects like this aren't exactly philanthropic; most of us are buying something that hasn't been fully developed yet so we can get early delivery at a discount, plus a little say in how it's developed or at least the right to claim "early investor" status (if and when that's something to be proud of ;-).
iKommunicate is the ninth Kickstarter project I've backed — and I just signed on to the interesting Hello Ocean campaign on Indiegogo — so I know something about how effective and enjoyable this new form of fundraising (and/or sales) can be. For instance, I enthusiastically followed the original Pebble watch Kickstarter as it raised nearly 11 million dollars from almost 70,000 backers, and then I became an evangelist for the actual resulting Pebble that had been so well developed and manufactured with all that backing. And while Pebble certainly did not need Kickstarter to develop the new Pebble Time, I was one of the many repeat backers to join the Kickstarter fun and now I'm much enjoying the second watch I got early and discounted.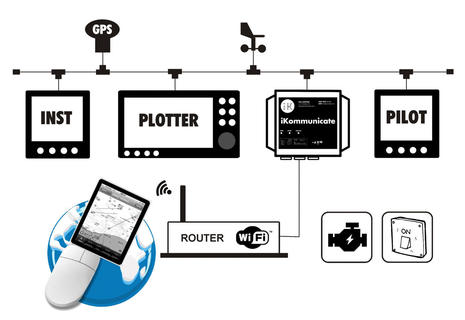 There are crowdfunded product projects that produce crappy results or never deliver at all, but the danger with iKommunicate is more that Signal K doesn't work well and/or isn't used by many developers to create useful apps and services. That's why DY plans to make the iKommunicate Gateway capable of outputting NMEA 2000 and 0183 data through your boat router in the same way that boat data hotspots like the Navico GoFree, the Vesper XB8000, the Brookhouse iMux and others do. This means that early iKommunicate users should be able to get basic boat data like GPS, Wind, Depth, and AIS to apps like iNavX, iRegatta, and others (like I did last summer with the TimeZero V2 app) regardless of SK.
But I think that Signal K will really happen – and perhaps spectacularly. Besides from the iKommunicate Kickstarter and the Signal K site, you can learn more about the concept from my May entry about the friendly new NMEA SK relationship and from Bill Bishop's recent musings about how SK actually fit in at the NMEA Conference. I heard concerns about Signal K data security routines that need definition, and the number of N2K PGN's that still need to be translated into SK syntax by volunteers who have day jobs, but it's terrific that this ambitious open source idea is now in the same room with the major and minor makers of marine electronics and software. And at least some of them are interested, as I'll relate below.
First I want to describe my hurried though eye-opening experience with a Signal K demo given by Digital Yacht CEO Nick Heyes (who was a NMEA new guy in 2008). What you're seeing in the photo above is dummy vessel Maverick's NMEA 2000 data being gatewayed by the prototype iKommunicate and WiFi'd to an app which is turning the SK info into an instrument and mapping display. While you could say, "So what?" because this is already fairly easy to do, the missing image would show the iKommunicate SK screen where the boat user can enter a boat name like "Maverick" and a raft of other information that currently has no place to live in NMEA data standards. So Signal K adds a rich data layer to regular NMEA 0183 and 2000 (which it also translates better), and all of it can be available to app developers as you see fit.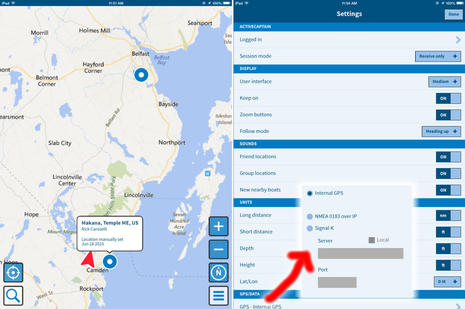 The ActiveCaptain app Locations is one of the first to support Signal K and a good example of why. Locations has been around for a while, and in order to fully identify nearby AC users or special friends it needs both profile info from eBoatCards and current location data preferably from somewhere else. I use a link between eBoatCards and my test inReach Explorer, which AC makes easy, but many eBoatCarders just input their location manually, which is why my friends on the S/V Makana aren't really moored in Camden today like they were last June. Now Locations 1.2 can get GPS info from "0183 info over IP" WiFi sources like the ones I mentioned above, but better yet, I'll bet users with an SK connection will soon be able to share info like what anchorage they're headed to or even the route. What's more, Signal K means that other developers can create something like Locations without having to build something like eBoatCards first.
At any rate, AC's Jeff Siegel was enthusiastically present at the NMEA Conference, and I suspect that iKommunicate will receive some AC love soon. Also present and grinning was Luis Soltero of RedPort and GMN, who has embraced Signal K too. He envisions how the richer, more app friendly SK protocol can help make boat data more useful over the narrow band satellite communications he specializes in. I've hacked up his diagram to fit the space below, but here's a tangible example: Picture an AIS man overboard device alarming not just the MFD system on your boat but also auto sending a report ashore using a modest device like an Iridium Go!
Not much is concrete yet, but it's encouraging to see serious marine developers like Digital Yacht, Siegel and Soltero at least tentatively get behind the already impressive Signal K crew. That's why I'm backing iKommunicate and maybe you should consider it?