Coastal Explorer app for iPads & iPhones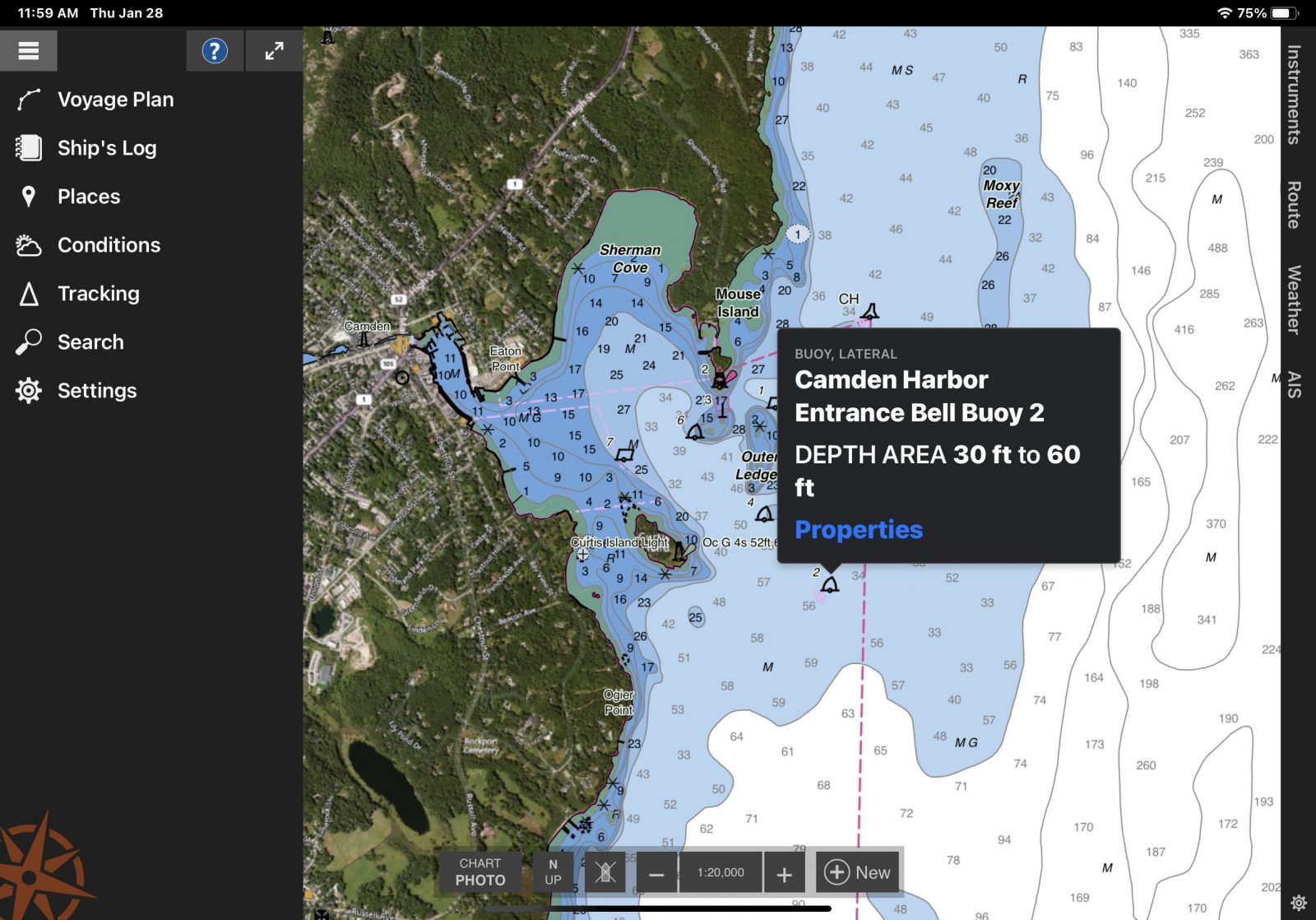 Many of us have been happily beta testing the iOS version of Coastal Explorer for quite a while, but Rose Point Navigation has a long history of not releasing new products until they feel really good about them (and sometimes not at all). So it's wonderful news that the Coastal Explorer app is now official, with many excellent features free to anyone, and the entire navigation package available to owners of CE for Windows until the $50 annual subscription is instituted.
So rather than a full review, I'll just share some personal CE iPad highlights, hoping that interested and able boaters give the app a try themselves. For instance, I find that the iPad interface feels remarkably close to the CE I've long appreciated on a PC, with nearly all features included. But what's it like on an iPhone, or to a navigator with no previous Coastal Explorer experience?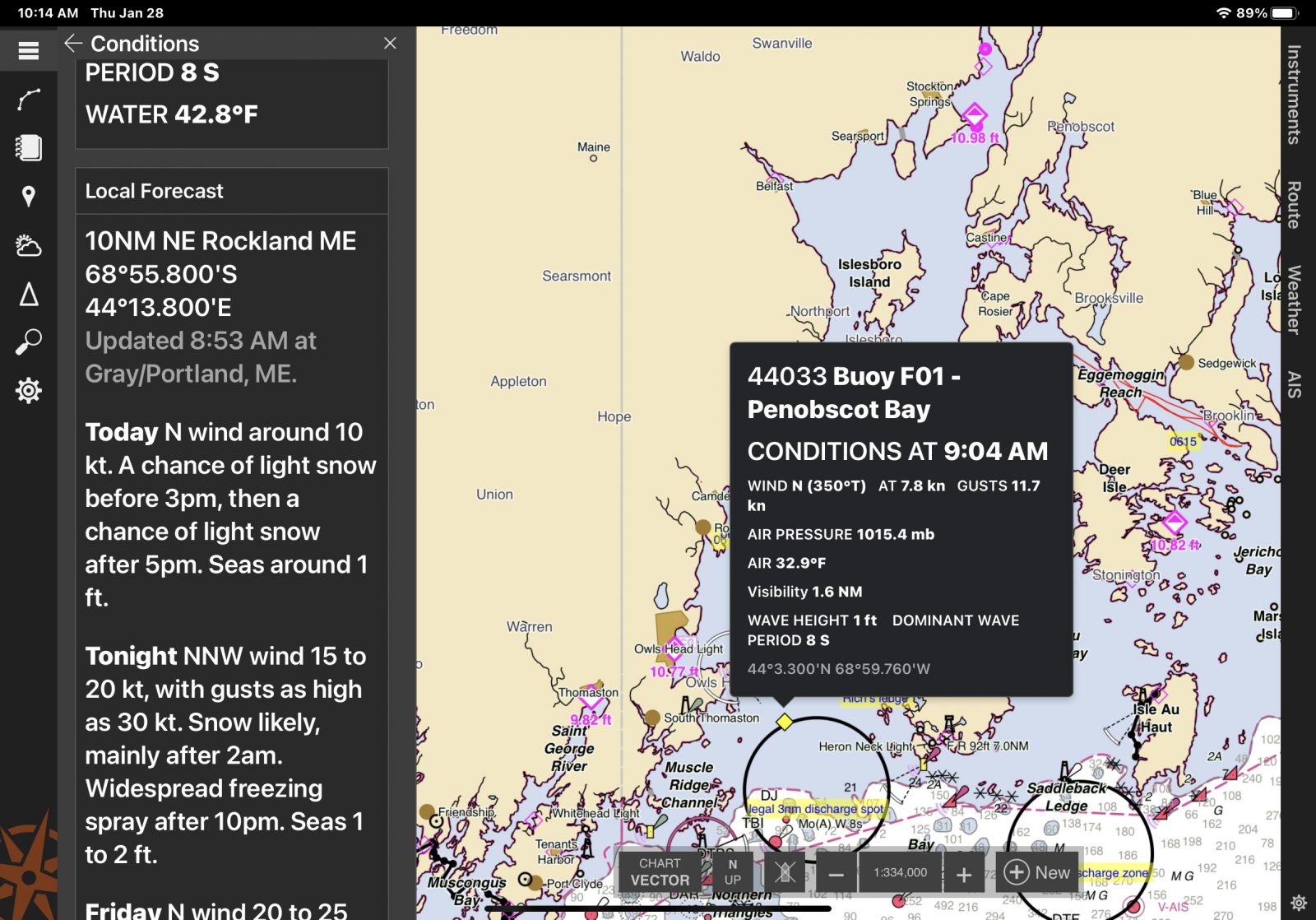 I've been particularly pleased to have the familiar CE "Conditions" info on my iPad because the display mode — which comes up when you tap the sun/cloud main menu icon at left — includes pretty much all the tidal/weather data and forecasts I like to use frequently. True, the small NEXRAD presentation (not shown above) is quite minimal, but I've got the Storm Radar app for that. And I love how the NOAA text forecasts and the nearest weather buoy list change as I pan/zoom the chart to see what's going where the weather is coming from (or where I'm headed).
Note though that Conditions info currently seems only available for the USA, and similarly, the CE app can only display NOAA raster and vector charts at this point (with Canadian charts purportedly on the way). Plus even some Yankee boaters prefer gridded weather data presentations like what you'll find very nicely done in TZ iBoat v2 (which Fred Khedouri reviewed here).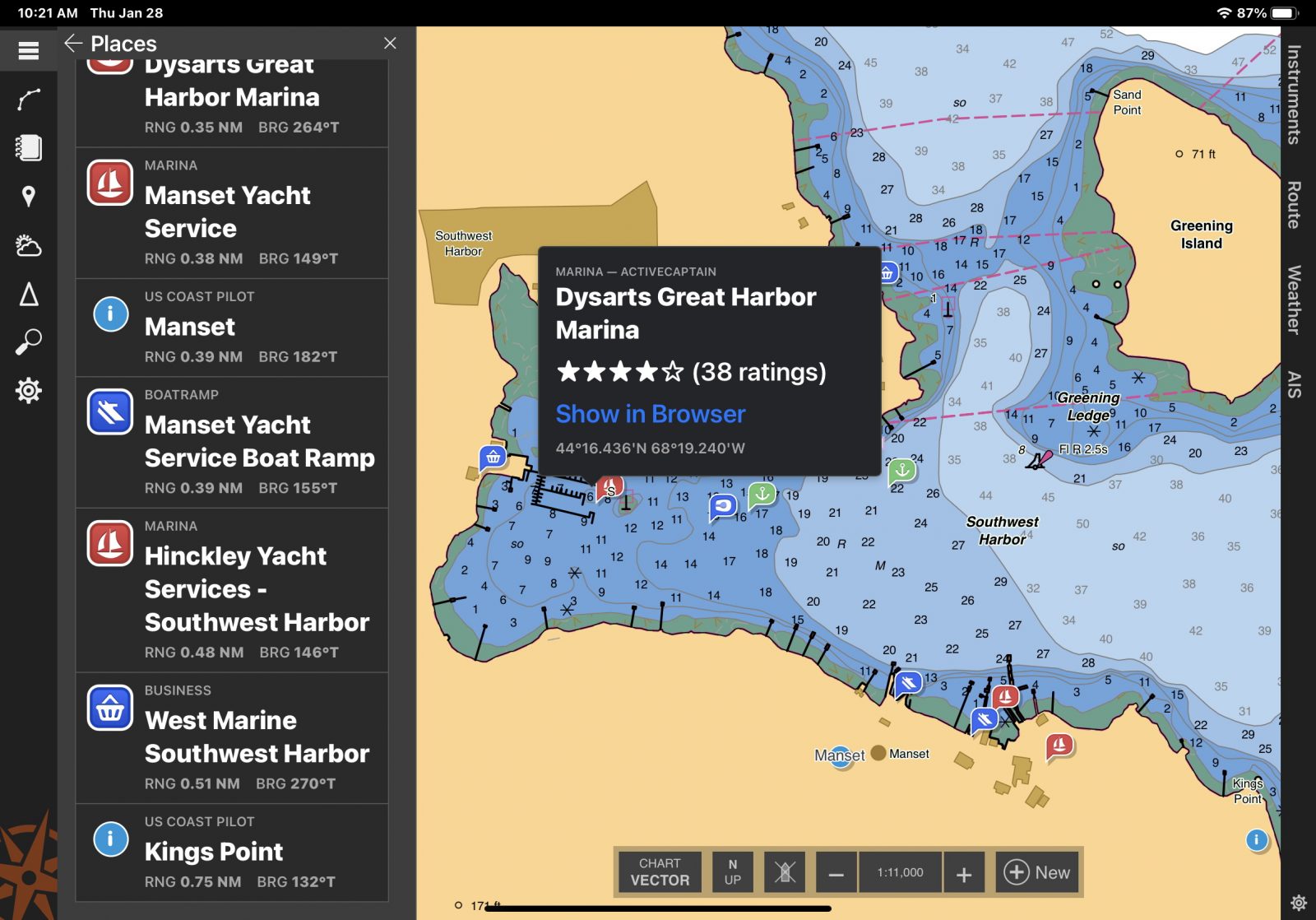 The Windows version of Coastal Explorer has offered tight integration with ActiveCaptain crowdsourced points-of-interest info almost since AC began, and that too is very handy to have on an iPad. And again it's a viewing mode like Conditions, but called Places (the POI main menu icon), which means that when you're not looking at Places, the various AC marina, anchorage, etc. icons are not cluttering up your chart view.
You can also write AC reviews right in the CE app, and in addition to all the crowdsourced info, Rose Point has geolocated a great deal of official US Coast Pilot information that can also be consulted. And get this: All the Conditions and Places data is fully available in the CE app without a subscription, which is to say FREE. In fact, I wouldn't be surprised if the CE app becomes a popular way to access ActiveCaptain — much covered on Panbo — and I'm hoping that it will encourage more skippers to write reviews.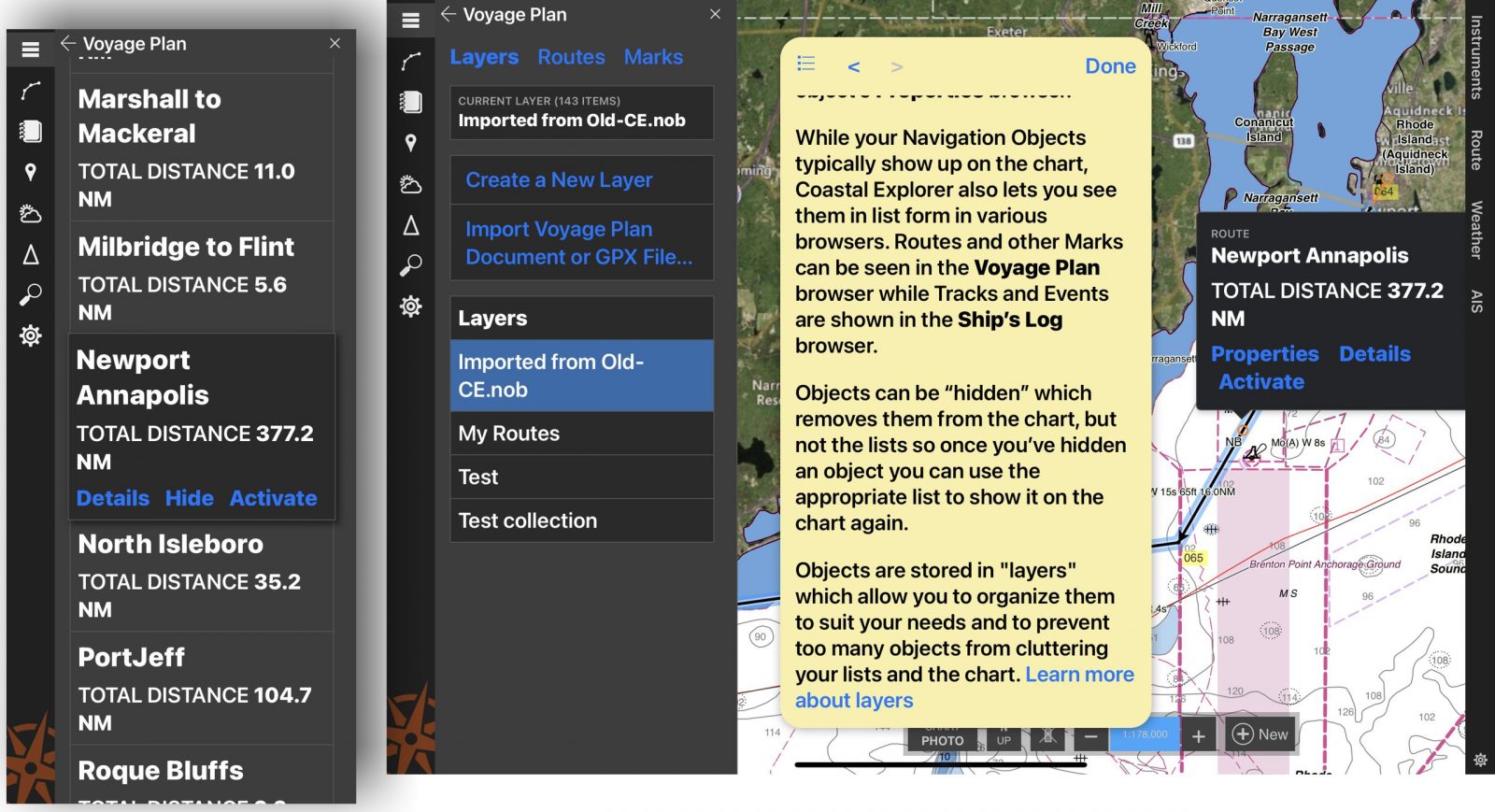 Unlimited route and waypoint creation does not require a subscription either, but I don't see a way to export them, and using the app's excellent underway navigation features does require the $50-per-year subscription. On the other hand, that's a reasonable fee if you use the app much, and I also think that all the excellent nav apps available these days are a good justification for an 11- or 13-inch iPad pro. Moreover, iOS CE's import functions work quite well with both Rose Point's native .nob format and standard GPX files (even ones created using the Navionics Boating app's superb auto-routing).
Another area where the Coastal Explorer app excels is when you interface it with NMEA 0183 and 2000 boat data coming to your iThing over WiFi. It's the only nav app I know of that lets you set up and name multiple interfaces (iNavX excepted), which was great last summer when I was using beta versions on both Junior and Gizmo, and is also nice on a boat with multiple WiFi data sources. It's also the only nav app I know that clearly describes the data it's getting, and even lets you prioritize sensors. And I can only imagine how much more this interface can do when the WiFi source is Rose Point's own Nemo gateway, which impressed me even in its early days.
Of course there's lots more to the CE app than I've covered here, and probably not all good for some users. For instance, I'm still having trouble touchscreen manipulating route waypoints, especially on the vector charts where a finger tap might get cartographic detail instead. And unfortunately, NOAA raster charts can not be downloaded for use without an internet connection because the Rose Point developers couldn't get the process up to their speed standards during the beta testing (I'm hoping they'll try again eventually).
So, if you have an iPad or iPhone, I encourage you to check out the new Coastal Explorer app, and hope you'll share your experience here.