Mr T goes to sea, hopefully leaving us a safety lesson
I was on Sombrero Beach in Marathon, Florida, yesterday when the loggerhead sea turtle known as Mr. T was released into the ocean after several months recuperating from a torn lung (probably caused by a high-speed boat hit). It was easy to presume his joy — he powered flipped the last few feet of beach without hesitation — and the high emotion of the crowd was both undeniable and very special. Just look at the faces of the fellow boating writers who had just helped the Turtle Hospital staff to lift Mr. T out of his travel tray.
We're here at a media event organized by Navionics and Garmin with further sponsorship by a slew of fishing and marine product companies — showing off lots of interesting stuff — plus major help from the Florida Keys & Key West tourism council.  The latter advocates for responsible tourism and has made a good case for taking a green vacation to this string of low islands completely surrounded by a huge National Marine Sanctuary.
Visiting The Turtle Museum is tiptop green Keys vacation in my book. The fact that it's in an old motel right on Rt. 1 — the operating rooms in what used to be an adjacent strip club — only adds to its charm, because the nonprofit is not remotely like the weird Florida roadside attractions so wonderfully lampooned in Carl Hiasson novels (don't visit FL without one).
The Turtle Hospital is the real deal. Picture a great many sea turtles of various species, size, and states of health being tended by a large corp of volunteer and professional staff in a smartly evolved facility, then add visitors young and old entranced with the patients, and learning about them.
Like why does the loggerhead Teddie (above) have flotation fastened on one side of his shell? Well, he too was probably hit hard by a boat which caused internal injuries limiting his ability to fully expel the air in both lungs and then a rescue operation when he was found floating around at an awkward tilt. So the blue foam blocks are helping to keep Teddie on an even keel while he recovers.
Obviously boaters should try very hard to avoid hitting a turtle, but if you do see one floating for longer than a few serious breaths, he or she may be in trouble. Do not touch the turtle — they are all protected — but do call the USCG, a "great partner" according to The Turtle Hospital.
The electronics and safety part of this story involves the satellite tracker that was already glued to Mr T's broad back when we said our hellos yesterday. To my surprise, it's one of many hard shell turtle trackers offered by Wildlife Computers (the SPLASH10-F-385 I think) and the Argos satellite communication system it uses is largely dedicated to wildlife tracking and other scientific research.
But consider how hard it is to receive GPS signals and/or send data to a satellite from a device that is usually underwater.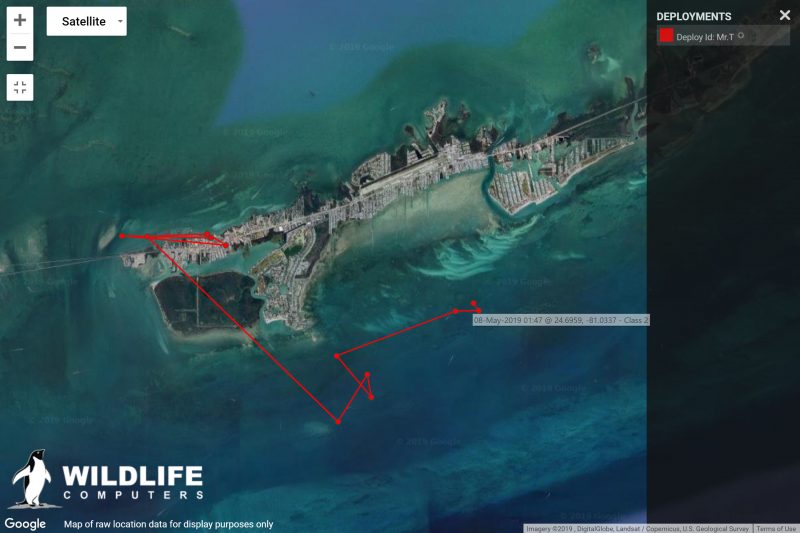 But I wasn't thinking about that when I kept checking to see if Mr. T's tracking site was online last night, nor when I finally found it early this morning. I'm emotionally involved with the big turtle now, and I wanted to see how he was enjoying his freedom. So my mood went foul when I saw that the tracking was at least erratic for several hours and then went dead in the middle of the night.
Was Mr T in trouble again so soon? Had he gotten rusty about the male loggerhead's always-at-sea lifestyle during those two operations and the rehab in confined spaces, not to mention the friggin paparazzi like me? I was worried.
But then I remembered the lesson I'd learned about satellite trackers like the Garmin inReach or Globalstar's Spot that many of us use on boats to show family and friends our progress when we venture beyond cell phone range. Be very careful about the expectations you set up, especially if you don't have other satellite communications onboard. While it can be very reassuring to watch a boat track across an ocean in near real time — and quite easy and inexpensive for the boater to make that happen — it can also be terrifying for family and friends if the track just stops.
So thanks to Mr T for a reminder about how enabling technology can also sometimes cause heartache (though I suspect he cares not a wit). And cool that he showed up on the tracking site again this afternoon, apparently headed for Miami. Moreover, I found the Mote Marine Laboratory sea turtle tracking site, where you can follow several loggerheads including Mt. T and where they also carefully explain all the ways it can go wrong. I feel better.