Moving forward after Ian, and a boat search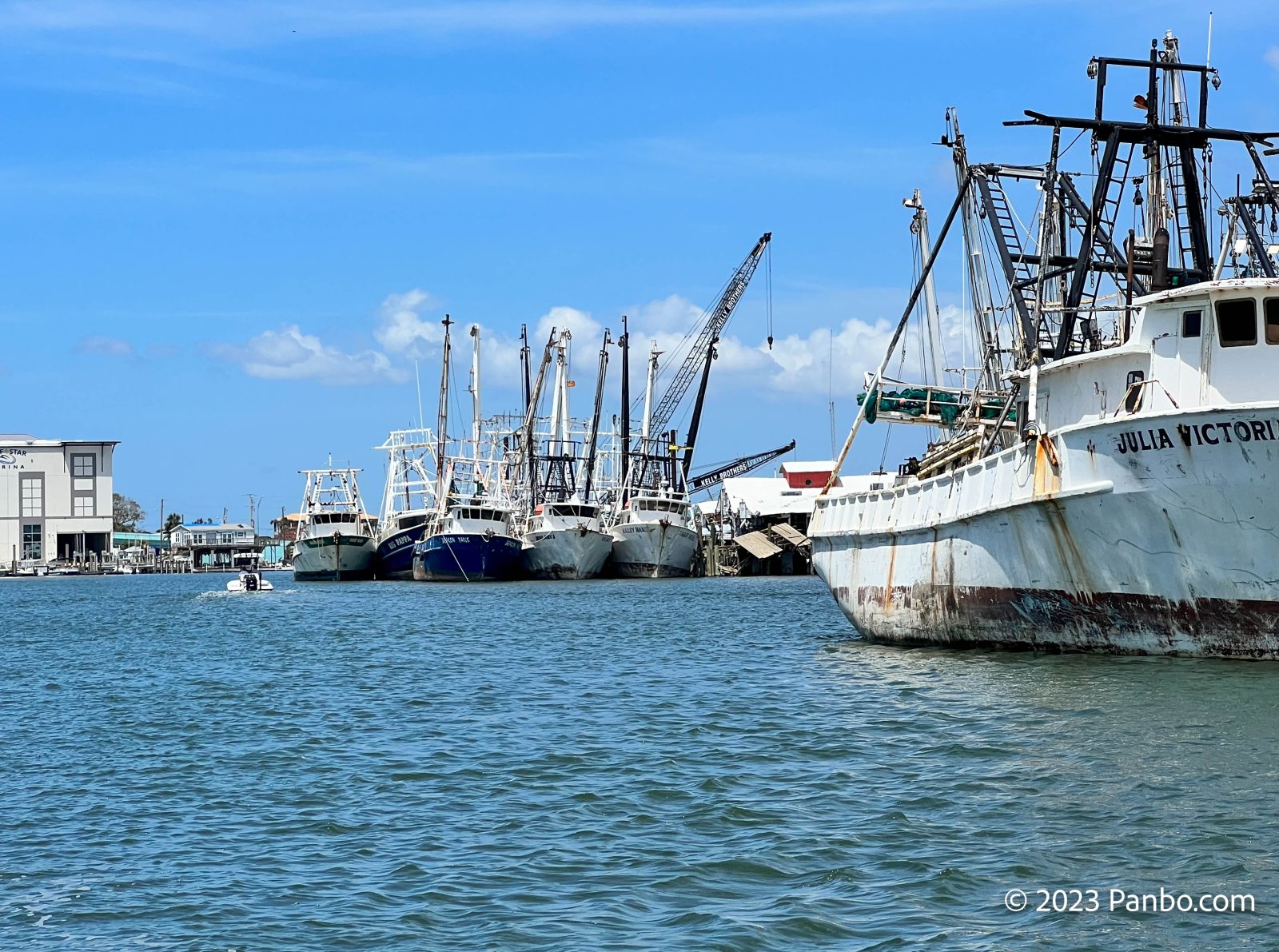 It's been just over six months since Ian ravaged Southwest Florida and, with it, the life my family and I built in Fort Myers. Ian sunk our home on the water, Have Another Day, and destroyed the marina we'd called home for three and a half years. Our lives have continued. We are settled in our house, we've found a place to keep our center console, Panbo(at), and overall we don't have much to complain about, but boy do we miss living on the water.
My family and I regularly get together with former Legacy Harbour neighbors. The primary topic of conversation is keeping up with where everyone ended up, who has bought a new boat, who bought a house, and who moved far away. Invariably, at some point, someone says something along the lines of, "We didn't know how good we had it." We had a beautiful marina in a beautiful setting, downtown Fort Myers' restaurants and shopping were just over half a mile away, a grocery store was just a quarter mile away, and we all lived on the water.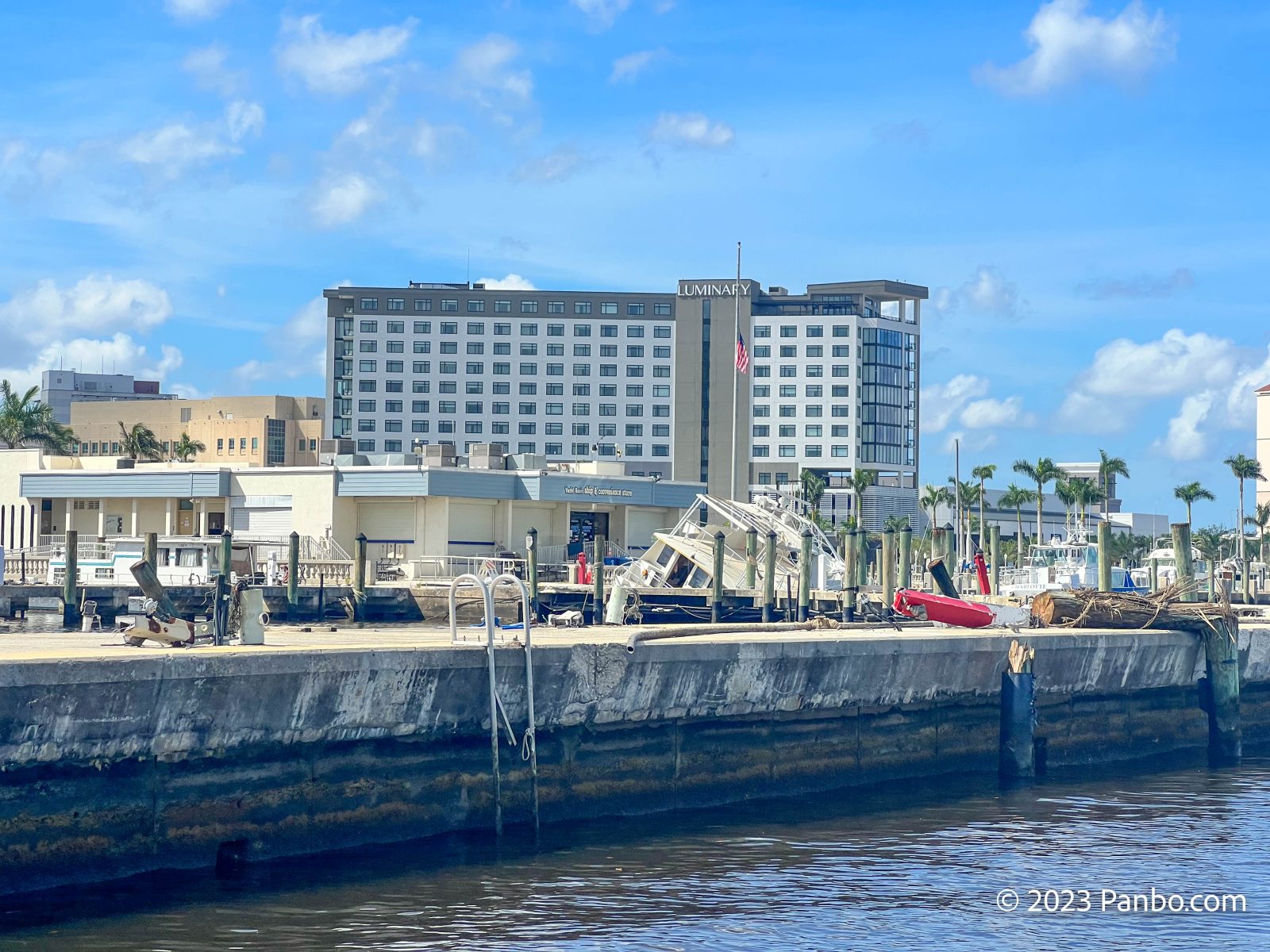 The good life we lived has been replaced by navigating the tricky waters of insurance, a place to keep a boat, and locating a good boat in a challenging market. Each of those three challenges serves as a reminder of my post-Ian theme: we didn't know how good we had it. Legacy's annual contract rate was $18 per foot per month. That meant that our base dockage for our 57-foot boat cost $1,026 a month. For a very manageable cost, Have Another Day had a home my family and I loved.
Of the area marinas open to the public before the storm, only Sweetwater Landing Marina in North Fort Myers is operating at full capacity. Moss Marina, Salty Sam's, and Snook Bight in Fort Myers Beach as well as Cape Harbor Marina in Cape Coral are operating portions of their marinas but also have significant damage. The city of Fort Myers Yacht Basin, Legacy Harbour, The Marina at Edison Ford, Tarpon Point Marina, Cape Coral Godman Yacht Basin, Pink Shell, and more are all closed.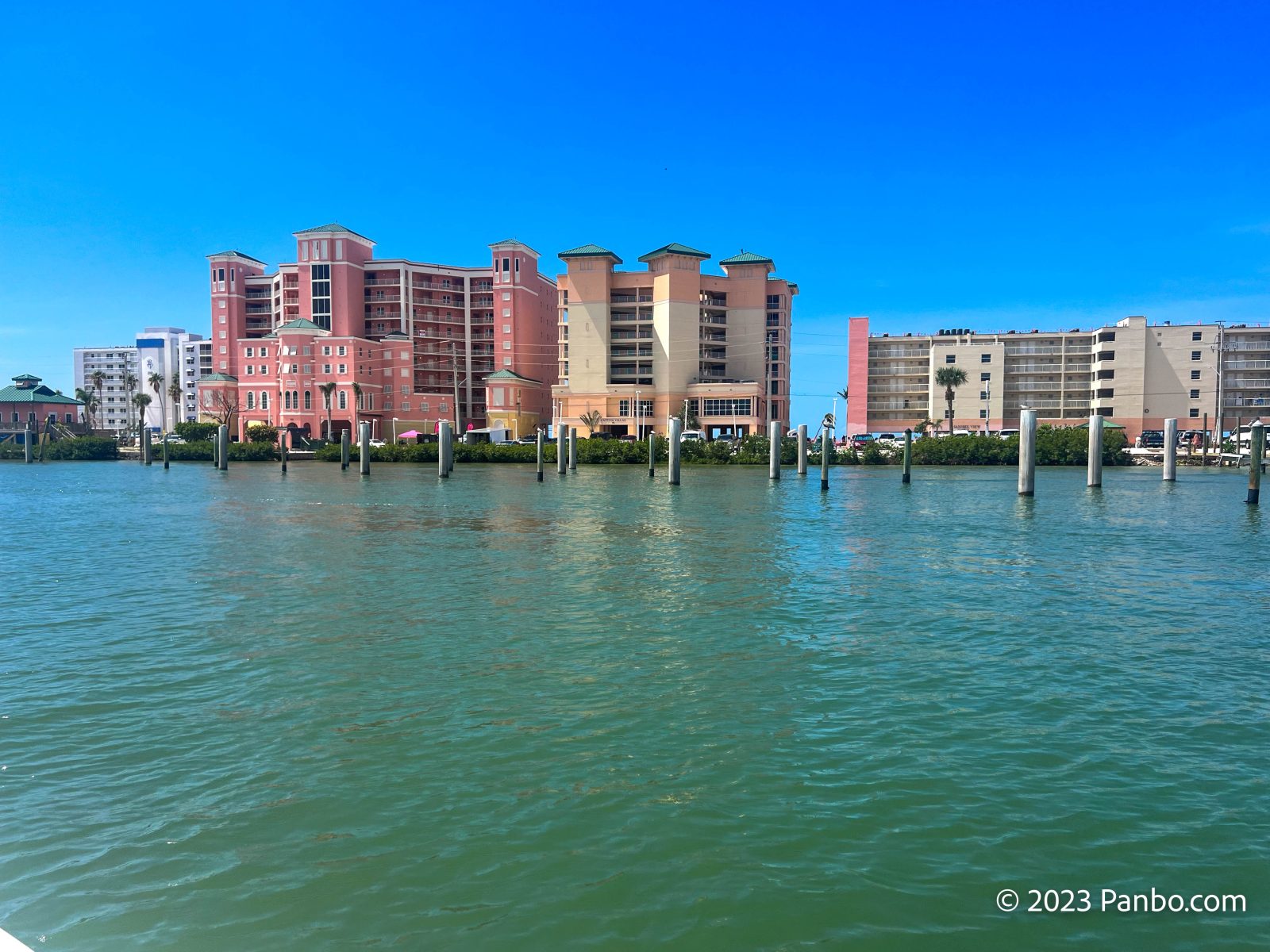 After that bleak recitation of all the closed facilities, there are the first glimmers of hope. The first picture in this article is the Fort Myers Beach shrimp fleet back in the water. Toward the end of March, Resolve Marine Group put the last shrimp boat back in the water. Resolve raised nearly all the boats at Legacy Harbour as well, including Have Another Day. Watching them operate both at Legacy and at the beach, I gained a huge respect for the difficult work they do.
Pink Shell Marina in Fort Myers Beach has received new docks and plans to start reconstruction on May first. The entire dock system floated cleanly off the piles during the storm, which gave them a head-start on rebuilding. Their website currently states the marina will be open this summer. The Marina at Edison Ford is waiting for their new docks to arrive and hopes to be open by the fall. Although these are two of the smaller marinas in the area, I think it will be a huge mental boost to have facilities reopen.
The search for a new boat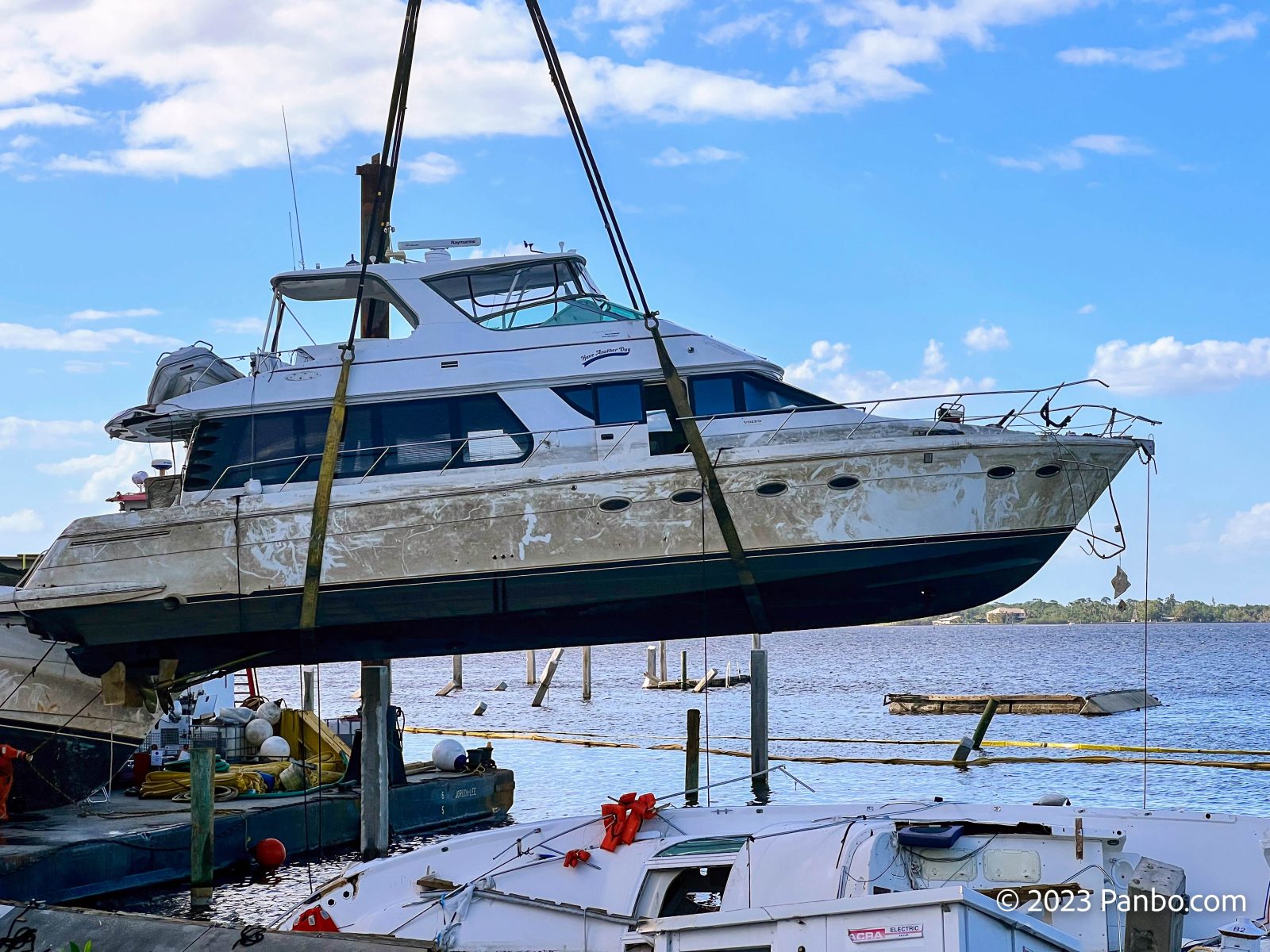 I will admit to a post-storm funk that left me unwilling to consider a new boat in a new location. Like a petulant toddler, I just wanted what we had back. Absent that, I couldn't find interest in a new arrangement. But it wasn't because of the boat; it was because of the life. Make no mistake, I loved our boat, but I knew she wasn't perfect. I also knew from the moment we lost her that another Carver Voyager wasn't in our future. Heck, we've known for a long time that a planing, smooth-bottomed production boat wasn't what we were after.
Six months later, I'm ready to start thinking about a new boat and a new setting for that boat. Accepting change is going to be key to our future. The past doesn't exist anymore, and at least for marinas in Fort Myers, it isn't coming back for a long time.
So, with our new reality, we've had to figure out how to move forward. Since shortly after the storm, my wife, Laura, has been suggesting ways to get back on the water. As I mentioned, until now, my petulance has prevented me from considering those options. Now it's time to try and find a new path.
There are three obstacles standing between us and getting back on the water in a cruising boat. They are: insurance, a place to keep a boat, and finding the right boat. I suspect that list is properly sorted from most to least difficult.
Insurance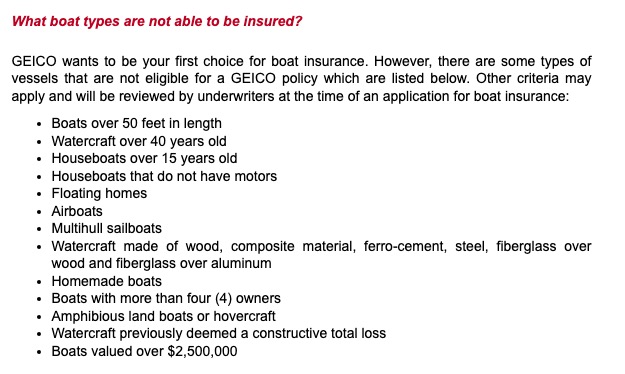 It's estimated that marine insurers lost more than one billion dollars in Ian. This loss comes as insurers were already significantly tightening underwriting requirements to control their risk. Geico, our carrier on Have Another Day, announced well before the storm that they wouldn't insure boats over 50 feet. We felt fortunate when Geico renewed our policy last year. Doubly so when we quickly received payment for our loss while neighbors fought with their carriers. But, moving forward, Geico makes plain in black and white what they will insure. If we want to insure with Geico –and if they will take us after paying a total loss claim for Have Another Day— we have to stay under 50 feet.
The second major factor will be hurricane restrictions. My hurricane plan for Have Another Day called for staying put at Legacy Harbour and securing the boat. The marina had survived multiple serious hurricanes with minimal damage to the marina and boats. In retrospect, that plan was pretty clearly inadequate. So, moving forward, we will need to have a better hurricane plan. What I'm hearing anecdotally is that most carriers are enforcing hurricane restrictions. Typically that means the boat either must be stored on land in an approved facility or be located north of a specified point, typically north of Florida entirely.
A new home for our new boat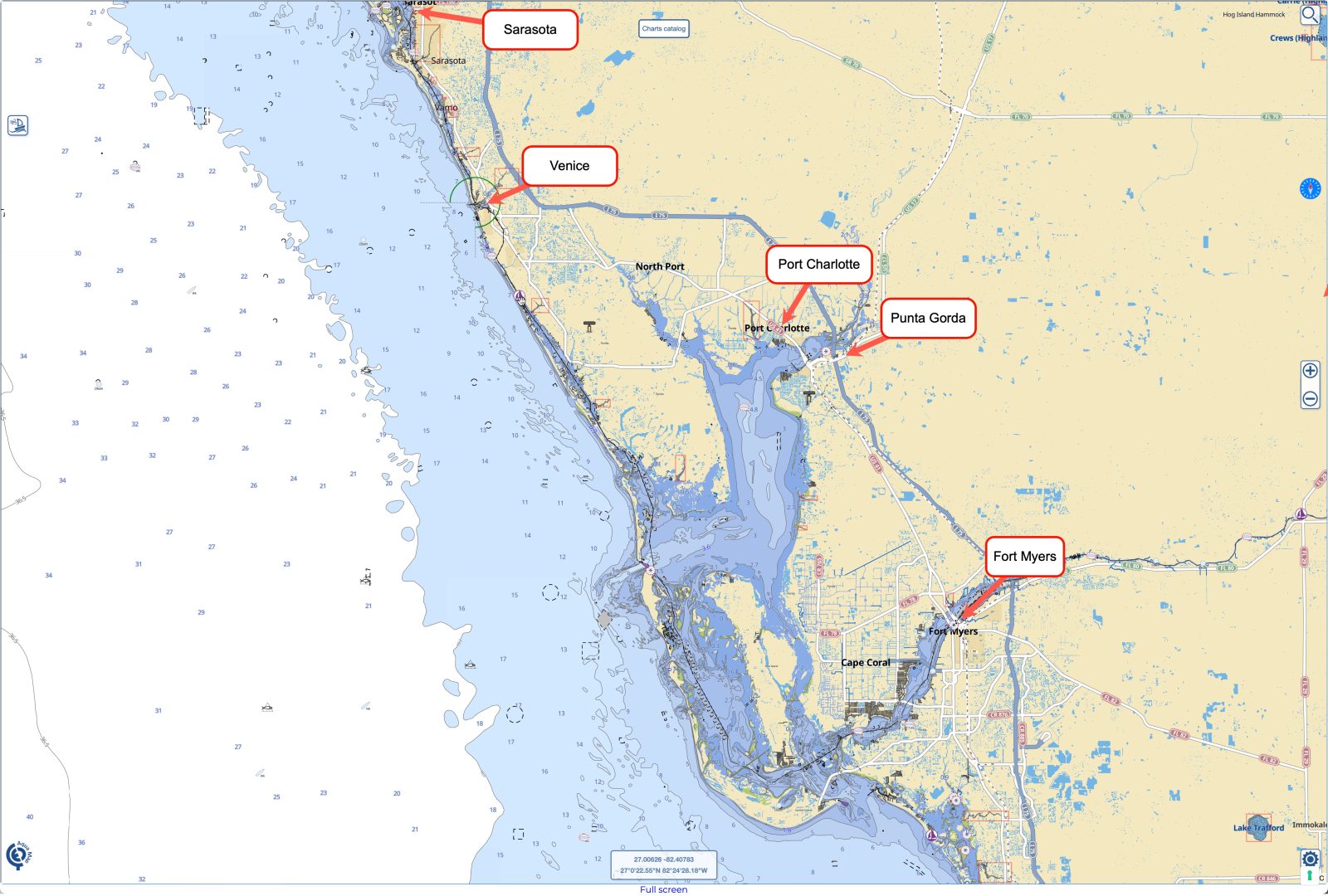 As I've detailed above, we're going to have to find a new place to keep a boat. That likely means heading a little bit north. The best case for us is probably Punta Gorda. Laishley Park Marina is right downtown and it's about half an hour from Fort Myers. From there, the options are to move a little further north to Port Charlotte, Venice, Sarasota, Bradenton or communities around those, or south to Naples or Marco Island. But, the supply of slips is already limited and Ian's damage only makes that worse.
With marinas, like insurance, we will have more options if we keep the size of the boat down a little. Often, marinas have more smaller slips. So, hopefully, if we go a little smaller, we won't size ourselves out of places. Ultimately, I'm not sure this is a huge difference. In Florida, we've rarely been told we're too big, but every little bit helps.
Perhaps the biggest adjustment with a new marina will be adjusting to the cost. I'll come back to my theme of not knowing how good we had it. A quick survey of the available marinas suggests we may pay close to double what we were paying at Legacy. I would be thrilled to be proven wrong, but that certainly seems to be the way things are headed.
Picking the next boat
Due to all the factors I've already discussed, it sure seems like we can make things easier on ourselves by staying under 50 feet. We don't anticipate being able to live aboard, so staying under 50 feet seems much more doable for us. As it stands now, this boat is likely to play two major roles: a floating test platform for the myriad stuff I install and test and a cruising boat to travel for a few weeks at a time a few times a year.
My oldest daughter, Molly, is a sophomore in high school this year. In just a few years, she's going to be leaving our home, whether on water or land, to attend college. So, the factors that existed five years ago when we were looking for a boat are different now. So, our search evolves. No longer are we trying to find a three or four-stateroom boat. Instead, we'd be happy with two staterooms as long as the sleeping arrangements in the second stateroom work for two sisters.
But, many of the other factors I detailed five years ago are still there. Here's an updated version of the search criteria I had five years ago:
A keel extending below the depth of the props – it's possible this need is a little less urgent if we can drop the overall draft, but I'll definitely sleep better knowing I have some protection
2 heads
Full walk-around side decks with adequate safety railings
Portuguese bridge highly preferred
Pilothouse with ample console space, chart table, helm seats, and good visibility
Good efficiency around 8 kts with engines sized to low-speed cruising – I'd still rather not maintain large displacement aftercooled turbo diesels if we're going to run them below the turbo's RPMs.
Four stroke, electronically controlled diesels. I mildly prefer twins, but singles are okay too.
Large fuel capacity – last time around I called out a minimum of 1.250 gallons, that's going to be harder to find sub-fifty feet, but I hope to be around 800 gallons
Stabilized – fins or gyro
Draft of 4-feet or less
Air draft below 20-feet, or the ability to get there without a sawzall
Good natural ventilation
Galley equipped for cooking for a family of four
Classic design is strongly preferred. I'm a sucker for the styling of Flemings, Grand Banks, DeFever designs, etc.
For as long as I can remember, the Fleming 55 has been a bucket list boat for me. I've always figured there would come a time when I would own one. If you look at the list above, it checks nearly every box. Except, with my new criteria and the 55's LOA of over 60-feet, it doesn't check the biggest box of them all. So, it looks like I might have to wait for that one.
The Symbol 45 Trawler hits on almost all of my desires, but the sleeping arrangements in the second stateroom are difficult. Additionally, there's only one on the market right now and it looks to me like the pricing on that one is pretty high. There are contenders from Selene, Ocean Alexander, Grand Banks, Sabre, and many others. I've always had a soft spot for Nordhavns, though I suspect they are the wrong tool for the job we have right now.
Settling in for the search
I expect this search will take us some time. That's okay, we'd like to find the right boat and place to keep it and insure it well for a (somewhat) manageable cost. Right now, that seems like a tall order. But, it's a lot more fun to look at boats than it is to look at wrecked marinas. So, for now, if you need me, I'll be on Yacht World shopping. That said, Panbo's readers are some of the most knowledgeable I know about all things boats. So, I'd love to hear from all of you about what boats you think we should include in our search. I'm not sure anything is off-limits if it works for our needs. So, speak up in the comments below. Thanks!