Trial Run: TZ iBoat v. 2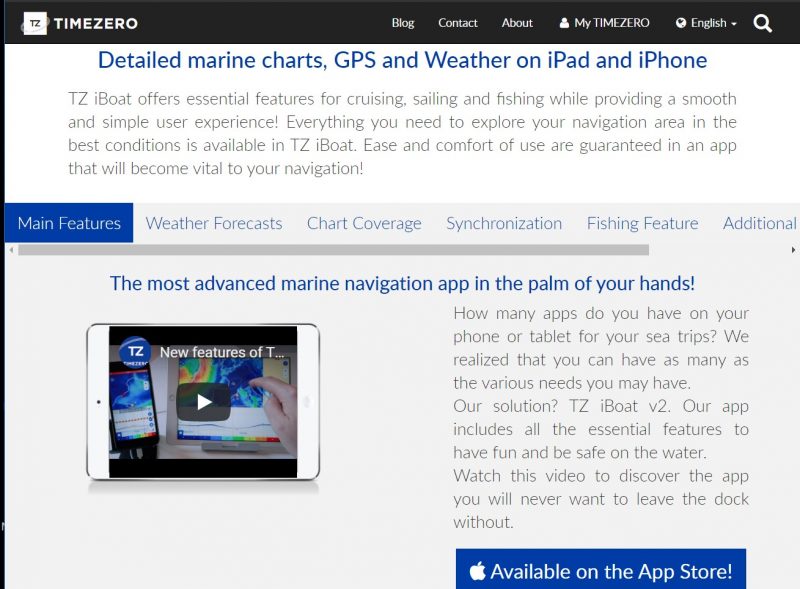 My iPad is a veritable archeological dig of marine navigation apps. At some point over the years, I have installed just about every major release: C-Map Plan2Nav, Navionics Boating, NV Charts, iNavX, AquaMap, Garmin Bluechart Mobile (that became Active Captain), and some others lost to memory. It's the iPad equivalent of Gizmo's radar mast. With that history, it should be no surprise that I downloaded and installed TimeZero's TZ iBoat app version 2 when it was released a few weeks ago.
From my observation, users of iPad navigation apps tend to fall into three broad categories: those who primarily use them off the boat as planning tools, those who use them on the boat in conjunction with or in lieu of a traditional marine chartplotter or multifunction display, and finally the folks who download them and never really use them much. I would describe myself as in the planner category, although arguably I may also qualify for the third category of download and soon forget.
Version 2 of TZ iBoat incorporates many new features that reflect the close collaboration between its original developers at MaxSea — which acquired Nobeltec in 2009 and eventually became TimeZero — and their longtime partners at Furuno. So users of Furuno TZtouch2 and TZtouch3 multifunction displays will find the TZ iBoat interface very familiar. Many of the function gestures are identical, such as swiping the left edge of the screen to reveal the data boxes or tapping the chart display to drop a waypoint or to start building a route. The app can now run on both iPads and iPhones.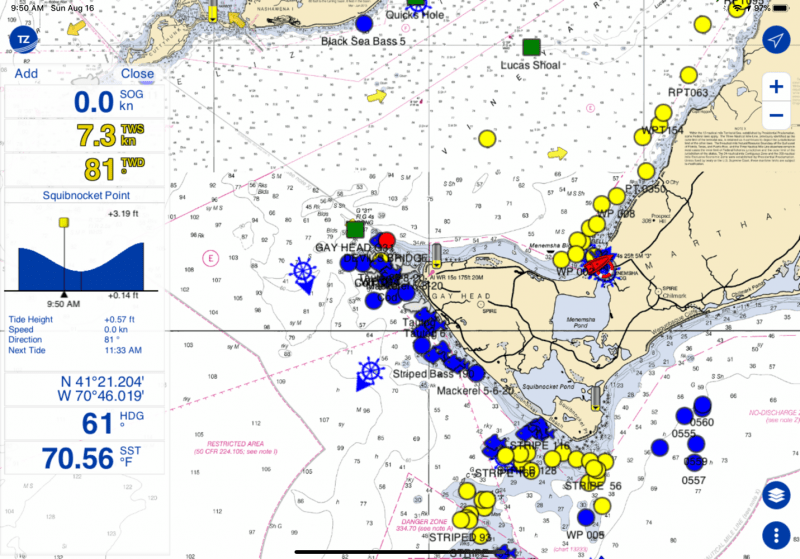 The iBoat chart display itself looks quite similar to a TZT plotter, as can be seen by comparing the raster chart seen on my iPad above with the same general area seen on my TZT3 16 below. (Note that I reviewed my boat's extensive new Furuno system in July.)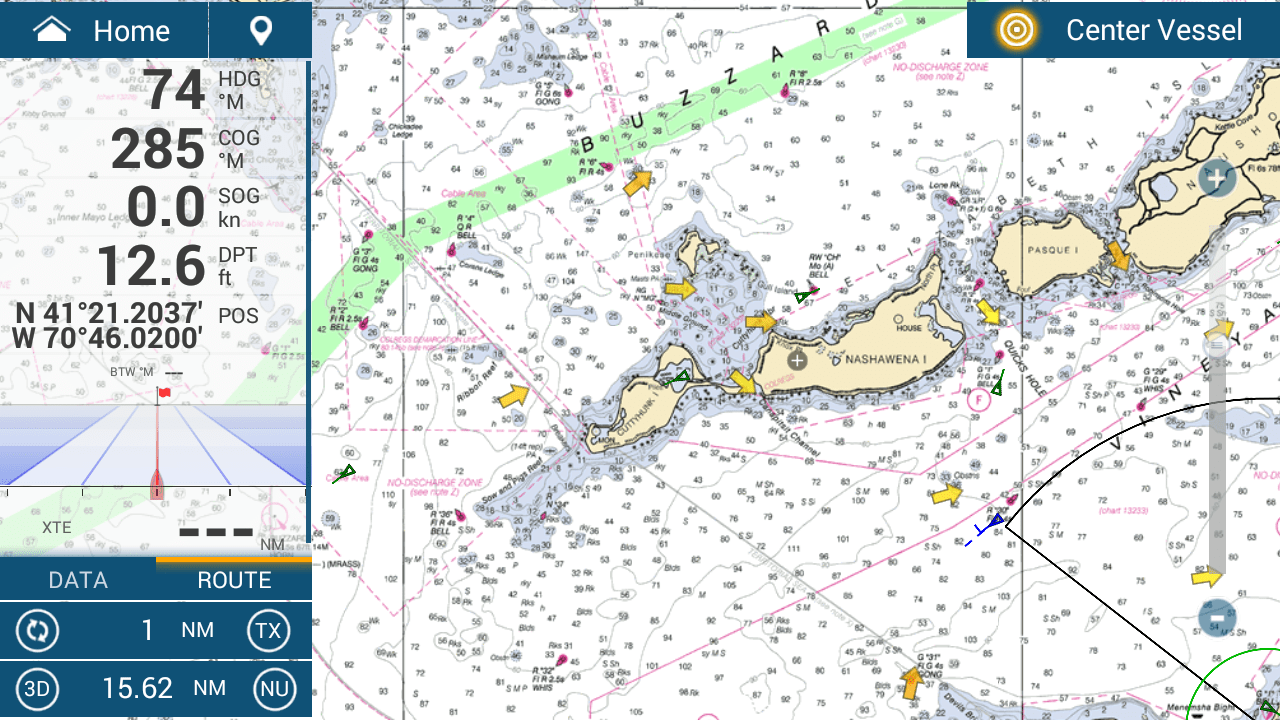 For someone who has a TZT2 or TZT3 on their boat, the close integration makes TZ iBoat really the only app worth using. Not only is the interface familiar but more importantly, the TZ iBoat app can maintain a synchronized copy of all waypoints and routes. Moreover, if you use the "create local network" function on the TZT2 or 3 and then join that WiFi network with your iPad, TZ iBoat will have access to much of the boat data that MFD sees. For example, as shown in the data boxes on the iPad screenshot above, the app is using the high precision speed and course info from my TZT3 as well as the wind speed and sea temp from my boat's NMEA 2000 network.
As a planning aid, TZ iBoat is by far the best iPad app I have used. It works just like a chartplotter, uses NOAA raster and vector charts, and I find that creating , editing, and saving routes is very simple. While the app itself and basic weather forecasts are free, the detailed raster and vector charts require an annual $20 subscription for US areas and more costly subscriptions for areas outside the US. There is also a more detailed premium weather service for $8.99/month that I did not try. If you have a Furuno DRS4W radome which operates over WiFi, you can get an optional module to display it in the app.
With a TZT2 or 3 on your boat, you don't even have to worry about transferring routes and waypoints to the boat's navigation equipment because it will be done automatically if the onboard equipment has a WiFi connection. In the absence of WiFi or with non-Furuno MFDs on board, it is still pretty simple to export the routes and waypoints created in TZ iBoat to an SD card and then transfer them to the boat's MFDs. In addition to the proprietary Furuno/TimeZero TZD and TZX formats, TZ iBoat will export data in the standard GPX format that can be read by just about every chartplotter. Compared to the other navigation apps that I have used. TZ iBoat is more flexible and incorporates more user functions so even if you don't have Furuno MFDs, it is very much worth considering as a planning aid or backup navigation system.
Another very nice feature of TZ iBoat, and much improved in v2, is the free weather forecast that can be overlaid on the chart screen. The forecast data includes wind, waves, air temperature, rain, currents, and atmospheric pressure. You can also download weather data for offline use when no internet connection is available. The Layers settings menu lets you choose which elements of the forecast are displayed, and although it is possible to show all of the forecast elements at once, I found it easier to view one or two at a time.
Above is a screenshot of the air temperature and atmospheric pressure for the northeastern US and a much smaller scale forecast of wind, which is Windy style animated when viewed live but can also include traditional wind barbs if desired.
In fact, the app lets you view forecasts in many ways, including a metrogram bar above the time slider. (When online the time slider accesses many days of past and future forecasts, so right now it's a fascinating way to visualize the "rapid intensification" of Hurricane Laura.)
I think that TZ iBoat would work quite well standalone as a simple navigation tool in a pinch if a regular marine chartplotter is not available. However, using an iPad or iPhone on the boat to navigate from the helm is a real challenge and frankly, I don't think it's suitable for regular use at sea. The iPads aren't waterproof without an expensive aftermarket case and the screen is barely readable in full sunlight. Too much sun heats them up and triggers a protective shutdown. Without an external power supply, the battery won't last for a full day cruise. I suppose it would be a great thing if you got trapped in fog on your dinghy and could whip out your phone and figure out your location and how to get back, but that's about it.
On a larger boat, the iPad can be more useful in the salon or lying in your berth. It's pretty nice to be down below taking a rest while able to check on the person you left at the helm. I am reminded of a good friend who went below for a nap on a long offshore fishing trip and came back to the helm to discover his "relief" crew had disengaged the autopilot to dodge some lobster pots and managed to make a 180-degree turn in the dark and blissfully retraced 25 miles of their route.
All in all, I'd say that TimeZero has created a new benchmark for navigation apps.