ScanStrut Rokk Mini, premium marine mount system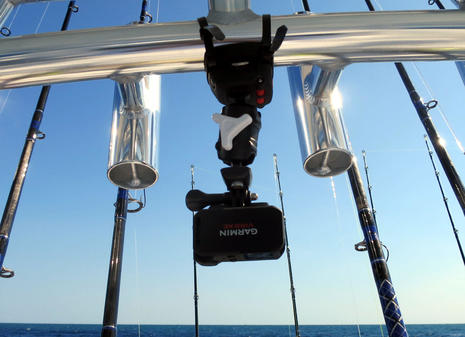 I used the Garmin demos in Miami to also test the new Rokk Mini mounting system recently introduced by ScanStrut. There are many ways to attach a Virb XE camera to a boat, as I'll detail further down, and almost all are less expensive than the system of three Rokk components at work above. But I doubt that there's any mount with so much range of motion and yet so rock solid when you find the position you want. The Rokk Mini system is also exceptionally well made and can solidly mount phones, tablets, smallish marine displays and more…
I'm pretty sure that the rock solid Rokk Mini mount is partially responsible for the smooth quality of this boat video, which also shows off Virb data integration and which I originally posted at the end of last week's Garmin demo entry. (The Virb XE camera is image stabilized so that's another contributing factor.)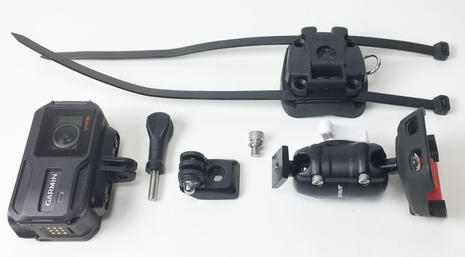 Shown above is the mount system used for the video, with more detail at ScanStrut's Rokk Mini website. At lower right is the Adjustable Body, which is always required regardless of which mount bases and device plates are used to create your particular mounting solution. The body uses the same impressive metal-on-metal ball and socket design as the original Rokk mount system and the top plates are interchangeable.
The Cable Tie Mount base at the top of the photo has a rubbery concave boot that apparently helped me make the mount really tight with just hand pull on the heavy duty ties (which I've already used twice now, and then released with a small screwdriver despite the skepticism of some colleagues). At lower middle is the RoKK Mini GoPro Plate, which has a square indentation underneath that perfectly fits the metal square on top of the Adjustable Body.
Whereas Garmin put a GoPro style mount attachment point on the Virb XE, all this goes together neatly and Virb owners also have a wide choice of Garmin mounts and GoPro mounts. Hurray for a defacto standard! (And note that Garmin now offers a 32 foot long 10-30 volt DC power cable with the needed voltage conversion and waterproof connector so that a Virb X/XE can run continuously as a boat cam.)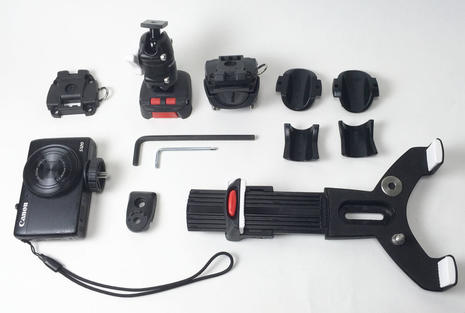 Here's the Adjustable Body again, only this time standing up and showing the big red button that easily snaps it off a mount base, though there's zero wiggle when snapped on. Also seen in the back row are the screw-down Surface Mount base and the Rail Mount base that includes three sets of grip pads to fit .75, 1, and 1.25 inch rails (also known as 19-34mm tube stock). That's the 1/4 inch thread Camera Plate attached to my little Canon, but the Rokk Mini can definitely handle a lot more weight and bulk. In fact, that other plate is designed to fit Raymarine Dragonfly 4 and 5 inch plotter/fishfinders (and I understand that ScanStrut is working on more plate designs).
I included the two allen wrenches needed to make the plate and rail mount installs in the photo (which you can click bigger like the rest), and, finally, there's the unusual Universal Tablet Clamp that may well become a popular Rokk Mini component. Note the thick beveled SS washer and machine screw that allows some slide adjustment relative to the Rokk Body but also a rock solid connection. It's that sort of detail that I find pleasingly premium. Retail and street Mini pricing can be seen at Defender and on Amazon among other places (and don't miss special bundles like this tablet set).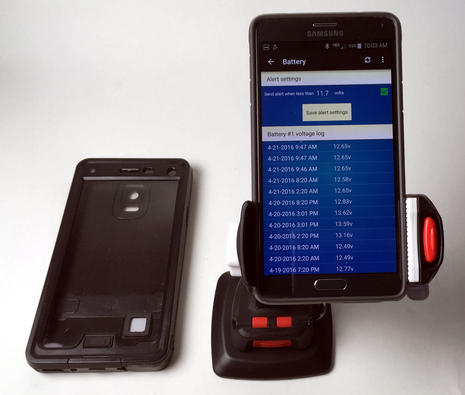 There's also a Rokk Mini Universal Phone Clamp, though "universal" is a slippery term when phones get as big as my 3-inch wide Samsung Note 4, especially because many marine users are going to include a waterproof case. The Note 4 does fit in the Clamp with just a thin bumper-style case, but the somewhat bulky Ghostek case won't fit even if I removed both of the original white soft grip pads (which are not well cemented to the Clamp, though that may just be an issue with early production units). However, most phones are going to mount rock solid in this Clamp regardless of case (or the grip pads, which really aren't necessary). Incidentally, that's the Boat Command app keeping a useful eye on the temporary install of one Firefly Carbon Foam battery on Gizmo.
Pardon the sidetrack, but I was a bit surprised when I found that $25 Ghostek Atomic Note 4 case last April because I thought that a decent waterproof case was going to be more expensive. In fact, there were many choices and while most of the brand names were completely unfamiliar, Amazon and other reviews reduce the buying risks. I could have purchased a better designed and more compact premium case made by a company like Otterbox (and certainly would now that the prices are slashed), but I wasn't planning to use the case much anyway. I now notice this trend a lot with accessories like cases and mounts; there's plenty of competition on price with junk not really a viable option anymore, and then at least a brand or two competing on quality, style, features, etc. I think it's a healthy trend, and I will add that while premium for premium's sake is not my style, truly well designed gear is often a lasting pleasure.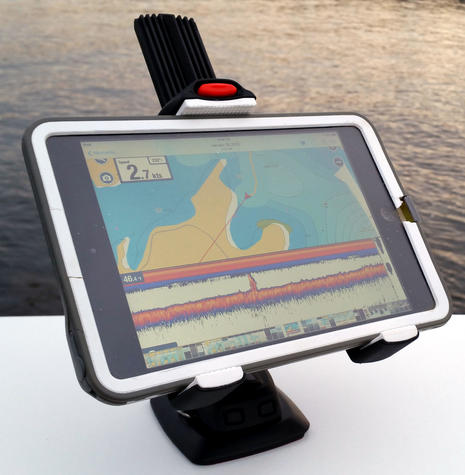 Here's the Rokk Mini Tablet Clamp working with the wide self-adhesive mount base — I haven't tried the adhesive yet, as it's likely a one-time install — to nicely hold my old iPad mini in the premium Lifeproof fre case I first tested in July 2013. I wouldn't trust this case in the shower again, but it's certainly taken a lot of use and abuse. The easel-like Clamp with its ratchet mechanism can hold a tablet very tight. In this case, actually, I learned to go easy with the ratchet, because too much pressure pushes the screen cover outward making touch commands a little harder. The three Clamp projections can also get in the way a bit, but overall the design seems excellent for quickly and solidly mounting most any tablet in most any case.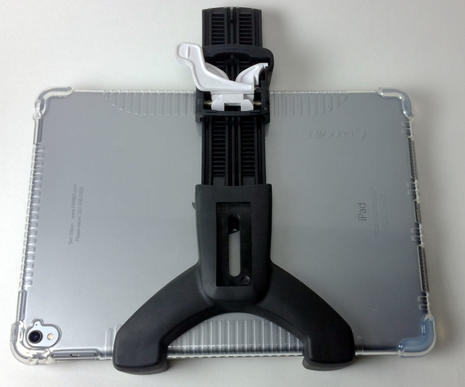 Here's a backside look at the Tablet Clamp without the Adjustable Body and mount base, and it's holding a brand new iPad Pro 9.7. (I bought the most basic model but the difference in how fast charting apps run and how good they look is stunning.) Here it's in a simple bumper case that works fine for day-to-day use, but I'll have to wait a bit for a full selection of waterproof cases. Lifeproof is coming out with a NÜÜD model, which could be a fully protective case that's still unobtrusive enough to use constantly. But I wonder if ScanStrut will come up with a new Lifedge design, and in the meantime a $10 "eBuymore" bag may do fine for an upcoming Navionics/Raymarine fishing trip in south Florida.
Obviously, though, any case is going to work in the Rokk Mini Clamp, which, incidentally, can easily rotate 90 degrees if you want to use the tablet in portrait mode. Actually, small tablets like my old iPad mini can fit into the clamp portrait style, as seen below rock-solidly mounted to a Contender 25 with a Rail Mount base. So far I think that ScanStrut has designed and manufactured an excellent premium marine mount system, and I will keep on testing it.