Garmin VIRB "action" camera, also great on a slow boat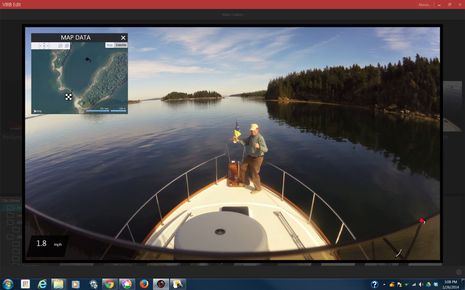 I think that Garmin hit a home run with the VIRB action cameras they began shipping last fall. I've been testing the regular model since late September and the Elite model since mid December, and I can picture all sorts of enjoyable ways to use either camera around a boat. I'm documenting a minor cruising adventure in the scene above, but could be remote controlling the camera to film my crew and me while playing a big fish or rounding a racing mark. However, I've also come to think of the entire "action camera" concept as a bit of a misnomer… 
When you check out the video above — and I hope you'll try the full screen HD (1080p) version, if you have the bandwidth and display — notice how rock steady the image is. Yes, the Virb camera is securely suction mounted to Gizmo's fly bridge windshield and the conditions are flat calm, but there's something else going on here. The genius of the GoPro camera design that started the "action camera" craze is largely a very wide angle lens, which makes it easy to point it more or less in the right direction and also naturally stablizes the video.
  Garmin added a digital stabilization option to the mix; you can see a comparison in this well done video, but actually, I think some of my Gizmo flat water cruising clips demonstrate the effect even better. There's an almost otherworldly serenity to the videos that is nearly the opposite of the frenetic action scenes you'll see in all the marketing, but doesn't it emphasize the joy that is smooth water boating?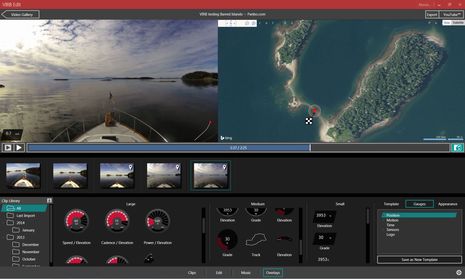 But stabilization is just one small aspect of what Garmin brought to the action camera game. As I wrote last August, the Virb immediately joined Garmin's ecology of handheld GPS devices and activity sensors, not to mention its vast software resources. In the first video, for instance, I'm using a quatix watch as a remote control, which was easy to set up and works fine, and there are various other Garmin devices that will do the job, plus smartphone apps for the Elite (which has WiFi).
  A key element, though, is the new Virb Edit software for PC and Mac that seems to be getting a feature update every week or so. You can edit Virb MPG4 files in any video program, but with Virb Edit it's super easy to throw together some clips and post a finished video to YouTube. It's also where you'll see Garmin's strategy of combining GPS and other sensor data with film. Note in the top screen, for instance, that when you watch a video in Virb Edit it can have a track-on-map overlay. Unfortunately, the map overlay is not included in finished videos — copyright issue perhaps? — but I'm hoping that will change eventually. In the meantime, the edit screen just above shows how you can custom overlay all sorts of data (aside from maps) on the videos you can make now. And note that you can do this with free Virb Edit using any MPG4 file and any GPX data file (at least in my limited testing). Thanks, Garmin!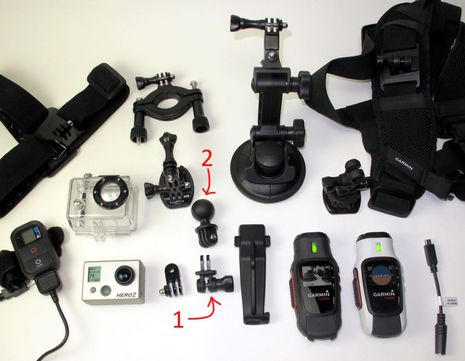 One reason that it took me a while to write up this review is that the mounting accessory aspect is complicated, and I also wanted to compare the Virb to the GoPro Hero2 camera that I've owned for a couple of years. The prospect seemed daunting, but then lucky me discovered the amazingly detailed Virb review at DCRainmaker. The dynamo proprietor of that site, Ray Maker, has perhaps set a new standard for accurate and thoroughly researched reviews — along with a deep knowledge of the competitive gadget universe around his various sports passions — and there's no need to repeat his excellent work (I'm also half hoping he never gets into marine electronics :-).
   At any rate, while highly recommending DCRainmaker for in-depth detail, I do have few comments on the collection of GoPro and Virb stuff pictured above. While the suction mount, handlebar mount, and headband mount were all designed for the GoPro, I've been able to use them fine with the Virb cameras because Garmin thoughtfully included an adapter (1). This also means I can use third-party mounting accessories like that RAM GoPro adapter (2). Note, too, the "Chroma" displays on the Virbs — one showing a live video preview and the other a handy level, because it's Elite and it can — as compared to the sad little LCD on the Hero2…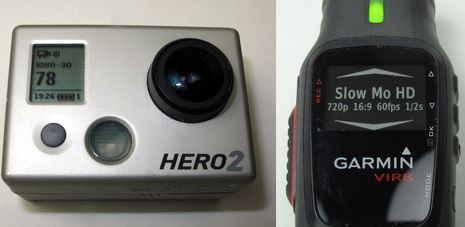 Not only does the Hero2 have less display room for settings information, but you only get two buttons to manage the menus underneath. I found that interface really difficult to use and was tickled by Garmin's 5 button system, which also uses plainer language like "Slow Mo HD" in addition to the resolution and frames-per-second figures. But maybe the newer model GoPros are different, and besides, I'm not really here to tear that brand down anyway. The bigger picture is that the Hero2 was an enormous success even with a difficult interface; doesn't that suggest that an easier-to-use Virb might be for you? 
So how does Slow Mo HD perform? I haven't used it around the boat yet, but this quick clip showed us that our 4-year-old granddaughter is getting some moves from her ballet lessons. And I mean quick. Slide the Virb's big flashlight-style button to turn on camera and start video recording while pointing camera in general direction of subject. Later plug camera into home PC with USB cable and use Virb Edit, which starts automatically, to download and trim video and post on private YouTube site for sharing with family. A few minutes quick.
Virb Edit got a music overlay feature recently, and I hope I haven't offended Bob Marley's ghost by using a bit of his work to liven up the handlebar cam video above of a bike ride down the hill into Camden. The edit software still doesn't support titles or smooth transitions between clips (as you'll see at the end), but I imagine they're coming. You could also use another video program for that sort of thing, but I thought I'd only post review videos that were made by Virb and Virb edit.
This one is a joke with a purpose. I did get Gizmo up to 16 knots, and the lack of camera vibration is striking, but the overlay speed, heading and altitude were collected by a BadElf Pro during an airplane flight. You can not only pair any GPX file with any film clip in Virb Edit (so far in my experience), but you can visually sync the two by sliding the start point along a track line overlaid on a map. Slick.
This video shows how well the Virb can do when handheld and will also be of interest to people to hear and see underway the Torqeedo 1003 electric outboard I've been long testing. The camera's little microphone is on the back and doesn't work too well for sounds from elsewhere, but I'm looking forward to trying a remote mic with the USB adaptor cable that's among the many available accessories (you'll see listed at DCRainmaker, where your purchases support the site).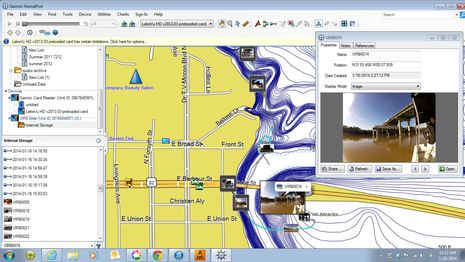 Now this was a nice surprise. Plug the Virb Elite into a PC running Garmin Homeport and not only are the GPS track files easily accessible, but the still photos are automatically shown where they were taken. The same is true in Garmin's free BaseCamp software, except that BaseCamp can't show the LakeVu HD chart card I had inserted in the PC above. Incidentally, the photos and tracks above came from my Humminbird visit, which you'll hear more about soon, with video. (I'll cover the bridge repair, too.)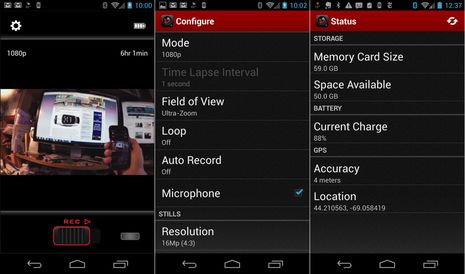 I've just started to use the Android and iOS apps that can connect to the Virb Elite via WiFi. What they do works fine, but so far they don't let you see what's in frame while you're recording video, nor can they capture video or stills to the mobile device, all of which is apparently possible with a GoPro these days. But obviously, that could change overnight.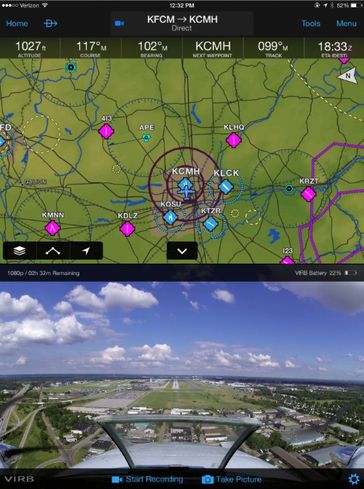 And if Garmin can integrate Virb viewing and control into its Pilot iPad app, why not BlueChart Mobile (reviewed here)? I could mount a Virb at the masthead and use it as a lookout and cruise highlight recorder. Or maybe Garmin will incorporate some of these developements into fixed boat camera systems? It all sounds good to me, but I must observe that Garmin's massive Virb development push has so far left out boaters a bit (even if the marine media guy is quite enthused). For instance, there are no Virb Edit data overlay templates geared to boating yet, and you can't overlay speed in knots. Garmin could even support the depth and water temp data that's included in GPX files generated with their marine displays (and easily managed with Homeport).
But I quibble. The Virb, especially the Elite, is a wonderfully easy-to-use and versatile "action" camera that also does a splendid job of capturing a slow harbor cruise. In fact, I set this video at double speed. The musical accompaniment is Charlie Byrd playing Indian Summer. Hope you enjoy it half as much as I do: