Bushnell ONIX400, & XM/Sirius merger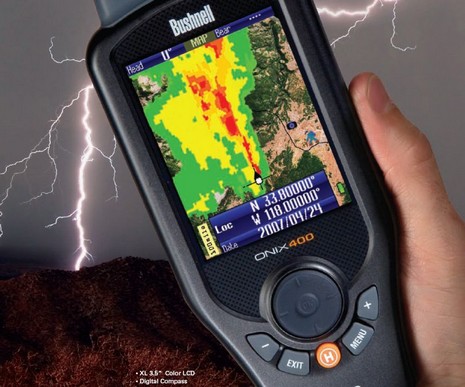 It took a while to get real, but just this morning I received assurance that I'm the list to try one of these intriguing Bushnell ONIX400 handheld plotters capable of receiving XM Satellite Weather and Audio (once they can get ahead of orders and free some units up for the media). It may be oriented to hunters, but couldn't it be useful to boaters who want a relatively economical way to carry live satellite weather wherever they go? And, besides, how hard would be to add charts to a handheld that can already do topo and photo maps?

But meanwhile the real news is that today the U.S. Justice Department approved the $5 billion buyout of XM by arch rival Sirius. This surprised me as just a couple weeks ago the deadline was extended and a supposedly knowledgeable stock analyst declared that the deal looked "less likely." However, as little as I trust the current Justice Department (who can?), I agree that XM and Sirius compete not just with each other but also with all sorts of new audio, and weather, services. In fact, I used XM Audio here at my desk for several years but didn't renew last year because I'd gotten into Internet radio, podcasts, and MP3 players. And just the other day a Sirius Weather representative questioned why Dan Corcoran and I are working on a comparison of XM, Sirius, and ClearPoint Weather, when the latter doesn't have a satellite delivery system. I respectfully insisted the ClearPoint is competing for at least of the same customers, and know that we could also be including other, if less rich, Internet marine weather sources like UGRIB, PassageWeather, and BuoyWeather (if we had the time and print room). The Justice Dept. seems to agree with me!
But note that this XM/Sirius merger will not be completely done until the FCC signs off on it, and we know how long that can take. And even when the two do start working together, I imagine it will take a while before we see changes in the satellite weather services now offered. Actually their use on boats is still evolving, despite the news of this merger a year ago. For instance, Raymarine's big V4 E-Series refresh includes Sirius Audio support, and the new Nobeltec Nav Max Pro editions (PDF announcement here) will add Sirius to XM, OCENS, and generic GRIBS for the most complete weather quiver out there. Both are coming very soon, I think. What, though, will the combination of XM and Sirius mean to satellite marine weather in the long term? Your theories invited.