Capn Voyager, playing AIS chicken over IP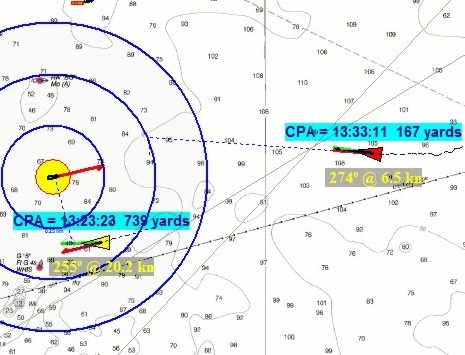 That yellow vessel with the bold range rings is Capt. me off Boston a couple of days ago, or at least a simulated Capt. me. But the AIS targets were real! That's because at least this beta version of The Capn lets you get AIS targets off the Internet, in fact comes set up (see below) to get all the receivers being streamed by SeaLinks (which includes Penobscot Bay, my home waters). The feature is not something you'd use at sea, but it sure is useful for seeing how an ECS handles AIS targets. For instance, I really like the way the Capn plots the actual CPA; for the target ahead it's that little (167 yard) dotted under the the 2nd range ring. It helped me understand better what the pass was going to look like, and being prudent, I decided to turn another 20° right.
Notice, by the way, how The Capn lets you turn off anchored and docked targets. It makes sense but watch out. When I checked out Penobscot Bay this afternoon, the towboat Penn #4 was doing 8 knots off Monhegan but broadcasting "At anchor", while Penobscot, doing .01 knots at a pier in Rockland, was labeled "Underway under power". Garbage in, garbage out!