AIS on the Web, an update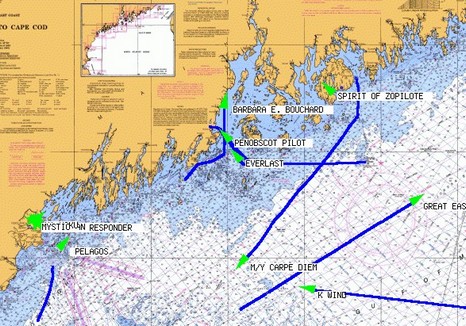 I guess it's a little pathetic—me spending so much time on the Web, instead of on the water—but I have enjoyed using SeaLinks AIS Live, above, to keep track of some bigger yachts visiting Maine this summer. As of yesterday, Shine Micro, aka SeaLinks, is making users register but it's easy and free. I don't know where their receivers are positioned but they surely work well, as seen in the screen shot bigger here. That chart is about 150 miles wide, and Spirit of Zopilote is tucked into Southwest Harbor surrounded by hills. It's hard to make out even on SeaLink's small area chart of Portland, but that's where the 228' Floridian is now. I first saw her off Camden via AIS last Friday, then in the mega flesh shown below, but AIS couldn't alert me to the fact that ex President Bush would lunch aboard on Monday. It gets wild around here this time of year! (Here's the photo bigger, easier to make out the owner's team—the Miami Dolphins—logo on the copter tail and the Intrepid "tender", which has triple 285's on its stern).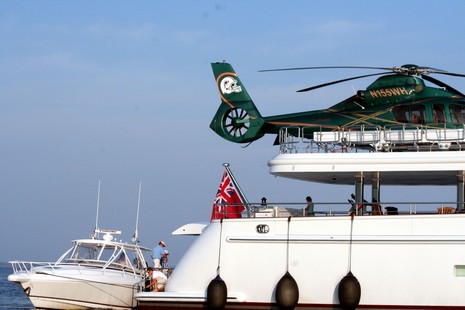 PS. It's amazing how many different ways there are to display AIS on the Web, and new ones seem to crop up every week. Here's San Francisco Harbor with the ships animated, and here's shipping along the coast of Germany overlaid on Google Maps or Google Earth (if you register, and have GE installed, but very, very cool). And don't forget classics like the Irish Sea and the grand daddy of them all, AISLive.com (which also requires registration, but covers many coasts). Enjoy.
PPS. Rosepoint Navigation is testing eight different AIS receivers from Milltech Marine, SeaLinks/Shine Micro, and SeaCas, and we plan to publish the results here on Panbo. Stay tuned (so to speak).
PPPS. The world of AIS, and Panbo, is large. Jan Egholm, part of a team running a commercial AIS service in the Faroe Islands, just sent along this image demonstrating how well a Shine Micro receiver can work on a 750 meter hill. Those AIS targets stretch from Iceland to Norway! Jan's company Web site is a little tough to read because it's in Faroese, but here's a PDF explaining Vikmar's service in English (there's much more to Web AIS than megayacht ogling).