ePropulsion Spirit 1.0 Plus electric outboard, Torqeedo has competition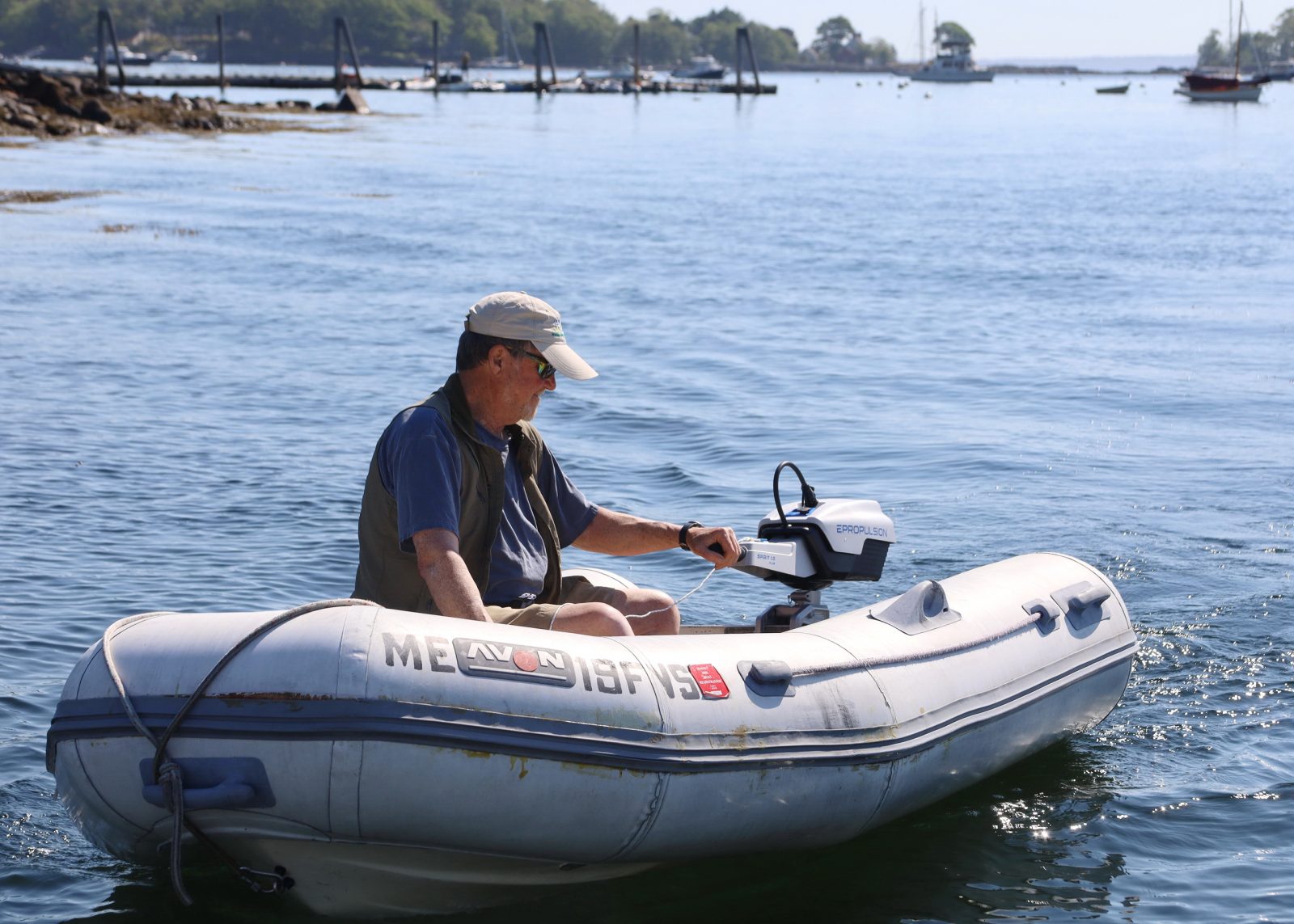 The summer of 2020 In my home harbor was different from past seasons in three ways: Superyachts owned by American billionaires were much more plentiful, far fewer than normal regular-size sail or power cruising vessels visited until about mid-August, and there were a whole lot more Torqeedo electric outboards in use on tenders and small boats. While the Covid pandemic clearly caused the first two situations, I think that the popularity of small electric outboards is just reaching a sharply upward and sustained growth curve.
But I only saw one similar-to-Torqeedo ePropulsion Spirit 1.0 Plus electric outboard in Camden this summer, and the fact that it belongs to my brother-in-law Richard Itkin — and hence I got to test it (as seen above) — is more than luck… and a story worth telling.
When we published the Spirit 1.0 Plus press release in early June, I was impressed with the motor's design, value, and U.S. distribution setup. And I was still impressed after a long chat with Chris Ponnwitz, who leads ePropulsion U.S. east coast sales via Mack Boring's longstanding network of marine service networks and boatbuilders. (For instance, they introduced Yanmar marine diesel engines to the U.S. in 1974, and remain the largest distributor.)
Just days later Rich called because his 20-year-old 8hp Yamaha dinghy outboard had finally bit the dust and he was wondering how well something like my beloved Torqeedo 1003 would work as a replacement. "Well, neither the 1003 nor their even better direct-drive Travel 1103C will ever get your Avon planing out to Brilliant, but…" And then I went on to list all the pluses of a lightweight, quiet, reliable e-outboard plus the interesting competition just introduced by ePropulsion.
But what really compelled Rich to immediately order a Spirit 1.0 Plus was the ePropulsion comparison document I had just received from Mack Boring, with permission to share.
You too can read In-Depth Comparison: Torqeedo Travel 1103C vs ePropulsion Spirit 1.0 Plus written by ePropulsion CEO Chandler Xu, and I think it's a particularly good example of how a company can politely state their product's competitive advantages in detail. But it's no surprise that Xu finds his electric motor superior in almost every way, and it's the astute consumer's job to figure out what he may have left out of the comparison.
So I applied my skepticism to the written materials and then on the water to Rich's actual Spirit 1.0 Plus, and it was great when along came Capt. Dan Pease, who retired from a salty marine career to avid cruising, two Torqeedo 1003 outboards included. Hence while Rich was bubbling with new owner enthusiasm, Dan and I were in "well, what can go wrong" mode. But we didn't come up with much.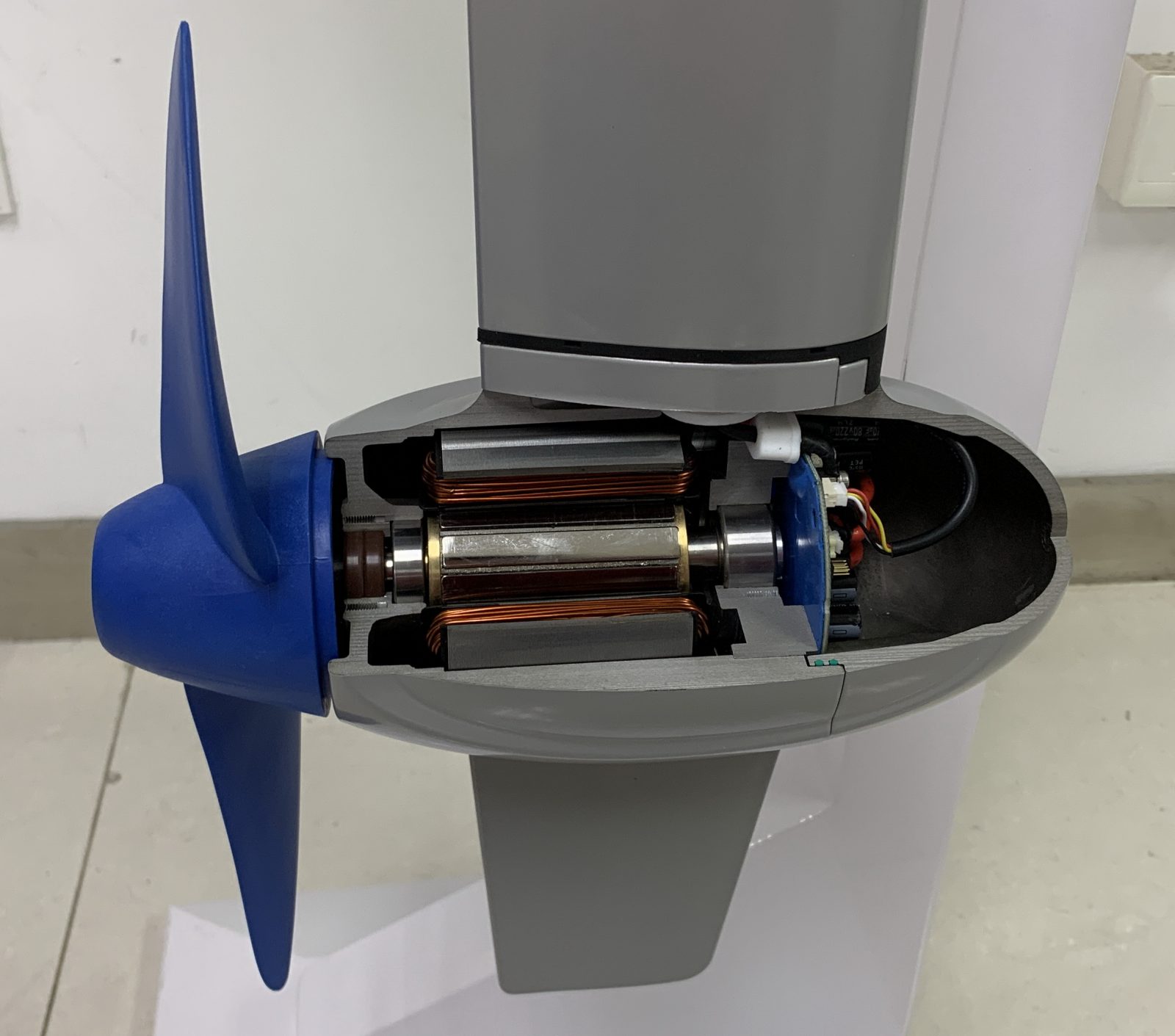 First though, we all experienced a "wow, that's quiet" reaction. The Torqeedo 1003 models that Dan and I have used for years do produce a whirring noise because their motors are geared. The sound is not really a bother — especially compared to a gas outboard, or even this new Tahatsu 5hp propane model — but nearly complete silence underway is even better.
The Spirit is quiet because of the direct-drive brushless motor seen above, and it's worth noting that the Torqeedo 1103C is also direct-drive. In fact, I tried one during a visit to Torqeedo headquarters near Lake Starnberg, Germany, in 2019, and the 1103 is not only super quiet but it also shifts between reverse, neutral, and forward more smoothly and quickly than the 1003, making for even better close-quarters maneuvering. The Spirit was similarly handy around a dock, plus I suspect that direct-drive motors will last longer just because they're simpler.
But then again my test Torqeedo 1003 has not had any motor problems despite 10 seasons of saltwater use, many of those seasons very long and much of that time with the motor shaft in the underwater down position at a dock. And therein lies a large though understandably missing element in ePropulsion's motor comparison. Torqeedo has developed and manufactured about 50% of all the marine electric propulsion systems on planet Earth, and has earned a mostly excellent reputation in the process. (In fact that 50% statistic is theirs, and I trust it.)
Which is not to say that Torqeedo products have been perfect. Hell no. Just skim through the 173 comments on my original Travel 1003 review for a history of grievances some owners have suffered (though they mostly seem resolved), and also recall that the 1003 was a major redesign of Torqeedo's first electric outboard. This is a relatively new technology, small outboards often live a hard life, and it can be infuriating when they fail.
And those may be good reasons to spend extra money for the leading brand electric outboard. But then again, the Spirit 1.0 Plus at $2,000 retail is $700 less expensive than a Travel 1103C, and a bigger, faster-charging battery is among its pluses.
Getting back to the test session, I nearly laughed when I saw that the ePropulsion Spirit Plus has a dim and hard-to-read monitoring screen just like the Torqeedo Travel models. But there is a significant difference in what the dim screens deliver, because ePropulsion does not build a GPS into their system. So Rich will never see range in miles at current speed, but he does get current state of charge and time remaining at current load. (Or he can use the Select Button to see voltage instead of time remaining.)
I don't think that the lack of GPS is a big deal, and after four months of frequent use Rich feels confident about the battery monitoring the Spirit does deliver, and has never suffered a dead battery surprise. But note the tiller folding instructions in the left photo, and that Dan and I both gasped a bit when we saw how that works. It's true that the Spirit has one less cable to attach whenever you assemble the motor, but the hung-down tiller looks somewhat fragile when someone is moving it and rest of the outboard (less battery) around a small boat, or into a car trunk (or boat locker).
Also, Rich couldn't tilt the Spirit all the way up on the stern of his Avon with the tiller folded down, or up (until he thought to spin it 180 degrees first). But then again, Chandler Xu apologizes for the limited tiller up motion in his motor comparison, and promises an improved design soon.
Which leaves my biggest question about what ePropulsion is doing, and I'm sorry to add that it remains unanswered. What you're seeing in the cutaway Spirit Plus battery above is a stack of Lithium-polymer "pouch" cells, and I believe that's unusual for this type of use. I do know, for instance, that Torqeedo Travel batteries contain 18650 style Lithium-ion cells as do all the ebike batteries I'm familiar with (and Tesla cars). And while Torqeedo politely declined to comment on the ePropulsion design, their battery page states:
Torqeedo only uses safety cells – welded steel cylinders each of which is equipped with multiple hardware safety mechanisms. Other forms of packaging such as foil-sealed cells ("coffee bags") offer a lower standard of safety as they afford less effective protection against internal short circuiting within the cells.
Now to be clear, I know next to nothing about Lithium battery chemistries, packaging, and management systems, except that it's very complex and dynamic tech. (Our friend Luis Soltero, for instance, is struggling to parse out what well-informed boaters should know about the various lithium marine battery variations like he did so well for lead-acid batteries.)
But I do know that even familiar 18650 style Li-ion battery packs can become quite dangerous in certain circumstances, and the relevant example is the 2019 Torqeedo Safety Warning along with the massive testing program that followed. With tens of thousands of Travel batteries in the field — mine for 8 years — Torqeedo discovered that the combination of a rare manufacturing error and at least partial battery submergence could eventually cause BMS corrosion and then maybe a spontaneous fire.
It's my understanding that there were very few actual Torqeedo battery issues and that no one forced the company to spend gobs of money to ship batteries into testing centers around the world, where few bad ones were found. But founder/CEO Christoph Ballin was adamant about the safety initiative because the prospect of a rare but known issue causing , say, a battery fire in a storage locker aboard a vessel at sea was unacceptable.
I'm not sure that any other marine e-mobility company would have, or could have, handled this the way Torqeedo did. And while I really do not know if there's any potential downside to ePropulsion's seemingly unusual boat battery design, I'd like to know more, and I advise everyone to be thoughtful about how they treat and store whatever kind of large lithium battery they may own.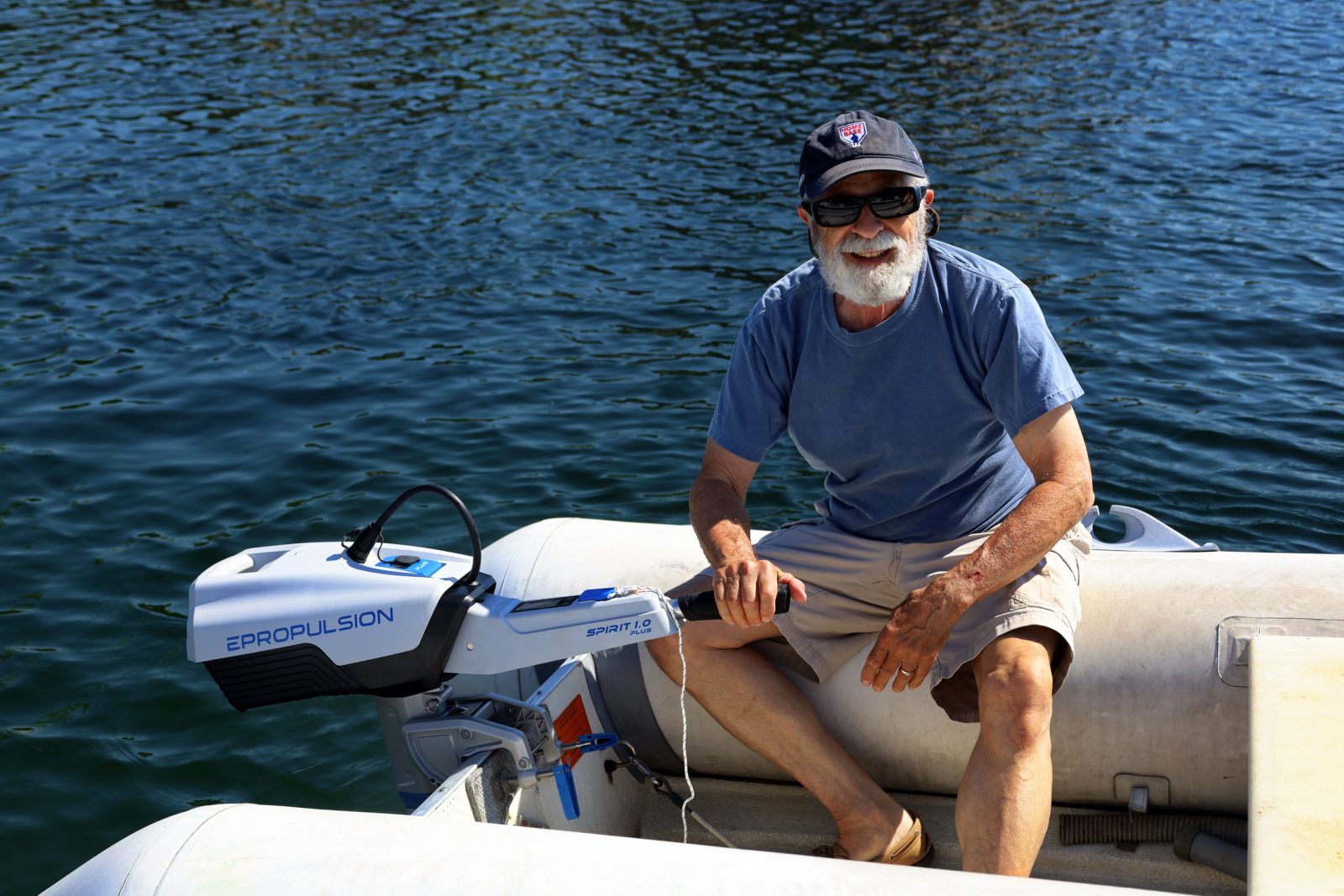 At any rate, there's no denying the ePropulsion Spirit 1.0 Plus love felt by my brother-in-law Rich (who earned that "Capt." caption a hard way). He's learned to like the quiet so much that he often runs at half speed to avoid even hull noise, and that means lots of range with that relatively huge 1,276 Watt hour battery. Plus what a nice change it is to lift and store a two-piece outboard that doesn't drip oil or gas (and the Spirit tiller has survived unscathed).
I think it's great that Torqeedo now has compelling competition from ePropulsion, and I expect to see lots more electric outboards of both brands in seasons to come. Both companies, by the way, offer more outboard models than the equivalent 3hp type discussed here, and ePropulsion just announced E-Series Lithium Iron Phosphate batteries to extend motor run times or for other uses. Moreover, Ben Stein's latest Panbo Podcast is an interesting conversation with Mack Boring's Chris Ponnwitz where we also learn that seven new ePropulsion products will soon be announced.