The Travel 1003, a serious case of Torqeedo love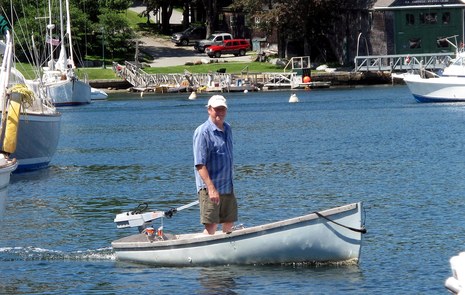 About two months ago I received a Torqeedo Travel 1003 for long term testing, I've used it almost every day since, and, well, the title tells the story. I simply adore this electric outboard! Admittedly certain personal traits may be in play. Historically small gas outboards are a significant exception to my generally high success rate with mechanical boating issues; possibly related is my annoyance with the smell and noise of the damn things (and the hearing aids don't help); and, finally, a faulty shoulder makes starting even a lawn mower somewhat painful. But then again I did not fall so hard for the original Travel 801 model that I tried in 2009…
Oh, the original Torqeedo design did impress me with its remarkable torque, its reliability, and its mild whirring sound (Torqeedos are not silent). But the LED "state of charge" indicators seemed vague, and without an expensive spare lithium-manganese battery, that meant that my range was also vague. The designers did try to compensate for this with a clever throttle system — twisting from neutral through full speed takes you to a slower, automated RPM calculated on what the remaining charge can sustain for an hour — but in practice that's awkward. When you try to slow down from that calculated speed, the motor speeds up first!
There was also the fact that the Travel 801 tested in 2009 — which admittedly had been through the hands of another rough reviewer already — wouldn't easily dissemble into quite as compact a bag of components as originally designed. And I subsequently heard that some owners had more significant corrosion issues. Which may account for the nearly complete redesign that Torqeedo did on the Travel series, as illustrated below. A few features were lost, like the ability to adjust prop and tiller height interdependently, and to take the battery off without detaching plugs, but the T1003 is still only 30 pounds and that's before being fairly easily broken down into three components.
Plus the new design is IP67 waterproof — as Torqeedo convincingly demonstrated in this T1003 YouTube video — and it feels really solid. What's especially neat, though, is the GPS and display built into the tiller assembly. You can not only get a percent-of-charge figure whenever you want, but also your speed underway and — most important — a variable range estimate based on current wattage drain…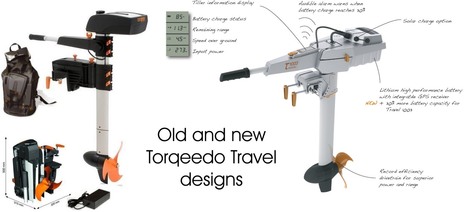 I doubt that we would have attempted to circumnavigate a large, high island in our 11-foot tender, as documented below, either with the original Travel 801 or just with oars (though I like rowing and it fortunately doesn't irritate my shoulder much). But it was easy, and very enjoyable, with the T1003. I've gotten so confident of its smooth throttle control that I regularly stand up and drive with a tiller extension, and the boat trims well with my best mate sitting forward in the middle seat. Altogether that was a cozy, quiet setup for enjoying the sights close in on the wild side of that island, while I could also keep an eye out for underwater ledges. (Standing up also means I can see traffic among all the moored boats in Camden Harbor well, as seen in the top photo.) And the 3.5 mile trip was absolutely no strain on the T1003's battery either…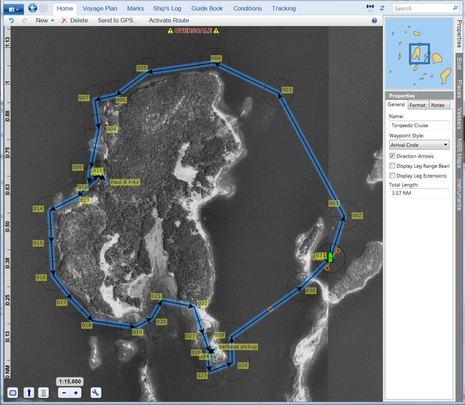 I saw 87% battery charge on the T1003's 18 amp-hour battery (newly developed for 2011 and still only ten pounds) when we departed the anchored Gizmo and 44% when we got back, but I wasn't really going for economy. We did cruise a lot of that shoreline at very slow battery-sipping speeds — heck, you can get down to a few RPMs if you're trying to, say, approach an active osprey nest with maximum stealth — but I also gunned her for those open water legs, just for the hell of it. Now that only yields about 6 knots (and is also hell on the battery), but it's a lot faster than I can row.
At any rate, in normal around-the-harbor mode, I can go for weeks without charging the 1003 (which can take up to 18 hours using either home 110 or Gizmo's inverter). Torqeedo does offer a high-tech solar panel that outputs the needed high voltage, but it's high price too, and it seems like the ideal set up for this little boat would also charge it's EasyBailer system (another product I'm very fond of). The Travel 1003 at a retail price of $2,000 is not inexpensive either, but I don't think that compares too terribly to small outboard costs even without taking into account all the pluses. I know for sure that I find this motor a joy to use, and it's nicely extended big Gizmo's gunkholing capabilities.