Cell Ranger Stix, worth a try?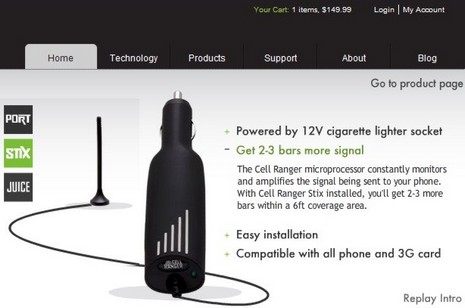 Thanks to John Forder for pointing out the intriquing Cell Ranger Stix wireless cell phone booster. It claims to use a microprocessor to analyze a cell signal coming in through its little antenna and then add 50 dB of gain (2–3 bars!) as it retransmits the signal in a six foot radius around that 12v lighter-plug-like casing, all for a $150 and nearly zero install effort. If true that would definitely be useful on many a boat, and maybe in my office where my recently acquired Verizon Centro is barely usable. In fact, using a "field test" code found at wpsantennas.com—field test numbers are more responsive, detailied, accurate than screen bars—I've learned that it has an RSSI of -105 (very, very poor), and an EVDO signal strength of 107 (meaning unknown, but should change with amplification).
Stix, and its USB-powered sibling Port, only improve the downlink side of a cell call, but according to Cell Ranger that's where most connection problems occur, as the cell towers have more sensitive receivers than our phones do. Well, we'll see! Seeing as I have to sprint out to our garden to take a cell call these days, and summer is winding down, I'm keen to know if this gadget could solve the problem. Plus be a useful aid to bring along on the road and on the water. I didn't even take offense when told that Cell Ranger doesn't have enough test units for…ahem…"smaller media sources and bloggers" like me. I just went with their recommendation to use their 30-day money-back guarantee to test the product. Given that policy, you can be a tester too. If interested, let's meet back here in a few weeks and compare notes.
PS 9/7: So far the testing results are very mixed.