Cel-Fi GO+, a truly different and promising cell booster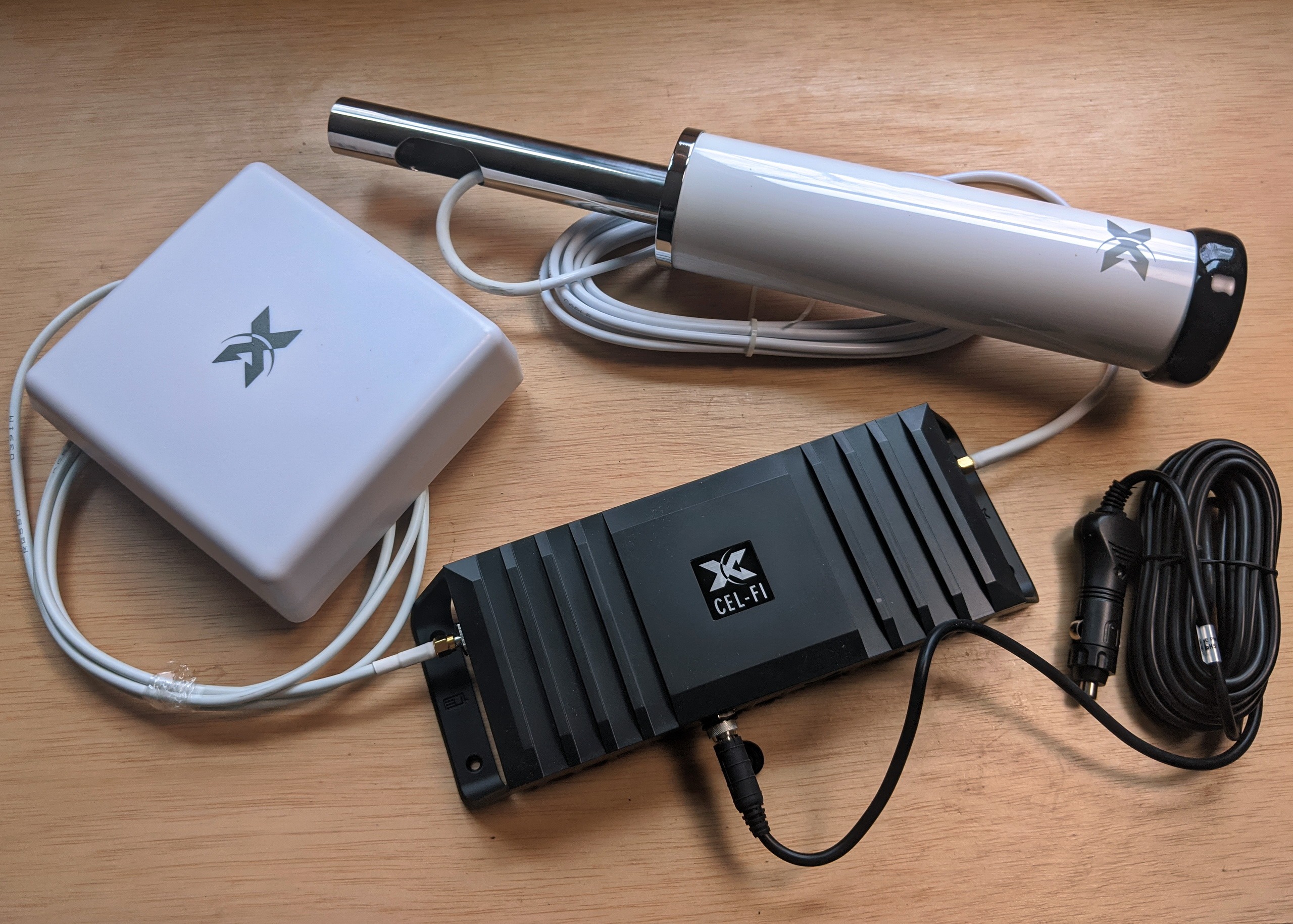 The Cel-Fi GO is different from every other cell booster I've tried over the years, starting with significantly greater signal amplification (when needed). The well-made hardware also supports a Bluetooth app that delivers significantly more information about what the booster is doing, as well as several control options. So, although this first testing was only done in my shop with an already usable Verizon signal, I'm quite hopeful that the GO will get the job done in even the more challenging cell holes found cruising the coast of Maine (and elsewhere).
More specifically, the Cel-Fi GO is a carrier-specific booster able to add 65 dB of gain in mobile mode or 100 dB in stationary mode, regulatory modes which might also be described as boat underway or at anchor. The Cel-Fi developers have apparently been meeting the FCC's special single-carrier high-power standard for years — primarily for high-performance fixed-location boosters — but they only launched the more flexible dual-mode GO+ last summer. Consider the signal gain claims:
Cel-Fi GO+ offers industry-leading 100 dB gain in stationary mode — 1000 times greater than other offerings — to provide the highest carrier grade performance available. The same device can be easily switched to mobile mode with built-in software switching to deliver 65 dB gain — which is up to 100 times greater than other solutions on the market — for vehicles and boats on the move.




Wow, now that sounds like a booster with some extra reach! But then again, carrier-specific also means possible limitation, depending on your cellular needs. Unlike, say, the SureCall and Shakespeare mobile boosters I recently wrote about, the Cel-Fi GO I've set up will only work with Verizon phones unless I use the control app to switch carriers. And Cel-Fi doesn't support every cell service, especially outside North America, although it does claim "all major US and Canadian Carriers" (and another feature of the Cel-Fi Wave app is easy firmware updates like the planned 5G rollout just announced).
This is what I mean by well-built hardware. The Cel-Fi GO is the first booster I've seen with a securely threaded and water-resistant power port and cable (though, like most boosters, it conveniently runs on 9-15 volts DC, with 2 amps of maximum draw). In fact, the GO case meets the NEMA 4 standard for outdoor use. Plus, note how the fastening brackets elevate the case so it can have bottom cooling fins too (and rubber vibration-mitigating fastening washers are included).
Right side up, as you might see it installed in a boat cabinet, the Go looks quite sharp. But you may never need to check out the simple red/green status LED because the Cel-Fi Wave app is so much more informative. And, at least for me, connecting it to the GO via Bluetooth only required opening the app near the powered-up booster, on both my Google Pixel 2XL phone and iPad Pro 11 tablet.
This is what you might first see on the app's opening screen, assuming that the Cel-Fi Go was already set up for your cell carrier by a quality supplier (recommendation below) and that there's at least a little signal to boost. That was the situation when I first tested the booster in my home shop/lab, and the completely automated results — as in "Things look good" — were striking in terms of the signal bars shown on my phone, especially with an app that details signal strength.
My faithful Network Signal Info phone app (above left) showed nearly maximum signal strength with GO boosting, and its signal-over-time graph indicates what happened with the booster off. But my first experience with the popular Network Cell Info app revealed even more. Not only is the Verizon signal improving from -111 to -69 dB by using the Cel-Fi booster and antennas, but the phone has also switched to a different LTE band and a different tower PCI number (as I learned in this excellent how-to-locate-cell-towers blog entry).
And, no, I never paid attention to this sort of cell service nuance before, and don't really want to. But then again I do really want connectivity in some of my favorite remote cruising spots, and I've never had a booster with band controls before either.
There may well be situations out in the islands when switching off a cell band improves actual performance — the Perry Creek roaming annoyance for one (I hope) — and that can be done easily using the Cel-Fi Wave app's Settings screen above. It's where I can switch to Stationary mode too, when the boat is settled in a spot that needs maximum boost power.
The screenshot collage also shows the current list of Operators (cell carriers) that the GO can switch among, and its Antenna Position Test feature, another booster system first to my knowledge. The GO will capture and grade performance as you move either the inside or outside antennas, so good practice is to first find where the exterior antenna performs best in your rigging and then work on whichever interior antenna you choose (more on that below).
The Advanced section of the Wave app shows all sorts of booster and cell service details and acronyms I'm not familiar with. But it was interesting to see that the GO itself used different LTE bands at different times, even though the outside antenna remained fixed to my house. That may be because either screen 1 or 2 was taken during a rainstorm, and I'm willing to learn more if it means I can tweak the GO to maximum performance.
Incidentally, while the Wave app can also be used to check for (and download/install) GO firmware updates, that's the only time your phone or tablet needs to be online to use it with the booster. (That's true even when switching carriers, though that process is a major firmware reboot and takes a few minutes.)
What I call outside and inside cell booster system antennas, Cel-Fi calls donor and server, which makes sense when you consider situations beyond boats and RVs. So given their suggested Marine Solution kit, cell towers donate connectivity to the Cel-Fi Marine antenna, which is then boosted and served to the boat's phone(s) with Cel-Fi's patch antenna. You don't want either antenna to hear the other, and the low-gain patch is least likely to interfere with a donor antenna that is not sufficiently separated by distance — vertical preferably — or RF shielding (like tin foil ;-).
But Waveform — the company that encouraged this test and arranged the product loan, as they did with the SureCall Fusion2Go (back when they were called the RepeaterStore) — also sent along a Cel-Fi Wideband Panel Antenna, and that's been interesting. In this initial shop test with the donor and server antennas poorly separated, the GO booster seemed to handle the potential interference better than I've seen in the past (though experience with weaker cell signals is required).
And while the panel antenna's industrial-strength pole mounting is not suitable for salt air or nice yacht interiors, I plan to fasten the four stainless studs to a thin panel that will then fasten to the pilothouse overhead. That way the 6.5-9 dB gain claimed for its 65- by 55-degree directional beam should feed our Verizon phones where we often use them, but hopefully not tangle with the marine donor antenna high on the mast. I will also learn by experience (and Wave app testing) if keeping my phone next to an interior patch antenna is still a better idea for maximum boost performance.
If your boat ties longterm to a dock with edge cell coverage, you could even try a Cel-Fi Wideband Directional Antenna, which is also officially authorized for use with the GO booster. (Using similar antenna designs by other brands is only a slightly outside the regulations, and may not change performance or interference a bit, but you will probably need a good FME Male to SMA Male adapter.)
The more I learn about cell booster technology, the more I appreciate the underlying complexity and the more I think that a boater — or even a general marine electronics installer/technician — will benefit from working with a technically well-informed dealer. And I recommend Waveform without hesitation. While they are the largest reseller of Cel-Fi equipment (and offer many other brands), I've learned that they are much more than an online reseller.
For instance, Waveform markets their own RSRF line of accessories — like the custom-cut LMR-400 equivalent coax cable that might improve your boat's high antenna install — and they also install multi-carrier DAS (distributed antenna systems) all over the country (more detail here). Moreover, the Waveform team shares their cellular boosting expertise with thorough and seemingly non-partisan buying guides, a lively blog, and what-I've-found-to-be crack technical support.
Heck, Waveform CEO Sina Khanifar invites customer emails while spending spare time as a citizen advocate with significant roles at OpenSignal, Repair.org, and the Electronic Freedom Foundation. He seems passionate about getting all aspects of modern communications done right, and I'm happy to add that Waveform's $764 Cel-Fi GO+ Marine Kit is competitively priced.
While I'm obviously excited about cruising with the Cel-Fi Go this summer — and hoping it will help me report back about further testing — its single carrier limitation and premium sophistication may not be for you. However, if you're looking for any other level of cell boosting, I'd still advise contacting Waveform.