Visible Part 2: Hands-on testing Verizon's $40 per month unlimited brand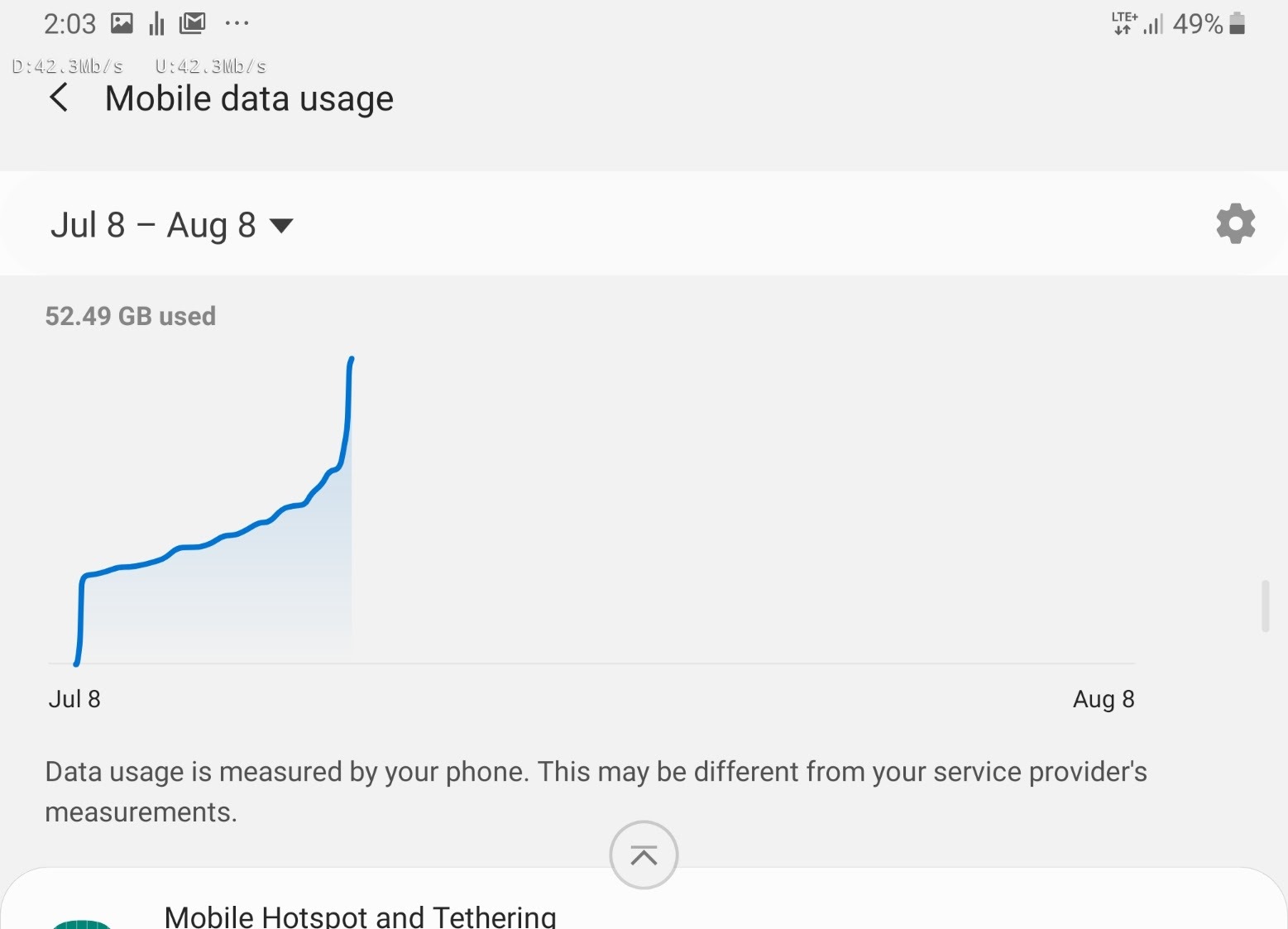 A couple of weeks ago Visible announced they have removed the 5 megabits per second speed cap making their $40 unlimited plan even more interesting. In my entry on the change I promised I would order a line and see how it worked out. The SIM has arrived and testing is well underway and although it hasn't been all sunshine and roses I'm going to try using Visible as my main cell carrier (though I have an embarrassing number of alternatives).
Using the service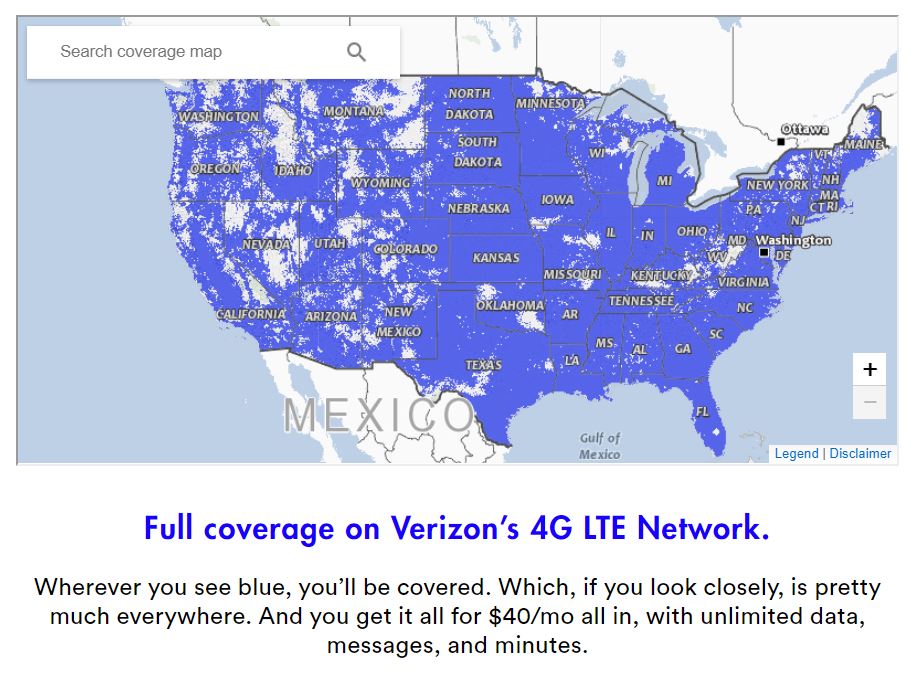 Visible is quick to promote that their service is offered on Verizon's robust wireless network. This is absolutely true but there are a few caveats that should be understood before thinking that you're getting the exact same product for $40 that would cost you a bundle more on Verizon.
Visible says that there's no limit for on-device use of data. That means you can watch as much Netflix or Hulu on your phone as you want — though that's limited to 480p resolution (the resolution of a standard DVD).
Mobile hotspot
The plan also includes unlimited mobile-hotspot usage — so you can turn your phone into a WiFi hotspot and connect your devices — but they say that's capped at 5 megabits per second and limited to one device at a time. Using your phone as a mobile hotspot is an often overlooked way of connecting to the internet, but Ben Ellison has been doing it for years and nicely details how it works in this entry, the second diagram in the entry illustrates a mobile hotspot phone connection.
In my testing I found that the 5 mbps cap isn't enforced — and in fact, I got at much as 130 mbps via the mobile hotspot. I also found that the 1 device at a time limit is only enforced when the SIM is inserted in an Android device and that the limit is 5 when the SIM is in an iPhone.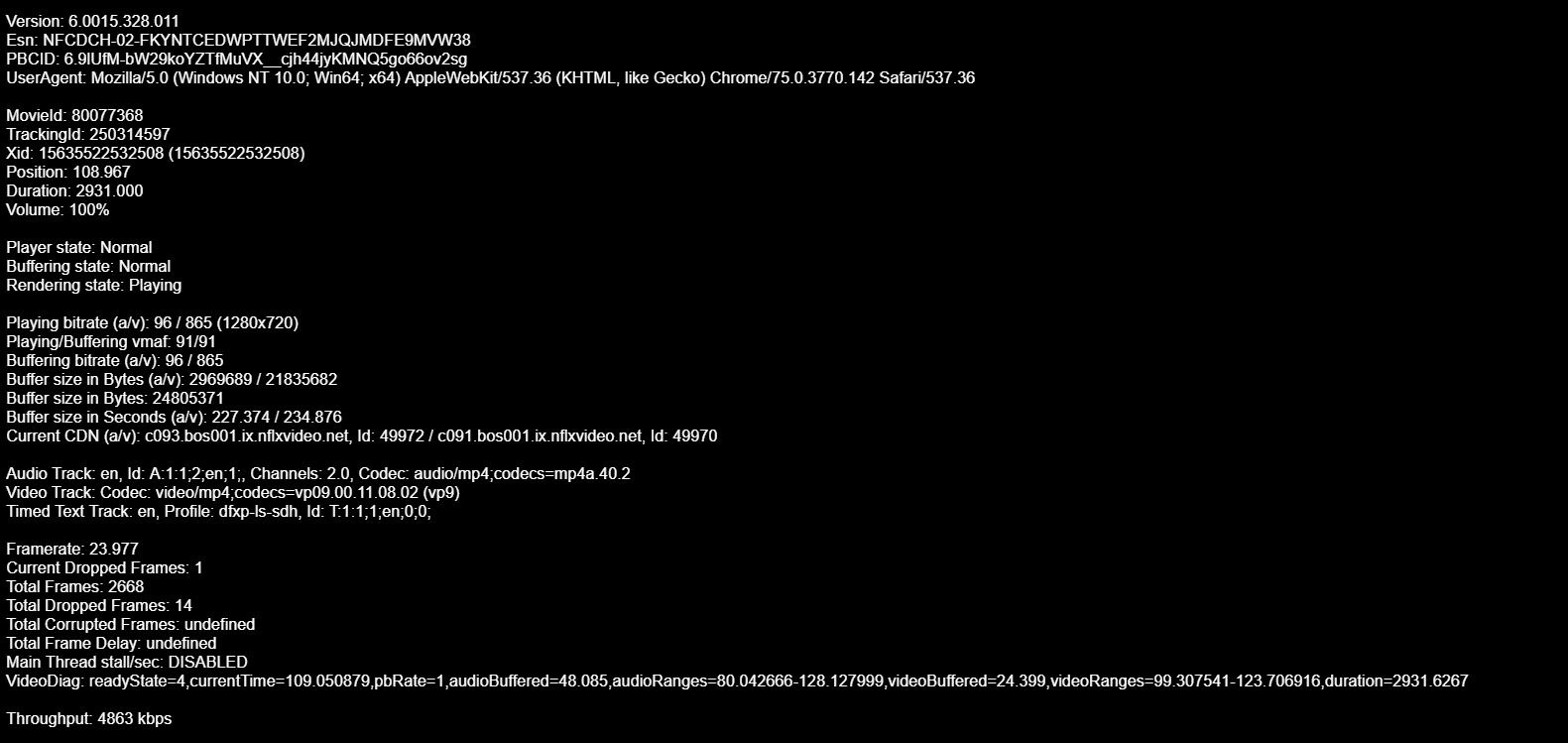 Even if Visible does begin enforcing the 5 mbps cap I think many will find the service to be plenty useable. I've found 4 mbps to be about the minimum required for 720p HD streaming to work aboard Have Another Day. In fact, the screenshot above shows Stranger Things being played on Netflix at about 4.5 megabits and easily holding 1280×720 (720p HD) resolution. I'm not sure if this will change when and if Visible starts enforcing speed caps on the mobile hotspot, but for now it appears the 480p limit doesn't apply to connections via the mobile hotspot.
Network priority
All cellular carriers operate their networks with various priorities assigned to devices connected to the network. Typically devices belonging to subscribers of the core network — Verizon in this case — receive top priority. After those devices, the next priority is assigned to customers of MVNOs (Mobile Virtual Network Operators, like TracPhone, Total Wireless, etc), and after them customers of Visible. This prioritization becomes relevant when the cell your phone is connected to becomes busy and resources scarce. At those times the traffic coming from higher priority devices will be handled before traffic from a Visible device.
Latency
The second potential downside to Visible's service is latency. Because of how Visible sits on top of Verizon's network the latency on a Visible device is about double what you will typically see when on a Verizon branded device. Visible (in the middle of a long Reddit post) explains this is the result of the limited number of access points they're using on their growing network.
Latency is the amount of time it takes for a packet of data to make a round trip from your device to the destination. Web pages load by making lots of little round trips with small pieces of the data needed. So, if each round trip takes a long time, it will take longer to load. Also, if you're using latency-sensitive applications like voice over IP and remote desktop services you will likely start to feel the latency as it creeps much over 100ms.
In my testing, I've noticed some small effects of the increased latency. For example, web pages seem to be a tick slower to load but I am yet to find myself frustrated by the experience.
Roaming
This is going to be a short section. Visible supports no roaming; not domestic or international. That means if you want to use your phone while you're outside of Verizon's coverage you will need to either connect to WiFi and use WiFi calling or get a SIM from wherever you're visiting.
Hands-on performance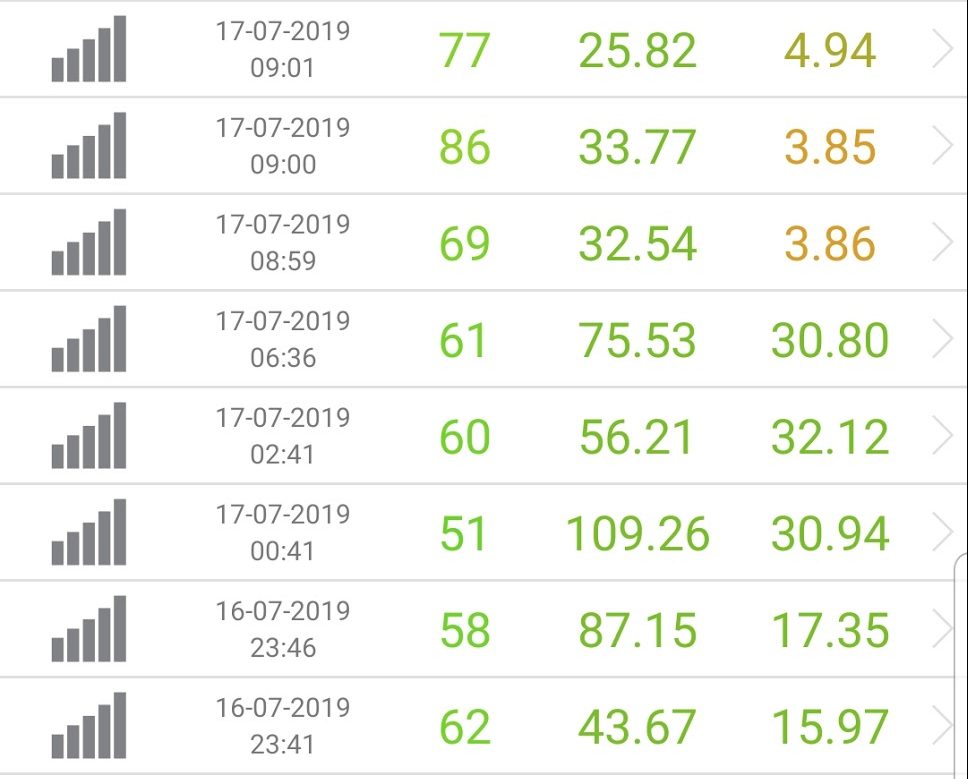 I tested Visible on a Samsung Galaxy S9 for 10 days and liked what I saw well enough to go ahead and port my main number over to the service and use it as a daily driver. That port is still in progress so I can't say much about porting yet. But, I can report that the service has worked quite well for me. During that time I made a trip (by car) up to the Upper Peninsula of Michigan — about as remote as you can get — and though service was slower up there (more like 5-10mpbs down than the mostly 30+ I've been seeing in Chicago) I did have reliable service the entire time.
Phone calls and texts have worked fine and honestly at this point I think that's less of a differentiator among carriers and plans than data performance. Courtesy of some ridiculous marketing and dubious redefining of terms, unlimited no longer means unlimited when discussing cellular plans. When Visible says unlimited they seem to actually mean it… mostly.
Device compatibility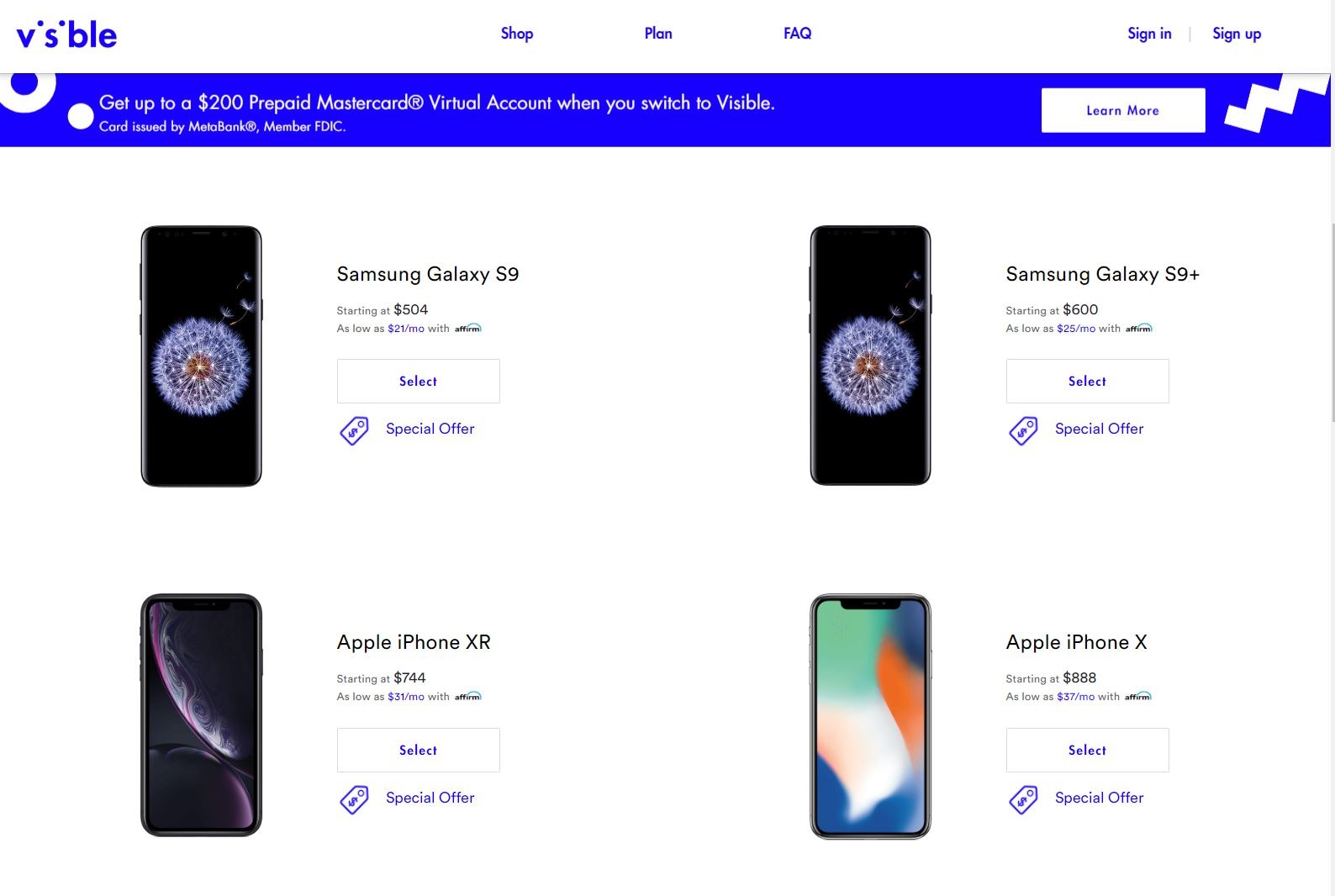 The list of available phones is good but, especially on the Android side, far from complete. For instance, The Galaxy S9 and S9+ are both supported but the Galaxy S8 and S10 aren't. There are no Galaxy Note devices available. When I first signed up for Visible I assumed that a lot more devices would work than they sold. You know what they say about what happens when you ass-u-me? Well, yeah, that's pretty much what happened to me. I have a fully unlocked Galaxy S8 that I was planning to use as a test device. I plugged in its IMEI to Verizon's compatibility checking tool and it came up fine. I then entered it into Visible's tool and it said it wasn't compatible. Undeterred I ordered a Visible SIM confident it would work. It didn't.
So, I got my hands on an S9 and had no troubles activating the SIM and getting started. There are sporadic reports of some devices not sold by Visible working and they've steadily increased the list of phones old to now include all models of the Pixel 3, an inexpensive Motorola phone as well as a $99 Visible branded Android phone. Plus, all iPhones from the 6 forward are listed as compatible with Visible — as long as they're CDMA compatible models and unlocked.
I have also tried inserting the Visible SIM into several data only devices but that's not worked at all. I've tried fully unlocked iPads and Verizon branded MiFi devices with no success. This isn't too surprising as the plan is being sold as a voice and data plan.
Customer Service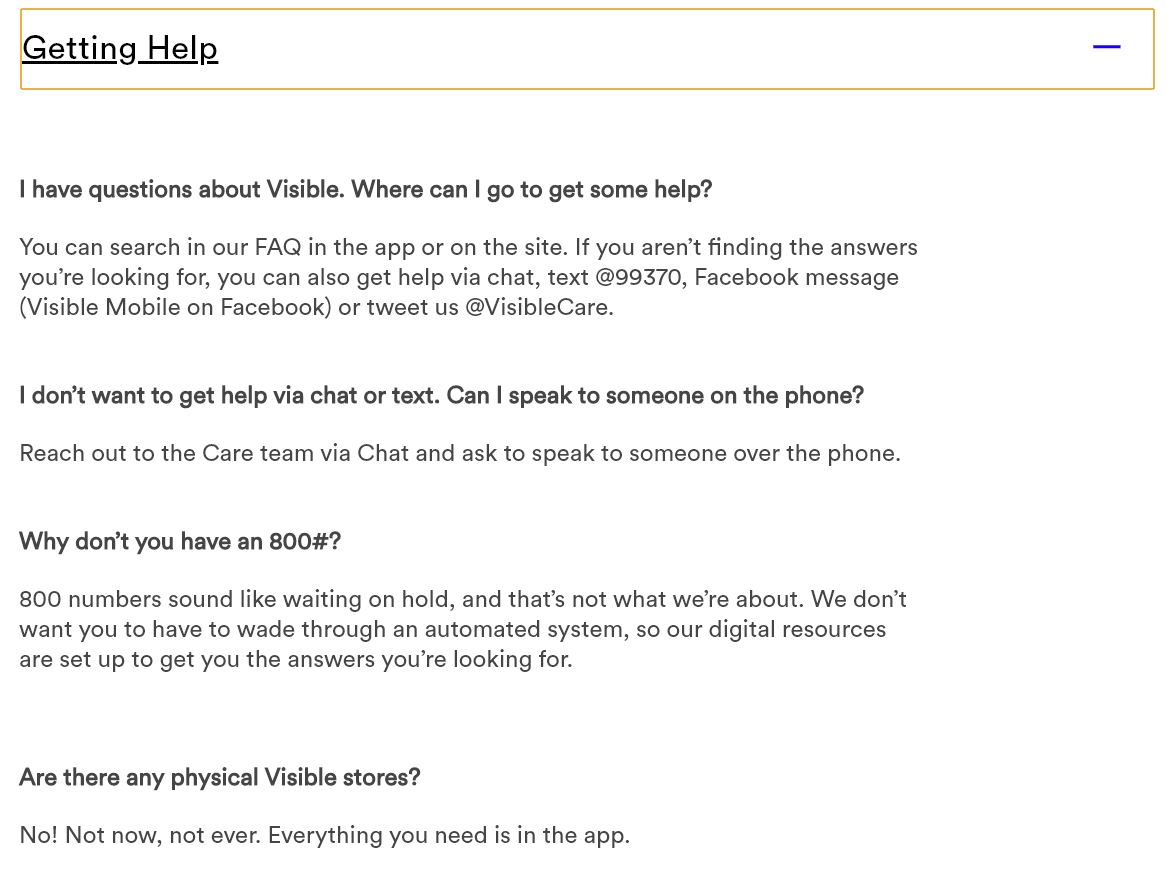 Part of Visible's marketing message is about how they're a new kind of company with no stuffy stores or silly phone numbers to call (the snark is theirs, not mine). All interactions with them are through their website, app, text message, Twitter direct messages, or Facebook Messenger. While they try to imply it's all about being new and hip, the skeptic in me certainly figures the cost of stores and staffing phones plays a role in this decision as well.
Right out of the gate the lack of stores and a phone number might make visible a non-starter. And, if you're a boater on the move the lack of a store can make getting your Visible phone a little trickier though they overnight your new phone for free so that helps. But, several of my early orders encountered failed payments (I promise it wasn't my credit card) which then resulted in the account being stuck for days with a pending order.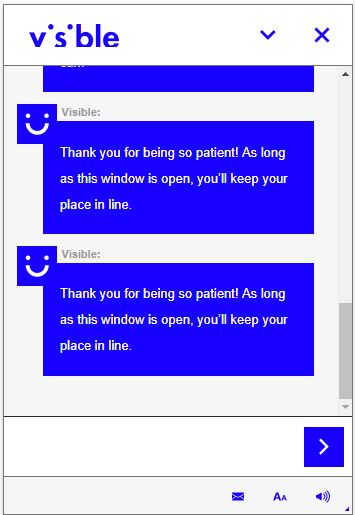 With my account stuck with a failed order and popups suggesting I contact customer care I hit the chat icon on Visible's website and waited. And waited. And waited. After several hours of no response, the picture was pretty clear that support wasn't going to be great. Eventually, a chat agent popped into the chat window but that agent wasn't able to do anything but escalate to more senior reps in 2-3 days. Eventually, I signed up with a different email address and used a Paypal account to pay for the order, that went through fine and the order was placed.
How do they offer service for $40 and why?
The Visible concept got started about 3 1/2 years ago when Verizon set out to build an MVNO to compete with Sprint's Boost and AT&T's Cricket. Along the way Verizon decided to build the network in a new, cloud-focused way that makes it both cheaper and more nimble. Visible is the product of that build strategy and Visible's leaders are quick to point out the $40 price point they're able to offer is made possible by the new and more efficient network design.
Should you sign up?
The big question… should you run out and order service from Visible? I think the real answer to that question depends on how you use your phone and your budget. At $40 including taxes, this is about as cheap as you're going to find unlimited connectivity and it includes voice service. But, if you want a data-only SIM that can be inserted into your on-boat router you will need to look elsewhere. If the 5 mbps mobile hotspot speed-cap starts being enforced that too might push you in another direction.
I should also say that there's a tug for me to move away from my existing AT&T plan because I'm annoyed by the creep in pricing and I don't think that's unique to AT&T. I started out about two and a half years ago with a plan that cost around $100 for "unlimited" for two lines of service including about 20gb of hotspot usage. Now I'm paying $145 for two lines of "unlimited" without the hotspot. So, to pay $40 for a plan that includes everything is pretty attractive, plus I'd like to speak with my wallet about my displeasure with the escalation of my existing plan.
As I look over the service here's what I see as the benefits and drawbacks of the product:
Pros:
Cheap – $40 a month tax included
Hotspot included – advertised at 5mbps but getting much more
Seems to be pretty good coverage overall
High bandwidth in good coverage – seen as much as 50mbps+
Truly unlimited with only slowdowns occurring due to network priority
No contract
Decent phones at reasonable prices
Cons:
Higher latency — 80-120ms on a regular basis
Bottom of the priority queue for cell traffic
No customer service line
Long wait times on chat
Ordering wonkiness
No roaming
Limited phone choices
No data only options
One line per account
So, armed with all this information I think it all still comes down to what you're willing to live with and how much you want to pay for it. If Visible's plan works for your basic usage you will be hard pressed to beat it. If you sign up and find the service is too slow or otherwise doesn't work for you the only thing you will be out is a month or two of service. And, if you keep the service for two months, there's a $100 rebate so your $80 of service will be covered.
P.S. I've provided a link above with a referral code. That code gets you $20 off your first month but also gets me a $20 credit. If you'd prefer not to use my referral code you can just visit https://www.visible.com.