Snagging lobster pots & a DIY hookah solution, cordless compressor update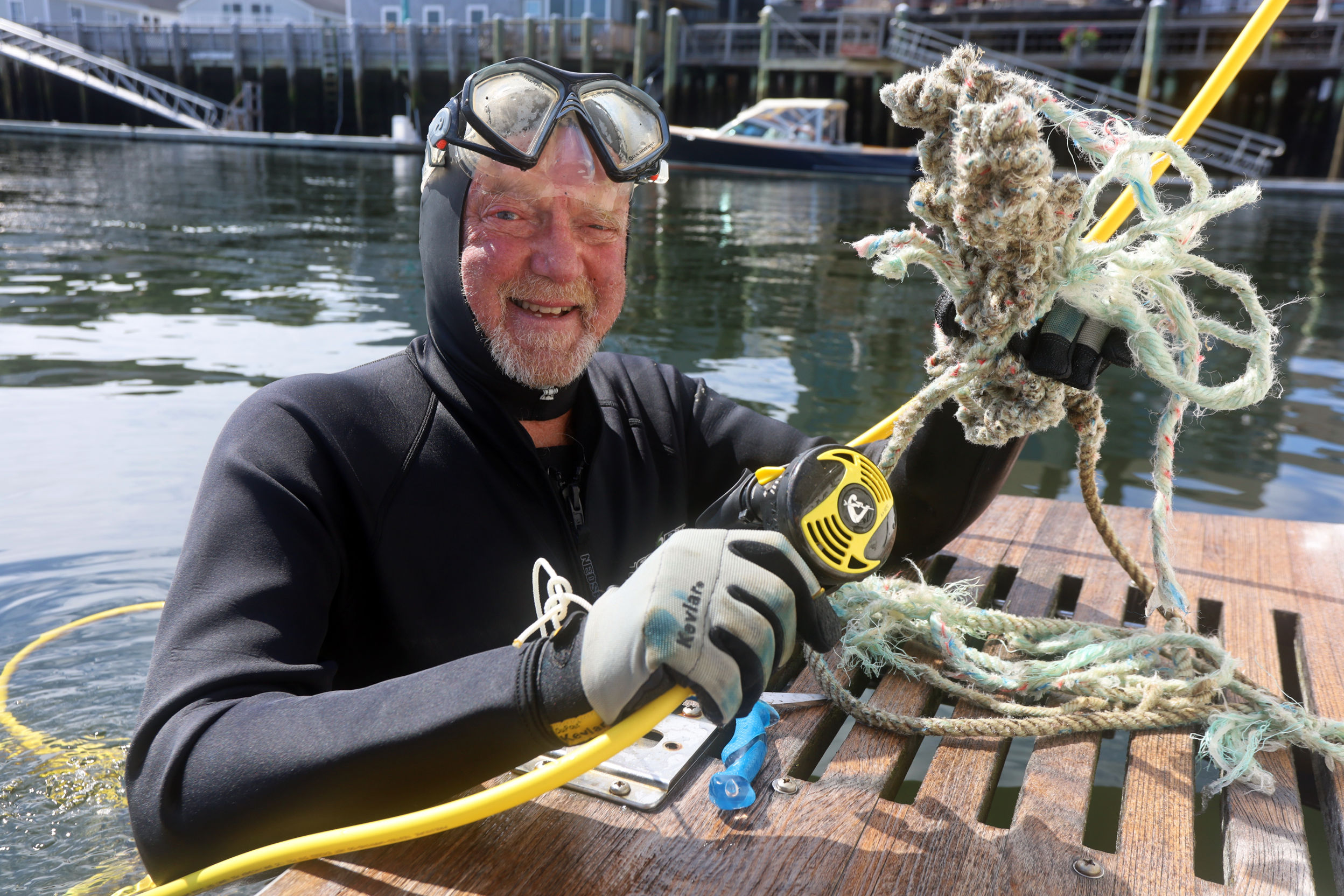 With winter setting in fast, it's nice to remember summer, even a cruising hassle like snarling lobster trap gear around Gizmo's running gear. During my 48 years in Maine waters, the catch has increased from 20 to 120 million pounds and the pot buoy systems have gotten significantly tougher; so snagging one has become much more of a hazard. But the grin above is not just because I'd finally cut away this particular mess; I think I've found a reliable snarl solution that will even work out in the remote Maine islands that lobsters, lobstermen, and cruisers all appreciate.
I'm fully aware that cutting a lobster pot buoy line costs the fisherman owner serious money — this article explains the tricky situation well — and we try hard to avoid them. And that's fairly easy to do because Gizmo's bow wave tends to push buoys away while the keel extension to the rudder foot makes it hard for lines to get up near the wheel. (I also know a little about the many lobster pot gear configurations, and how the various main, toggle, and/or wash buoy lines can lay in differing wind and tidal current situations.)
On the other hand, that 28 x 28-inch four-bladed prop can quickly create a terrible tangle that's darn hard to clear with only a snorkel — let alone a boat hook, or even a "wickedly effective" hook knife — and an early Gizmo upgrade was the install of a shaft cutter similar to what's carried by most inboard vessels around here, including many lobster boats. It's not a complete solution, however, as I'll explain along with some sweet summer memories, good monitoring/tracking included.
The inexpensive FloatHub monitoring system I've been long testing can now automatically identify underway activity and create neat Trip web pages (even when it's offline during much of the trip). So I have a detailed track map (upper-left) along with all sorts of other data to remind me of a classic August meander around the midcoast bays with many islands hiked and several very fresh lobsters eaten.
A highlight this year was finding always-pleasing Lunt's Dockside Deli (moorings and WiFi too) being exuberantly managed by John Roos, who — despite being an "away" person mostly from Ann Arbor, Michigan — is also the creator of the excellent coffee roast Lobster Butter Love. Stranger things happen, but not often enough.
I might have been wearing my favorite new tee shirt a few days later when the cruise went amok in a narrow passage on the north side of Swans Island. We were going slow — about 7.5 knots according to the FloatHub record, which reduces the "push away" effect — but I was on the flybridge with excellent visibility and I'm pretty sure the pot buoy line we snagged was hung down below the water surface.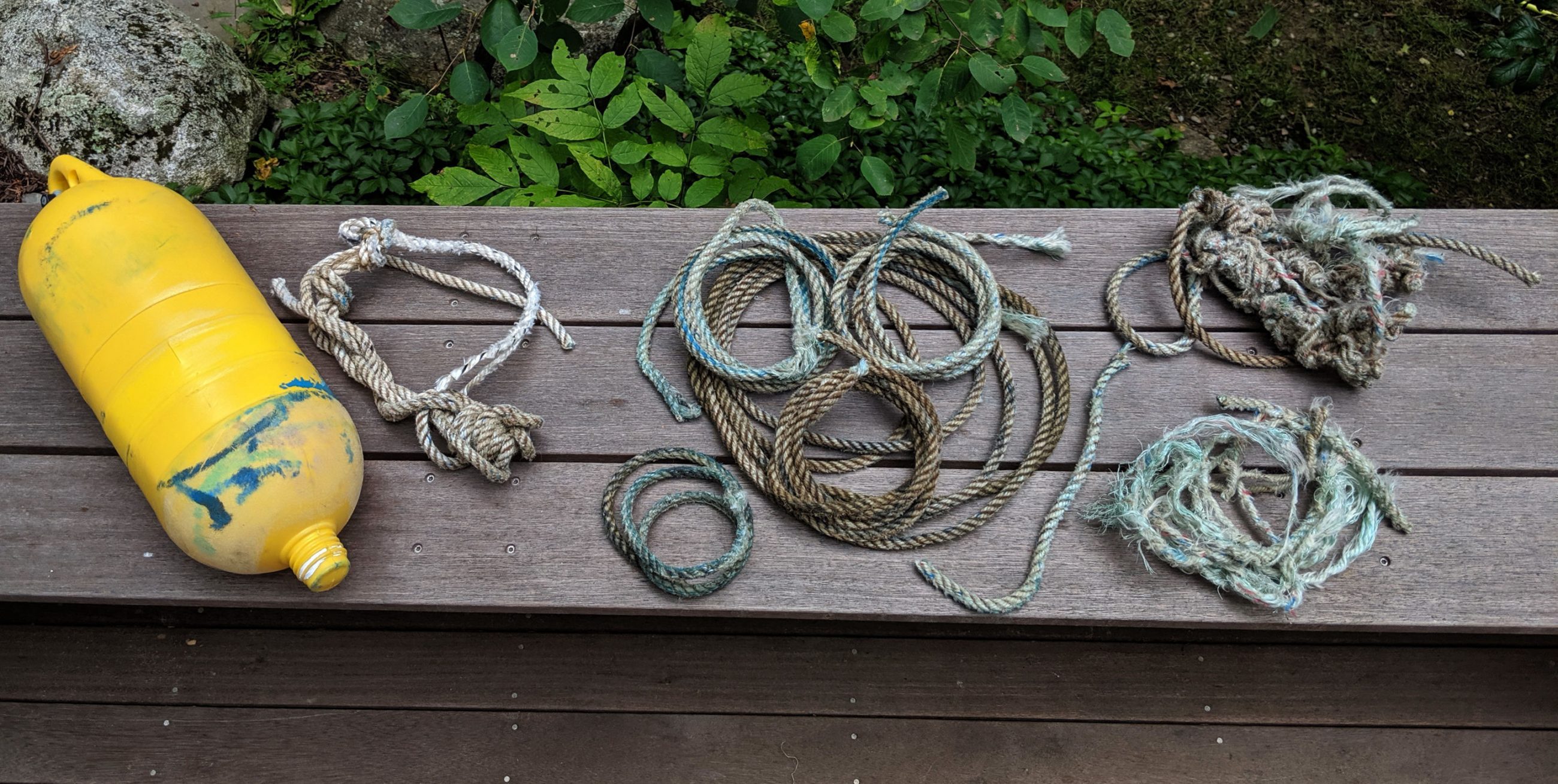 At any rate, it happened fast and the results were bad. I stopped as soon as I detected the vibration and drag, but a lot of line and more had already been wound up in Gizmo's running gear before the prop or cutter left the trap or traps to sink back to the bottom (sorry!). In fact, we couldn't even proceed dead slow ahead without a disturbing "whack! whack! whack!" from something hitting the prop, and so I backed about a half-mile into Buckle Harbor because it was smoother.
Once anchored at Buckle Island, I donned wetsuit and snorkeling gear to attack the problem. And while I was able to cut away the yellow buoy and prop tangle at left above — not sure which was responsible for the "whacking" — the many tight wraps and loops smothering the cutter area were beyond my abilities to take deep breathes, flipper my way to the tangle, and make a little headway with serrated blades or snippers…and then do it all over again.
A younger, fitter person might well have gotten the job done; heck, it was sunny, calm day and Gizmo has a swim platform ladder along with a hot shower head in the cockpit. But not me. So while we did continue our trip home the next day without whacking, we had to keep the RPMs below 1,200 due to vibration and I worried about the notion that tight line wraps can damage a cutlass bearing.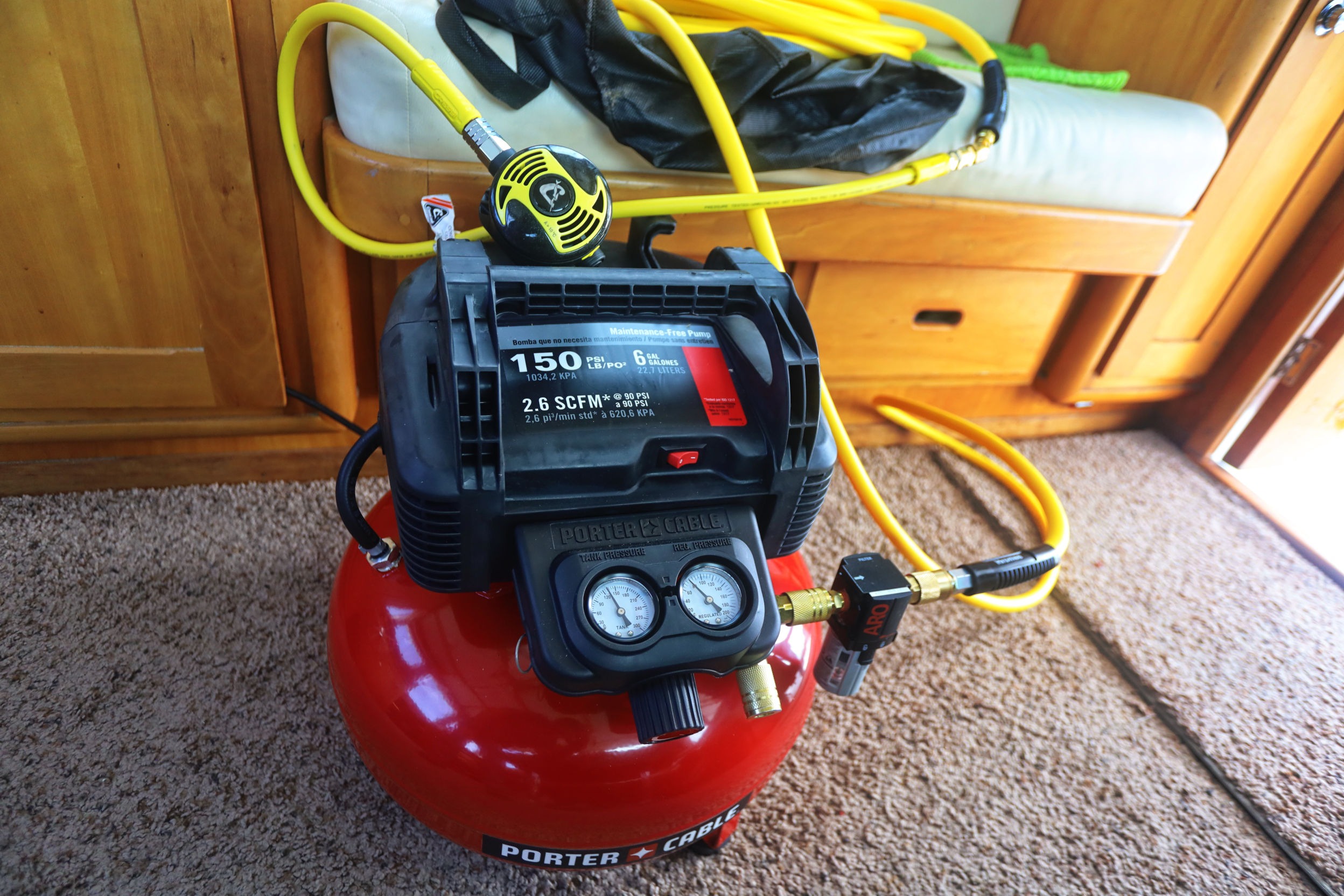 While it might have been quite hard to get a professional diver to clear the wheel out in the islands, that was an easy option in Camden. Except that I was determined to better equip Gizmo for future severe trap tangles and this was the chance to test a solution at my home float.
At first I was thinking of a compact mini scuba rig, like the Mantus Marine system, but then realized that filling the tank would be (understandably) difficult without proper certification. But I have been snorkel diving since I was 12, with a lot of grouper and conch hunting time in the 70's, so why not a "hookah" style surface supplied system?
I researched online — highlights are this tech explainer and this how-to-DIY video — and determined that regular shop compressor could work fine. And I couldn't find a better option than the well-proven Porter-Cable model PCFP12234, mainly because it's only $199 with three included air tools that will be useful in my home shop. Aside for a couple of brass air hose adapters from my local hardware store, the rest came from Amazon:
Note that the Hromee hose is not a quality hookah diving hose but it is PVC lined, unlike most regular air hoses, and so far I have not detected a strong taste or ill effects.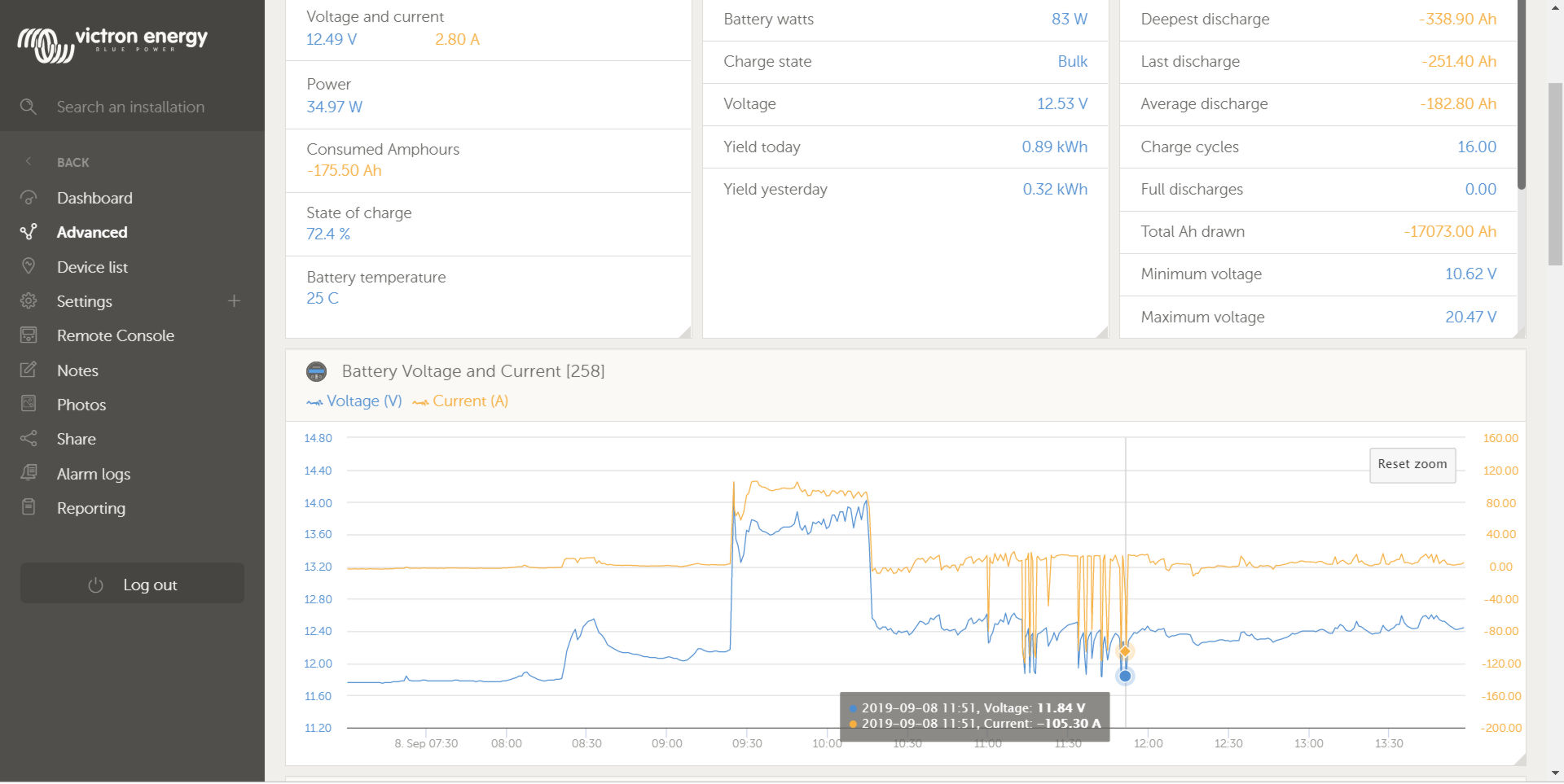 Gizmo's 2,000 Watt Victron inverter powered the DIY hookah rig fine and you can see it intermittently drawing 100+ 12v DC amps during two mid-day dives in the Venus monitoring screen above. About 80 pounds of hose pressure felt comfortable to me, and the 150 PSI Porter Cable with its 6 gallon tank easily kept up with my underwater breathing (while my old friend Mark Abb handed down tools, took pictures, and was right there if something went wrong).
So I was quite pleased with my first surface diving experience and I'm sure the system can be a big help with fouled transducers, loose thruster nuts, and who knows what else beyond the next lobster pot tangle (I'll work not to happen in the first place). But let me be clear that I'd get real hookah equipment if I wanted to dive deeper, or longer than maybe a few hours a year, and at my age I wouldn't be diving under any boats if I hadn't gotten quite comfortable with it in my youth.
But, you may ask, isn't that compressor a lot to stow if it will rarely be used? Well, I'm thinking of leaving the Porter Cable in the shop and installing a small ultraquiet model with an aluminum storage tank in an otherwise hard-to-use space below the flybridge helm. Because then it could also easily power the serious air horn I've long wanted when negotiating traffic in the fog and for special occasions.
And the time is right for contemplating Gizmo projects. Notice how many antennas are stripped off in the recent photo above (and how different Camden Harbor looks). Yesterday she went into a building at Journey's End Marine, quite ready for a systems refresh that will be interesting but much simpler than what evolved over a decade of multi-brand testing.
Update 8/28/2020: I'm pleased to report that a relatively small and inexpensive Ryobi 18v One+ cordless air compressor works fine with my hookah rig, and that includes the very real-world experience of spending time under Gizmo's stern clearing lobster trap lines in 60-degree water. It is about as loud as the more powerful 120v AC Cable-Porter compressor I used last year, but I was also pleased that 8-10 minutes of underwater breathing hardly dented a 4 Ah battery (though I have lots of spares because I'd already learned that many Ryobi ONE+ cordless tools work well, hold up to abuse, and often go on sale at Home Depot).