Shaft Razor long test, with a look at the competition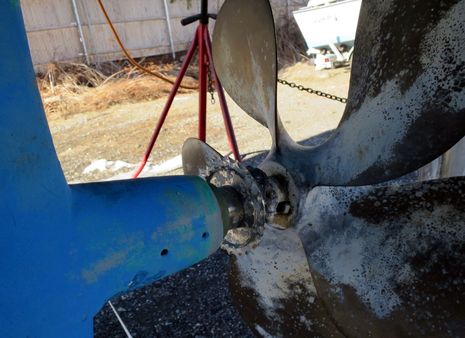 There are still patches of icy snow left from a memorable March in Maine, but I enjoyed a recent afternoon wandering around the boatyard checking out shaft cutters. Pictured above is the Shaft Razor that's been protecting Gizmo from line wraps since the spring of 2010. Like my stainless rudder it picked up a lot of barnacles last fall, but that double set of super-sharp serrated teeth were still quite effective. The Shaft Razor is also a good value that has required zero maintenance, and while I saw some interesting competition around the yard, I wouldn't trade it…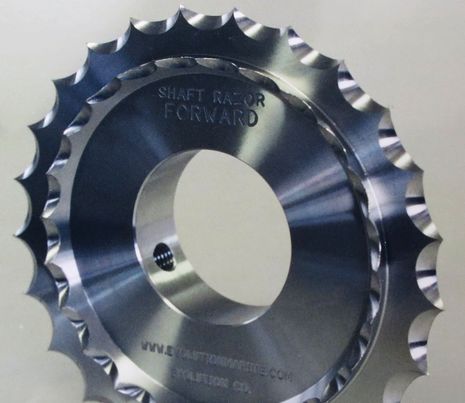 First, here's a closer look at the Shaft Razor that better shows its simple one-piece design and diabolical teeth. The precise CNC machining is done in Rockland, Maine, by the Evolution Company (which also manufactures a nifty fuel-efficient, vibration-dampening shaft system). Installing the Razor did require the removal of Gizmo's prop, but the worst case failure entails two set screws letting go, which is doubtful and would still leave me with a repairable Razor.
   I don't believe that any running gear protection system is 100% effective; eventually, some line or net will find a way to foul itself on your rudder or shaft nut or somewhere. But the Razor has worked very well over many miles now, often in waters so thick with lobster trap buoys that, "You could snowshoe across them"!  I try hard to avoid them, and I know the tricks — like not to pass close to a pot warp that's streaming downcurrent away from me. Sometimes, when the inevitable happens, I have to back down to bring the offending line to the cutter, but Gizmo has never gotten hung up and I've only had to go overboard to clear some annoying remains once. (For that purpose, I carry a wet suit, a mask, a fabulous Sailor's Solutions Hooknife, and a pair of kevlar gloves to protect me from my Razor.)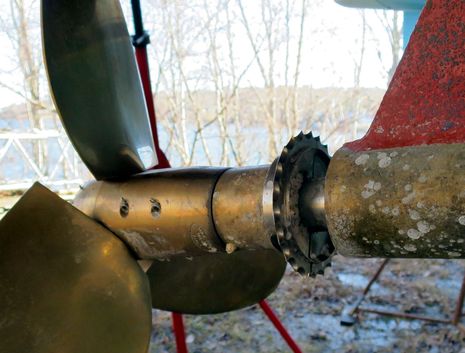 So, I'm not surprised that the simple disc-style shaft cutter is quite popular, at least in Maine. I didn't bring a clipboard, but at least two-thirds of about 50 mid-size power and sailboats stored outside around Wayfarer Marine have cutters of some kind, and about two-thirds of those are disc type. However, I don't understand why I saw a lot more Shaft Sharks than Shaft Razors. The Shark does have the same aggressive serrated outer blade, and some sizes are available in easier-to-install split versions, but I really like how the forward facing blade on the Shaft Razor is also serrated.
   I've heard that a severe line wrap between the prop and aft shaft bearing can damage that bearing, so I like the idea of sharp teeth eating away at that sort of wrap as it forms. Do we all agree that serrations cut line much better than the straight blade seen above on the front of the Shaft Shark? For the same reason, the single straight blade on the Prop Protector disc doesn't seem as effective. Plus the 4 11/16″ Shaft Razor that fits Gizmo's 2″ shaft cost $386 retail, while a similar Shaft Shark split disc discounts at $529. Am I missing something?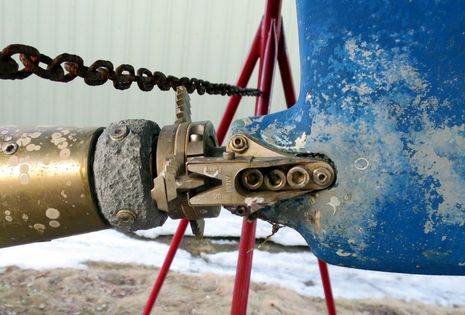 The other cutters I saw in the yard were all of the scissor/chopper style and most were the popular Spurs Marine brand. The particularly heavy duty choppers above are not Spurs — I can't identify the brand — but the photo nicely illustrates the general idea, which looks quite effective but is also darn complicated to manufacture and install. The after blade ring simply spins with the shaft, just like a disc cutter, but the forward blade ring remains stationary, held in place by that big spring-dampened stopper, while the shaft spins within an internal bearing. You are looking at three serrated line guillotines!
There's an interesting third design style called a "shavercutter" and represented by the Quickwater Marine quickKutter from Australia, but I've never seen one in the flesh. I'll close with a "belt and suspenders" rig seen on the seasoned cruiser below. This boat is not only equipped with Spurs, but also has two custom stainless steel appendages designed to keep lines from getting near the prop in the first place. If you know of other protection schemes or have experience with the ones I've listed, please don't be shy…