Eco bottom paint testing, back to copper and Irgarol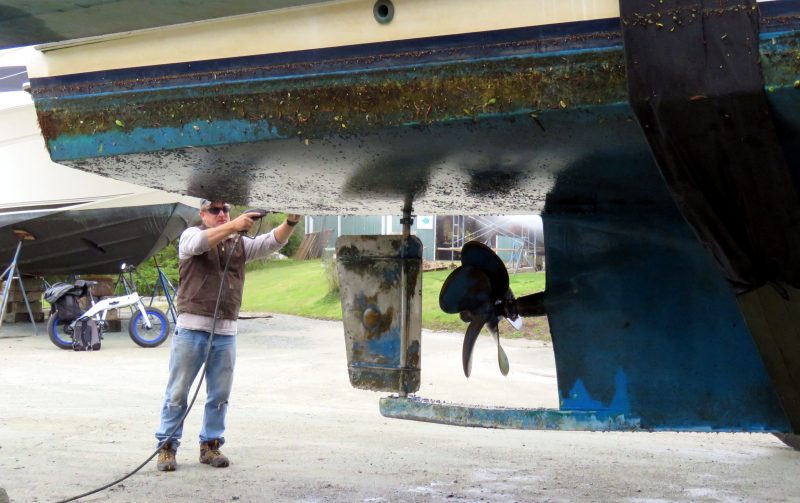 I did hire a diver to clean Gizmo's bottom last September, but he said he found very little hard growth (like the barnacles that can really slow a good boat down). So it seems fair to say that the water-based copper-free Pettit Hydrocoat Eco did well in that department given how much clean area is seen above after 22 months in the water, including a winter in Maine with enough ice to grind the paint completely off much of the waterline.
All things considered, this was pretty effective bottom paint, and very friendly to apply, but you may recall that this was also my second attempt at testing Hydrocoat Eco.  And I'm sorry to report that the more careful application and even the extra Zinc Omadine biocide did not prevent the brown slime from growing fairly thick at Gizmo's waterline just a month or so after launch (and well before the ice).
Slime doesn't really affect a boat's performance unless you think — as I do more and more — that looking good is part of the performance. And while Camden Harbor slime is potent stuff, there are local boats that seem to avoid it and I suspect they're using more traditional paint formulations.
So I said yes when Tom McCary of Wayfarer's Cove Marina, which specializes in bottom painting, suggested Pettit Ultima 60 for durable all-around anti-fouling. The 60% copper is certainly traditional, though I've now seen ECONEA prevent hard growth for extended periods. So my real hope is that the added algaecide Irgarol 1051 will do what Zinc Omadine did not (and some do think that it's magic).
It will take some time to judge the paint's performance, but I can tell you right now that Wayfarer's Cove does excellent work at very reasonable prices. The photos above illustrate how well they made over Gizmo in a few days — mostly one meticulous guy (Don!) working alone between other yard tasks — including fine paint cut-ins even where they're hard to see. The two-tone effect was inadvertent (they found some black copper-free Interlux Pacific Plus to topcoat the prop and rudder after they'd been sprayed with the Pettit Prop Coat I've had good luck with), but I like it. (I did not like seeing moisture in both the Lumishore underwater lights, but they are still working.)
Wayfarer's Cove is also a nice place to hang out. Turtles grooved in the still-working underwater lights while Gizmo spent the weekend in the travel lift pen, I saw deer almost every morning, and the friendly family of marine contractors with shops in the boatyard means you can get a lot more done than bottom painting. It's also a bit of a nautical adventure as NOAA hasn't even charted half the creek — well, it was dug out in the 70's — and the entrance features a narrow blind S turn. In that last photo I was headed out that entrance last Friday morning, but I suspect I'll be back.